Wanneer bepaalde pagina's of volledige websites niet meer bestaan, wil dat niet zeggen dat er geen bezoekers meer op terecht komen. Bezoekers die de website URL hebben bewaard, links vanuit andere websites of Google resultaten die nog niet geüpdatet zijn kunnen dan verkeer naar onbestaande pagina's sturen. Dit veroorzaakt een HTTP error 404, een foutmelding dat de pagina niet meer bestaat. Meer daarover lees je hier: Hoe een HTTP error 404 oplossen en vermijden. In dit artikel bespreken we een van de meest gebruikte oplossingen: de 301 redirect. En onderaan tonen we je hoe dit eenvoudig kan doen met een WordPress redirect.
Hulp nodig met WORDPRESS SEO?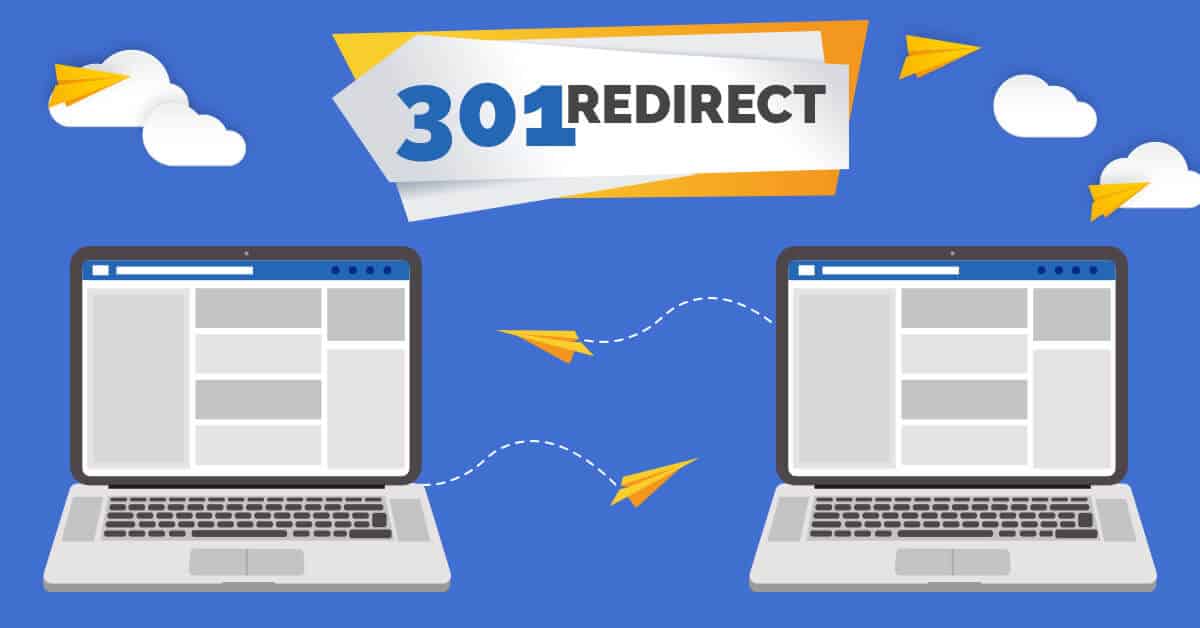 Wanneer een 301 redirect gebruiken?
Nieuwe URLs
Stel dat je jouw website van domeinnaam verandert, of dat je bepaalde content verplaatst naar een nieuwe pagina. Je wil dan natuurlijk niet al het verkeer op de vorige pagina's zomaar verliezen, en je hebt ook geen tijd om overal elke link te gaan aanpassen. Hier kan de 301 redirect een oplossing bieden. Dankzij een redirect wordt al het verkeer van een bepaalde URL automatisch doorgestuurd naar een andere URL. Je oude domeinnaam kan je dus laten doorverwijzen naar de nieuwe, en ook nieuwe pagina's kan je linken met de oude pagina's.
URL variaties
Zoals je wel weet, bestaan er verschillende variaties van een website URL. Dan hebben we het voornamelijk over het verschil tussen http en https, maar ook over het wel of niet vermelden van de www. Dankzij een 301 redirect kan je ervoor zorgen dat al deze variaties automatisch naar de ene, juiste versie doorverwijzen. Maar wees gerust: dat hoef je niet in te stellen in WordPress. Daar kies je één keer hoe jij wil dat je URL eruit ziet, en al het andere verkeer wordt al meteen doorgestuurd.
Verkorte URLs
Een 301 redirect kan ook erg handig zijn om met verkorte URLs te werken. Stel dat je bijvoorbeeld wil verwijzen naar een nieuwsbrief, die vaak erg lange en onduidelijke URLs hebben, dan kan je een verkorte URL instellen via een 301 redirect. Extra voordeel: je hoeft niet bij iedere nieuwe nieuwsbrief een nieuwe link te maken. Je kan de link op de achtergrond gewoon aanpassen en dezelfde verkorte URL blijven gebruiken om je meest recente nieuwsbrief te delen.
Een 301 redirect aanmaken
Er bestaan verschillende manieren om een 301 redirect te maken.
HTML redirect: plaats eenvoudig een stukje HTML-code in de <head> van je webpagina. Het nadeel hiervan is dat niet alle browsers er even goed op reageren en ook zoekmachines gaan de oude en nieuwe pagina's niet altijd langs elkaar leggen.
<meta http-equiv="refresh" content="0; URL='https://www.nieuweURL.be'" />
JavaScript redirect: je kan ook code plaatsen om een 301 redirect te forceren via JavaScript. Ook met deze redirect hebben de meeste zoekmachines moeite en als een gebruiker JavaSript heeft uitgeschakeld, zal de redirect bovendien niet plaatsvinden.
window.location = "'https://www.nieuweURL.be'";
PHP redirect: met deze redirect kan je zowel een tijdelijke 302 redirect als een permanente 301 redirect instellen. Opnieuw moet je een stukje code plaatsen, deze keer bovenaan in het PHP-bestand.
<?php
header('Location: 'https://www.nieuweURL.be/', true, 301);
exit();
?>
Apache of .htaccess redirect: via het .htaccess-bestand (in de root directory van je website) worden het vaakst de 301 redirects aangemaakt. De server zorgt er dan voor dat de redirect op elke browser werkt en dat elke zoekmachine ermee om kan.
Redirect 301 / 'https://www.nieuweURL.be
De WordPress redirect
Ook in WordPress is het aangeraden met een 301 redirect te werken. Wanneer je URLs wijzigt, wordt er namelijk niet standaard doorverwezen van de oude link naar de nieuwe. Die tussenstap moet jij zelf ngo installeren, met bijvoorbeeld de Redirection plugin. In je WP Dashboard vind je dan een overzicht van alle bestaande redirects, en je kan daar ook een nieuwe WordPress redirect aanmaken. Hoe je dat juist doet, lees je hier: WordPress redirect maken met een plugin doe je op deze manier.

Hulp nodig met WORDPRESS SEO voor je bedrijf?
Neem contact met ons op voor vrijblijvend advies!