Wij spenderen elke dag nogal wat tijd op Facebook. Niet dat we onze werkverplichtingen proberen te ontlopen door naar video's van schattige beestjes te staren. Nee, Facebook behoort nu eenmaal tot ons takenpakket. Met name helpen wij bedrijven om hun advertenties op Facebook op punt te stellen.
Op een maand tijd krijgen we dus behoorlijk wat Facebook-advertentieaccounts onder ogen. Om maar te zeggen dat we best goedgeplaatst zijn om de grotere lijnen te ontwaren. Daarin valt ons op dat de volgende 8 fouten alsmaar terugkomen, 8 online uitschuivers waarmee bedrijfsleiders zichzelf in de voet schieten. Om het even bot te stellen: had je het advertentiebudget voor Facebook doorgesjast, dan had je dat wellicht evenveel opgeleverd. Of even weinig, in dit geval.
Hulp nodig met FACEBOOK MARKETING?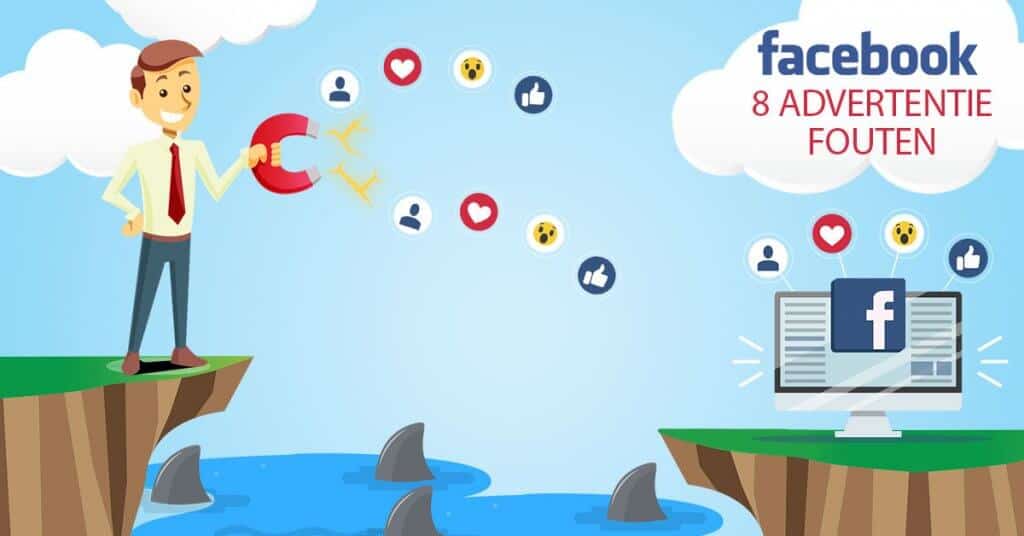 Vandaar dat adverteren op Facebook voor velen een vorm van commerciële zelfmoord is. Gelukkig kan het ook anders. Dit zijn 8 tips om de 8 meest gemaakte fouten bij adverteren op Facebook te vermijden.
1) Gebruik Facebook Business manager
Zo krijg je meer controle over je advertenties en kan je je beroepen op mogelijkheden die voordien niet voorhanden waren. Lees zeker onze gids over Facebook Business Manager.
Let op: Gebruik hetzelfde e-mailadres waarmee je je persoonlijk Facebook-account registreerde. Zie ook dat niemand anders ingelogd is op Facebook wanneer je je pagina claimt. Beide tips kunnen je veel kopzorgen besparen.
2) Hou een doel voor ogen
Elke campagne behoeft een doel. Stel dat in aan het begin van je campagne. Het algoritme van Facebook gebruikt de informatie vervolgens om meest geschikte mensen te vinden binnen jouw doelgroep.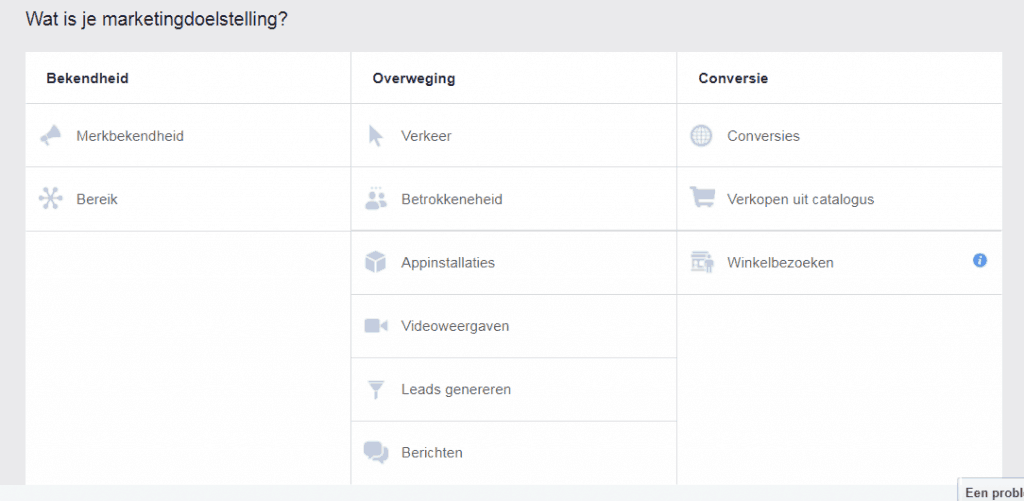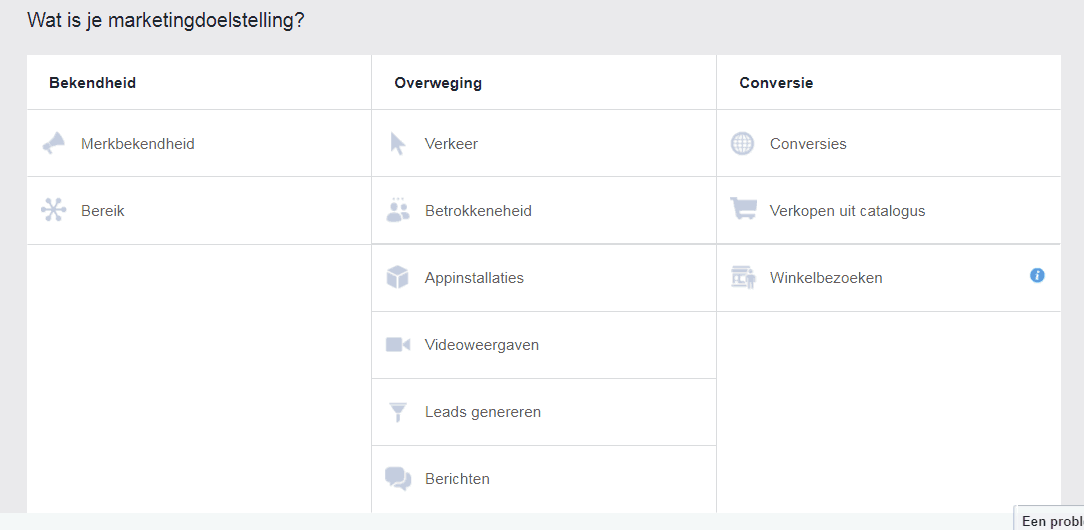 3) Meet conversies in Facebook en Google Analytics
Het moment waarop bezoekers klanten worden, daar doet elke zaakvoerder het toch voor? Wel, dan moet je wel die zogenaamde conversies meten. Doe je dat niet, dan is het koffiedik kijken of je advertenties al dan niet werken. Dan kan je evengoed Paul de Octopus inschakelen om je te vertellen wat je advertenties kosten per conversie. Het is in dat geval eveneens onmogelijk om je advertenties te optimaliseren door hen aan de juiste mensen binnen je doelpubliek te tonen. Met andere woorden: het is verloren moeite.

4) Gebruik locatie, leeftijd, geslacht en taal
Een rollator zal maar matig verkopen bij de schoolgaande jeugd, het heeft weinig zin om ladyshaves aan mannen aan te bieden en een lokaal bedrijf dient niet over heel België te adverteren. Door gerichter te adverteren, maak je de doelgroep nauwkeuriger. Kom in je Google Analytics-account onder "Demografie" meer te weten over leeftijd, geslacht en locatie van klanten die hapten. Heb je nog geen conversies, dan helpt een gezonde dosis ondernemersverstand je een flink eind op weg bij het kiezen van de doelgroepopties.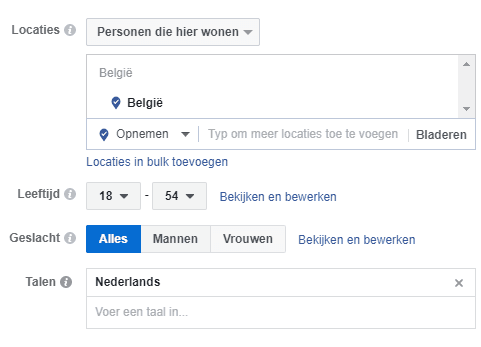 5) Wees gedetailleerd…
Hoe relevanter jouw advertenties zijn voor degene die ze zien, hoe beter. Het is dan ook cruciaal om stil te staan bij de gedetailleerde doelgroepen. De categorie 'interesses' is de noodzakelijkste. Vink één of meerdere opties aan die zo nauw mogelijk aansluiten bij jouw bedrijf.

6) …maar ga ook wijd
Hoe specifieker de doelgroep, hoe moeilijker voor Facebook om de ideale mensen te vinden. Denk aan de spreekwoordelijke speld in een hooiberg. Een specifieke niche van minder dan 5.000 mensen kan zo zeer kostelijk zijn. Dan geeft een doelgroep van meer dan 100.000 mensen Facebook heel wat meer ruimte om mee te spelen. Het algoritme gaat aan de slag en optimaliseert de resultaten van je advertentie. De uitleg daarachter is simpel: het algoritme vergelijkt mensen en bekijkt wat degenen die converteren gemeenschappelijk hebben. Hoe groter de doelgroep – en hoe meer het doel bereikt wordt – hoe beter het algoritme van Facebook z'n werk kan doen.
7) Probeer niet te verkopen
Facebook is geen verkoopkanaal. Nee, mensen gebruiken de site om zich in hun vrije tijd te ontspannen. Denk aan de schattige beestjes uit de inleiding. In zekere zin is het een plaats voor escapisme, om beslissingen te ontlopen. Kopen doen mensen elders. Het is dus veel slimmer om op Facebook een meerwaarde te bieden met content marketing.
8) Adverteer continu
Doe de test: welke reclame herinner jij je nog van de afgelopen 24 uur op Facebook? De basis van degelijke marketing is herhaling aan het juiste doelpubliek. Verander wel geregeld je advertentietekst en je aanbod: zo trek je meer mensen aan en verveel je je doelpubliek niet.
Pas deze 8 tips toe op je Facebook-advertenties en resultaat is een kwestie van tijd.
Hulp nodig met FACEBOOK MARKETING voor je bedrijf?
Neem contact met ons op voor vrijblijvend advies!