Met content marketing kun je je bestaande of nieuwe doelpublieken bereiken, informeren, engageren, converteren en versterken. In dit vijftiende deel van de gratis online marketing cursus "Hoe krijg ik meer websitebezoeker en klanten?" leggen we uit wat content marketing precies is en hoe je dit kan inzetten.
Hulp nodig met CONTENT MARKETING?
Wat is content marketing?
Content marketing is het aanmaken van informatieve en relevante inhoud, afgestemd op de noden van je doelpubliek. Je werkt hiermee aan de customer journey waardoor het dus een onderdeel is van je online marketing strategie. De info die je geeft kan over je diensten gaan, how to's, nieuwtjes uit de industrie, inzichten en nog veel meer. Het mag geen saaie brok informatie zijn, maar een aantrekkelijk stukje tekst. Met content marketing wil je namelijk meer mensen naar je website lokken, een vertrouwensband opbouwen met je klanten en zo tot leads en nieuwe klanten komen.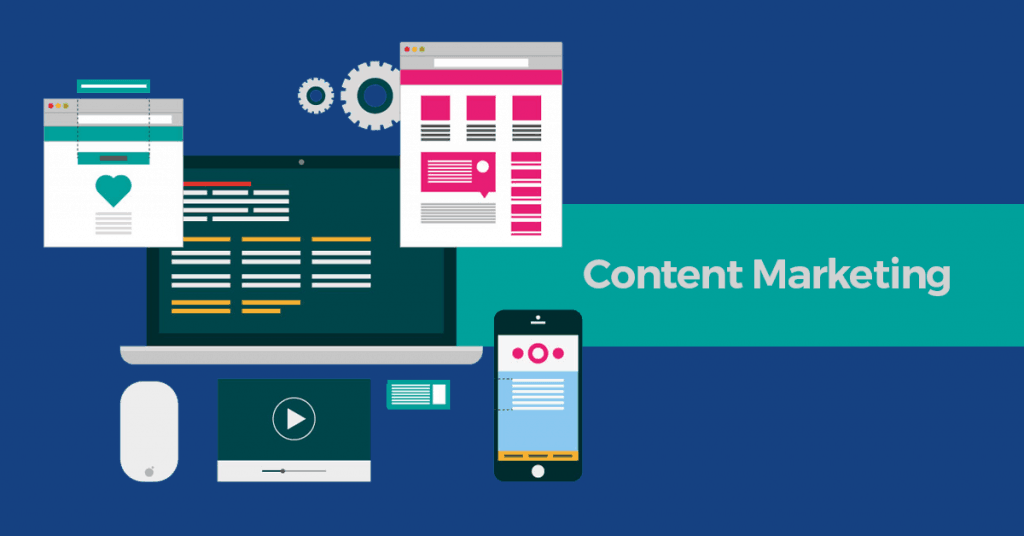 Waarom content marketing?
Potentiële klanten zoeken info over je producten en diensten via Google en social media om bepaalde problemen of noden op te lossen of te vervullen. Door hen correcte en volledige informatie aan te bieden, kunnen de klanten een geïnformeerde keuze maken om hun probleem op te lossen. Dit proces noemt men de customer journey.
Als jij diegene bent die deze content heeft gemaakt en tijdens de hele (of toch zoveel mogelijk) customer journey aanwezig bent met kwalitatieve inhoud, dan is het veel waarschijnlijker dat deze persoon klant zal worden bij jou.
Er zijn meerdere redenen waarom je aan content marketing doet:
Consequent relevante info verspreiden, maakt van jou een betrouwbare bron volgens klanten waar ze sympathie voor hebben.
Bestaande klanten krijgen ook meer inzicht in de diensten waardoor het vertrouwen groter wordt.
Je praat op een hoger niveau praten met klanten of leads omdat ze beter geïnformeerd zijn.
Je bespaart heel wat tijd door een klant bij specifieke vragen door te verwijzen naar je uitgebreide teksten op je website.
De teksten zorgen voor meer verkeer op je website en dus meer leads en uiteindelijk klanten.
Leads worden sneller klant als je ze degelijk informeert.
Je kunt je expertise, knowhow & savoir faire aantonen.
Je kan aan gegevens geraken (e-mailadres, naam, telefoonnummer) in ruil voor de info die je geeft.
De website scoort hoger in de zoekresultaten.
Contentstrategie en content marketing strategie
Bij je contentstrategie denk je na over de strategie van je content en dus de inhoud. De nadruk ligt dus op het "WAT" in content creatie.
Bij de content marketing strategie denk je na over de verspreidingsstrategie via verschillende marketing kanalen. Tenzij je reeds een trouw publiek hebt, is marketing noodzakelijk anders gaat niemand je content te zien krijgen. Hier ligt dus de nadruk op de "HOE" content verspreiden.
Hoe doe je aan content marketing
Eerst breng je je doelpubliek en de customer journey in kaart tijdens het opstellen van je online marketing plan & strategie. Daarna selecteer je over welke onderwerpen je gaat schrijven aan de hand van je zoekwoordenonderzoek.
Zo hebben wij aan de hand van ons zoekwoordenonderzoek de online marketing cursus samengesteld. Het is zeer belangrijk dat deze teksten kwalitatief zijn en informeren zodat ze een meerwaarde zijn voor de lezer.
Schrijven met het enige doel om hoog in Google te scoren of om pagina's te vullen, laat je dus beter achterwege. Wanneer je teksten niet kwalitatief zijn, merken Google en bezoekers dit op, en heb je ook geen of weinig resultaat. Het is niet gepast om in deze informatieve teksten je diensten te verkopen omdat de nadruk op informeren moet liggen. De reden waarom je niet verkoopt in je informatieve teksten, is omdat dit de geloofwaardigheid van de inhoud ondermijnt.
Breng een structuur in de zoekwoorden per thema. Je hebt twee opties: ofwel schrijf je volledige artikels die het volledige thema bevatten (zoals dit artikel) ofwel maak je kleinere pagina's per zoekwoord. Let wel dat je niet per zoekwoordvariatie een pagina schrijft. Bij sterk gelijkende zoekwoorden gebruik je degene met de meeste zoekacties per maand.
Verspreid de content op de kanalen waar je potentiële klanten zich begeven.
Content creatie
Content creatie of het maken van inhoud vergt kennis, inzicht en uiteindelijk expertise in het vakgebied waar je content creatie voor wilt doen. Je kunt de content creatie natuurlijk uitbesteden maar je content kan nooit van hetzelfde niveau zijn als wanneer iemand met vakkennis de tekst schrijft.
Als je niet goed weet hoe te beginnen na je zoekwoorden onderzoek, ga dan kijken welke resultaten er op de eerste pagina van Google scoren voor je zoekwoorden en haal daar inspiratie. Let wel dat je geen content letterlijk kopieert, want dan creëer je duplicate content. Als je mee op de eerste pagina wilt ranken, moet je voor de zoekwoorden waar je over schrijft, het beste en meest volledige resultaat zijn. Kortom, streef ernaar om betere content te creëren dan de anderen op de eerste pagina.
Je kan je content verspreiden via blogberichten, video, foto's, infographics, e-books en podcasts. En deze kun je kwijt op kanalen zoals je blog, externe blogs, nieuwsbrieven, white papers, Facebook, Twitter, LinkedIn en Google (SEO & SEA).
Content marketing tips
SEO
Je website en teksten moeten voor SEO zowel technisch en inhoudelijk in orde zijn om ervoor te zorgen dat je op zoekwoorden gebaseerde teksten kunnen ranken in Google. Check onze handleidingen WordPress SEO en WordPress website maken voor meer informatie. Als je geen gebruik maakt van WordPress, lees dan zeker ons artikel zoekmachine optimalisatie.
Blog eerst op je eigen website
Zorg ervoor dat je basis in orde is en kies ervoor om eerst te bloggen op je eigen website en vooraleer je aan outreach doet om te bloggen op andere sites. Dit is omdat het enige tijd vraagt om te ranken in Google met je website voor je zoekwoorden. Externe blogs met een groter publiek zijn meestal bedoeld voor opiniestukken en dus niet noodzakelijk gebaseerd op zoekwoordenonderzoek. Op een externe website kun je ook niet aan remarketing doen of e-mailadressen verzamelen. Externe blogs zijn wel een ideale manier om aan linkbuilding te doen en een groter publiek te bereiken.
Opiniestukken schrijven op andere websites
Wanneer je door al de relevante zoekwoorden heen bent en je de beste teksten hebt voor het zoekwoord, kun je aan opiniestukken en industrienieuws e.d. beginnen. Dit voor de simpele reden dat je voor de laatste twee een bestaand publiek moet hebben aangezien deze niet op vlak van SEO kan gevonden worden of ermee adverteren in Google.
Start met tekst als content
Begin eerst met teksten als content en evolueer daarna naar andere media tenzij je content sterk visueel is. Teksten scoren beter in Google dan video maar dit betekent niet dat video een minder medium is.
Adverteer met je content
Adverteer met je content in Google Adwords, social media (Facebook, LinkedIn en Twitter). Op social media spreek je een nieuw publiek aan of spreek je je huidige websitebezoekers aan via remarketing. Content advertising is een sterke manier van content marketing wanneer je betaalt om je gratis informatie aan de man te brengen via advertenties. Dit is een techniek die bijna niemand toepast maar zeker zo effectief is.
Verspreid je content via e-mail
Maak gebruik van e-mailmarketing om je nieuwe artikels automatisch te versturen.
Behou een overzichtelijke structuur in je tekst
Giet je artikels in een overzichtelijke structuur zodat lezers snel de voor hen meest relevant informatie lezen. Maak hiervoor gebruik van de hoofdingen in de tekst.
Meten is weten
Meet de impact, relevantie en interacties met je content door gebruik te maken van Google Analytics, Hotjar en KPI's (likes, shares en mentions) op social media.
Hulp nodig met CONTENT MARKETING voor je bedrijf?
Neem contact met ons op voor vrijblijvend advies!