Wat is SEO (ook wel search engine optimisation of zoekmachine optimalisatie genoemd)? In deel vier van de gratis online marketing cursus "Hoe krijg ik meer websitebezoeker en klanten?" gaan we hier dieper op in en sluiten we af met enkele zeer nuttige zoekmachine optimalisatie tips.
Hulp nodig met ZOEKMACHINE OPTIMALISATIE?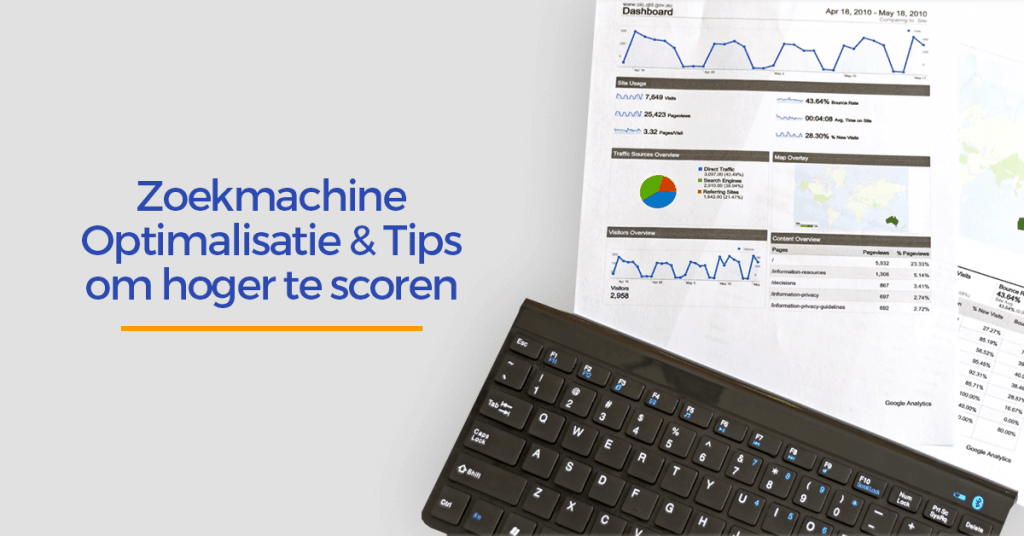 Wat is SEO (zoekmachine optimalisatie)?
Zoekmachine optimalisatie is de kunst om je website op een bepaalde manier te maken of op te bouwen zodat Google en bezoekers je website gemakkelijk kunnen vinden. Maar het betekent ook je webpagina hoog laten scoren in Google voor relevante zoekwoorden. Hierdoor moet je website zowel technisch als inhoudelijk van een zeer hoog niveau zijn. Hoe beter je het doet op beide fronten, hoe hoger je gaat scoren voor je zoekwoorden.
Je start je SEO met een zoekwoordenonderzoek. Je gaat je website inrichten naar deze woorden omdat het deze woorden zijn die je bezoekers ingeven in Google wanneer ze zoeken naar jouw diensten of producten.
Zoekmachine optimalisatie wordt een kunst genoemd omdat dit geen exacte wetenschap is. Google gebruikt meer dan 200 factoren om een website(pagina) te beoordelen op dat zoekwoord. Maar slechts een fractie van deze 200 factoren is gekend. Al deze factoren hebben maar één doel en dat is de meest kwalitatieve resultaten tonen op de eerste pagina.
Google rangschikt websitepagina's naar kwaliteit. Dus als je mee op de eerste pagina van Google wilt te zien zijn of op de eerste positie wilt staan, dan moet wat jij aan te bieden hebt, beter zijn dan wat degenen die nu op de eerste pagina / positie staan aanbieden.
Waarom je op de eerste pagina moet staan van deze zoekresultaten
Als je op de eerste natuurlijk positie staat (organisch, dus niet via advertenties), dan krijg jij rond 25% van alle clicks. Sta je op de vijfde positie, dan krijg je nog 5% van alle clicks en op positie 10 krijg je nog maar een schamele 1%. Je hebt er dus alle baat bij om bij de vijf eerste resultaten te staan.
Het ontbreken van advertenties voor een zoekterm verhoogt de click through rate (CTR). Dit is het percentage van personen die ook effectief doorklikken. Hoe meer advertenties hoe lager de CTR voor natuurlijke zoekresultaten. De meest recente metingen over de impact van rangschikking (positie) in Google op click trough rate kan je hier vinden.
Rankingfactoren
Alle rankingfactoren dragen bij tot de ranking van je website of pagina in de zoekresultaten. Je kunt deze rankingfactoren in 2 groepen opsplitsen, namelijk "on page" en "off page". On page is alles wat er zich op jouw website afspeelt. Off page is alles wat er zich buiten jouw website afspeelt en een invloed heeft op jouw website.
On page ranking factoren
Inhoudelijk
Kwaliteit: Zijn je teksten geschreven in correct Nederlands en is de inhoud kwalitatief?
Zoekwoorden: Heb je een zoekwoordenonderzoek gedaan?
Woorden: Gebruik je de juiste zoekwoorden en op welk(e) woord(en) wil je per pagina gevonden worden?
Dichtheid: Hoe vaak/weinig herhaal je het zoekwoord?
Betrokkenheid: Hoe betrokken zijn je website bezoekers? Lezen ze de inhoud of zijn ze snel weg (bounce)?
Advertenties: Zijn er veel advertenties op je website en vooral boven de vouw?
HTML
Titels: Staat het zoekwoord in de html-titel (meta title) en is de titel uniek?
Omschrijving: Staat het zoekwoord in de html-omschrijving (meta description) en is de omschrijving uniek?
Hoofdingen: Staat het zoekwoord in één of meerdere hoofdingen?
Structuur: Gebruik je structured data & rich snippets?
Verborgen: Maak je gebruik van verborgen inhoud? – Slecht voor SEO.
Afbeeldingen: Staat er een omschrijving bij je afbeeldingen (alt tag). Dit is belangrijk als je wil dat mensen je ook bij Google images vinden wanneer ze in afbeeldingen zoeken?
404: Zijn er interne links die uitkomen op een HTTP error 404?
Interne links: Hoe zijn je interne links opgebouwd en wat is de link tekst?
URL: Is de URL SEO vriendelijk (kort en bevat het je zoekwoord)?
Nofollow: Maak je op gepaste wijze gebruik van nofollow tags in je URLs?
Architectuur
Crawl: Kunnen zoekmachines je website goed doorzoeken (crawlen)?
Duplicaat: Heb je ergens op je website duplicate content? – Slecht voor SEO.
Snelheid: Laad je website snel (het is aangeraden dat dit onder de één seconde blijft. Ga dit na via Google search console)?
URL structuur: Is er een structuur en hiërarchie in de URL's?
AMP: Maak je gebruik van amp om je website te versnellen op mobiel?
HTTPS: Heeft je website een SSL certificaat?
Sitemap: Heb je een sitemap en is deze ingediend bij Google en Bing?
Hosting: Maak je gebruik van goede hosting?
Mobiel: Is je website geoptimaliseerd voor smartphone en tablet?
Navigatie: Is je navigatie duidelijk?
Code: Is het een website met nette code?
Off page ranking factoren
Links
Kwaliteit: Komen er links van websites die kwalitatief en betrouwbaar zijn?
Aantal: Hoeveel links wijzen naar je website?
Betaald: Zijn de links betaald? – Slecht voor SEO.
Spam: Zijn er spam links geplaatst op blogs, forums en andere plaatsen? – Slecht voor SEO.
Vertrouwen
Autoriteit: Toont de website aan dat je een autoriteit bent in je vakgebied?
Geschiedenis: Bestaat de website al een lange tijd en werk je al een tijd op dezelfde manier?
Piraterij: Staat er gepirateerde inhoud op je website? – Slecht voor SEO.
Sociaal
Reputatie: Delen gerespecteerd invividuen/organisaties jouw content?
Shares: Wordt je content gedeeld op sociale netwerken (Facebook, Google+, LinkedIn, Pinterest & Twitter)?
Gebruiker
Land: In welk land bevinden je website bezoekers zich?
Lokaal: Is je website/bedrijf lokaal?
Geschiedenis: Heeft iemand je website reeds bezocht?
Zoekmachine optimalisatie tips
Tenslotte geven we graag nog enkele zoekmachine optimalisatie tips mee om mee aan de slag te gaan.
Maak gebruik van een cache plugin om je website te versnellen. Voor WordPress raden we WP Rocket aan.
Zorg voor een goede hosting provider. Voor WordPress raden we Siteground aan.
Maak gebruik van Google Search Console om na te gaan hoe snel je website laadt.
Installeer Yoast SEO op je WordPress website.
Kies voor een premium SEO vriendelijke WordPress theme zoals StudioPress – Dus GEEN drag & drop of visual composer theme.
Zie er op toe dat je On en Off page factoren nagenoeg perfect zijn.
Maak gebruik van een SEO checking tool zoals SEM Rush zodat je meteen op de hoogte bent als er iets mis is.
Meld je aan op Google mijn bedrijf.
Gebruik Google Analytics om het 'bounce percentage' en 'time on page' per pagina te checken. Gebruik de informatie in Google Analytics om je pagina te verbeteren.
Installeer Tiny Jpg om je foto's te comprimeren.
Promoot je website inhoud op sociale media met advertenties.
Hulp nodig met ZOEKMACHINE OPTIMALISATIE voor je bedrijf?
Neem contact met ons op voor vrijblijvend advies!