Een sitemap is een inhoudsopgave van je website: een lijst van alle pagina's van je website, systematisch geordend. Er bestaan twee verschillende soorten sitemaps: een HTML sitemap en een XML sitemap. Hieronder leggen we je uit wat het verschil is, waarvoor ze dienen en ook hoe je een WordPress XML sitemap kan aanmaken.
HTML sitemap
Een HTML sitemap is bedoeld voor bezoekers en vind je vaak in de footer van de website. Als je op de sitemap in de footer klikt, kom je terecht op een webpagina met allemaal tekstlinks naar de verschillende pagina's op de website. Het doel hiervan is om de gebruiker te helpen navigeren op je website en hem een duidelijk doel te geven van de structuur van jouw website. De HTML sitemap wordt dan ook aangeraden voor grote websites met meer dan 10 pagina's en een hoop subpagina's. Als je een heel erg goede zoekfunctie en een duidelijke navigatie op je website hebt, is zo'n HTML sitemap eigenlijk overbodig.
XML sitemap
Een XML sitemap daarentegen wordt meestal niet gepubliceerd op de website en is dan ook niet voor de bezoeker, maar voor Google bedoeld. Webmasters maken zo'n XML bestand om zoekmachines zoals Google te helpen om de website te indexeren. Je vindt er namelijk een overzicht van alle URLs van de website, samen met een aantal metagegevens. Niet alleen kunnen zoekmachines de website zo sneller indexeren, ze kunnen het ook beter.
Hulp nodig met WORDPRESS SEO?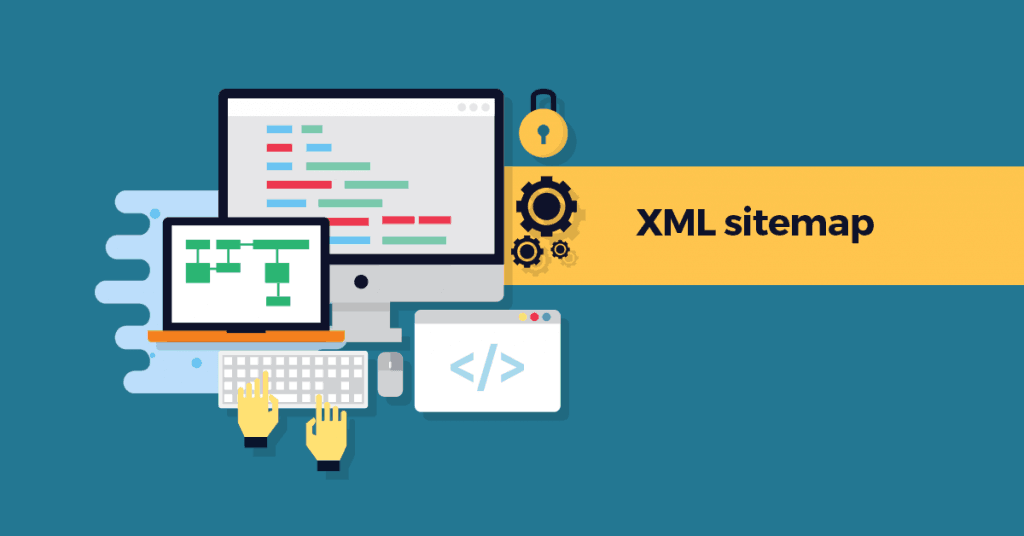 Hoe werkt een XML sitemap?
Een XML sitemap vereenvoudigt het indexeren van je website door een lijst van alle huidige URLs te genereren. In die lijst staan ook een aantal metagegevens:
Wanneer de pagina voor het laatst is bijgewerkt
Hoe vaak de pagina gewijzigd wordt
Hoe belangrijk de pagina is t.o.v. andere pagina's op de website
Laatst bijgewerkt op
Deze informatie staat altijd in de XML sitemap: <lastmod>yyyy/mm/dd</lastmod>. De crawlers van de zoekmachines gebruiken deze datum om te bepalen of het nodig is om de pagina opnieuw te indexeren of niet. Een voorbeeld: crawlers hebben twee weken geleden de pagina geïndexeerd. De "laatst bijgewerkt op" datum geeft dat de pagina drie weken geleden voor het laatst is bijgewerkt. De crawler weet dus dat het niet nodig is om de pagina opnieuw te indexeren.
Het zal zoekmachines ook helpen om nieuwe pagina's sneller te indexeren. Voor nieuwe webpagina's is deze datum namelijk de creatiedatum. Pagina's die dus zijn toegevoegd na de vorige indexatie, zal Google zo kunnen identificeren en meteen gaan indexeren.
Hoe vaak bijgewerkt
Ook deze informatie is belangrijk voor zoekmachines zoals Google. Aan de ene kant helpt het hen om in te plannen hoe vaak ze bij jou op bezoek moeten komen. Een nieuwswebsite, bijvoorbeeld, wordt elke dag bijgewerkt en moet dus vaker geïndexeerd worden dan een website van een bedrijfswebsite waarvan het voornaamste doel is om bezoekers aan te sporen hen te contacteren. Aan de andere kant kan Google hiermee ook inschatten hoe belangrijk een webpagina is. De belangrijkste pagina's worden gemiddeld namelijk het vaakst bijgewerkt.
Hoe belangrijk de pagina is
Met een XML sitemap kan je ook aangeven hoe belangrijk een specifieke URL is ten opzichte van andere webpagina's. Het is namelijk niet nodig om alle pagina's van je website in de sitemap te zetten. Tijdelijke landingspagina's of pagina's met noindex bijvoorbeeld, hoeven niet gecrawled te worden door Google en moet je hier dan ook niet inzetten. Heb je bovendien meerdere gelijkaardige pagina's op je website? Zet dan enkel de canonical URL erin om duplicate content te vermijden.
Voordelen van een XML sitemap
Google crawlt je website niet elke dag, dus een sitemap is een eenvoudige manier om aan te geven waar en wanneer je content hebt bijgewerkt. Je kan daarnaast aanpassingen ook zelf melden via "Fetch als Google" in de Google Search Console. Daar kan je bovendien ook zien of alle URLs goed geïndexeerd worden en worden eventuele foutmeldingen opgelijst.
Zoekmachines stellen XML sitemaps ook erg op prijs! Met een XML sitemap is de kans dus groter dat de zoekmachines vaker je website komen scannen voor bijgewerkte inhoud en nieuwe pagina's. Je sitemap up-to-date houden is dus belangrijk voor je SEO inspanningen. Want hoe vaker je website geïndexeerd wordt en hoe sneller nieuwe inhoud door Google gekend is, hoe beter bezoekers jouw website zullen vinden.
Tip: voeg je XML sitemap ook toe aan Google Search Console zodat Google je gemakkelijker kan vinden en indexeren.
Een XML sitemap maken
De meeste Content Management Systemen zullen automatisch een XML sitemap genereren. Je kan die natuurlijk ook altijd manueel toevoegen, daar bestaan verschillende tools. De eenvoudigste manier is om te surfen naar xml-sitemaps.com. Daar kan je eenvoudig, snel en gratis een XML sitemap maken voor kleine websites met maximum 500 pagina's door gewoon je URL in te geven. De sitemap wordt dan naar je mailbox gestuurd: deze file moet je vervolgens opladen in de root van je website.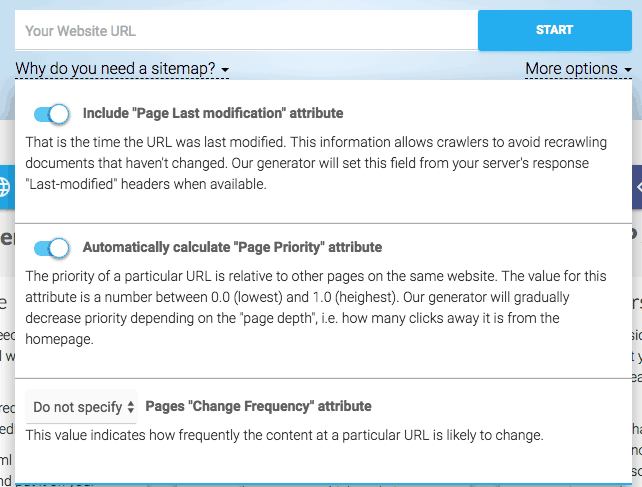 Je kan er ook een gratis account maken die ervoor zal zorgen dat je XML sitemap altijd up-to-date blijft. Zo kan je dan meerdere websites indexeren, met een maximum van anderhalf miljoen pagina's. En er is ook een betalende optie waar je een PHP script kan downloaden om zelf op je server te installeren om de XML sitemap te creëren en onderhouden.
WordPress XML sitemap
Het is zelfs nog eenvoudiger om een XML sitemap te maken voor je WordPress website. De Yoast SEO plugin geeft je namelijk ook de optie om een WordPress XML website te creëren, zowel in de gratis als premium versie van de plugin. Waar vind je deze optie? Ga naar je WordPress dashboard, klik op Yoast SEO en kijk dan in het "Features" tab van de "General" instellingen om je WordPress XML sitemap instellingen te bekijken.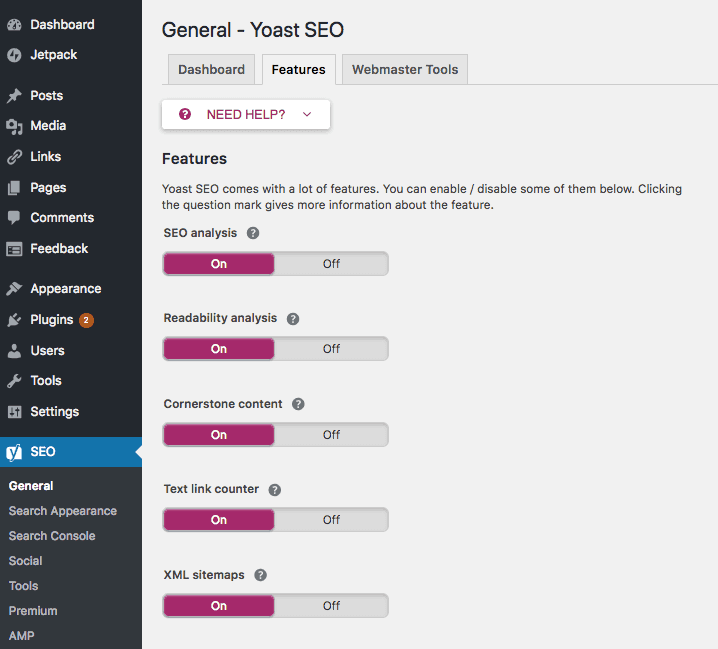 Daar kan je jouw WordPress XML sitemap aan of uit zetten en de sitemap bekijken in je browser. Onder "Search Appearance" en "Content Type" kan je content uitsluiten om ervoor te zorgen dat bepaalde pagina's niet in de WordPress XML sitemap staan.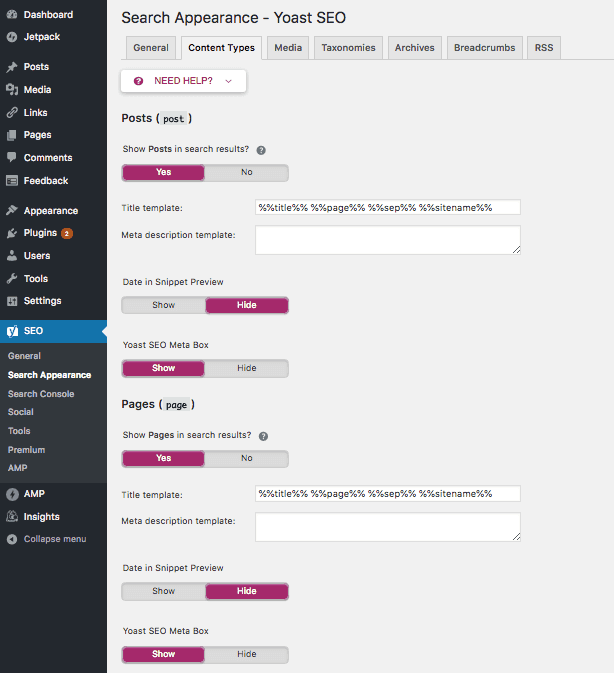 Besluit
Een XML sitemap is een inhoudsopgave van jouw website voor Google en andere zoekmachines. In WordPress kan je de sitemap automatisch laten maken door de Yoast SEO plugin. Met zo'n sitemap geef je de belangrijkste webpagina's aan en wanneer de inhoud bijgewerkt wordt. Dat maakt het gemakkelijker voor zoekmachines om jouw website snel en goed te indexeren. Hoe beter die indexatie verloopt, hoe makkelijker je naar voren komt in de zoekresultaten!
Hulp nodig met WORDPRESS SEO voor je bedrijf?
Neem contact met ons op voor vrijblijvend advies!