In het eerste deel van de gratis online marketing cursus "Hoe krijg ik meer websitebezoekers en klanten" gaan we het hebben over zoekwoordenonderzoek. We starten hiermee omdat dit onderzoek als basis telt voor je online marketingplan. Het onderzoek vergt ook enige tijd en zoals besproken in het artikel online marketingplan en strategie gebruik je je zoekwoorden om een buyer persona op te maken en je online marketingplan uit te werken.
Wat is zoekwoordenonderzoek (keyword research)?
Bij een zoekwoordenonderzoek (ook wel keyword research genoemd) ga je na welke woorden potentiële klanten gebruiken om de diensten of producten te vinden die jij aanbiedt. Met een zoekwoordenonderzoek kom je dus alles te weten over het zoekgedrag van je klanten.
Hulp nodig met een ZOEKWOORDENONDERZOEK?
Zo kom je tijdens je zoekwoordenonderzoek vragen tegen (zoals hoe, wat, waar, wanneer,…), producten of diensten die jij (nog) niet aanbiedt, kom je te weten hoe klanten jouw producten en diensten verwoorden en in welke zoekwoorden er veel of weinig interesse is. Met dit inzicht weet je waar je je klanten mee van dienst kunt zijn en hoe je je website voor SEO en Adwords campagnes moet inrichten.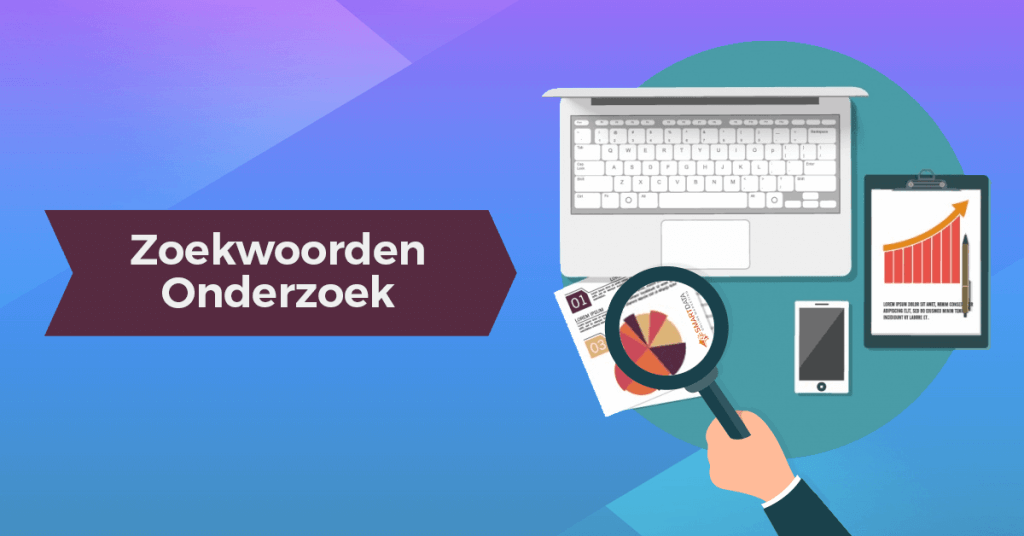 Wanneer je geen zoekwoordenonderzoek uitvoert, is de kans groot dat je geen of heel weinig bezoekers op je website krijgt via Google omdat Google enkel de pagina's die het meest relevant en kwalitatief zijn voor het zoekwoord op de eerste pagina toont. Dat is wat je wil bereiken en dit kan enkel door te weten hoe je doelpubliek zich gedraagt wanneer ze online op zoek zijn naar iets. Hierdoor is het zoekwoordenonderzoek een essentieel onderdeel van je online marketingplan & strategie.
Long tail keywords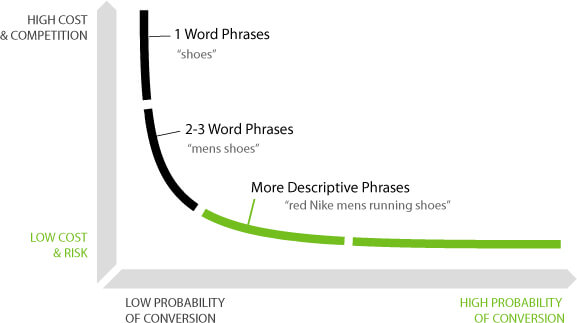 Long tail keywords zijn zoekwoorden van twee of meer woorden waar er een minder groot zoekvolume voor is. Dit betekent niet dat deze minder belangrijk zijn, integendeel zelfs. Het totale volume aan zoekopdrachten overstijgt veruit de short tail keywords (zoekwoorden met maar één woord) maar weliswaar verspreid over veel meer zoekwoorden. Long tail keywords duiden een specifieke zoekintentie aan en hoe meer woorden het zoekwoord bevat, hoe specifieker de intentie (vb: "goedkope Nike schoenen kopen") en hoe waarschijnlijker dat deze tot een aankoop gaan leiden. Met long tail keywords kom je eenvoudiger met SEO op de eerste pagina van Google en ze zijn veel goedkoper om een AdWords campagne mee op te zetten omdat er veel minder concurrentie is.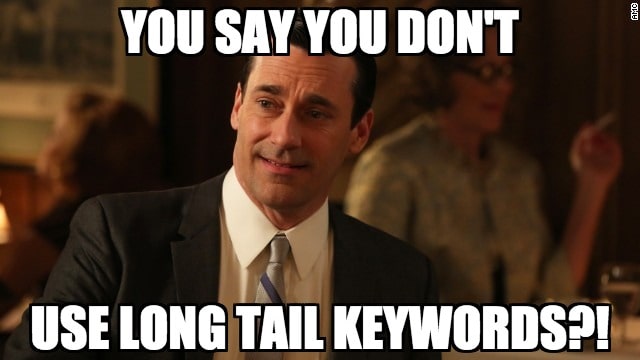 Hoe voer je een zoekwoordenonderzoek uit?
De beste tool om een zoekwoordenonderzoek mee uit te voeren is de zoekwoordplanner van Google AdWords. Andere interessante tools kan je onderaan deze pagina terugvinden.
Adwords Zoekwoordplanner (gratis)
Nog geen account bij AdWords?
Log eerst in bij Google AdWords via je Gmail-account. Als je geen Gmail-account hebt, moet je die eerst aanmaken. Normaal gezien kan je de configuratie met begeleiding overslaan (anders maak je je eerste advertentie).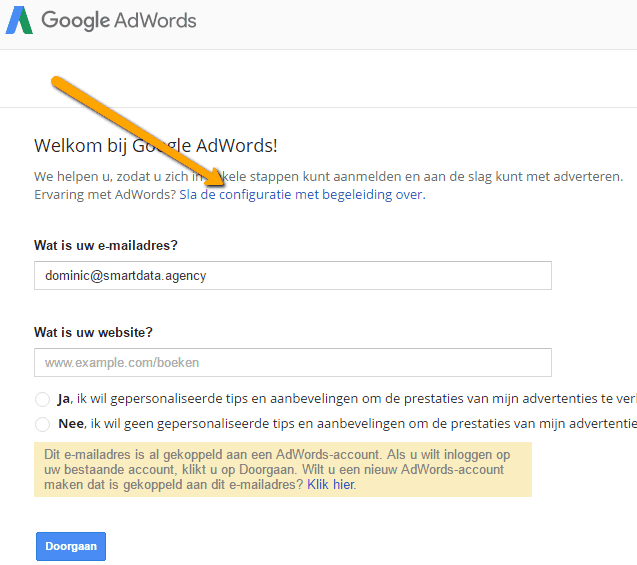 Kan je niet kiezen om de configuratie over te slaan, dan moet je eerst een advertentie maken en je credit card koppelen aan AdWords. Geen zorgen, je hoeft dit niet meteen te betalen. Stel het dagbudget van je advertentie in op €0.02 en hoeveel je wilt bieden op €0.01. Op je campagneoverzicht zet je de campagne uit zoals aangeduid in de volgende screenshot door op Onderbroken of Verwijderd te klikken. Bij twijfel kan je altijd het AdWords ondersteuningsteam telefonisch bereiken door rechts bovenaan op het tandwiel icoon te klikken en dan naar Wereldwijde telefonische ondersteuning te gaan.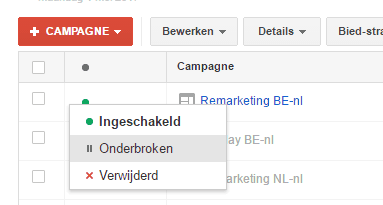 Heb je een account bij AdWords?
Dan kun je de zoekwoordplanner van Google AdWords terugvinden onder Hulpprogramma's/Zoekwoordplanner.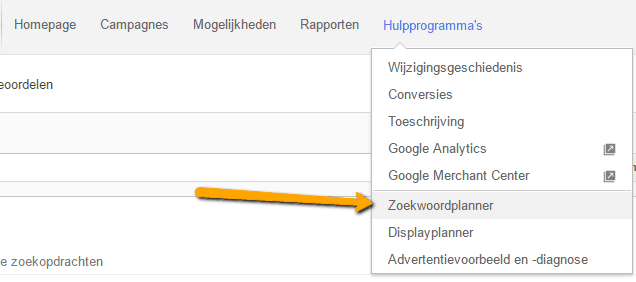 Op de startpagina van de zoekwoordplanner krijg je verschillende keuzes. Voor de handleiding gaan we ons beperken tot "Nieuwe zoekwoorden zoeken met een woordgroep, website of categorie".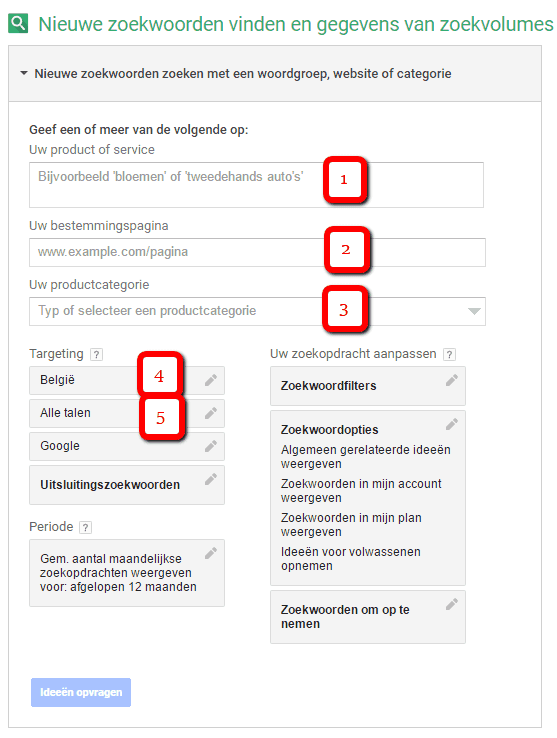 1. Vul hier één of meerdere zoekwoorden onder elkaar in
2. Vul hier een URL van een pagina in (bijvoorbeeld van jouw concurrentie). Je krijgt een overzicht te zien van de zoekwoorden waar deze pagina voor in aanmerking komt volgens AdWords.
3. Hier kun je de meest gebruikte zoekwoorden terugvinden per categorie en is niet relevant voor de meeste adverteerders.
1,2 en 3 dien je afzonderlijk te gebruiken en zijn niet te combineren
4. Duid hier het land(en) aan waar je de resultaten voor wilt weten
5. Vul je de taal of talen in
Nu kun je Ideeën opvragen
Je hebt hier twee tabbladen: Advertentiegroepideeën en zoekwoordideeën. Bij Advertentiegroepideeën zijn de zoekwoorden gegroepeerd per thema.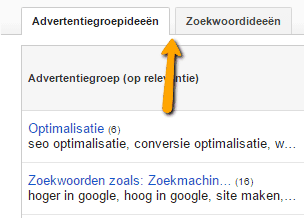 Met groepen is het eenvoudiger om ideeën per thema te vinden maar persoonlijk gebruik ik steeds het tabblad Zoekwoordideeën omdat ik hier alles onder elkaar kan vinden.
Nu ga je elk zoekwoord dat relevant is voor wat jij doet één voor één toevoegen aan je zoekwoordplan. Voeg variaties en meervouden toe van zoekwoorden en zelfs zoekwoorden waar je over twijfelt.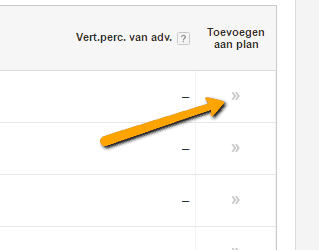 Zijn er je geen relevante zoekwoorden meer? Vul dan zeker een nieuw zoekwoord in in het vak van "Uw product of service" om nieuwe ideeën te krijgen. Je blijft zoeken naar zoekwoorden tot je volledig zeker bent dat je alle relevante zoekwoorden hebt. Voor een e-commerce of een sector die sterk is gericht op informatie kan dit zeer uitgebreid zijn.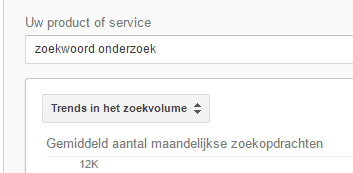 Hierna ga je alle zoekwoorden die je hebt bewaard downloaden. Je kan de download knop vinden in het rechterpaneel.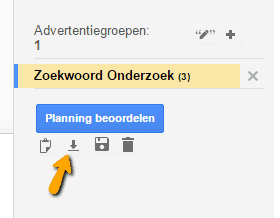 Hoe en wat je verder met deze zoekwoorden gaat doen, bespreken we later zowel in het hoofdstuk over SEO als in het hoofdstuk over AdWords maar start hier al mee. Wees gerust: je zoekwoordenonderzoek is de basis van SEO en AdWords.
Wanneer je zoekwoordenonderzoek af is, sta je veel verder dan meerderheid van de website eigenaars en ben je goed op weg om je online marketingplan & strategie uit te werken.
Zoekwoordenonderzoek Tools
Er zijn heel veel zoekwoord tools op de markt en een groot deel ervan werken alleen goed op de Amerikaanse/Engelstalig market. Ook zijn de zoekvolumes in België van een heel ander kaliber dan die in de USA en kan het zijn dat je met de long tail keywords (buiten deze in AdWords) bijna geen zoekacties per maand hebt. Ik raad aan om eerst je zoekwoordenonderzoek in AdWords uit te voeren en daarna één van de onderstaande tools te gebruiken.
In AdWords kan je de kost per klik terugvinden, hoe sterk de concurrentie is voor een zoekwoord en de verschillende variaties van het zoekwoord of vergelijkbare zoekwoorden. Andere zoekwoord tools geven je ook inzicht in hoe moeilijk het is om te ranken in Google voor een zoekwoord, geven je zoeksuggesties van je zoekwoord, gerelateerde zoekwoorden, per zoekmachine (Google, Youtube & Bing), vertellen je welke websites de beste ranking hebben en welke artikelen het meest zijn gedeeld op sociale media.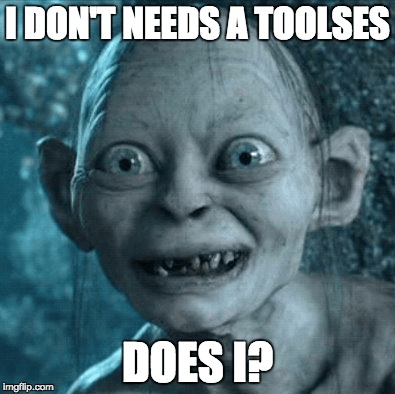 KWFinder (freemium)
Zoekwoorden zoals je ze kunt vinden in Google AdWords met een duidelijke trendgrafiek en de moeilijkheidsgraad.
KWFinder
Keyword Tool (freemium)
Hier krijg je alle variaties van een zoekwoord waaronder zoeksuggesties en gerelateerde zoekwoorden. Als je voor long tail keywords wilt gaan, dan is dit de tool.
Keyword tool
Buzzsumo (freemium)
Met Buzzsumo kun je zien welke content het beste preseteert en waarom. Dit geeft je een behoorlijk competitief voordeel.
Buzzsumo
Adwords zoektermen (min of meer gratis)


Wanneer je adverteert met AdWords krijg je onder zoekwoorden/zoektermen alle zoekwoorden te zien die AdWords koppelt aan de zoekwoorden die je gebruikt. Het zoektermen rapport is een uitstekende tool om inspiratie op te doen.
Google Search Console (gratis)
Als je al een site hebt die redelijk wat bezoekers via SEO krijgt, dan kun je in Google Search Console onder Search Traffic / Search Analytics zien voor welke zoekwoorden je website al in aanmerking komt.
Google Search Console
HitTail (betalend)
Deze tool haalt uit webmaster tools de zoekwoorden waarvoor je in aanmerking komt en geeft suggesties met welke zoekwoorden je het meeste en makkelijkste resultaat boekt. Met deze informatie kan je dan je bestaande blogbericht aanpassen of een nieuwe creëren
HitTail
Hulp nodig met een ZOEKWOORDENONDERZOEK voor je bedrijf?
Neem contact met ons op voor vrijblijvend advies!