Een online marketing funnel is een populair concept in marketing en sales. Het idee erachter is dat je begint met een grote groep begint die je geleidelijk aan omzet in een kleinere groep. Die eerste grote groep, dat zijn de leads. Iedereen die eventueel interesse zou kunnen hebben in jouw product of dienst, iedereen die naar jou op zoek zou kunnen zijn. Via bepaalde marketing- en salesacties ga je hen op de juiste momenten op de juiste manieren benaderen. Het uiteindelijke doel is natuurlijk om ze om te zetten in klanten. Dat proces ziet eruit als een trechter ('funnel' in het Engels): een grote groep die binnenkomt, een kleine groep die overblijft.
Hulp nodig met jouw ONLINE MARKETING?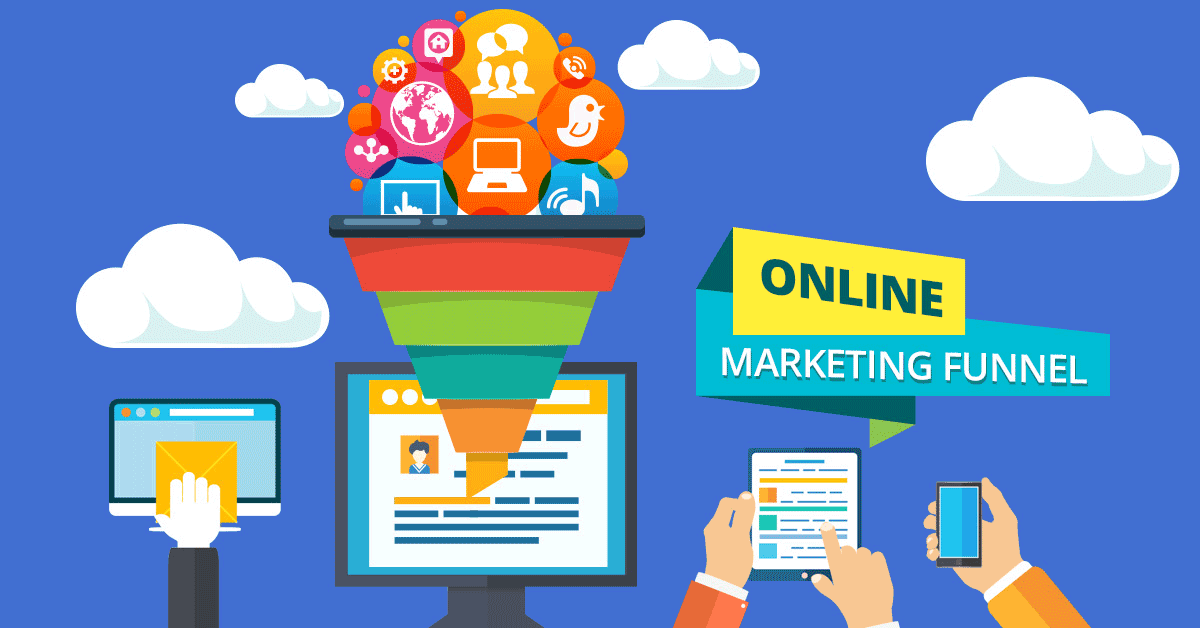 Online marketing funnel
De volledige online marketing funnel bestaat vaak uit 5 stappen. De eerste 3 daarvan horen thuis in pure marketing: bewustwording, interesse en overweging.
Het marketing aspect
Natuurlijk is bewustwording de eerste stap: je kan niets verkopen als mensen niet weten dat het bestaat. Met behulp van de verschillende online marketing kanalen kan je mensen bewust maken van jouw product en ze naar jouw blog, website of webshop leiden. Zodra ze zich bewust zijn van je product of dienst, moet je hun interesse gaan opwekken. Je geeft ze informatie over je product of dienst en vraagt ze bijvoorbeeld om zich in te schrijven op je nieuwsbrief. Tonen ze interesse? Dan moet je ze zover krijgen dat ze een aankoop overwegen, bijvoorbeeld door ze e-mails te sturen met kortingen, speciale acties en gepersonaliseerde informatie. Wie deze drie fases doorlopen heeft is wat wij noemen een marketing qualified lead.
Het sales aspect
Zodra je marketing team zijn werk gedaan heeft, kunnen zij deze marketing qualified leads doorgeven naar je sales team. Zo komen de geïnteresseerden in het sales gedeelte van je online marketing funnel terecht voor de laatste twee stappen in het verkoopproces: beslissen en aankoop.
Je gaat niet beginnen verkopen uit het niets: iemand opbellen of mailen over een geweldig product – dat werkt niet meer. Mensen ontvangen informatie langs alle kanten en reageren nog amper op dit soort cold calling-technieken. Beter is dat ze eerst de marketing funnel doorlopen, zo zijn ze zich al bewust van jouw product. Bovendien heb je in een uitgebreide marketing funnel hier ook al meer informatie: in welke producten zijn ze specifiek geïnteresseerd, welke voordelen zijn voor hen het belangrijkste, hoe ziet hun situatie eruit, … Die informatie kan je gebruiken om je verkooppraatje aan te passen en te personaliseren voor optimale slaagkansen. Bij de stap van de beslissing is de klant aan het nadenken welk product hij wil: hij is zijn keuze aan het maken. Als je de klant hierbij kan begeleiden en richten, gaat hij sneller tot een aankoop over.
Marketing qualified leads vs. sales qualified leads
Marketing qualified leads
Een marketing qualified lead is een lead die gekwalificeerd is door marketing. Dat wil zeggen dat deze persoon in contact is gekomen met één of meerdere marketingacties (website bezocht, iets gedownload, ingeschreven, formulier ingevuld, geklikt op advertentie, …) en daar heeft aangegeven geïnteresseerd te zijn in jouw product of dienst. Je hebt nog niet gesproken met deze persoon, maar op basis van zijn gedrag kan je zijn interesse afleiden. Zodra iemand de eerste stap van bewustwording gepasseerd is, is het een marketing qualified lead. Hij wordt pas doorgegeven naar het sales team als de lead verder staat, als hij klaar is om een conversatie te beginnen. Dan moet het sales team het overnemen om verder te kwalificeren zodat het een sales qualified lead kan worden.
Sales qualified leads
Sales kan een lead kwalificeren door rechtstreeks contact op te nemen, door zijn bedrijf te bekijken of door in te schatten of jouw huidige aanbiedingen deze persoon kunnen helpen. Het grote verschil zit in de conversatie of interactie. Een marketing qualified lead, dat is meestal eenrichtingsverkeer. Het marketing team stuurt e-mails of andere marketingacties aan, en de persoon opent, klikt, deelt of vindt ze leuk. De lead gaat op dit moment niet rechtstreeks in contact treden met het bedrijf en een conversatie beginnen. Wanneer hij dat wel doet, dan is hij klaar voor de verkoop, dan wordt hij een sales qualified lead.
Je online marketing funnel vullen
Er zijn verschillende manieren om aan je online marketing funnel te beginnen en mensen bewust te maken van je bedrijf. In de eerste plaats moet je zorgen dat je online aanwezig bent met een duidelijke website. Wij raden WordPress aan, eenvoudig en met eindeloos veel mogelijkheden. Dankzij SEO (Search Engine Optimisation) ga je ervoor zorgen dat je website ook goed gevonden wordt in zoekmachines. Dan is het tijd om nog een stap verder te gaan en te gaan adverteren. In de eerste plaats via de zoekmachines met SEA (Search Engine Advertising). Daarna kan je nog een stap verder gaan met e-mail marketing, sociale media, content marketing, enzoverder.
Klantenbinding
Je kan nog stappen toevoegen aan de online marketing funnel. Bijvoorbeeld om huidige klanten te behouden of ze opnieuw aan te sporen tot een aankoop. Dit wordt vaak loyaliteit genoemd: je wil je klanten omzetten tot echte fans van jouw merk of bedrijf en omzetten in terugkerende klanten. Dat ze in de toekomst vanzelf weer voor jou gaan kiezen omdat ze tevreden zijn. Dat ze ook tegen hun vrienden en kennissen gaan vertellen over jou. Dat je top-of-mind blijft voor de volgende keer dat ze weer een product of dienst die jij aanbiedt willen kopen.
Optimalisatie van je online marketing funnel
Elke fase van de online marketing funnel kan geanalyseerd en geoptimaliseerd worden. Je kan bekijken hoeveel procent er afhaakt van de ene naar de andere stap. Het doel daarvan is om erachter te komen waarom mensen afhaken. Stel bijvoorbeeld dat iemand interesse toont en zich wil inschrijven voor je nieuwsbrief. Maar in dat formulier vraag je om heel wat persoonlijke informatie en stel je teveel vragen. Natuurlijk doe jij dit om achteraf je marketingacties beter te kunnen richten. Maar om vanuit een algemene interesse opeens zoveel persoonlijke informatie te delen, dat schrikft af. Dan ben je er gebaat bij een eenvoudiger inschrijvingsformulier te maken. Het principe "voor wat, hoort wat" is daarbij belangrijk: waarom zou een consument zomaar al zijn informatie met jou gaan delen om daar enkel een nieuwsbrief voor in ruil te krijgen?
A/B testen
Hoe kan je er nu achter komen wat er wel en niet werkt? Behalve door een analyse van de pure cijfers (doorklikratio, openingsratio, afhaakpercentages, aantal leads die klanten worden, …) kan je ook beginnen A/B testen.
Door veranderingen door te voeren in je online marketing funnel, kan je testen welke marketingacties het meeste effect hebben. Dat kan gaan van kleine aanpassingen zoals een afbeelding of het onderwerp van een e-mail tot grotere aanpassingen zoals de volgorde van het gebruik van de marketingacties. Misschien reageren bezoekers er namelijk beter op als ze eerst op je website komen, daarna een advertentie op Facebook zien, en daarna een gepersonaliseerde e-mail krijgen. Of willen bezoekers van jouw website meteen een e-mail krijgen met speciale aanbiedingen?
Geen lineair proces
Deze online marketing funnel wordt standaard dan wel afgebeeld als een trechter, dat wil niet zeggen dat dit een lineair proces is. Je mag niet vergeten om altijd alternatieve trajecten te voorzien. Het kan zijn dat iemand zich bewust wordt van jouw product en daar interesse voor toont, maar dat hij pas binnen een jaar effectief wil kopen. Die zal dan een ander proces doorlopen dan iemand die het product nu wil kopen en zo op jouw website terecht komt. Die eerste persoon zal bijvoorbeeld verschillende keren tussen stap 1 en 2 zweven, vooraleer hij een aankoop echt begint te overwegen.
Of neem nu iemand die al in je online marketing funnel terechtgekomen is en bijna klaar was om te beslissen, maar niet is overgegaan tot een verkoop. Gooi je deze persoon dan zomaar weg? Nee, deze persoon laat je best opnieuw terugkomen in je marketing funnel. Je weet namelijk al dat hij interesse heeft. Verspil al je hard werk niet en breng hem terug binnen in je marketing funnel om af en toe te contacteren zodat jij top-of-mind blijft.
Remarketing risico's
Remarketing is een erg interessante tool om bezoekers van je website op andere platformen te blijven bereiken. Als ze op jouw website gekomen zijn, kan je namelijk aannemen dat ze interesse hebben. Door hen te benaderen op verschillende platformen kan je helpen om de online marketing funnel verder te doorlopen. Maar hier zijn ook wel wat risico's aan verbonden.
Neem bijvoorbeeld de reissector. Als je surft op een website zoals Booking.com treden hun remarketing acties meteen in werking en zal je overal op het internet reclame vinden voor hotels in de regio waar jij aan het zoeken was. Als je nog niet geboekt hebt, kan dit je helpen overtuigen om van de beslissing naar de aankoop over te gaan. Maar als je wel net geboekt hebt, kan dit heel frustrerend en zelfs storend zijn. Want wie weet kom je plots een beter of goedkoper hotel tegen? Of stel dat je net een leuk paar schoenen hebt gekocht, en daarna reclame krijgt voorgeschoteld voor datzelde paar schoenen. Houd dus bij je remarketing altijd rekening met waar iemand zit in je online marketing funnel, vooral wanneer iemand net klant is geworden!
Een andere funnel: See, Think, Do Care
Natuurlijk is de funnel die wij hierboven beschreven hebben niet de enige funnel die er bestaat. Er bestaan verschillende varianten, maar het doel ervan is altijd hetzelfde: opvolgen hoe leads klanten worden en hoe dat proces verbeterd kan worden. Een ander veelgebruikt model is dat van Google: See, Think, Do Care.
See
Dit is hetzelfde als de bewustwordingsfase die we eerder beschreven. Het doel is om mensen die nog niet van jou gehoord hebben kennis te laten maken met je bedrijf. Hiervoor gebruik je best niet-commerciële inhoud. Als je al meteen met de deur in huis valt en begint over prijzen en acties, dan schrikt dat af. In deze fase wil je eerst tonen wie je bent en wat je doet, kennis delen. Het succes van deze acties meet je op basis van zichtbaarheid, bereik en aantal bezoekers.
Think
Tijdens de Think-fase wil je mensen betrekken bij je bedrijf. Wie positief gereageerd heeft op de See-fase kent jou al. Ze hebben al interesse getoond. Nu wil je ze over jou doen nadenken. Jouw producten en diensten overwegen en vergelijken. Hier vermijd je nog steeds puur commerciële berichten, maar je kan wel al een stap verder gaan. Je gaat mensen uitnodigen om iets uit te testen, demosessies te volgen, productinformatie te bekijken, verder te klikken en te blijven lezen. Om ze te helpen vergelijken kan je hier ook getuigenissen en tips en tricks delen. Het succes hiervan meet je door het aantal kliks, het engagement op sociale media, terugkerende bezoekers, …
Do
Deze fase omvat de twee laatste stappen die we hierboven in de online marketing funnel besproken hebben. Je gaat mensen nu echt tot kopen aanzetten. Wie interesse en betrokkenheid heeft getoond in de eerdere twee fases, is eigenlijk al een marketing qualified lead. Nu wil je ze doen overgaan tot actie, je wilt ze laten doen! Hier komt je commerciële inhoud aan te pas, met nadruk op de vele voordelen van jouw producten of diensten. Het succes hiervan meet je natuurlijk aan de hand van je verkoopcijfers. Maar ook belangrijk in deze fase is om te gaan kijken hoeveel mensen er hier tussenuit vallen en hoe je hen kan recupereren.
Care
Dit is de extra stap die we hierboven ook besproken hebben: loyaliteit, klantenbinding. De mensen die jouw product of dienst gekocht hebben wil je nu inzetten als ambassadeurs van jouw merk. Je wil ze hun positieve ervaringen laten delen met familie en vrienden – mond-tot-mond reclame dus. Tevreden klanten zijn namelijk je beste verkooptruc! En tegelijkertijd wil je hen ook bedanken voor hun aankoop en aanzetten om in de toekomst opnieuw bij jou te komen aankloppen.
Conclusie
Er bestaan dus verschillende soorten funnels en manieren om leads om te zetten in klanten. Het maakt niet uit welke funnel je gebruikt, ze zullen je allemaal helpen om dit proces in kaart te brengen. Analyseer regelmatig de resultaten en wees niet bang om te testen! Zo kan je jouw proces optimaliseren en zoveel mogelijk leads omzetten in nieuwe klanten!
Hulp nodig met jouw ONLINE MARKETING funnel?
Neem contact met ons op voor vrijblijvend advies!