Wie online aanwezig wil zijn, heeft veel verschillende opties om te gaan adverteren. Er zijn namelijk meerdere online marketing kanalen om te exploiteren. Hieronder gaan we de kanalen opnoemen die absoluut onmisbaar zijn voor je online marketingstrategie: SEO en SEA, blog, e-mail en sociale media. Wil je graag weten welke kanalen voor jou geschikt zijn? Dat vertellen we je op het einde van dit artikel!
Hulp nodig met jouw ONLINE MARKETING?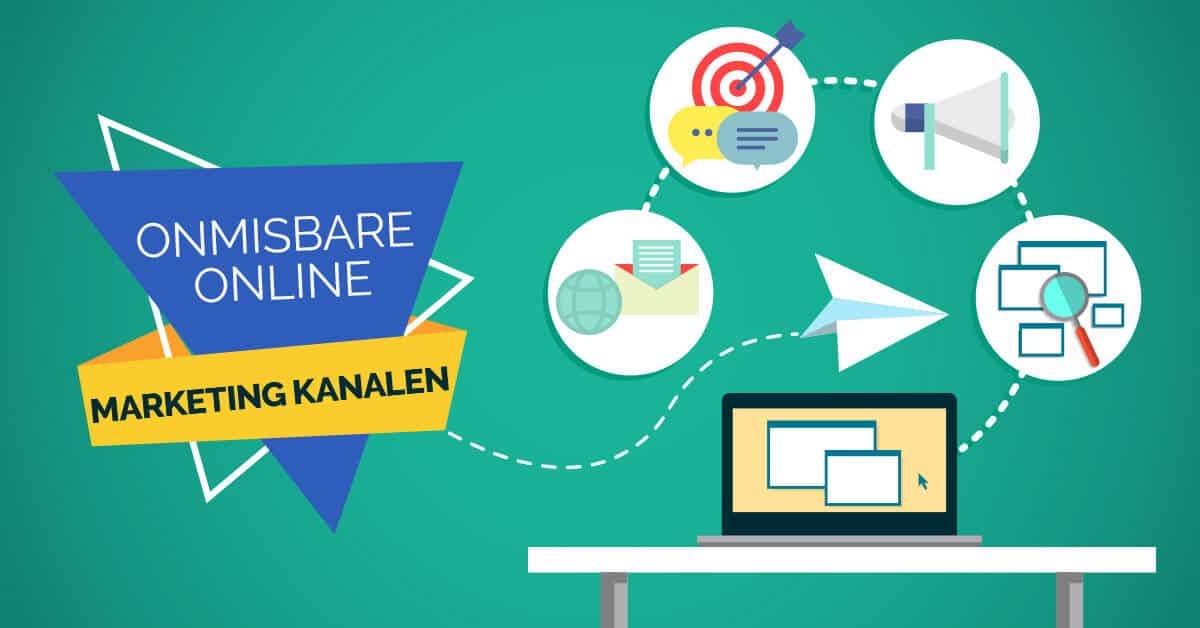 SEM – search engine marketing
SEM staat voor Search Engine Marketing: het geheel van marketingtechnieken om aan zoekmachinemarketing te doen. Concreet bestaat dit uit twee online marketing kanalen:
SEO – technische en inhoudelijke verbeteringen van je website om beter gevonden te worden in Google
SEA – betaalde advertenties om bovenaan in de zoekresultaten te verschijnen
SEO – zoekmachine optimalisatie
Alles begint natuurlijk bij je website. Ervoor zorgen dat die goed gevonden wordt is dan ook de eerste prioriteit. Met SEO of zoekmachine optimalisatie ga je jouw website op technisch en inhoudelijk vlak optimaliseren om meer verkeer te krijgen. In onze SEO cursus voor bedrijven leer je hoe jouw website op de eerste pagina van de zoekresultaten terecht kan komen. Dat is één van de belangrijkste online marketing kanalen!
Op technisch vlak houdt dit dan bijvoorbeeld in dat je een XML sitemap installeert op je website. Deze inhoudsopgave van je website zal Google helpen om jouw website sneller te indexeren. Zo weet de zoekmachine beter wat er op jouw website staat, en welke zoekopdrachten jij kan beantwoorden. Maar ook de snelheid van je website is erg belangrijk. Er zijn verschillende manieren om de laadsnelheid van je website te testen. Die informatie kan je vervolgens gebruiken om je website sneller te maken – zodat bezoekers niet moeten wachten op jouw webpagina's!
Op inhoudelijk vlak moet je vooral aan je content werken. Dankzij content marketing kan je jouw content optimaliseren voor je doelpubliek. Schrijf relevante en duidelijke content, gebaseerd op zoekwoordenonderzoek. Investeren in content waar mensen toch niet naar zoeken is namelijk verspilling van tijd, geld en moeite! Duid je content danaan met de juiste metadata. En vergeet ook zeker de alt tags voor je afbeeldingen niet!
SEA – zoekmachine advertenties
SEA, kort voor Search Engine Advertising, is een online marketing kanaal waarbij je gaat betalen om hoger in de zoekresultaten te verschijnen. Het dient als ondersteuning van je website en je SEO-strategie. Deze advertenties werken meestal met een kost per klik of een kost per weergave. In het eerste geval betaal je iedere keer als er iemand klikt op jouw advertentie, in het tweede geval betaal je per 1000 keer dat je advertentie getoond wordt.
De populairste zoekmachine in België (en wereldwijd) is Google, dus wij raden aan dat je daar aan SEA gaat doen. Je kan het ook in Bing en het Russische Yandex, maar daar zal je veel minder bezoekers kunnen leiden naar jouw website. Google heeft zijn eigen tool ontwikkeld voor SEA: Google AdWords. Wil je graag weten hoe je best te werk gaat? Lees dan zeker onze Google AdWords handleiding! En vergeet ook zeker onze 5 basistips voor een goed beheerd AdWords-account niet te bekijken!
Blog voor content marketing
We hebben hierboven al even aangehaald dat content marketing belangrijk is voor je SEO inspanningen. En content marketing gaat natuurlijk verder dan je websiteteksten zelf. Eén van de online marketing kanalen bij uitstek voor content marketing is een blog! En dat omwille van twee redenen:
Expertise delen
SEO toepassingen
Je expertise delen
In de eerste plaats kan je via een blog jouw expertise delen met je bezoekers. Belangrijk hierbij is dat je altijd vertrekt vanuit de bezoeker. Met welke vragen zitten zij? Wat willen zij weten? Wat zoeken zij op in Google? En denk hierbij niet enkel aan de klassieke blog artikels, maar ook aan infographics en video's die je op je blog kan delen.
Tips:
Krijgt je klantendienst vaak dezelfde vragen? Beantwoord deze op je blog!
Kondig nieuwe producten op voorhand aan
Creëer interactie door feedback aan te moedigen en vragen te stellen op je blog
Laat medewerkers aan het woord om hun specifieke expertise te delen of uit te leggen wat hun functie juist inhoudt
SEO hack
Je blog is ook een ideaal medium om je SEO inspanningen te ondersteunen. Doe zoekwoordenonderzoek en analyseer je website om te achterhalen wat jouw doelpubliek wil weten en hoe ze op jouw website terechtkomen. Zie je dezelfde zoekwoorden vaak terugkomen? Gebruik deze informatie dan om een blog te schrijven en zorg dat je het zoekwoord voldoende vermeldt. Als je de juist zoekwoorden gebruikt, zal dit een echte boost betekenen voor je SEO!
Je blog verspreiden
Als je een blog artikel schrijft, publiceert en er verder niets mee doet loop je heel wat mogelijkheden mis. Om je blog te verspreiden en bekend te maken bij je bezoekers, moet je nog andere online marketing kanalen gaan inzetten: namelijk sociale media en e-mail. Let wel op dat je hiervoor eerst een goede strategie uitwerkt: consistentie en regelmaat zijn erg belangrijk! En heb je even niets te zeggen? Laat je blog dan ook even links liggen. Beter dat je niets publiceert, dan dat je een kort, nietszeggend artikel maakt en verspreidt.
E-mailmarketing
Als je aan online marketing kanalen denkt, denk je waarschijnlijk meteen aan e-mail. Nieuwsbrieven zijn inderdaad een van de meest effectieve marketing tools en kan je relatief eenvoudig en goedkoop inzetten. We raden je wel aan om dit niet handmatig te gaan doen in Outlook of Gmail, maar te werken met software zoals bijvoorbeeld Mailchimp. Dat is het grootste e-mail automatisatieplatform en het is gratis tot 2000 e-mailadressen. Wil je hier graag meer over weten? Lees dan zeker ons artikel over e-mailmarketing.
Weet je niet waarover te schrijven in je nieuwsbrief? Er bestaan zoveel verschillende opties! Hier noemen we er een paar op:
Informeren over veranderingen (verhuis naar nieuw kantoor, nieuwe medewerker, …)
Jouw expertise in de verf zetten door je blogberichten te delen
Speciale acties, promoties en kortingen
Nieuwe producten of diensten aankondigen
Bestaande klanten informeren over updates aan hun producten of diensten
Nieuwe klanten welkom heten
Aan klantenbinding doen door hen een e-mail te sturen (eventueel met korting of speciale actie) voor hun verjaardag
…
Sociale media
Sociale media mag natuurlijk ook niet ontbreken op dit lijstje van onmisbare online marketing kanalen! En dit gaat natuurlijk verder dan Facebook en Instagram, vergeet ook YouTube en LinkedIn bijvoorbeeld niet! Een volledig overzicht van het sociale media landschap en alle voordelen ervan vind je in dit artikel over social media marketing.
Ook sociale media is een online marketing kanaal voor content marketing. Facebook is het grootste sociale netwerk in België en het is tegenwoordig praktisch ondenkbaar om er niet aanwezig te zijn. Je kan je Facebookpagina uiteraard ondersteunen met Facebook advertenties, waarbij het niet moeilijk is om je doelpubliek duidelijk te segmenteren. Maar zoals gezegd is Facebook niet het enige kanaal. Wij raden je ook aan Twitter en LinkedIn eens te bekijken. Twitter wordt veel gebruikt door journalisten, communicatie- en marketing professionals en overheidsinstanties. En, net zoals Facebook, wordt het platform vaak gebruikt om de klantendienst van een merk te bereiken, meningen te delen en te adverteren. LinkedIn daarentegen, wordt niet echt gebruikt als klantendienst. Het is vooral een platform waar informatie wordt uitgewisseld tussen bedrijven en professionals onderling. Netwerken is hierbij het belangrijkste en je kan als bedrijf je boodschap ook verder verspreiden met advertenties.
Conclusie: een omnichannel strategie werkt het best
Hierboven hebben we de online marketing kanalen opgenoemd waarop je aanwezig moet zijn om je bereik te vergroten. Nu is het moment gekomen om te beslissen welke kanalen het beste gaan werken voor jouw bedrijf, jouw sector, jouw situatie. En daar hebben we een eenvoudig antwoord op: alle kanalen tegelijkertijd! Een omnichannel strategie waarbij je al deze online marketing kanalen inzet geeft namelijk de beste resultaten. Op die manier kunnen (potentiële) klanten op verschillende plaatsen en manieren in contact komen met jouw bedrijf.
We geven iedereen dan wel hetzelfde antwoord in de vorm van een omnichannel strategie, dat wil natuurlijk niet zeggen dat iedereen hetzelfde gaat doen. De manier waarop we deze online marketing kanalen gaan inzetten, daar zit het verschil. En dat is waar wij jou bij kunnen helpen! We zullen bijvoorbeeld al een antwoord gaan zoeken op deze vragen:
Op welke sociale media platformen zijn jouw potentiële klanten aanwezig?
Hoe vaak ga je nieuwsbrieven versturen, op welk moment en waar ga je over schrijven?
Welke blog onderwerpen spreken jouw doelpubliek aan?
Welke zoekwoorden moet je gebruiken om te adverteren binnen Google?
Hoe kunnen we jouw website, zowel inhoudelijk als technisch, verbeteren om beter gevonden te worden in Google?
Klaar voor jouw omnichannel strategie? Contacteer ons!
Hulp nodig met jouw ONLINE MARKETING strategie?
Neem contact met ons op voor vrijblijvend advies!