Wat is website snelheid?
De website snelheid, ook wel laadtijd genoemd, gaat over hoe lang een pagina er over doet om te laden. Dit is uitermate belangrijk voor de gebruikservaring van een bezoeker. Zoals wel al in ons artikel over wat is AMP zeiden: als een website niet binnen de 3 seconden laadt, haakt 40% van je bezoekers af. Websites die traag of zelfs niet laden, zijn erg frustrerend voro de gebruiker. Daardoor verlaat die gebruiker vaak de website, wat een verlies van inkomsten is.
Hulp nodig met je WEBSITE SNELHEID TESTEN?
Snelheid website testen
Hoe weet je of je website snel genoeg is? En als dat niet zo is,  waar ligt dan het probleem?
Laten we eerst vier tools introduceren: PageSpeed, WebPageTest, Pingdom Website speed test en Google Search Console. De eerste is de officiële test tool van Google, de tweede is uitgebracht door een werknemer van Google, Pingdom Website speed test is nog een andere test tool en de laatste is een hulprogramma van Google voor webmasters.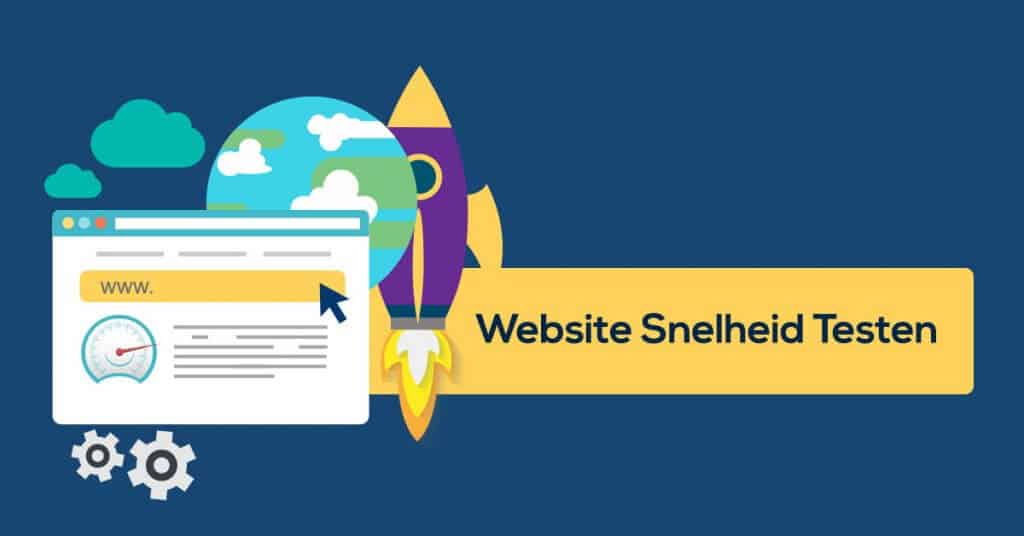 PageSpeed
PageSpeed is vrij eenvoudig: je geeft de gewenste URL in van je website en je drukt op analyse. Voor de Mobile test heb je rond de 70/100 nodig en voor de Desktop minstens 70/100. Alles wat in het rood of geel gemarkeerd is, moet je oplossen. Het leuke aan deze test is dat je met iets werkbaars naar je developer kunt gaan. Houd er rekening mee dat dit aanbevelingen zijn! De optimalisatie mag niet ten koste gaan van de echte laadsnelheid die de gebruiker ervaart of die je in WebPageTest en Google Webmaster Tools kunt terugvinden. Laadsnelheid is veel belangrijker dan de PageSpeed score, want dit is een belangrijke ranking factor bij Google. Kortom, PageSpeed geeft suggesties over wat je zou kunnen doen om je site te versnellen.
WebPageTest
WebPageTest werkt vergelijkbaar met PageSpeed. Bij Advanced Settings moet je wel "Number of tests to run" op "9" zetten. Hier krijg je te zien hoe lang elk element op je website erover doet om te laden en wat de gemiddelde laadsnelheid van je website is. Afhankelijk van de complexiteit van je website, zou je website tussen de 1 à 4 seconden geladen moeten worden. Met 1 à 2 seconde voor simpele websites (HTML, WordPress, …) en 2 à 3 seconden voor complexere website zoals E-commerce (bv. Magento).
Bekijk ook de laadsnelheden van de afzonderlijke elementen. Als je bijvoorbeeld ziet dat een snel element meer dan 0,5 seconden nodig heeft om te laden, zit er hier iets niet goed. De laadtijd van alle andere elementen wordt daardoor opgeschoven en je website laadt trager. WordPress gebruikers kunnen met deze tool ook evalueren welke plugins trager of sneller laden. Heb je plugins die erg traag laden? Misschien moet je die dan vervangen door een snellere plugin.
Verder kun je ook zien of de afbeeldingen op de pagina voldoende zijn gecomprimeerd en of er gebruik wordt gemaakt van een CDN en/of browser caching. Ook met deze tool kan je gemakkelijk naar je developer om aanpassingen te laten doen.
Test de mobiele snelheid van jouw website
Via WebPageTest is het nu ook mogelijk om de mobiele snelheid van je website te testen. Deze test controleert hoe snel je website laadt over een standaard 3G netwerk. Je komt ook te weten hoeveel percentage van je bezoekers je verliest doordat je website niet snel genoeg laadt. Je ziet hoe goed je website het doet ten opzichte van de concurrentie in jouw sector en wat je kan verbeteren. De informatie over wat je kan verbteren is echter schaars. Daarom raden we je aan om hiervoor ten rade te gaan bij de eerder vermelde PageSpeed tool.
Pingdom Website speed test
Dit is een tool vergelijkbaar met WebPageTest maar dan iets minder accuraat. Er worden namelijk enkel resultaten getoond van één pagina test (waar je bij WebPageTest tot 9 tests kan gaan). Deze tool is goed voor een tweede opinie over de snelheid van een pagina.
Google Search Console
De belangrijkste gegevens aangaande de snelheid van je website kan je terugvinden bij de Google Search Console onder Crawlstatistieken. Je ziet daar de gemiddelde tijd per dag die Google nodig had om een pagina op je website te downloaden. Dit is de snelheid waar Google je website op scoort (niet op PageSpeed). Opmerking: de gemiddelde laadtijd bij GSC is afhankelijk van het aantal tests dat Google uitvoert en op welk moment. Uit eigen ondervinding kan ik zeggen dat de gegevens in Google webmaster tools zeer accuraat zijn. Indien die afwijken van de laadtijden in WebPageTest, is dat te wijten aan een dieperliggend probleem (server, te veel plugins/extensies of slechte code). Als je een sitemap hebt toegevoegd bij Google Search Console, dan kun je daar meer informatie terugvinden als er problemen zijn met bepaalde pagina's.
Website laadsnelheid verbeteren
Cache plugin installeren
De grootste winst die je kan boeken qua snelheid, is door een cache plugin of functie te installeren. Voor WordPress raad ik WP Rocket aan.
Browser caching
Browser caching is een techniek waarbij een gedeelte van de pagina die je hebt bezocht in het geheugen van de browser wordt opgeslagen. Hierdoor moet slechts een deel van de pagina opnieuw gedownload worden als je naar een volgende pagina gaat of de website opnieuw bezoekt. Browser caching heeft de grootste impact op de laadsnelheid van je website.
Page caching
Page caching zorgt ervoor dat de pagina wordt opgeslagen in cache. Als iemand deze pagina dan bezoekt, moet niet de volledige pagina gegenereerd worden. Op die manier wordt er minder van de database gevergd.
Afbeeldingen verkleinen en comprimeren
De afmetingen van je afbeeldingen verkleinen is belangrijk voor je laadsnelheid. Hoe groter de afbeeldingen, hoe langer de laadtijd. Het is zinloos om een afbeelding groter dan 1280×1020 te tonen (tenzij je een fotograaf bent). Afmetingen van een afbeelding kan je makkelijk aanpassen met Pic Resize. Als alle afbeeldingen de juiste afmetingen hebben, moet je ze nog comprimeren. Dat wil zeggen dat je de afbeelding in bytes vermindert, zonder dat de kwaliteit erop achteruit gaat. Ik gebruik hier Tinyjpg voor.
CDN
Een CDN is een Content Delivery Network. Dit zorgt ervoor, waar je gebruiker of website zich ook bevind, dat de laadtijd er niet langer op wordt. Als je website server zich in de Verenigde Staten bevindt en je bezoekers zitten in Europa dan kan dit voor extra latency (tijd tussen aanvraag en respons) zorgen. Dat is slecht voor de eindgebruiker want de website wordt trager, maar je kan het snel verhelpen met een CDN. Ik raad twee CDN's ten zeerste aan: Incapsula en Cloudflare. Incapsula legt een grotere nadruk op veiligheid en Cloudflare legt dan weer een grotere nadruk op snelheid. De vraag is dus waar jij prioriteit aan geeft. Beide diensten hebben ook gratis formules die voor standaard website meer dan voldoende zijn. Ze zijn vrij gemakkelijk op te zetten. De kans bestaat wel dat je je hosting provider dient aan te spreken om je DNS aan te passen.
Functionaliteit v.s. snelheid
We willen allemaal wel een website met zo veel mogelijk functionaliteit: een pop-up om in te schrijven op de nieuwsbrief, een light box, mee-scrollende social sharing knoppen, … Hoe meer functionaliteit je in je website steekt, hoe groter de kans dat dit impact heeft op de snelheid van je website. Denk maar aan een grote rugzak met alles wat je maar zou kunnen nodig hebben t.o.v een Zwitsers zakmes: met een grote rugzak ga je je minder snel verplaatsen dan met enkel een Zwitsers zakmes.
Hulp nodig met je WEBSITE SNELHEID TESTEN?
Neem contact met ons op voor vrijblijvend advies!