In dit dertiende deel van de gratis online marketing cursus "Hoe krijg ik meer websitebezoeker en klanten?" hebben we het over hoe te adverteren op Twitter.
Hulp nodig met ADVERTEREN OP TWITTER?
Wat is Twitter
Twitter is een gratis sociaal netwerk waar dagelijks meer dan 300 miljoen mensen een tweet uitsturen en deze met de wereld delen. Zo'n tweet, met de gepaste hashtags, gaat over topics die hen interesseren, trends, evenementen, dingen uit het dagelijkse leven. Maar gebruikers gaan ook vaak in interactie met bedrijven. Ze starten de conversatie door een tweet of een retweet. Naast Facebook en LinkedIn kun je dus ook Twitter gebruiken om je klanten te bereiken.
Adverteren op Twitter met Twitter ads
Twitter ads zijn de snelste manier om je bereik op Twitter te vergroten, net zoals dit het geval is met adverteren op Facebook of adverteren op LinkedIn.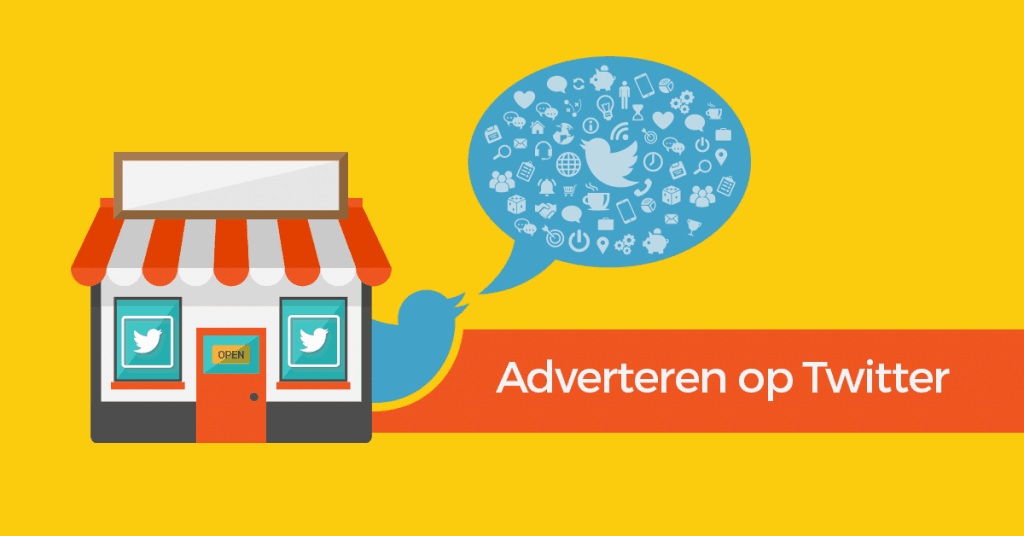 Om een advertentie op te stellen voor Twitter, ga je naar de Twitter ad manager gaan via deze link https://ads.twitter.com/ of je klikt rechts bovenaan op je profiel foto en klikt dan op Twitter-advertenties in de dropdown. Er zal je gevraagd worden eerst enkele gegevens in te vullen.
Campagne objectieven
Bij je campagne objectieven kies je een van de zes objectieven als doel van je Twitter campagne. Ze spreken elk in zekere maten voor zichzelf maar voor de volledigheid leggen we uit waarvoor ze dienen.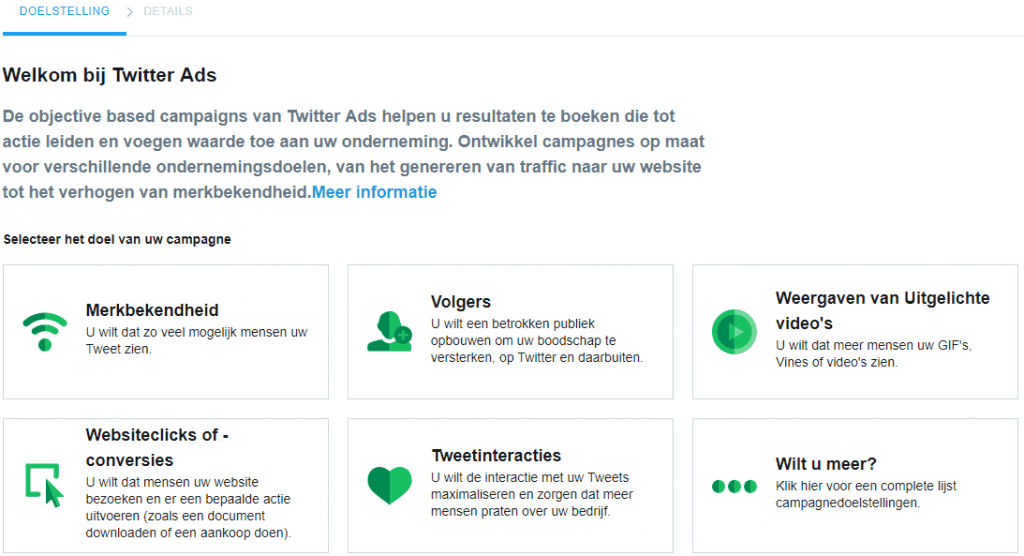 Merkbekendheid
Wil je dat zo veel mogelijk mensen je merk zien, kies dan deze optie. Deze optie is minder geschikt als je adverteren om inkomsten te genereren.
Volgerscampagnes
Bij een volgerscampagne adverteer je om meer volgers op Twitter te krijgen.
Campagnes voor videoweergaven
Bij deze optie promoot je een video in de Twitter feed.
Campagnes voor websiteclicks of conversies
Dit campagne objectief zorgt ervoor dat je meer kliks naar je website krijgt of meer conversies.
Campagnes voor tweetinteracties
Deze campagne bezorgt je meer interacties zoals retweets en likes.
Campagnes voor app-installaties of app-interacties
Deze campagne zorgt voor meer app-installaties of app-interacties. Dit is zinvol wanneer je een app hebt op de Google play store of de Apple app store.
Advertentie locaties
In Twitter kun je drie soorten campagnes lanceren, namelijk: Uitgelichte Trends, Uitgelichte Accounts en Uitgelichte Tweets.
Uitgelichte Trends
Je kunt de uitgelichte trends in de linker zijbalk terugvinden onder uitgelichte trends maar dan met vermelding promoted. Je gebruikt uitgelichte trends om conversaties op te starten, producten te lanceren of evenementen kenbaar te maken.
Uitgelichte Accounts
Uitgelichte accounts vindt je terug in de rechterbovenhoek in de uitgelichte accounts kader met vermelding van de promotie. Je Twitter account promoten is een goede manier om meer volgers te krijgen. Meer volgers betekent dat je merkt social proof is.
Uitgelichte Tweets
Uitgelichte Tweets kom je tegen in je Twitter feed tussen de andere Tweets. Met een uitgelichte tweet heb je de keuze uit verschillende campagne objectieven.
Definieer jouw doelpubliek
Aangezien Twitter dagelijks meer dan 300 miljoen gebruikers heeft, is het zeer belangrijk om je doelpubliek te identificeren om zo'n effectief mogelijke campagne op te maken.
Interessetargeting
Dit is geen exacte wetenschap aangezien Twitter kijkt naar de activiteit van een gebruiker en waar deze in geïnteresseerd is. De interesses zijn gegroepeerd in categorieën.
Targeting van volgers
Hier kun je een Twitter gebruikersnaam invullen en dan zal je reclame getoond worden aan de volgers van deze Twitteraar. Je hebt ook de optie om jouw volgers te targetten en gebruikers die vergelijkbaar zijn met jouw volgers.
Als je niet weet wie in te vullen om te targetten, gebruik dan de zoekbalk in Twitter en vul de zoekwoorden in die van belang zijn voor jou zaak. Je gaat dan normaal gesproken  Twitter accounts zien met een jouw ideale doelpubliek.
Aangepaste doelgroepen
Dit is een publiek op maat die je maakt in Twitter door gebruik te maken van lijsten, website bezoekers en mobiele apps. Je beheert deze aangepaste doelgroepen in de audience manager. Je kunt dit vinden in Twitter ads / Tools / Audience manager. Aangepaste doelgroepen is eigenlijk remarketing binnen Twitter.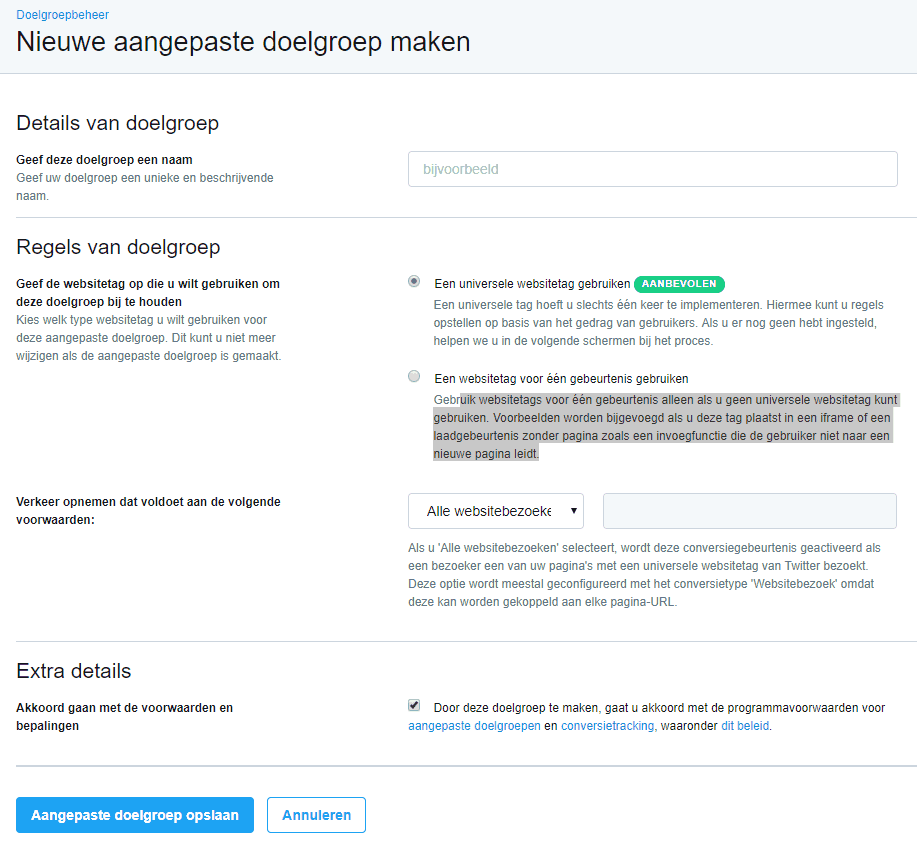 Lijsten
Met lijsten kun je de volgende gegevens uploaden: e-mailadres, mobiele telefoonnummer, Twitter usernames, Twitter user IDs en Mobile advertising IDs.
Website
Hier verzamel je Twitter gebruikers die op jouw website zijn geweest of zijn geconverteerd (lead, download, aankoop,…). Deze bezoeken en conversies op je website hou je bij door middel van een html tag die je ofwel in de html van elke pagina op je website plaatst (voor website bezoeken) ofwel op de bedankingspagina waar de bezoeker op terecht komt na de conversie.
Mobiele apps
Met mobiele apps kun je gebruikers bereiken die een bepaalde actie hebben ondernomen met je app, zoals een installatie of registratie.
Geografische, taal en gender targeting
Hier kun je gebruikers targetten gebaseerd op hun locatie, taal en/of geslacht.
Keywordtargeting
Je kunt je reclame tonen aan Twitter gebruikers die naar specifieke woorden zoeken op Twitter. Net zoals bij AdWords, kun je gebruik maken van brede zoekwoorden, woordgroepen, exacte en uitsluitingszoekwoorden. Zoals we vermelden in ons artikel 5 basistips voor een goed beheerd AdWords-account,  kun je brede zoekwoorden beter vermijden om zo kosteneffectief mogelijk te werken. Je krijgt bij elk zoekwoord het dagelijks geschatte volume te zien. Met zo'n zoekwoordenonderzoek heb je een goed beeld op de zoekwoorden die op Twitter kunnen gebruikt worden.
Apparaattargeting
Hier kun je richten op specifiek toestellen zoals smarthpone, desktop, operatings system (OS) en OS versie. Deze targeting functie is vooral interessant voor software en app ontwikkelaars.
Gedragtargeting
Om gebruik te kunnen maken van gedragtargeting, moet je met een Twitter partner in zee gaan en dit is enkel weggelegd voor enterprise klanten (grote bedrijven).
TV targeting
Dit is om gebruikers te targetten die een bepaalde tv serie volgen op Twitter. Dit is bijvoorbeeld interessant als je gadgets, t-shirts of iets dergelijks verkoopt die te maken hebben met de TV serie. Je kunt de targetting ook verfijnen op land, tv netwerk en genre.
Soorten Twitter cards
Twitter cards dienen om media toe te voegen aan een Tweet. Er zijn vier soorten Twitter cards:
Summary card
Een summary card is een samenvatting van de pagina waar de summary card naar linkt en stuurt deze mensen naar een specifieke link op je website.
Summary card met groote foto
Hetzelfde als een summary card maar dan met grote afbeelding.
App card met grote foto
De voornaamste bedoeling van de Twitter card is meer installaties van je app te krijgen door deze op de Apple app store of Google play te promoten.
Player card
Deze Twitter card speelt video clips en audio streams op Twitter.
Soorten Twitter Ad cards
Naast de verschillende soorten Twitter cards, heb je ook nog Twitter ad cards. Dit kun je vinden in je advertentieaccount onder Creatives / Cards.
We geven hier een korte uitleg waar elke Twitter ad card voor dient:
Lead generation: om leads te generen.
Website: om clicks naar je website te promoten.
Basic app: een eenvoudig look om een app te promoten waar je de app symbool gebruikt.
Image app: hier staat de app foto centraal om te promoten.
Video app: hier promoot je je app met een video.
Voor elke ad cards krijg je per card type een eenvoudig overzicht te zien van de prestaties. Zo zie je bijvoorbeeld bij de lead generation card hoeveel leads, kost en kost per lead is.
Zoals we vermeldden in onze meta title en meta description handleiding, zijn er speciale meta title en description tags om je inhoud te delen op Twitter. Meer weten hierover, ga naar https://dev.twitter.com/cards/types/summary.
Wanneer je voor je WordPress SEO gebruik maakt van Yoast SEO, dan kun je kiezen tussen samenvatting en samenvatting met grote afbeelding. Deze instelling kan je hier terugvinden:
SEO / Sociaal / Twitter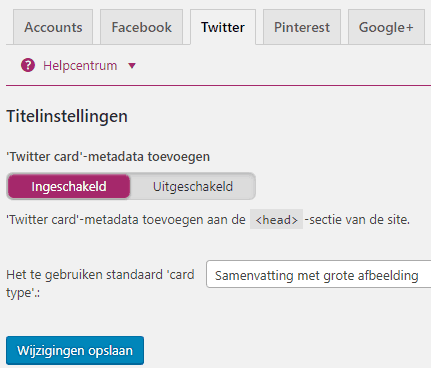 Twitter bijhouden van conversies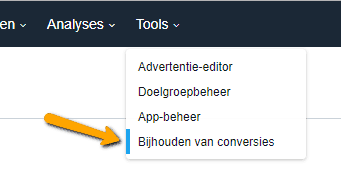 In Twitter hou je je conversies bij door naar Tools / Bijhouden van conversies te gaan en daar op "Nieuwe conversiegebeurtenis maken" te klikken. Deze pagina lijkt sterk op de "Nieuwe aangepast doelgroep maken".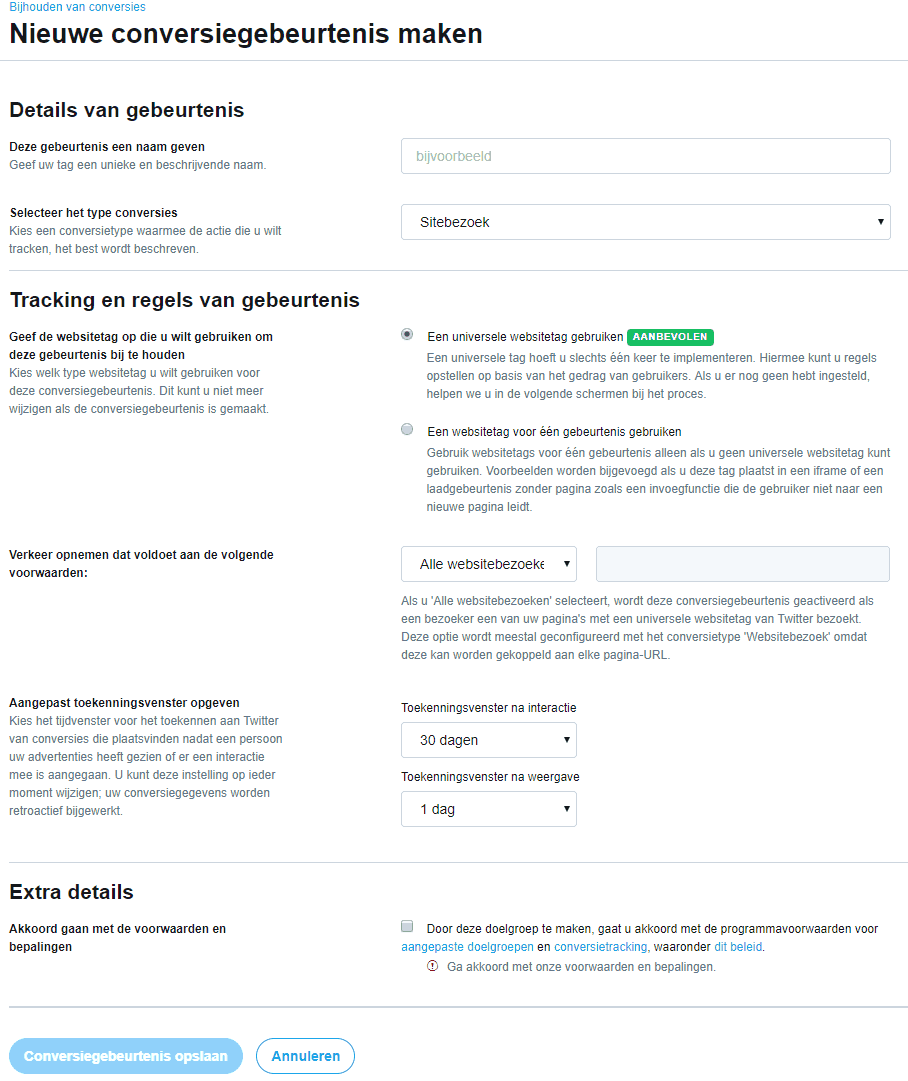 Twitter ads kosten
Zoals bij elke degelijk advertentieplatform, kun je voor je advertenties een maximum totaal budget opstellen en een maximaal dagelijks budget. Dit budget is op campagne basis.
De kosten hangen af van de soort campagne je gebruikt en je betaalt enkel voor het doel van de campagne. Zo betaal je voor een volgerscampagne pas wanneer je er een nieuwe volger bijkrijgt en betaal je voor alle andere interacties niet.
Er zijn drie opties als biedstrategie, namelijk automatisch bieden, maximum bieden en target bieden.
Automatisch bieden
Bij automatisch bieden laat jij Twitter bepalen wat het bod is.Twitter past dit automatisch aan zodat je de beste resultaten krijgt aan de laagst mogelijke prijs. Dit is de makkelijkste optie om snel resultaten te hebben.
Maximum bieden
Met maximum bieden bepaal je wat het maximale bedrag is dat je wilt betalen.
Target bidding
Target bidding gebruik je wanneer je een duidelijk budget voor ogen hebt om je doel te bereiken. Het Twitter ads platform zal dan je campagne optimaliseren om in de buurt of beneden het doelbudget te blijven.
Twitter campagne dashboard
Hier heb je een net overzicht van al je campagnes en de resultaten van elke campagne.
Hulp nodig met ADVERTEREN OP TWITTER voor je bedrijf?
Neem contact met ons op voor vrijblijvend advies!