LinkedIn is één van de meest populaire gratis sociale media platformen, specifiek gericht op business professionals. Je kan het platform vergelijken met een netwerkevent waarop je met verschillende mensen een praatje slaat en waar je businesskaartjes uitwisselt.
Hulp nodig met ADVERTEREN OP LINKEDIN?
Maar hoe zet je LinkedIn als bedrijf? In dit twaalfde deel van de gratis online marketing cursus "Hoe krijg ik meer websitebezoeker en klanten?" hebben we het over hoe te adverteren op LinkedIn. We beantwoorden vragen zoals: wat is LinkedIn, waarom adverteren op LinkedIn, hoe een LinkedIn bedrijfspagina maken, wat zijn de advertentie kosten, hoe werken met LinkedIn campaign manager en verschillende soorten LinkedIn ads.
Wat is linkedin?
LinkedIn is voor iedereen die zijn carrière serieus neemt en hierdoor dan ook nieuwe opportuniteiten vindt of het netwerk uitbreidt.
Zoals je bij Facebook een vriendschapsverzoek kunt sturen, kun je op LinkedIn met iemand connecteren door een connectieverzoek te sturen. De werkwijze is gelijkaardig aan die van Facebook. Op LinkedIn is er je profielpagina, kun je privé-berichten sturen en informatie delen met je netwerk via je news feed. Je profielpagina is de uitgelezen plek om je verwezenlijkingen en expertise naar buiten te brengen. Met berichten te delen op de feed blijf je top of mind bij je netwerk.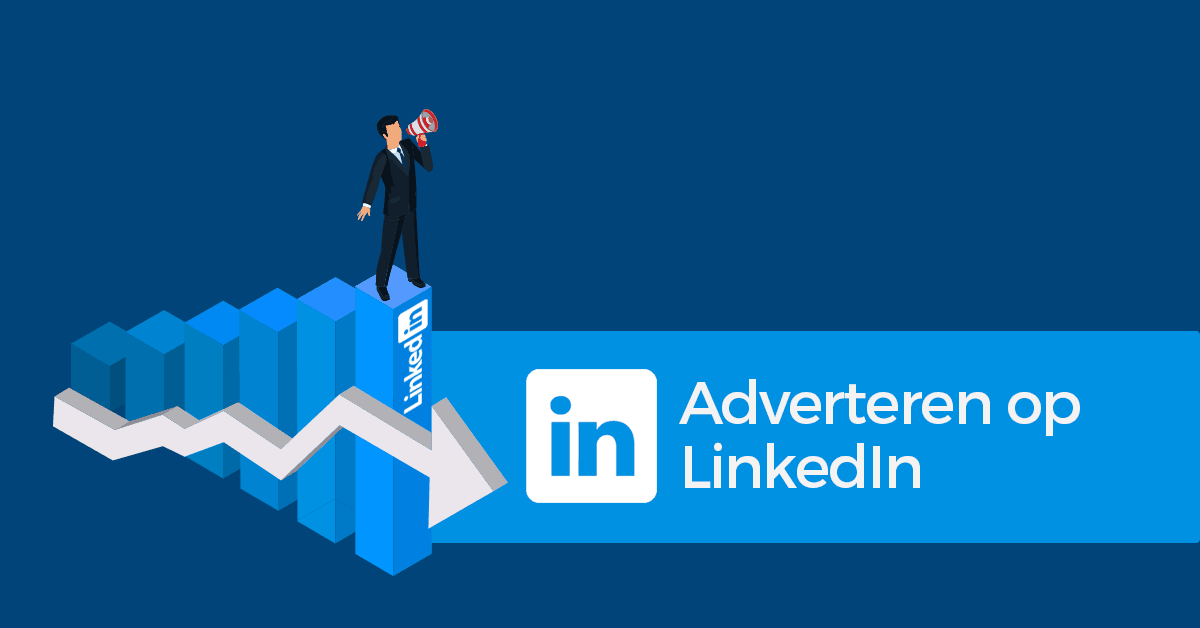 Waarom adverteren op LinkedIn?
Wanneer je als bedrijf andere bedrijven wilt bereiken (B2B) is LinkedIn het plaform bij uitstek. Met 467 miljoen gebruikers, 106 miljoen maandelijkse gebruikers waarvan 40% het dagelijkse gebruikt, kun je eigenlijk niet ontbreken op het platform. LinkedIn claimt dat 80% van alle B2B leads via hen komen. Reden te meer om aan LinkedIn marketing te doen en je professioneel netwerk uit te bouwen. Hier kun je meer coole LinkedIn statistieken terugvinden.
Waarom adverteren op LinkedIn als onderdeel van je LinkedIn marketing strategie (zoals je netwerk vergroten, berichten delen op de feed)? Adverteren op LinkedIn moet een onderdeel zijn van je online marketing strategie als je business gericht is op B2B. Je kan namelijk je bereik sterk vergroten en nieuwe leads genereren, zoals je kan doen bij adverteren op Facebook.
Wat is een linkedin bedrijfspagina?
Naast een persoonlijk profiel kun je ook een bedrijfsprofiel aanmaken. De focus van een bedrijfsprofiel ligt op de kerntaken van je bedrijf, wie er allemaal werkt, hoeveel mensen het bedrijf volgen in hun news feed, de gedeelde berichten en open functies (jobs).
Hoe een linkedin bedrijfspagina maken?
Om een LinkedIn bedrijfpagina te maken heb je een persoonlijke LinkedIn-account nodig. Nadat je bent ingelogd op je account, klik je op het vierkante icoontje met het onderschrift "work". Je krijgt een pop-up menu waarin je onderaan klikt op de optie "Create a Comapy Page".
Vul hier een bedrijfsnaam en linkedIn URL (zelf te kiezen) in. Het is belangrijk dat je bedrijfsnaam, en vooral de URL, uniek zijn anders krijg je een waarschuwing te zien.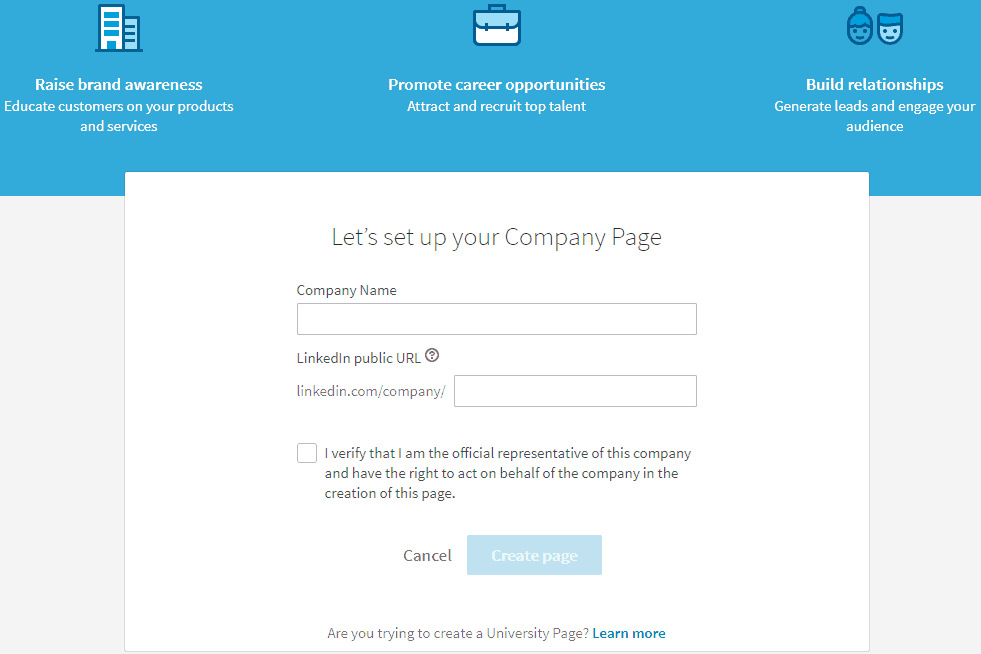 Op de volgende pagina maak je je bedrijfspagina op. Op je bedrijfsprofiel zijn de volgende velden van belang: bedrijfsomschrijving, specialisaties, URL, aantal werknemers, industrie, jaar van oprichting en Locatie. Als dit relevant is voor jouw bedrijf, kun je je bedrijfspagina ook in meerdere talen schrijven. Als kers op de taart voeg je een cover en logo toe. Dit geeft je bedrijfspagina een persoonlijkere touch.
Je kunt je bedrijfspagina terugvinden via de hoofdnavigatie van je persoonlijke account. Klik daar op het icoontje met je profielfoto (onderschrift "me") en dan onderaan op het pop-up menu op je bedrijfsnaam.
Denk eraan dat deze info niet meteen helemaal perfect moet zijn, je kunt dit gerust later aanpassen het aan te passen en te verbeteren.
Tip: Vraag zeker aan je collega's om te linken naar de bedrijfspagina door deze op hun profiel toe te voegen onder "Experience". Wanneer iemand dat profiel bekijkt, kunnen ze ook eenvoudig doorklikken naar het bedrijfsprofiel.
Adverteren op LinkedIn: kosten
De kosten om te adverteren op LinkedIn zijn veel hoger dan op om het even welk ander sociaal media platform. In Google AdWords kun je een hogere kost per klik terugvinden in sommige sectoren maar dit is eerder een uitzondering. Bij LinkedIn kun je op dit ogenblik een kost per klik van rond de 3 à 4 euro verwachten. Dus honderd kliks kosten je al gauw €400.
Op zich kun je zoals bij elke degelijk advertentieplatform kiezen wat je per dag besteedt en ook wat je maximum budget voor de hele campagne is. De kost per klik (CPC, cost per click) is afhankelijk van je doelpubliek op LinkedIn en wat de andere adverteerders wensen te betalen. In tegenstelling tot AdWords en Facebook, is er op dit ogenblik bij LinkedIn geen relevantie of kwaliteitsscore die bepaalt wat je uiteindelijk betaalt voor je advertentie. Dus slechte advertenties met een lage klikpercentage betalen evenveel als als iemand die zorg en tijd steek in zijn weldoordachte advertentie! LinkedIn maakt altijd een suggestie voor welke bedragen anderen per klik of per duizend willen betalen. Het is ook mogelijk om een minimum te betalen maar dan heb je een zeer klein bereik.
Je kunt ook zelf kiezen wat voor soort type biedingen je wilt doen. Bij CPC betaal je een kost per klik en met CPM betaal je een vast bedrag per duizend impressies. Het is perfect mogelijk om tijdens een campagne over te schakelen tussen de twee.
Tip: Wanneer je merkt dat je een hoog aantal mensen per duizend klikken is het aan te raden om over te schakelen op CPM, wanneer er weinig mensen per duizend klikken, schakel je over op CPC.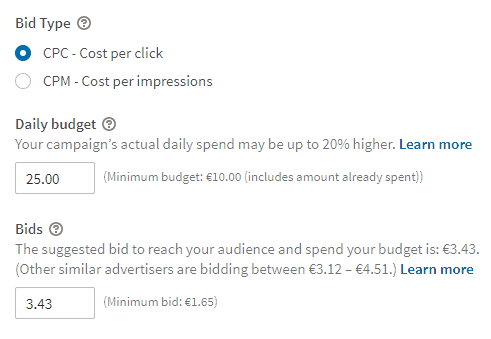 Hoe werken met linkedin campaign manager
Je maakt je eerste advertentie door naar deze pagina te gaan https://business.linkedin.com/marketing-solutions/ads of door op het icoontje "work" te klikken in je navigatie en dan naar "Advertsie" (zo kom je op dezelfde pagina terecht).
Vervolgens klik je rechtsboven op de knop "Create ad". Als je nog geen advertentie account hebt, maak je eerst een account aan. Als je meerdere bedrijfspagina's beheert, moet je een account per pagina aanmaken. Let erop om de valuta waarin je wilt betalen aan te passen.
Nu je dit achter de rug hebt kun je je eerste advertentie campagne starten.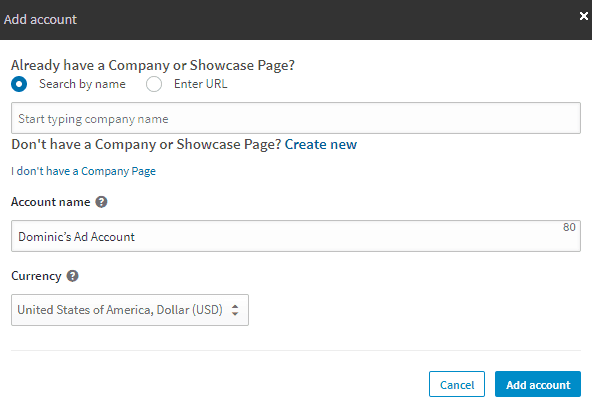 LinkedIn marketing tools
Vooraleer we kunnen beginnen met het maken van een advertentie, moeten we eerst de tools die LinkedIn ons geeft gebruiken. Dit doen we om onze advertentiecampagne zo effectief mogelijk te laten lopen. Hiervoor ga je naar "account assets".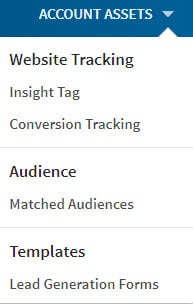 Insight Tag
De insight tag is een stukje javascript dat je in de HTML van elke pagina plakt. Met deze tag kun je conversies volgen, aan remarketing doen en extra inzichten hebben over welke LinkedIn gebruikers interageren met jouw advertentie.
Conversion tracking
Nu je de insight tag geïnstalleerd hebt, ga je naar conversion tracking. Hier vul je de "dank u" pagina's in (pagina waar een gebruiker op komt nadat hij een aankoop, contact of lead formulier heeft ingevuld). Zo kom je te weten welke advertenties voor welke leads zorgen.


Matched audiences
Met matched audiences maak je remarketing lijsten aan. Wanneer iemand is ingelogd op LinkedIn en jouw website bezoekt waar de insight tag op geïnstalleerd is, komt hij op deze lijst terecht.
Je kunt meerdere lijsten maken (bv per belangrijke website pagina) maar in eerste instantie zou ik aanraden om één lijst te maken van alle website bezoekers ongeacht de pagina die ze bezoeken. Dit doe je door je domeinnaam in te vullen en de optie "contains" te selecteren.
Als je heel veel bezoekers hebt, kun je meerdere lijsten aanleggen. Wees je ervan bewust dat er minstens 300 bezoekers op je website moeten geweest zijn, ze moeten voldoen aan je lijstvoorwaarden en ook ingelogd zijn op LinkedIn alvorens je deze lijst kunt gebruiken.
Als je een e-mail lijst hebt, kun je deze uploaden onder het tabblad "Uploaded list audiences". Deze e-maillijst kan uit je CRM, e-mail account of je e-mail marketing platform (Mailchimp, Aweber,…) komen. Zolang LinkedIn het aan een gebruikersaccount kan koppelen, is het bruikbaar.
Soorten LinkedIn ads
Er zijn 4 soorten LinkedIn advertenties, namelijk Sponsored Content, Text Ads, Sponsored Inmail & Display Ads. De eerste drie opties zijn toegankelijk voor iedereen maar enterprise adverteerders die €10.000 per kwartaal kunnen/willen betalen, hebben ook de optie om LinkedIn Display Ads te kopen (vergelijkbaar met Google AdWords display netwerk maar dan op LinkedIn).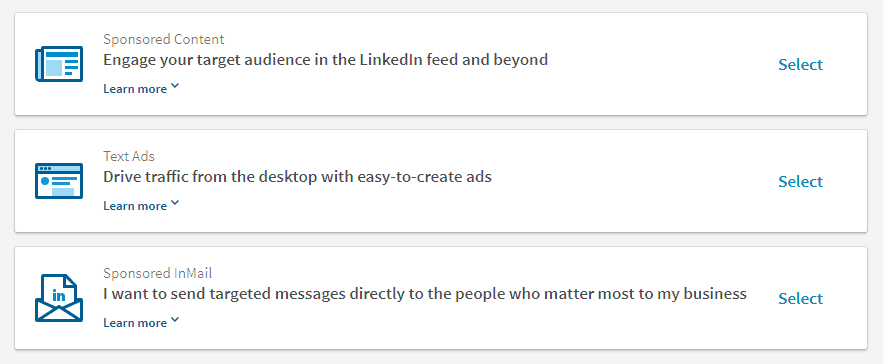 Sponsored Content
Je kan eigen gepubliceerde artikels op je website of LinkedIn Pulse sponsoren. Hierdoor wordt je artikel aan een groter publiek getoond dan enkel je volgers of volgers van je bedrijfspagina. Deze advertenties komen tevoorschijn in de nieuwsfeed van jouw doelgroep. Zorg ervoor dat ze bruikbare en interessante info bevatten. LinkedIn is niet de plek om producten of diensten aan te bieden!
Je hebt twee optie bij het kiezen van sponsored content, namelijk mensen naar je website/LinkedIn Pulse sturen of leads generen via de Linkedin Lead Gen Forms.
Tip: Vink zeker het vakje "Increase followers for my Company Page by adding a Follow button" zodat personen die je post interessant vinden je meteen ook kunnen volgen.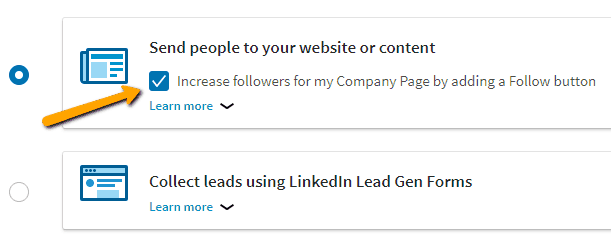 Text Ads
Text ads zijn tekstadvertenties met foto die je in de rechterkolom van LinkedIn kan zien. Je krijgt in tegenstelling tot sponsored content minder advertentieruimte maar je de advertentie is minder tijdsgevoelig. Dit is de plek voor je advertenties voor producten en diensten.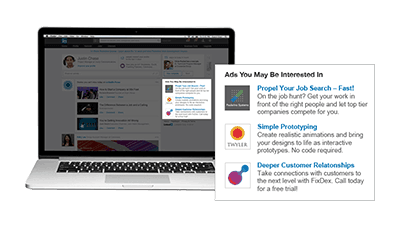 Sponsored InMail
Sponsored InMail is hetzelfde als een e-mail schrijven maar dan gericht aan jouw doelpubliek en van mensen wiens e-mail je niet of heel moeilijk in handen krijgt. Aan een gemiddelde kost van €0.5 per mail kun je al snel berekenen hoeveel je zal betalen om een doelpubliek van 1000 personen te bereiken.
Deze advertentie optie werkt goed, maar je moet dan wel heel zeker zijn van je doelpubliek. Test eerst of je het goede doelpubliek bereikt met sponsored content of text ads door te letten op je conversies, doorklik percentage, likes en shares.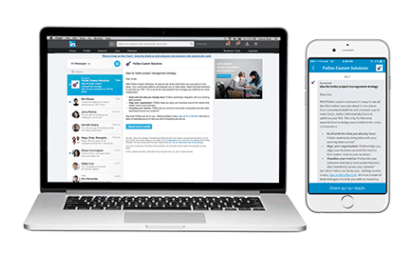 LinkedIn Remarketing
Zoals we al zeiden in onze remarketing handleiding, is dit een hele sterke manier om te adverteren. Simpelweg omdat je enkel adverteert aan mensen die je website hebben bezocht, jouw dus kennen en enkel zullen klikken wanneer ze écht geïnteresseerd zijn. Daarboven blijf je nog eens top of mind en zijn de kosten veel lager door de lagere aantal kliks.
Wanneer je een campagne maakt, kun je aan retargeting doen (een tijdje terug was deze functie alleen beschikbaar voor enterprise adverteerders). Aangezien we de lijst(en) al gemaakt hebben, kun je deze nu selecteren. Je kunt je remarketing lijst nog verfijnen door gebruik te maken van doelgroep. Als je publiek kleiner wordt dan 300 personen, dan kun je deze verfijning niet gebruiken.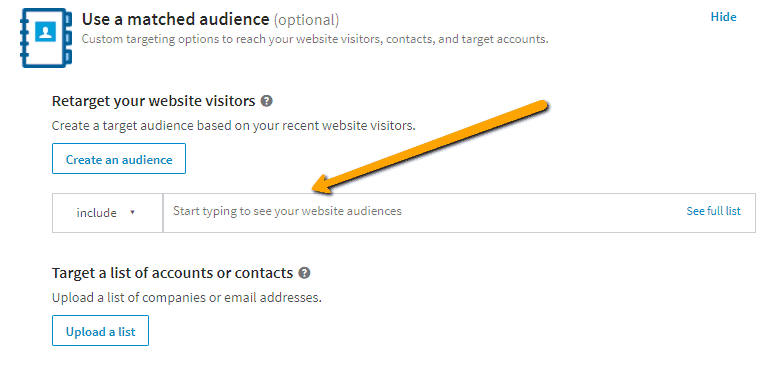 Doelgroep
Er zijn hier heel veel opties om je doelpubliek te verfijnen en de meeste spreken voor zich. Je kan bij veel criteria ook uitsluiten, zoem dus in op jouw ideale publiek.
Sommigen zullen zich afvragen wie hun doelpubliek nu eigenlijk is op LinkedIn? Als je dit niet weet, stel ik voor dat je een selectie maakt van wie jij denkt dat het meest waarschijnlijke jouw product gaat kopen waarop je vervolgens gaat adverteren. Ga daarna in je advertentie statistieken kijken en gebruik deze gegevens om je advertentie aan een beter publiek te tonen. Kijk naar de kliks, conversies en demografie (demographics). Het vraagt redelijk wat kliks en conversies vooraleer LinkedIn dit koppelt aan een demografie.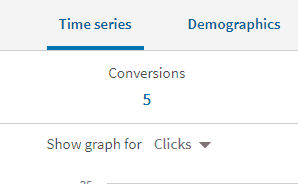 Denk eraan om jouw doelpubliek (audience) te saven onderaan de pagina "Save audience as template". Gebruik een zo volledige mogelijke benaming om er achteraf nog uit te kunnen wat juist wat is. Bij een volgende advertentie kun je dan bovenaan de pagina de optie "Target by" kiezen en deze template opnieuw selecteren.
Tip: Vink de volgende opties uit: "Enable delivery on the LinkedIn Audience Network" en "Help my campaign reach new audiences similar to my targeting criteria with Audience Expansion". Dit vergroot je bereik maar maakt je advertentie dus ook kostelijker en minder gericht. Gebruik deze functie enkel als je echt budgetoverschotten hebt of als je je huidige doelpubliek voor één of andere reden nog groter wilt maken.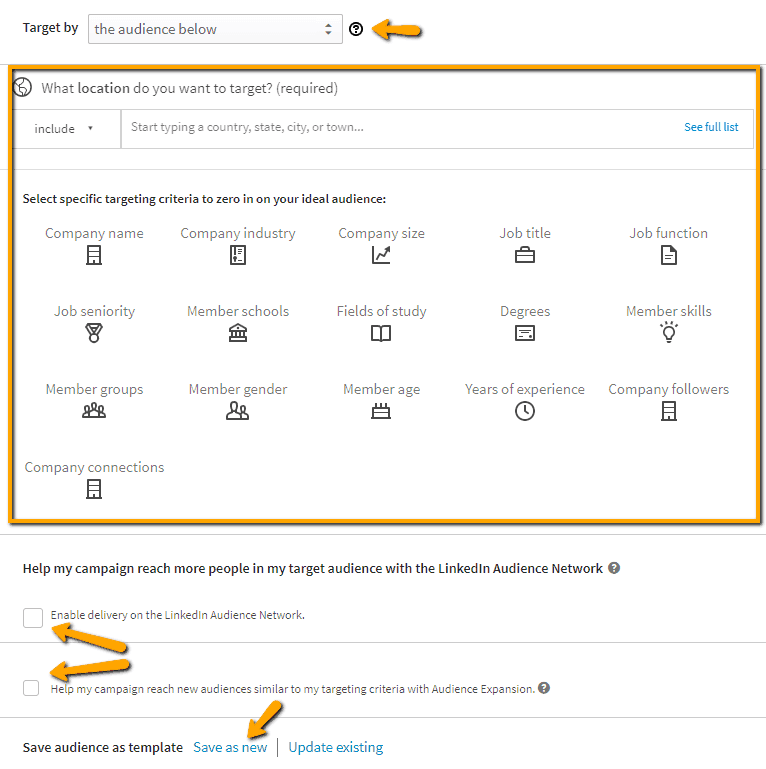 Nu heb je een heel goed beeld over wat de mogelijkheden zijn om te adverteren op LinkedIn en hoe het werkt.
Veel plezier met adverteren op LinkedIn!
Hulp nodig met ADVERTEREN OP LINKEDIN voor je bedrijf?
Neem contact met ons op voor vrijblijvend advies!