In dit vijfde deel van de gratis online marketing cursus "Hoe krijg ik meer websitebezoeker en klanten?" bekijken we hoe je kan adverteren op Google, geven we een antwoord op de vraag 'Wat is AdWords?' en bespreken we de kostprijs van AdWords.
Hulp nodig met ADVERTEREN OP GOOGLE?
Adverteren op Google
Via AdWords kan je adverteren op Google maar ook op partner sites (zoals Youtube en  Gmail), zoekpartners en het display netwerk (zoals tweedehands.be). Om te adverteren op Google heb je alleen een Gmail-account of G-suite for business nodig, een AdWords-account en kredietkaart (zoals VISA en MasterCard) of overboeking.
Waarom adverteren op Google?
77,98% van alle zoekopdrachten wereldwijd gebeurt via Google. Daarna volgen Bing (Microsoft) met 7.81%, Baidu (China) met 7.71% en Yahoo (Microsoft) met 5.5% (bron). Als je je business aan zo veel mogelijke zoekers wil tonen, dan adverteer je best op Google.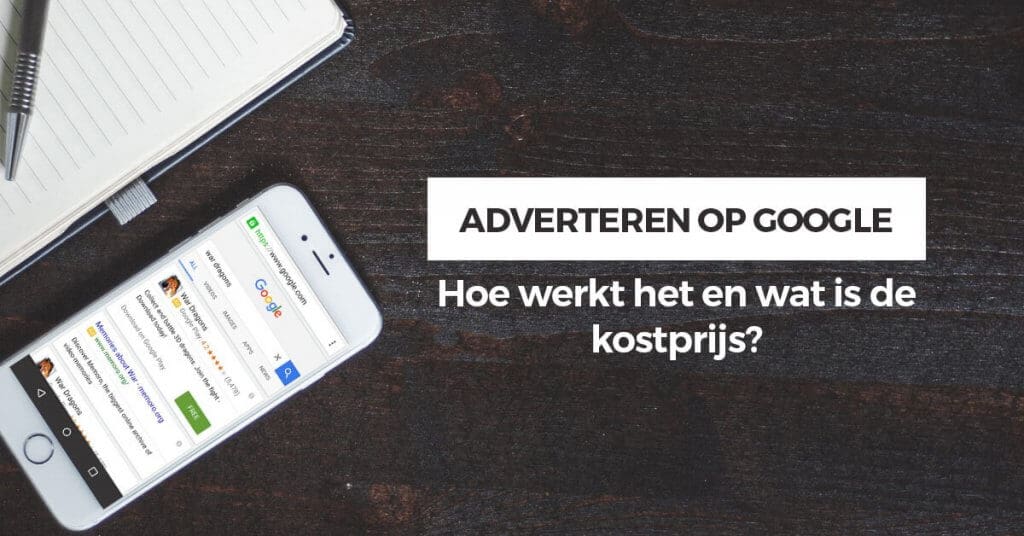 Wanneer je tevoorschijn komt in de zoekresultaten van Google, dan komt dit omdat de zoeker bewust op zoek is naar iets (intentie). Dit maakt Google interessanter dan social media, waar de resultaten gebaseerd zijn op interesse. In je zoekwoordenonderzoek zie je heel snel dat zoekacties voornamelijk gebaseerd zijn op twee intenties: het vinden van informatie en het aankopen van goederen en diensten. Bezoekers gaan sneller over tot aankoop wanneer het bezoek aan de website gebaseerd is op intentie.
Wat is Adwords?
Adwords is het advertentieplatform van Google. Hiermee kan je adverteren op de zoekresultaten van Google en duizenden websites verspreid over de hele wereld. Er zijn twee kanalen om te adverteren op Google, namelijk het zoeknetwerk en het displaynetwerk. Alle advertenties in het zoeknetwerk zijn gebaseerd op een zoekopdracht. Advertenties in het displaynetwerk zijn gebaseerd op banners (display) en deze banners kunnen bestaan uit tekst en foto's.
Voordelen van Adwords tegenover traditionele reclame
Meten van resultaten: Met Adwords kun je enkele parameters meten, zoals 'hoe vaak is de advertentie gezien', 'hoeveel mensen klikken', 'de gemiddelde kost is per klik', 'advertentie positie' en uiteindelijk 'de kost van een aankoop of een lead'.
Testen van advertenties: Je kan je advertentie een tijdje testen en eventueel de tekst opnieuw aanpassen wanneer je merkt dat de tekst niet de gewenste impact heeft. Binnen 15 minuten heb je zo een nieuwe tekst.
Budgetcontrole: Je kunt per maand en per dag bepalen wat je betaalt en deze bedragen aanpassen wanneer je maar wilt.
Advertentiebereik gebaseerd op locatie: Jij bepaalt waar je advertenties te zien zijn. Je kunt dit doen per regio, provincie, land of als radius rond jouw locatie.
Soorten advertenties
In Adword kun je gebruik maken van verschillende soorten advertenties:
Zoek-advertenties: advertenties gebaseerd op zoekwoorden
Display-advertenties: advertenties gebaseerd op banners
Video-advertenties: advertenties gebaseerd op YouTube-video's
App-advertenties: advertenties om je app te promoten
Google Shopping-advertenties: advertenties om je e-commerce producten te tonen.
Dynamische-advertenties: automatisch gegenereerde advertenties door AdWords die gebaseerd zijn op je website-inhoud (hiervoor moet je website wel minsten uit 100 pagina's bestaan)
Remarketing: Is technisch gezien een onderdeel van display-advertenties. Met remarketing kun je je websitebezoekers op websites binnen het displaynetwerk herinneren aan de producten of diensten die jij aanbiedt.
Waarom met Google AdWords adverteren?
97% van de inkomsten van Google komt uit AdWords, hun grootste bron van inkomsten. In 2015 bedroegen de inkomsten 75 miljard euro. Dit impliceert dat er zeer veel adverteerders zijn die gebruik maken van AdWords en dat dit platform ook werkt.
Wat Google AdWords tot het perfecte advertentiemiddel maakt, is dat je zeer kostenefficiënt kunt werken omdat je gericht adverteert en je de resultaten kunt meten.
Het ideale scenario is wanneer je AdWords combineert met zoekmachine optimalisatie. Als je op de eerste positie staat in Google (zonder te betalen) in combinatie met een advertentie bovenaan de eerste pagina, dan genereer je 30% meer inkomsten (en bezoekers) per kanaal. AdWords heeft als grote voordeel ten opzichte van zoekmachine optimalisatie dat je je positie bovenaan de zoekresultaten of op de eerste pagina kunt "kopen" en niet moet wachten op Google's gratie om vindbaar te zijn dankzij zoekmachine optimalisatie (wat al gauw 3 tot 12 maand kan duren).
Hoe werkt AdWords en wat is de kostprijs?
De werking van AdWords gaat hand in hand met de kosten van Adwords omdat er gebruik gemaakt wordt van live veilingmodel waarbij je betaalt per klik.
Het zoeknetwerk van AdWords is gebouwd rond zoekwoorden en advertenties voor deze zoekwoorden. Het is de bedoeling dat je advertentie, je zoekwoorden voor deze advertentie en je landingspagina (pagina waar de bezoeker op terecht komt na het klikken van de advertentie) de best mogelijke ervaring opleveren voor de gebruiker. Dit is waarom AdWords gebruik maakt van een kwaliteitsscore per zoekwoord.
Parameters voor kwaliteitsscore
AdWords houdt rekening met:
Verwachte doorklikpercentage: Hier voorspelt AdWords hoe waarschijnlijk het is dat iemand op je advertentie voor een bepaald zoekwoord zal klikken. Het is hier belangrijk om in te schatten waar de gebruiker naar op zoek is en hier met je advertentie aan tegemoet te komen. Wanneer je hier een slechte score hebt, dan is het goed om eens te kijken wat jouw concurrentie doet voor dat zoekwoord. En doe dit voor zowel de advertenties als niet betaalde (natuurlijke) zoekresultaten.
Relevantie van het zoekwoord ten opzichte van de advertentie: Het zoekwoord dat je gebruikt moet in de advertentie terug te vinden zijn. Het mag ook een variatie zijn van het zoekwoord of een woord dat inhoudelijk dezelfde betekenis heeft. Wanneer je hier slecht op scoort, kun je nieuwe advertentiegroepen bouwen (sterkere gerelateerde zoekwoorden per advertentie). Dit is de meest eenvoudige parameter om te verbeteren.
Ervaring op de landingspagina: Ga na of de zoeker je landingspagina goed ervaart. Komt de advertentie overeen met wat de gebruiker terug zal vinden op de pagina? Is de pagina duidelijk en overzichtelijk? Is de pagina inhoudelijk kwalitatief? Laadt de pagina snel? Dit is de moeilijkste parameter om te verbeteren omdat er veel oorzaken kunnen zijn. Een tool als Hotjar kan hier goed mee helpen.
Scoren van 1 tot 10
Hoe hoger je score voor deze drie parameters, hoe hoger je kwaliteitsscore. Een zoekwoord krijgt een kwaliteitsscore van 1 tot 10. 1 is hierbij zeer slecht en je advertentie zal (bijna) niet vertoond worden. Bij 10 krijgt je advertentie de maximale kwaliteitsscore. Zoekwoorden met een kwaliteitsscore van 1 tot 3 moet je verbeteren. Een kwaliteitsscore van 4 tot 6 dien je te verbeteren. 7 tot 8 is al goed en kun je nog aan werken. 9 tot 10 is ideaal en hoef je niet te verbeteren. De kwaliteitsscore van een zoekwoord heeft rechtstreeks verband met je kost per klik.
Hoe zie je je kwaliteitsscore?
Ga naar je zoekwoorden en klik op 'Zoekwoorden' en dan 'Kolommen'.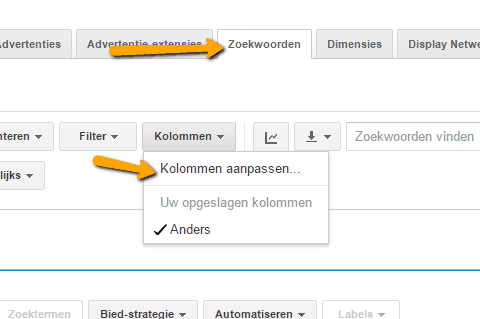 Voeg de Kw.score kolom toe.

Nu kun je per zoekwoord zien wat je kwaliteitsscore is (je zoekwoord moet impressies hebben alvorens het een score krijgt).
Veilingmodel
Zoals eerder vermeld maakt AdWords gebruik van een veilingmodel. Hierbij bepaalt de kwaliteitsscore, concurrentie en wat je bereid bent maximaal te betalen per klik welke positie je advertentie krijgt en wat je uiteindelijk betaalt. De formule hoe dit berekend wordt is behoorlijk complex dus hier gaan we niet verder over uitwijden. Je kwaliteitsscore en wat je bereid bent om maximaal te betalen per klik wordt AdRank genoemd. Hoe hoger je AdRank ten opzichte van je concurrentie, hoe hoger je advertentie terug te vinden zal zijn.
Het displaynetwerk werkt op een vergelijkbare manier waar advertenties van hoge kwaliteit beloond worden.
Effectieve kostprijs om te adverteren met Adwords
Wat je betaalt per klik is zoals reeds vermeld afhankelijk van je AdRank en wat je concurrentie als AdRank heeft. Je kunt al met Adwords beginnen aan een dagbudget van €1. Hou er echter wel rekening mee dat afhankelijk van je sector (concurrentie en aantal bezoekers) dit een druppel op een hete plaat kan zijn.
Je moet rekenen dat het conversiepercentage (bezoekers die klant worden) ergens rond de 1% à 3% gaat liggen en de kostprijs per klik rond de 1€. Dit kan meer of minder zijn – raadpleeg je zoekwoordenonderzoek voor een indicatie. Het is zeer belangrijk om te weten wat je maximaal wilt betalen om een nieuwe klant of aankoop te genereren. Wat de kans is dat een klant terugkeert en welke marge heb je op een verkoop? Dit alles bepaalt hoeveel een conversie je mag kosten. Ter illustratie: een e-commerce die een gemiddelde marge heeft van 10% en geen consumptiegoederen verkoopt (dus weinig terugkerende klanten) met een gemiddelde bestelwaarde van €250 kan in principe geen €50 per conversie betalen omdat de marge (overschot na verkoop min de aankoop) €25 bedraagt.
AdWords is voor ons het fundament van elke online marketing campagne, samen met SEO. Het meest interessante is om te adverteren op alle zoekwoorden die er voor jou toe doen. Een terugkerende aanwezigheid in de zoekresultaten zorgt ervoor dat jij constant aanwezig bent in de customer journey van jouw klanten, wat je kansen op een aankoop of lead zeer sterk verhoogt. Een goed online marketing bureau gaat er voor zorgen dat je een zo laag mogelijke kost per conversie gaat betalen en je budget maximaal benut zal worden.
Hulp nodig met ADVERTEREN OP GOOGLE voor je bedrijf?
Neem contact met ons op voor vrijblijvend advies!