Display advertising is het vertonen van jouw reclame op sites van derden, als tekst, afbeelding of video. Je bouwt dan aan je merk of adverteert algemeen. Ook al kan je de reclame steeds beter richten, toch blijft het een vorm van interruptiemarketing. Want: degene die de advertentie te zien krijgt, is niet actief op zoek naar hetgeen jij aanbiedt. Niettemin is het een perfect medium om bewustzijn te creëren rond een product, een dienst of een merk. Voor directe sales is het minder bruikbaar. De gebruiker heeft namelijk geen directe intentie op het moment dat hij de advertentie ziet. Verwacht dus geen onmiddellijke invloed op de verkoopcijfers. Wel kan je display advertising inzetten als onderdeel van de customer journey.
Standaard displayadvertenties raden we enkel aan wanneer je een budgetoverschot hebt nadat je alle andere kanalen benut hebt.
Maar het kan anders. De gerichte broertje van display advertising heet remarketing. Dit is geen interruptiemarketing. De reclameconsument kent je website namelijk al. Deze variant bevelen we vanaf dag één aan.
Hulp nodig met DISPLAY ADVERTISING?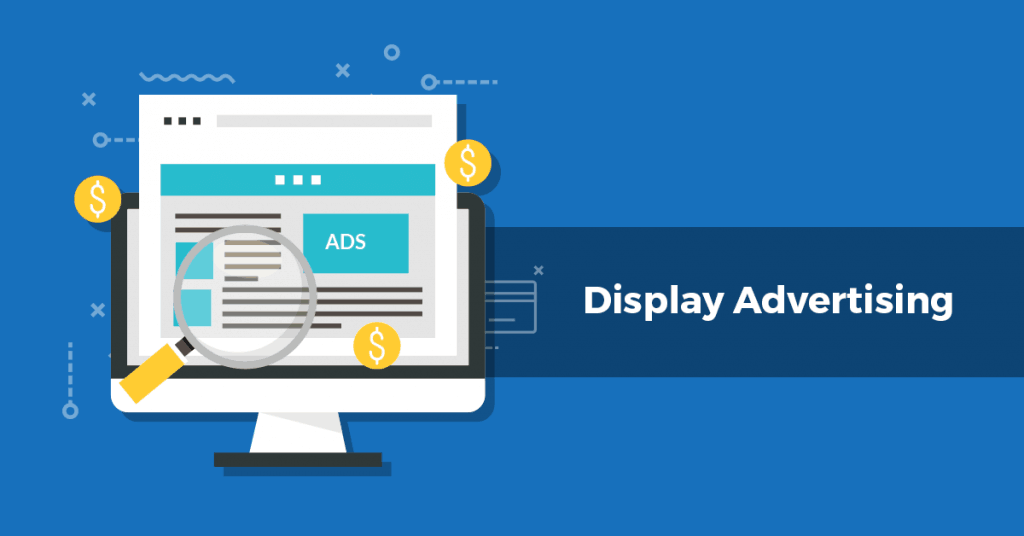 Programmatic display advertising
Vroeger nam je contact om met een website als je er wilde adverteren. Dat is tegenwoordig niet meer nodig. Nu kan je op meerdere websites tegelijkertijd adverteren op basis van jouw richtcriteria. Dat doe je door er rechtstreeks en in real time op te bieden in AdWords. Kort samengevat is dat de evolutie naar Programmatic Display Advertising of – de naam zegt het helemaal – Real Time Bidding (RTB).
Natuurlijk kan je nog altijd rechtstreeks advertentieruimte kopen van sommige websites. Het gaat vooral om populaire pagina's, pakweg de thuispagina van een veelbezochte website. In België biedt onder andere Sanoma dit concept aan. Het spreekt voor zich dat deze optie duurder is dan adverteren via het Google Display-netwerk.
Google Display-netwerk
De reikwijdte van dit netwerk gaat verder dan enkel de Google-website en aanverwanten als Google Finance, Gmail, Blogger en YouTube. Ook derde partijen, zoals tweedehands BE en NL, liggen binnen bereik. Zo kan je meer dan 90 procent van de globale internetgebruikers bereiken. Als we tussen onze tanden konden fluiten, we zouden het nú doen.
Display-advertenties
AdWords biedt een hele resem advertentiemogelijkheden aan:
Responsieve advertenties. Passen zich aan de beschikbare advertentieruimte aan. Het eenvoudigst op te zetten.
Beeldadvertenties. Upload je eigen designs in de standaard advertentieformaten, zoals vierkant en rechthoekig (200x200px, 300x250px,…), Skyscraper (120x600px,…), Leaderboard (728x90px,…) en mobiel (300×50,…).
Dynamische advertenties. Zijn helemaal op maat te maken, zonder dat je hen moet uploaden (zoals je wel moet doen met beeldadvertenties).
Lightboxadvertenties. Lightbox is prima gerief om pop-upadvertenties ineen te boksen. Die trekken meer aandacht dan gewone responsieve advertenties.
Videoadvertenties. Advertenties die getoond worden vóór YouTube-video's. Kijkers kunnen de advertentie pas overslaan na vijf seconden. Als adverteerder betaal je wanneer de kijker meer dan 30 seconden blijft plakken. Gebruik je TrueView-videoadvertenties, dan betaal je wanneer je video minder dan 30 seconden duurt.
Advertenties voor algemene doeleinden. Een oud advertentieformaat dat nog steeds beschikbaar is.
Gmail-advertenties. Uitvouwbare, interactieve advertenties die verschijnen boven het tabblad reclame in een Gmailinbox. Je betaalt enkel voor de eerste klik.
Display Targeting
We zeiden al dat het Google Display-netwerk 90 procent van alle internetgebruikers bereikt. Een hele hoop, en niet allemaal potentiële klanten. Je dient je doelgroep te verfijnen, met targeting. Sommige van die richtmethoden zijn louter inschattingen, geen effectieve feiten. Google analyseert het surfgedrag van gebruikers en schat zo hun interesses in. Wie naar het Autosalon in Brussels Expo zoekt, heeft inderdaad mogelijk belangstelling in autobeurzen. Maar dat wil uiteraard niet zeggen dat die persoon ook meer wil weten over een oldtimerbeurs. Daarom kan je meerdere criteria toepassen. Ga naar Google Analytics om je doelpubliek te vinden.
Tip: Bekijk in Google Analytics de conversies per Leeftijd, Geslacht, Affiniteitscategorie en Marktsegement. Zo stel je je ideale doelpubliek samen.
Affiniteit. Dit gaat zeer breed. AdWords tipt deze optie voor bedrijven die hun tv-reclame willen uitbreiden naar het internet.
Remarketing. Plaats een stukje code op je website en maak lijsten. Zo kan je bezoekers volgen en gericht adverteren. Lees er meer over in ons artikel over remarketing.
Displayzoekwoorden. Vul simpelweg de zoekwoorden in waarop je wilt adverteren. Het Display-netwerk beschouwt zoekwoorden erg breed. Zo kan je op doelgroep of inhoud (content) adverteren. Dit werkt anders dan Google Search-campagnes, die met exacte, gemodificeerde woordgroepen werken. Meer info daarover vind je hier.
In plaats van enkel advertenties te tonen op websites, apps en video's gerelateerd aan zoekwoorden, richt Displayzoekwoorden zich ook op mensen die er waarschijnlijk in geïnteresseerd zijn.
Plaatsingen. Geef een woord, woordgroep of website op. AdWords suggereert je in ruil een gerelateerde website.

Onderwerpen. Vergelijkbaar met marktsegmenten in Google Analytics. Dit laat je toe je op mensen te richten die geïnteresseerd zijn in een bepaald onderwerp. Die staan vaak verder in de sales funnel.

Demografie. Hier kan je targeting doen op basis van geslacht, leeftijd en ouderlijke status.
Besluit
Display marketing werkt veel gerichter dan een reclamebord op straat, of een pagina in een tijdschrift of een krant. Het is wel niet zo effectief al remarketing of adverteren op Google. Degene die het ziet, is namelijk niet actief op zoek. Beschouw het als een extra kanaal om mensen bewust te maken van hetgeen jij te bieden hebt. Zo past het perfect in een omnichannelstrategie.
Hulp nodig met DISPLAY ADVERTISING voor je bedrijf?
Neem contact met ons op voor vrijblijvend advies!