Hoe kun je ervoor zorgen dat meer mensen zich inschrijven voor je nieuwsbrief, aankopen doen op je site of contact opnemen (conversies)? Dit kan via conversie-optimalisatie. Hiermee ga je je conversiepercentage op je website verbeteren. We spreken van percentage omdat conversies in percentages worden uitgedrukt. Jij bepaalt zelf welke acties als een conversie gezien worden.
Hulp nodig met CONVERSIE OPTIMALISATIE?
Wanneer je conversies meet, weet je hoeveel waardevolle acties er worden gedaan via je website. Conversies meten is dus essentieel als je wilt weten hoe rendabel je marketingactiviteiten en website zijn. Alle conversies met een ander doel moeten apart gemeten worden. Zo is het geen goed idee om een download en verkoop als twee conversies te noteren maar wel als één conversie voor twee doelen.
Naar mijn mening is het essentieel om alle waardevolle acties op je website te tracken, ook al brengen ze niet rechtstreeks geld op. Zo verdien je geen geld aan iemand die zich inschrijft op de nieuwsbrief maar dit is wel een waardevolle actie omdat het waarschijnlijker is dat deze persoon iets zal aankopen in de toekomst aangezien hij zijn interesse expliciet uit door in te tekenen.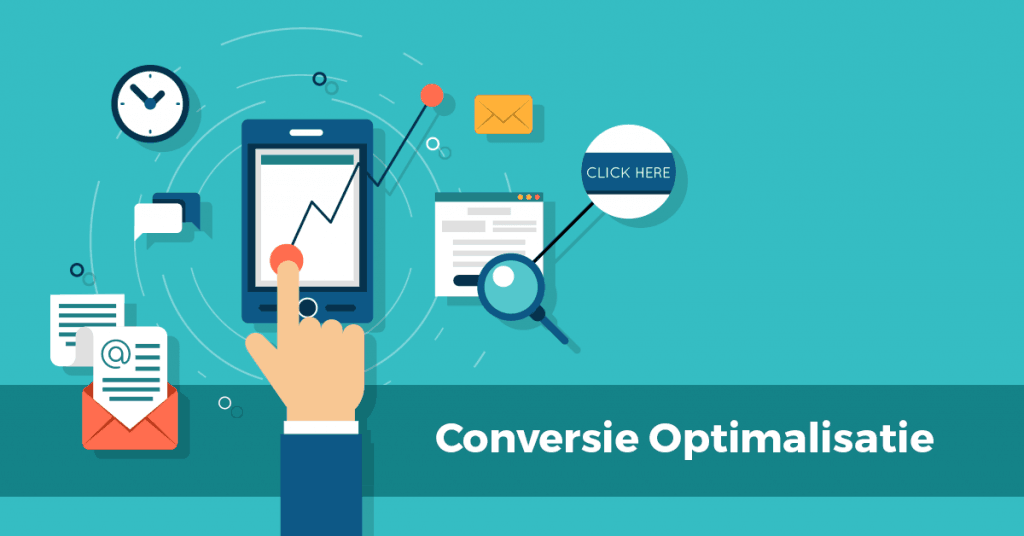 Conversie berekenen en meten
Een conversie bereken je door het aantal conversies te delen door het aantal unieke bezoekers en dit resultaat te vermenigvuldigen met honderd.
Conversie percentage = totaal aantal conversies / aantal unieke bezoekers * 100
Alvorens je aan conversie-optimalisatie kunt beginnen, moet je eerst op alle marketing- en analyseplatformen die je gebruikt je conversies  meten.
Alle online marketingplatformen laten je toe om conversies te meten door een stukje javascript op je site te installeren. Deze code komt in de header of de footer te staan (zie de installatie-instructies bij elke code).
Bij WordPress is het vrij eenvoudig om deze stukjes code te installeren. Met het Studiopress Genesis Framework ga je naar de desbetreffende pagina en plak je onder "Scripts" de code en bewaar je dit. Als de code op elke pagina moet staan, ga dan naar de linker zijbalk en vul de code onder Genesis / Theme setting / Header and Footer scripts in.
Als je gebruik maakt van een standaard WordPress theme, kun je de plugin Scripts n Styles installeren om net hetzelfde te doen als hierboven omschreven.
Wanneer je gebruik maakt van Google Tag Manager (beste optie), dan geef je je code aan degene die de tag manager heeft geïnstalleerd. Tag manager is de meest complexe optie van de drie maar wel de beste om al je tags te beheren en het vertraagt je website niet.
Google Analytics conversie meten
Conversies meten doe je eerst en vooral in Google Analytics. In Google Analytics worden conversiedoelen genoemd en deze zijn vrij eenvoudig in te stellen wanneer er een bedankingspagina is. Een bedankingspaginapagina is een pagina waar de bezoeker naar wordt gestuurd als ze de conversie hebben uitgevoerd. Zorg ervoor dat je bedankingspagina uniek is per conversiedoel. Iemand die zich inschrijft op de nieuwsbrief krijgt een andere bedankingspagina te zien dan iemand die een document downloadt of een aankoop doet. Elke bedankingspagina heeft een unieke URL. Lees via volgende link meer over hoe doelen in Google Analytics instellen.
We raden aan om conversies in te stellen per kanaal. Je stelt je conversies dus naast Google Analytics ook in op de andere marketing platformen waar je gebruik van maakt, zoals Facebook, AdWords, Twitter en LinkedIn. Dit doe je voor de simpele reden dat je per platform kan gaan kijken wat je hebt betaald en hoeveel conversies het heeft opgebracht.
Facebook conversie meten
Om je conversies te meten in Facebook moet je een Facebook business manager account hebben. Daarna installeer je je Facebook pixel op elke pagina van je website en je kan ook eventueel gebeurtenis pixels plaatsen. Eenmaal dit gebeurd is, ga je naar "aangepaste conversies" en vul je dezelfde URL's in als je bij Google Analytics hebt gebruikt.

AdWords conversie meten
Je meet conversies in AdWords door naar Hulprogramma's / Conversies te gaan en je conversiescript op te halen. Meer informatie over hoe je conversies in AdWords aanmaakt, kun je vinden in onze Google AdWords Handleiding.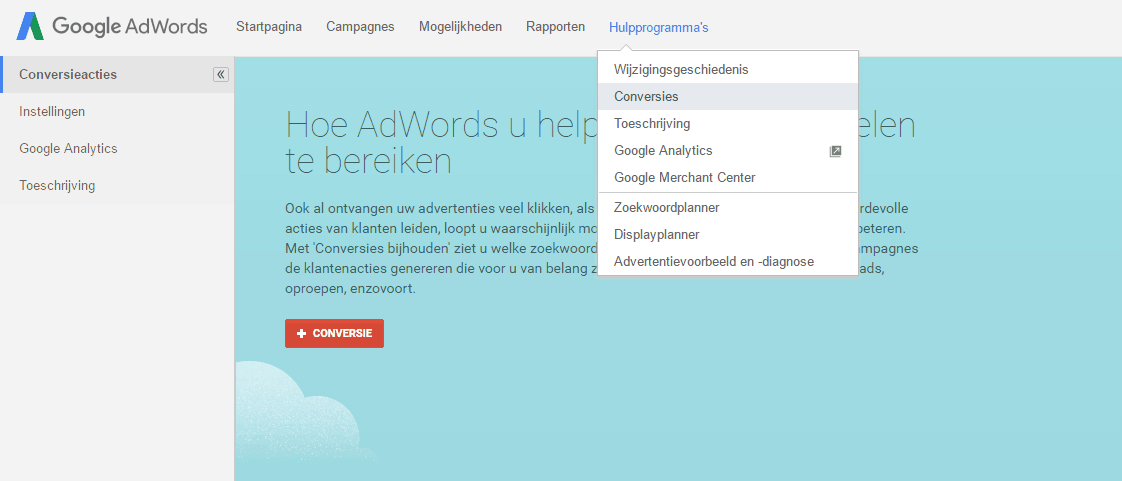 Twitter conversie meten
Bij Twitter installeer je eerst de universele websitetag op elke pagina van je site (vergelijkbaar met Facebook). De universele websitetag kun je aanmaken door naar Tools / Doelgroepbeheer te gaan. Hierna ga je naar Tools / Bijhouden van conversies en maak je je conversies aan. Meer informatie hierover kun je vinden in onze handleiding Adverteren op Twitter.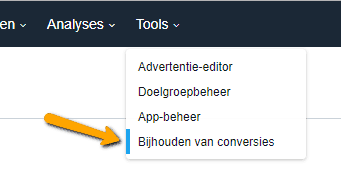 LinkedIn conversie meten
Installeer hierbij de insight tag op alle pagina's. Je kan deze tag in je advertentieaccount vinden onder Account assets / Insight tag. Hierna kun je je conversies beginnen aanmaken onder Account assets / Conversion tracking. Meer informatie kun je vinden in onze handleiding Adverteren op LinkedIn.

Conversie attributie
Er kan een verschil zijn in conversies tussen Google Analytics en andere platformen. Dit komt door een verschil in attributie. Attributie is het toewijzen van een convertie aan een kanaal. Stel: je bezoeker klikt eerst op je Facebook advertentie, daarna op een AdWords advertentie waarna er een conversie plaatsvindt. Zowel Facebook als AdWords gaan melden dat ze verantwoordelijk zijn voor deze conversie. Google Analytics maakt standaard gebruik van de laatste interactie als attributiemodel dus daar ga je zien dat AdWords verantwoordelijk is voor de conversie.
Conversie attributie model
Er zijn zeven attibutiemodellen in Google Analytics en je kunt deze ook naar wens aanpassen. Je kan meer over elke van deze lezen en in welke omstandigheden je ze beste gebruikt op Google Analytics help – About the default attribution models.
Waarom conversie optimalisatie
Je doet aan conversie-optimalisatie om ervoor te zorgen dat je meer conversies hebt op je website. Aangezien een professionele website redelijk wat kost aan onderhoud, reclame en content is het een goede zaak dat je nergens geld op tafel laat liggen.
Conversie verhogen
Er zijn verschillende manieren om conversies te verhogen waarvan gebruikerservaring (user experience) en A/B split testing de twee grootste categorieën zijn. Bij de onderstaande tips voor conversie-optimalisatie geef ik mee wat je allemaal kunt doen om de gebruikservaring op je website te verbeteren.
Met A/B split testing maak je twee versies van een pagina met een klein verschil (andere kleur van knop of tekst,…). De ene helft van je bezoekers krijgen versie A te zien en de andere versie B. A/B split testing wordt vaak gebruikt bij conversie-optimalisatie maar om dit te kunnen doen heb je een website nodig met heel veel conversies voor een doel per maand. Bij conversie-optimalisatie moet je denken in termen van 0.1% verhoging per aanpassing in je conversiepercentage. Het is uitermate zelden dan een optimalisatie voor 1% of meer zorgt tenzij de gebruikservaring op je site zo slecht is of als je je advertentiekanalen zoals Google AdWords slecht gebruikt. Kortom, met 1000 conversies per maand voor één doel heb je een verhoging van 1 conversie per maand wat statistisch insignificant is om te kunnen bepalen of de aanpassing voor deze conversie heeft gezorgd.
Conversie optimalisatie tips
Je kunt de conversies op je site verhogen door de volgende zaken op je website te implementeren:
Social proofing: Voeg reviews en testimonials toe op je website
USP's: Unique selling propositions – Vermeld op je website in duidelijke termen waarom iemand klant zou worden bij jou en niet bij een ander.
SSL: Een website met een beveiligde verbinding is niet enkel voor je zoekmachine optimalisatie maar ook om je websitebezoekers een veiliger gevoel te geven. Vooral als ze hun credit card gegevens invullen.
Hotjar: Met Hotjar kun je nagaan hoe bezoekers je website gebruiken en problemen tijdens hun bezoek opsporen.
Chat: Omdat je in tegenstelling tot een winkel of kantoor niemand kan aanspreken, is het altijd een goed idee om op je site een chatfunctie te installeren. Als een bezoeker vragen heeft, dan kan hij je rechtstreeks contacteren. Dit is laagdrempeliger dan een contactformulier invullen.
Sitenavigatie: Zorg ervoor dat je sitenavigatie in de header duidelijk is en niets aan de verbeelding overlaat zodat je bezoekers snel kunnen vinden waar ze naar zoeken.
Tag line: Wat maakt jouw website zo speciaal of hoe zou jij omschrijven wat je doet in één zin. Bij bol.com is dit bijvoorbeeld "Bol.com de winkel van ons allemaal". Bij ons is dit "SmartData jouw gids in online marketing"
Zoekformulier: Een goed werkende zoekfunctie is voor zowel een e-commerce als "gewone"
website een goudmijn. En dit omdat de bezoeker op jouw website zoekt en niet in Google. Voor een e-commerce is dit bijna een gegarandeerde aankoop wanneer jij dit product aanbiedt.
Kwalitatieve afbeeldingen: Maak gebruik van echte afbeeldingen of foto's en geen stockfoto's omdat dit zeer generiek overkomt en geen vertrouwen wekt.
Call to action: Zie dat hetgeen je wilt dat de bezoeker doet, duidelijk is. Daarom moet de tekst 'voeg toe aan winkelwagen' en de bijhorende knop het meest in het oog springende zijn op de pagina.
Bevestiging e-mails: Stuur een bevestiging van ontvangst wanneer iemand je contactformulier gebruikt of een aankoop doet. Dit stelt leads of klanten gerust dat je hun bericht goed hebt ontvangen.
404 pagina's: Pagina's met een HTTP error 404 geven een slechte gebruikservaring, los deze problemen dus zeker op.
Snelheid: De laadsneheid van een website is één van de meest kritieke punten voor zowel zoekmachine optimalisatie als gebruikservaring. Ons artikel over Snelheid website testen geeft goed weer hoe goed je website het doet. Als je een WordPress website hebt, check dan zeker onze WordPress SEO Handleiding
Remarketing: Ongeveer 70% van alle bezoekers zie je nooit nog terug op je website. Met remarketing kun je alle bezoekers "achtervolgen" met jouw reclame.
Verplichte velden: Markeer duidelijk wat de verplichte velden zijn op een formulier en zie dat de foutmeldingen duidelijk zijn.
Usablility testing: Je kunt de usability van je website testen in de eerder genoemde hotjar. Je kunt ook effectief mensen taken op je site laten uitvoeren om dan te zien waar ze moeilijkheden mee hebben. Er zijn verschillende bedrijven die deze dienst aanbieden zoals whatusersdo.
Content: Bezoekers blijven langer op je website wanneer er kwalitatieve inhoud te vinden is en je er uitgebreid naar linkt. Content marketing zorgt buiten een verhoging van je conversie ook voor een hogere positie in Google.
Meta tags: Wees duidelijk in wat bezoekers te zien gaan krijgen als ze op je website in Google klikken of als ze je vinden via social media  door gebruik te maken van je meta title en meta description.
Zoekwoordenonderzoek: Gebruik de woorden die je bezoekers hanteren om jouw producten en diensten te vinden. Een zoekwoordenonderzoek helpt je niet enkel hoog te scoren in Google maar ook je klanten naar de juiste pagina's te leiden door de woorden te gebruiken die zij gebruiken.
E-commerce conversie tips:
Deze tips zijn specifiek voor e-commerce websites.
Keurmerk: Maak gebruik van een keurmerk zoals Thuiswinkel Waarborg om ervoor te zorgen dat je website bezoekers zich zekerder voelen om een aankoop bij jou te doen.
Productomschrijving: Voeg degelijke informatie bij je product toe zodat bezoekers een goed beeld hebben van wat ze precies kopen.
Productvideo's: Een video vertelt meer dan alleen tekst en foto's.
Prijs (verzending): Wees duidelijk wat de effectieve prijs is van het product en vermeld op de productpagina wat de verzendkosten gaan zijn. Voeg zeker geen onverwachte kosten toe in de checkout (zoals transactiekosten).
Verzendtermijn: Vermeld op de productpagina wat de levertermijn is van het product.
Leverdag: Indien mogelijk laat je je klanten een leverdag kiezen.
Registratie (guest checkout): Vermijd dat klanten verplicht zijn om een account en paswoord aan te maken.
Gratis verzending: Geef gratis verzending vanaf een bepaald bedrag of maak de verzending altijd gratis.
Retour beleid: Schrijf een klantvriendelijk retourbeleid. Kortom, maak het eenvoudig om iets terug te sturen en indien mogelijk zorg voor een gratis retour.
Dynamische remarketing: Met dynamische remarketing "achtervolg" je je bezoekers met de specifieke producten die ze op je website hebben gezien.
Kwalitatieve foto's: Voor de meest een e-commerce websites is het niet mogelijk om originele foto's te hebben. Let er wel op dat de foto's kunnen vergroot worden, scherp en uniform zijn.
Persistente winkelwagen: Zorg ervoor dat wanneer een bezoeker iets in zijn winkelwagen plaatst en de volgende dag de aankoop wenst te doen dat deze items nog steeds in zijn winkelwagen aanwezig zijn.
Meerdere betaal opties: Zorg voor zoveel mogelijk betaalopties. Het is jammer wanneer een klant afhaakt omdat hij niet kan betalen met zijn favoriete (of enige) betaalmiddel.
E-mail automatisatie: Werk met e-mail automatisatie om een e-mail te versturen wanneer er producten in de winkelwagen achterblijven.
Gemiddelde conversie webshops en sites
Er wordt algemeen aangenomen dat websites een gemiddelde conversiepercentage hebben van 1 à 3 procent. Dit kan meer of minder zijn naargelang de sector, concurrentie en gebruikte marketingtechnieken.
Hulp nodig met CONVERSIE OPTIMALISATIE voor je bedrijf?
Neem met ons contact op voor vrijblijvend advies!