In deze handleiding zetten we de belangrijkste facetten Facebook Business Manager op een rijtje. Waarvoor dient dit platform? Waarom zou je het gebruiken? En hoe werken de verschillende functies? We bespreken hoe je een account aanmaakt, waar je je facturen terugvindt, hoe je een advertentieaccount aanmaakt en hoe je een pagina beheert. Geregeld verwijzen we naar andere pagina's op onze website. Anders zou het artikel wat te lang en complex uitvallen.
Wat is Facebook Business Manager?
In het kort: met dit professioneel marketingplatform kunnen kmo's en marketeers adverteren op Facebook. Het grote voordeel is dat deze tool al je activiteiten op één locatie bundelt. Op die manier biedt het platform een goed overzicht van wat er aan de hand is op je advertentieaccounts en/of pagina's. Je kan via Facebook Business Manager ook toegang geven aan derden.
Hulp nodig met Facebook marketing?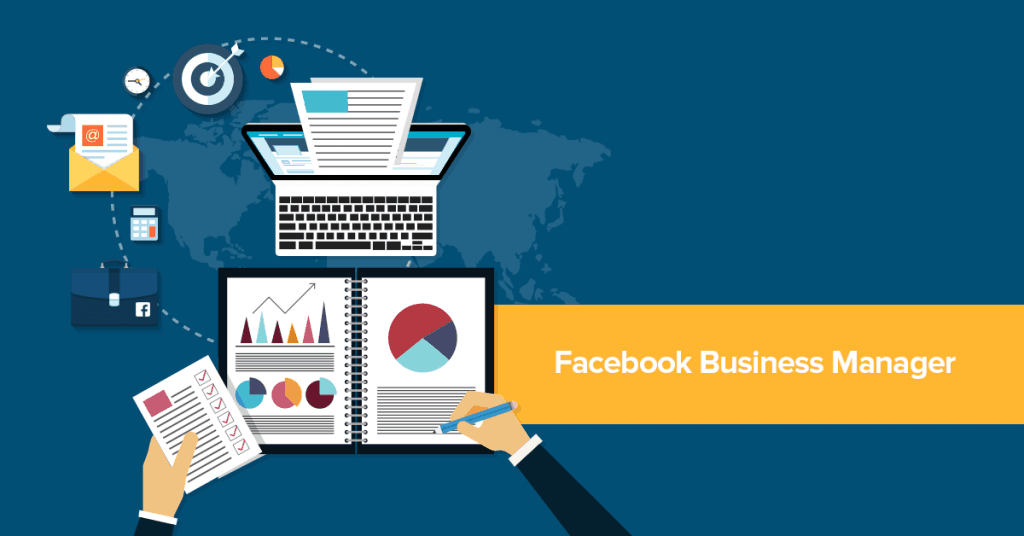 Waarom Facebook Business Manager gebruiken?
Stel, je wil als bedrijf je marketing op Facebook serieus nemen. En uiteraard wil je dat! Wel, dan is een account op dit platform cruciaal. Hier beheer je al je bedrijfspagina's en advertentieaccounts.
Via Facebook Business Manager heb je toegang tot marketingtools die je anders niet zou kunnen gebruiken. De Facebook-pixel en de -catalogus, om er maar twee te noemen. Je kan op dit platform eveneens een online marketingbureau of een interne medewerker toegang geven tot je marketing op Facebook. Jij houdt de touwtjes stevig in handen: je weet te allen tijde precies wie welke rechten heeft.
Beheer je meerdere pagina's en accounts, dan zorgt deze tool voor een handig overzicht. Je vindt er alle cruciale informatie: gespendeerde bedrag, aantal actieve campagnes, likes, bereikte mensen en hun betrokkenheid.
Vergelijk het met een weerstation met instrumenten die waarnemingen verzamelen. Net zoals het nattevingerwerk is om het weer te voorspellen zonder die instrumenten, zo is het eveneens lastig om effectief aan marketing te doen.
Hoe Facebook Business Manager aanmaken?
Surf naar Facebook Business Manager. Zorg wel dat je eerst inlogt op Facebook. Daarna kies je een accountnaam en vul je jouw professioneel e-mailadres in.
Let op: Gebruik het e-mailadres dat ook aan je persoonlijke Facebook-account gekoppeld is. Zo claim je gemakkelijk je pagina en bespaar je jezelf veel kopzorgen. Achteraf kan je je e-maildadres nog altijd veranderen. Kies daarvoor Bedrijfsinstellingen / Personen en onderdelen / Mensen en duid jouw profiel aan.
Pagina aanmaken of claimen
Bestaat er al een Facebook-pagina, dan is het tijd om die te claimen. Zo niet, dan maak je een pagina aan.
Zoals gezegd: als beheerder van een pagina gebruik je best het e-mailadres van je persoonlijke Facebook. Zo krijg je in Business Manager onmiddellijk toegang tot de pagina in kwestie.
Heb je nog geen bedrijfspagina, dan helpen onze handleiding Hoe een Facebook bedrijfspagina aanmaken en verwijderen en De perfecte omslagfoto op Facebook voor bedrijven je om er een op te zetten.
Advertentieaccount aanmaken of claimen
Mogelijk heb je al een persoonlijk advertentieaccount – eentje dat niet is aangemaakt in Business Manager. In dat geval moet je een professioneel account aanmaken. Dat maakt het eenvoudiger om anderen toegang te geven en om de Facebook-pixel te koppelen.
Het is belangrijk om de gegevens voor facturatie correct in te vullen, onder andere je btw-nummer en betalingsgegevens. Dat kan ook achteraf bij Instellingen / Advertentieaccounts. Onder Instellingen / Betalingsgegevens kan je een kredietkaart of PayPal aan je account koppelen of een domiciliëring opzetten.

Belangrijkste functies
Advertentieaccount
Te bereiken via de thuispagina van Business Manager of in het menu onder Aanmaken & beheren / Advertentiebeheer.

In onze gidsen laten we je kennismaken met alle aspecten van dit account. Ze geven een compleet beeld van de mogelijkheden.
Paginabeheer
Selecteer de pagina in de thuispagina van Facebook Manager. Of ga in het menu naar Aanmaken & beheren / Bedrijfsmanager.
Deze handleidingen geven je meer inzicht in het beheer van een pagina op Facebook:
Doelgroepstatistieken
Hier vind je alle info over de doelgroepen die op Facebook voorhanden is. Je maakt als het ware persoonlijk kennis met alle segmenten op Facebook. Héél interessant. Zijn het mannen of vrouwen? Hoe oud zijn ze? Hebben ze een relatie of gaan ze single door het leven? Waar wonen ze? Waar hebben ze interesse in? Je kunt ook meer inzicht krijgen in de groep mensen die je pagina volgen. Je moet wel voldoende likes en volgers hebben om deze functie te kunnen gebruiken voor jouw pagina.
Door te filteren op interesse kan je het perfecte doelpubliek samenstellen. En vervolgens kan je dieper inzicht krijgen in hoe die groep is opgebouwd.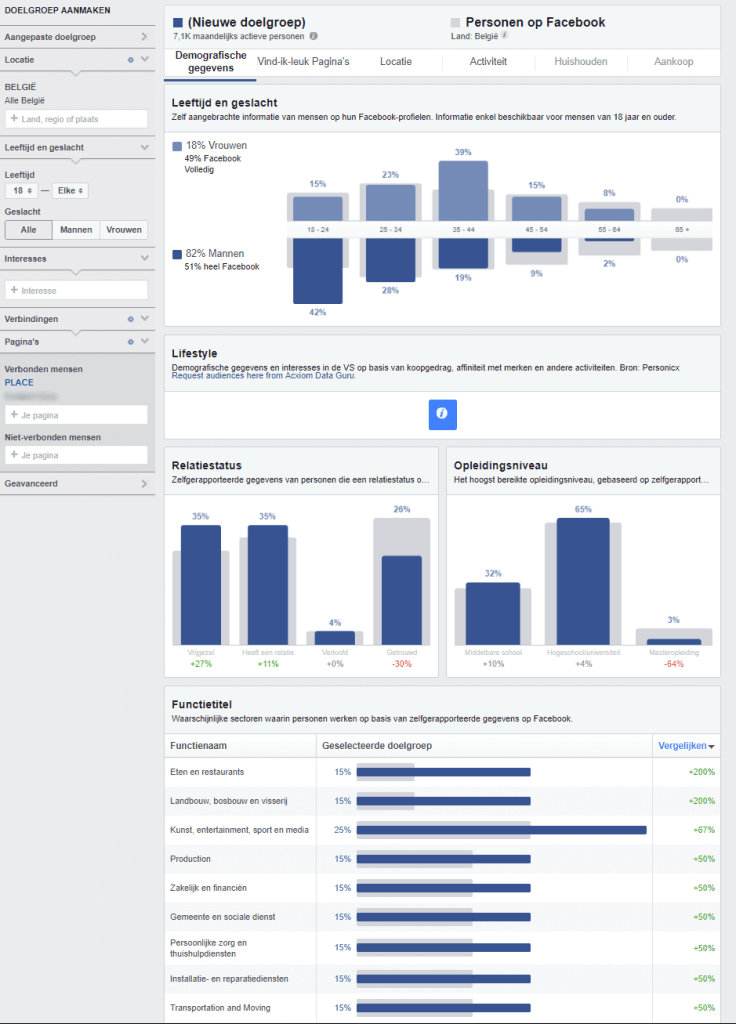 Creative Hub
Beschouw dit als een testruimte voor je reclame. De mogelijkheden leggen we uit in onze ultieme gids voor advertentiebeheer op Facebook.
Analytics
Geeft een diep overzicht van hetgeen je Facebook-pixel rapporteert. Daaronder valt het aantal actieve gebruikers, de opbouw van je publiek (geslacht, leeftijd), hun locatie en de meest bezochte pagina's.

Gebeurtenisbeheer
Dit onderdeel verleent toegang tot je Facebook-pixel en aangepaste conversies. Naast de conversies uit de pixel kan je extra specifieke conversies toevoegen.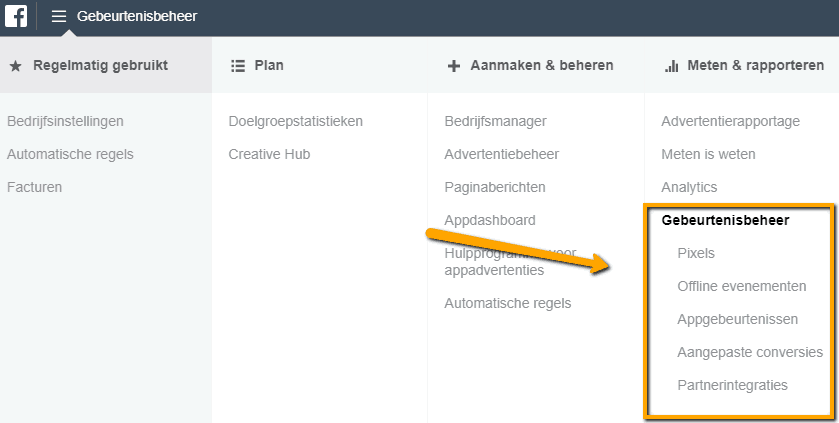 Doelgroepen
Zijn nuttig voor drie doeleiden. Met name: aangepaste, vergelijkbare en opgeslagen doelgroepen. In volgende artikels gaan we dieper in op elk van hen.

Catalogi
Volgend scenario is je wellicht bekend. Je vergaapt je aan een paar nieuwe sneakers op een webshop. Vervolgens zie je dat schoeisel overal op Facebook opduiken. Het zijn dynamische advertenties.
Het is een technische manier van adverteren, maar wel razend effectief. Geen wonder dat e-commerce er gretig gebruik van maakt. Hiervoor heb je wel een catalogus nodig.

Facturen
Hier vind je een handig overzicht van alle facturen per account.

App voor paginabeheer
Een bedrijfspagina kan je beheren op smartphone of tablet. Er bestaan zowel apps voor Android als voor iOS.
Android Facebook paginabeheer app
IOS Facebook paginabeheer app
App voor advertentiebeheer
Ook hiervoor bestaan Android- en iOS-apps. Je vindt hen via volgende links.
Android Facebook advertentiebeheer app
IOS Facebook advertentiebeheer app
Besluit
De mogelijkheden van Facebook Business Manager zijn enorm. Deze handige tool is eigenlijk onmisbaar voor elk bedrijf dat z'n online marketing serieus neemt.
Hulp nodig met je FACEBOOK MARKETING voor je bedrijf?
Neem contact met ons op voor vrijblijvend advies!