Acht delen lang heb ik jullie overstelpt met Facebook advertentieformaten, screenshots, Facebook advertentietips en do's en don'ts. Maar wàt post je nu het best? Voor dit volgende deel deel ik graag vijf Facebook marketing tips die je meteen kan inzetten voor jouw business en die je pagina meteen een pak kwalitatiever maakt.
Facebook marketing tips: wat post ik?
We weten hoe we ons profiel moeten aanmaken en hoe we advertenties opmaken. Maar vaak zie ik pagina's die gewoon compleet het noorden kwijt zijn als het aankomt op: hoe gaan we onze pagina nu eigenlijk vullen? Wat hebben wij te vertellen? En hoe plannen we dit in?
Maak een content plan op voor de komende maand
Ga niet elke dag met de handen in het haar voor je scherm zitten, proberen uit te vissen welke cartoon of inspirerende quote je nu weer online kan gooien in ruil voor wat engagement. Maak twee uur tijd om een content plan op te stellen en plan dan alle posts in voor de komende maand. Hou hierbij rekening met wat jouw klanten als waardevol kunnen zien. Gebruik belangrijke data zoals de feestdagen of een belangrijk evenement in het bedrijf als kapstokken en plan je content daarrond.
Hulp nodig FACEBOOK MARKETING?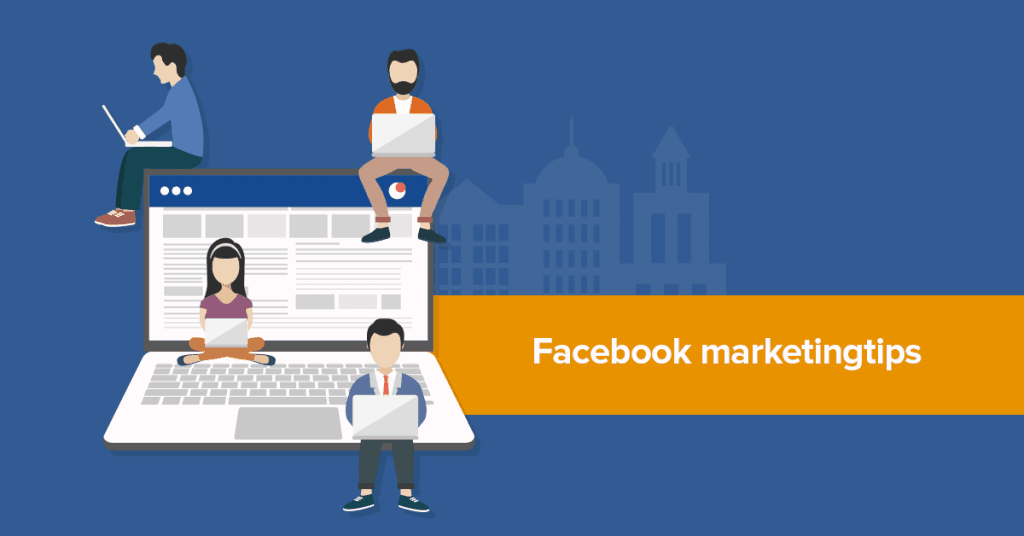 Je kan hiervoor Google sheets gebruiken zodat je (indien je wenst) met meerdere de planning kan bekijken en aanvullen. Plan hierna dan de posts in via Facebook. Deze posts zullen aan meer volgers getoond worden dan wanneer je bijvoorbeeld de externe planningtool Hootsuite gebruikt.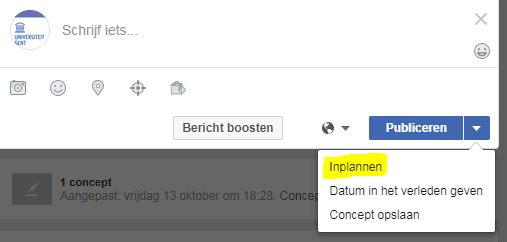 Wees positief in je posts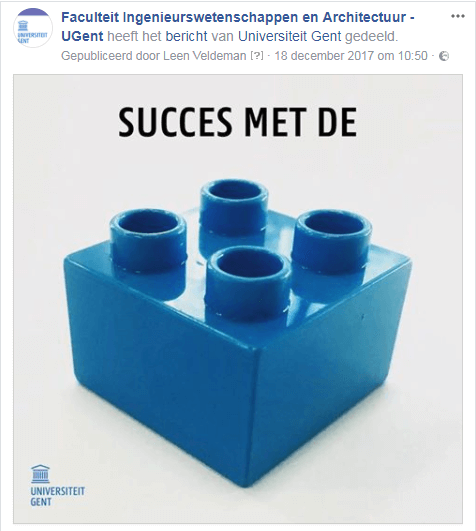 Geef toe: we klagen allemaal graag. Maar als bedrijf kun je dit niet maken: wees positief in je berichten. Facebook wordt gecheckt om even te ontspannen, het heeft geen zin om droge en saaie teksten te plaatsen om een punt te maken. Hiervoor schrijf je een blog post op je website waarnaar je linkt op Facebook.
Plaats ook non-nieuws
Wat je post, hangt van bedrijf tot bedrijf af, maar plaats niet enkel de grote doorbraken of belangrijk nieuw op Facebook. Plaats een leuke foto van de kerstboom in het kantoor tijdens de feestdagen,  hoe je de boom bent gaan halen, de paaseieren op de bureaus van je medewerkers, een ludieke aankondiging van de lancering van een nieuw product,… Steeds vergezeld van één of twee korte zinnen. Met andere woorden: toon menselijkheid, je staat op hetzelfde niveau als de Facebookscroller, ga in gesprek en wees niet vies van een smiley in je status ;-).
Met zo'n posts zorg je ervoor dat je aanwezig blijft. Wil je veel mensen op je evenement? Stop dan niet bij een enkele aankondiging van dit event, maar post regelmatig updates over het aantal inschrijvingen, of welke gasten er nog komen of welke spreker er komt. Je wil top of mind blijven.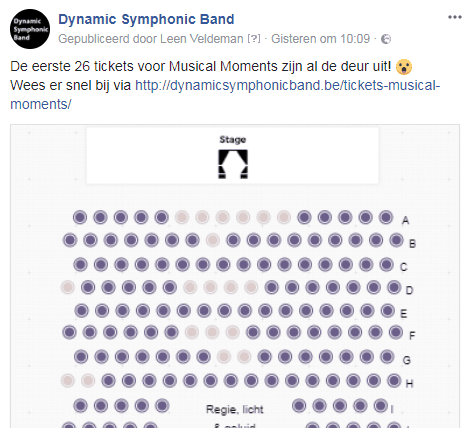 Volg een cursus 'online schrijven'
Ik zie vaak pagina's die alles juist doen, maar dan net niet genoeg aandacht besteden aan hun teksten bij de posts. Jammer, want je post staat of valt nu eenmaal met hoe je je boodschap overbrengt. Schrijven voor online publicaties is helemaal anders dan schrijven voor een rapport, een boek of een e-mail. Zo vermijd je dus best vakjargon, schrijf je korte alinea's en schrijf je in korte zinnen.
Google eens op 'cursus online schrijven', je vindt meteen een heel aanbod. Wanneer je zo'n cursus gevolgd hebt, kun je alle online communicatie perfect op elkaar afstemmen. Zo zullen je ads op Facebook perfect in lijn liggen met de nieuwsbrieven die je uitzendt en je blogberichten op je website.
Kijk naar de concurrentie
Het is altijd goed om de markt te blijven verkennen. Ga naar de Facebookpagina's van je concurrenten. Wat posten ze? Hoe vaak doen ze dat en hebben ze veel reacties? Het kan nooit kwaad om wat inspiratie op te doen!
Zo, dit waren onze laatste Facebook marketing tips. Er staat nog meer op til, dus hou de website dus goed in de gaten.
Hulp nodig met FACEBOOK MARKETING voor je bedrijf?
Neem contact met ons op voor vrijblijvend advies!