We hadden het vorige week in de cursus Facebook voor bedrijven al even over de omslagfoto. Maar hoe maak je nu de perfecte omslagfoto op Facebook voor je bedrijf? Er zijn enkele factoren waar je rekening mee moet houden om een omslagfoto (of coverfoto) te plaatsen die impact heeft. Is je coverfoto aangepast aan de mobiele apparaten? Gebruik je niet teveel tekst op je afbeelding? Wat zijn de ideale afmetingen voor de profielfoto en omslagfoto? En hoe zit het met onscherpe foto's en het bestandsformaat?
Het is goed dat veel bedrijven zich hier al van bewust zijn, maar er zijn ook nog steeds bedrijven die denken dat enkel een mooie afbeeldingen uploaden voldoende is.
Hulp nodig FACEBOOK MARKETING?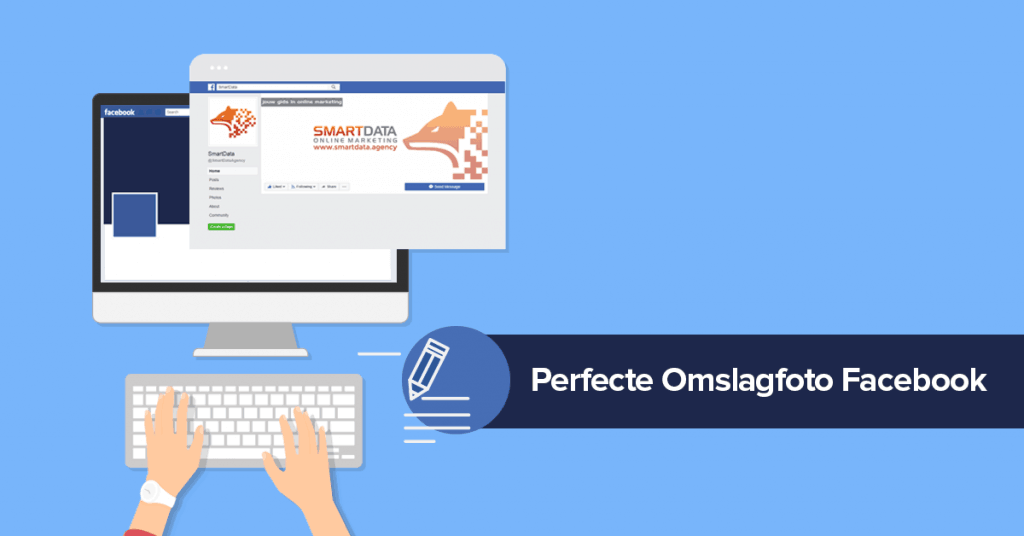 Afmetingen voor de profielfoto en omslagfoto
Met je omslagfoto en je profielfoto kom je als bedrijf visueel sterk naar buiten op Facebook. Maar wat zijn de ideale afmetingen voor de profielfoto en omslagfoto? Laat ons starten met de omslagfoto.
Afmetingen van de perfecte omslagfoto
Allereerst hou je rekening met de juiste afmetingen. Start je met foute afmetingen, dan loop je het risico op onscherpe omslagfoto's.
Mijn go-to Facebookpagina is Fb pages: Sizes & Dimensions van Yoconta. Op deze Facebookpagina staan de laatste updates over alle afmetingen van alle visuals op Facebook, dus niet enkel de omslagfoto. Check deze dus altijd eventjes vóór je een nieuwe omslagfoto maakt.

Zo zie je dat je je file best 851 pixels breed en 315 pixels hoog maakt. Binnen deze grootte ga je je coverfoto maken.
Je ziet op bovenstaand schema dat desktops en mobiele apparaten slechts een deel van je coverfoto zullen tonen. Op tablets en gsm's zie je bijvoorbeeld enkel 560 pixels van de 851, 158 pixels van de linkerkant en 134 pixels van de rechterkant.
Bedrijven kijken nog teveel naar hun computer, terwijl ze vergeten dat 50% van de Facebookgebruikers Facebook mobiel bezoekt.
Zo heeft Hunkemöller wel een heel mooie foto en ook een lopende actie van -20%:

Alleen is de tekst niet volledig leesbaar op mobiel: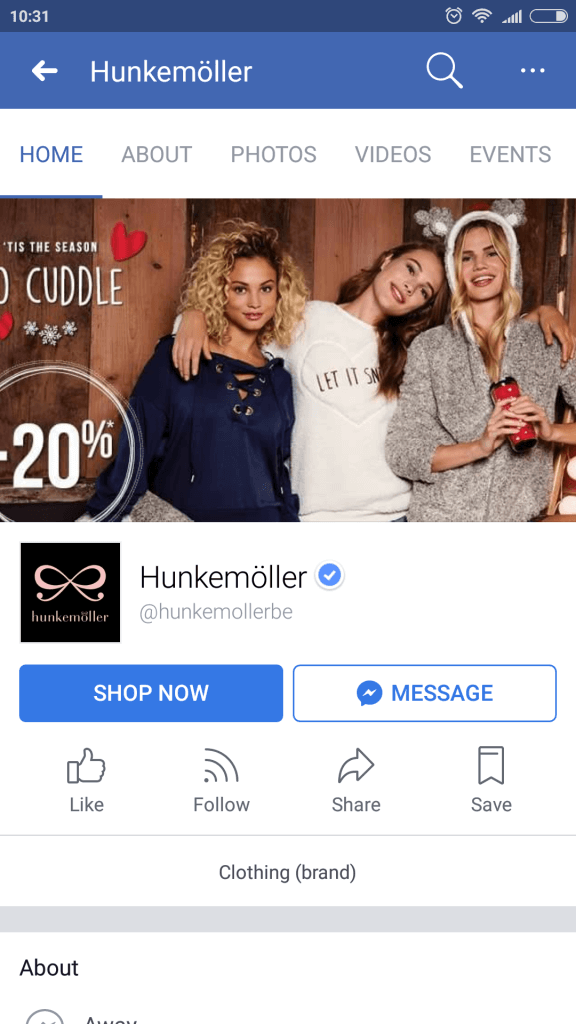 Logisch ook, als je rekening houdt met de juiste afmetingen voor mobiel (158 pixels wegblijven van de linkerkant en 134 pixels van de rechterkant). Hieronder zie je dankzij de zwarte hulplijnen duidelijk dat de T en een deel van de O van 'TO' zullen wegvallen op mobiel.

Omslagfoto Facebook maken
Hoe maak je nu de perfecte omslagfoto? Het beste programma om dit te doen is InDesign. Als je niet over InDesign beschikt, dan biedt Pixlr een mooi online alternatief. Geen InDesign of ambitie om hier aan te beginnen? Besteed dit werk dan uit.

Afmetingen omslagfoto Facebook
Open het programma, klik op Bestand > Nieuw document. Geef in het volgende scherm je afmetingen in (851 breed, 315 hoog) en duid aan dat het over een digitale publicatie gaat. Klik hierna op OK.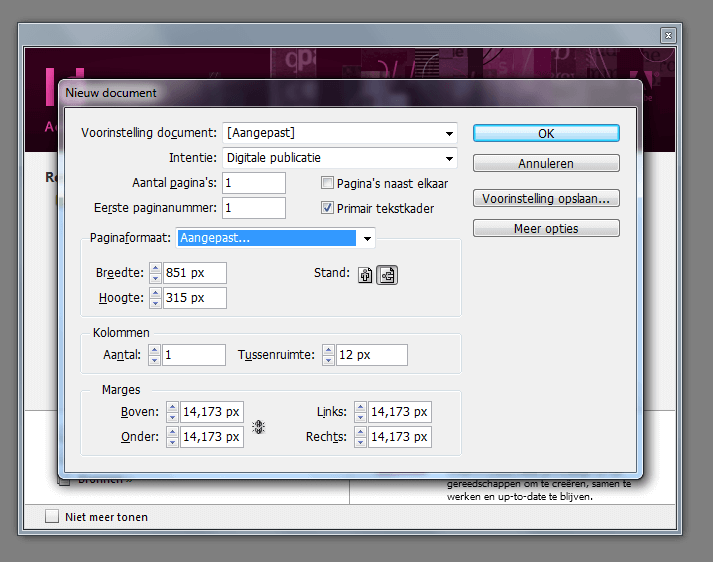 Werk met hulplijnen
Om ervoor te zorgen dat je steeds rekening zal houden met de afmetingen zoals hierboven, kun je met hulplijnen werken. Je duidt gewoon alle randen aan waar je niet over mag gaan met je design door links en rechts een lijn toe te voegen aan het document (de linkse lijn staat op de X-as op 135 px en de rechtste lijn op 717 px). Maak beide lijnen zo'n 2 pixels dik, zodat je hen goed ziet staan, zoals hieronder.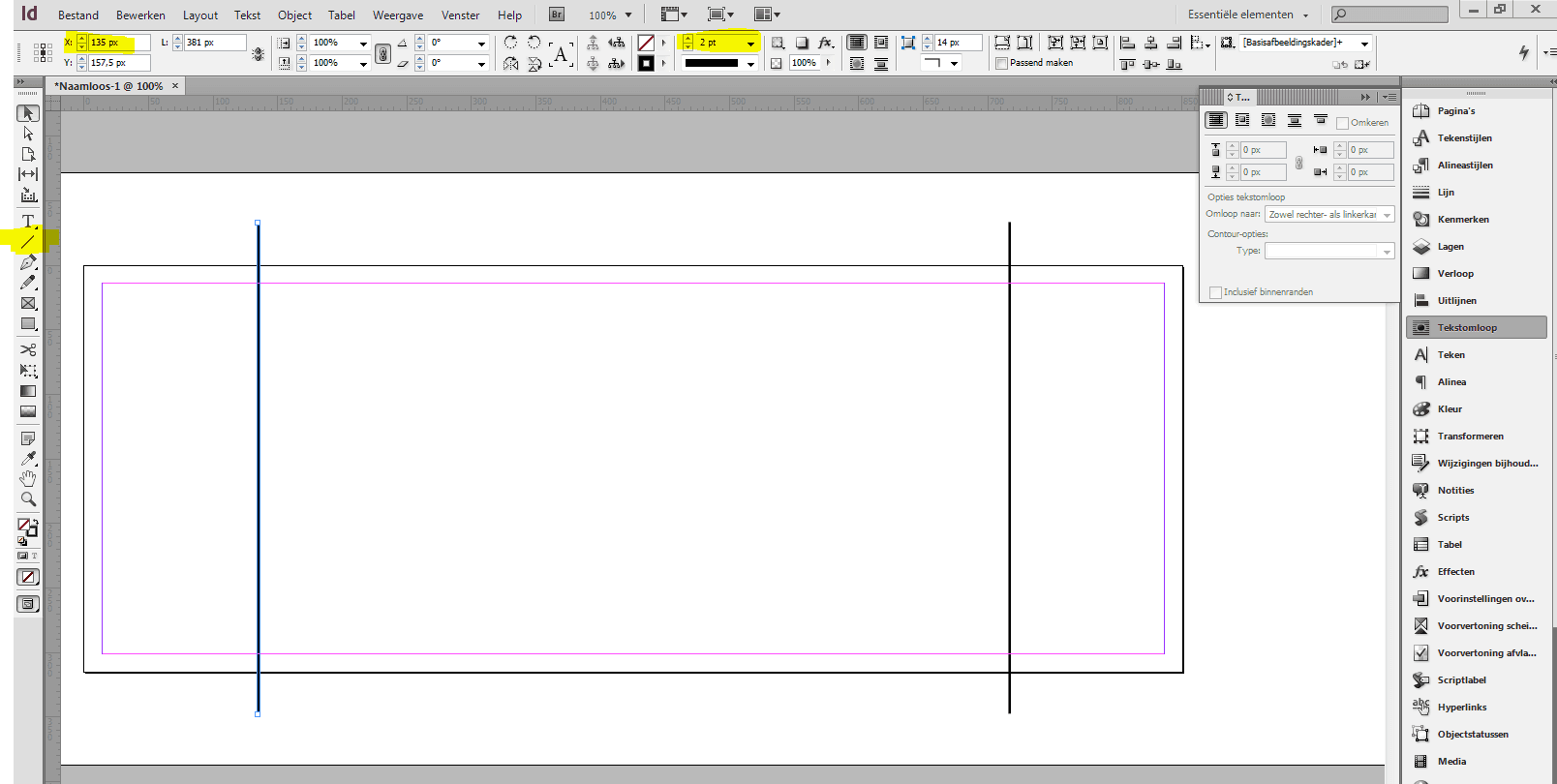 Wanneer je klaar bent met je design, sla de afbeelding dan op en zorg ervoor dat deze onder de 100 kB blijft om een scherpe foto te kunnen verzekeren. Klik hiervoor op Bestand > Exporteren en verander het soort document in jpg of png. In het volgende dialoogvenster duid je het volgende aan:
Kwaliteit: hoog
Resolutie: 72 (dit is hoog genoeg om iets digitaal te publiceren)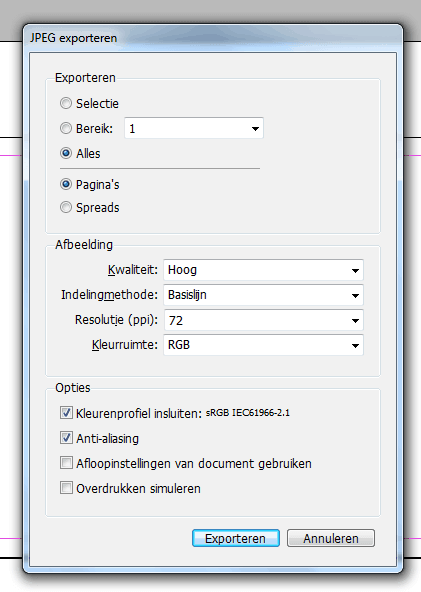 Klik op Exporteren. Ga hierna naar je Facebookpagina, klik linksboven op de omslagfoto op 'Omslagfoto wijzigen' en selecteer je afbeelding. Klaar!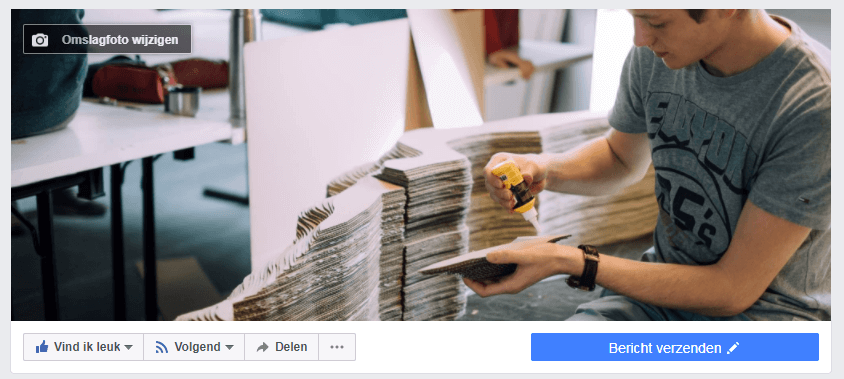 Nieuw: de covervideo
Sinds augustus van dit jaar is het mogelijk om een covervideo te plaatsen in plaats van een statische coverfoto, zoals Narcos doet. Hierdoor kun je meer aan storytelling doen en iets meer vertellen. Deze video begint automatisch af te spelen wanneer een bezoeker de pagina bekijkt. Er zijn enkele dingen waarmee je hier rekening mee moet houden:
Afmeting: 820 x 462 pixels en minstens 820 x 312 pixels
Lengte: 20 tot 90 seconden (je kan een kortere clip hebben en deze in loop laten afspelen).
De Facebook event omslagfoto
Wanneer je een event aanmaakt op Facebook, moet je ook een omslagfoto voorzien. Ga hier niet voor de easy way out door dezelfde coverfoto als je pagina te kiezen. Op mobiele apparaten zul je alweer maar een deel zien van de foto, wat tot vreemde resultaten kan leiden. Volg hierbij onderstaande template door Yoconta.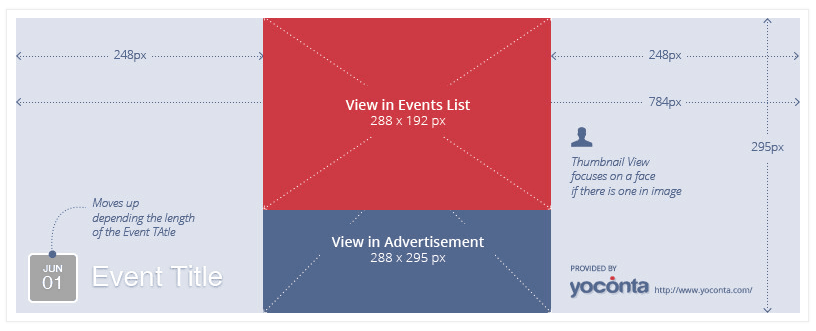 Afmetingen profielfoto Facebook

Naast je omslagfoto staat je profielfoto weergegeven. Upload hiervoor een vierkante afbeelding met afmetingen 720 pixels of 960 pixels om compressie te vermijden. Let wel op: vanaf augustus verschijnt je profielfoto rondvormig.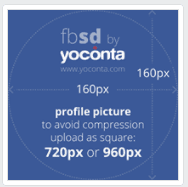 Hulp nodig met FACEBOOK MARKETING voor je bedrijf?
Neem contact met ons op voor vrijblijvend advies!