In dit artikel bespreken we Google Shopping. We gaan dieper in op een heleboel vragen waarmee je mogelijk zit. Wat is Google Shopping en hoe werkt het? Wat zijn de voordelen en de kosten? En hoe stel je Google Shopping zelf in?
Hulp nodig met GOOGLE SHOPPING?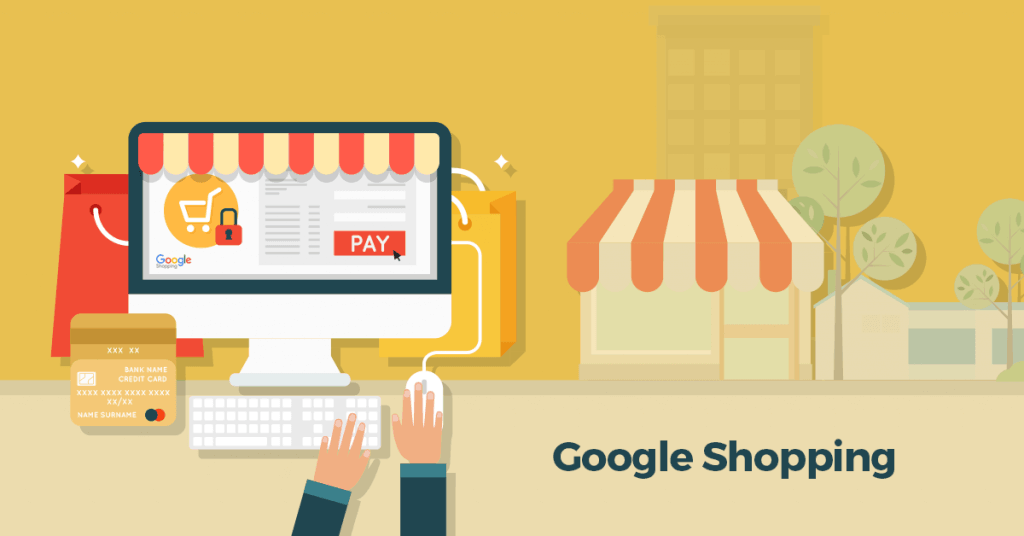 Wat is Google Shopping?
Ongetwijfeld heb je al vaak Shopping-resultaten zien verschijnen in Google. Zoek je in Google een term die gekoppeld is aan een product, dan krijg je ze steevast te zien. De Shopping-resultaten kunnen verschijnen boven de zoekresultaten of in de rechterkolom. Ze bestaan altijd uit een foto, titel, prijs en de naam van de webshop.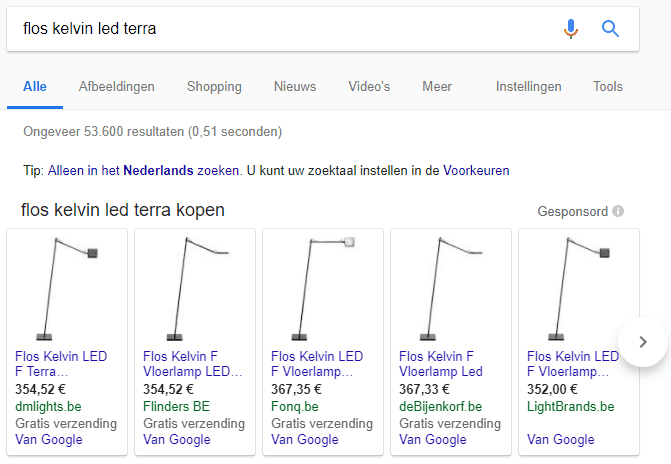 Shopping is de manier waarop Google productadvertenties toont in zoekresultaten. Misschien heb je het nog nooit gemerkt, maar er is ook een tabblad waar je enkel naar producten kan zoeken. Je kan er ook prijzen vergelijken voor een product tussen de verschillende webshops die het verkopen. Dat tabblad specificeert dus hetgeen waarnaar je zoekt, net zoals je in tabbladen als Video of Afbeeldingen naar die specifieke media zoekt.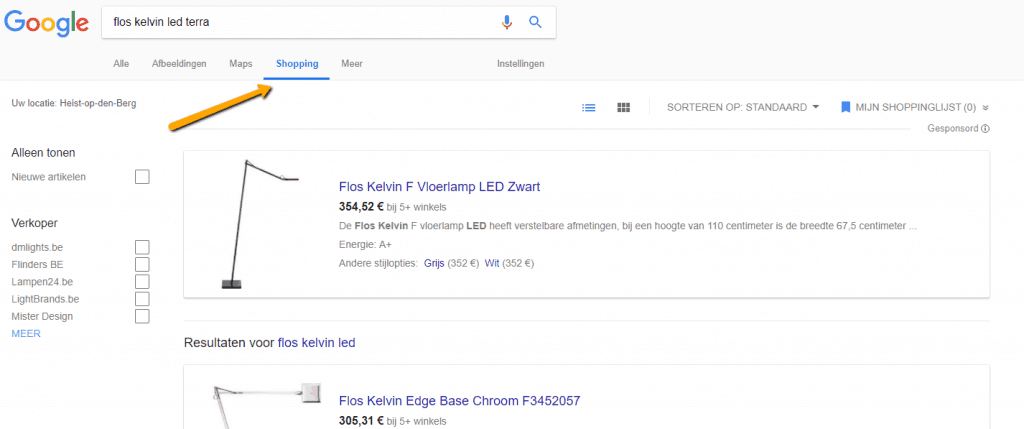 Kortom: Google Shopping is de verzamelnaam voor de webshopadvertenties gemaakt in Google AdWords. De consument kan jouw prijzen vergelijken met die van de concurrentie. Als adverteerder betaal je per klik.
Voordelen van Google Shopping
Grootste zichtbaarheid voor je producten
Meer verkopen
Lagere kost per verkoop
Eenvoudig en gratis aanmelden
Iedere verkoper kan op Google shopping, zolang die maar een functionele webshop heeft
Onderdeel van Google AdWords
Shopping-advertenties staan boven alle andere advertenties in de zoekresultaten. Meer kliks zijn het logisch gevolg. Je product is visueel zichtbaar, waardoor surfers zien waarnaartoe ze gaan. Dat leidt tot relevantere bezoekers. Geen enkel ander platform kent bovendien zoveel zoekverkeer.
Mensen zoeken er enkel op producten wanneer ze weten wat ze willen, aan het einde van de customer journey. Hierdoor zijn ze veel meer geneigd om hun geldbeugel te openen.
Google Shopping kan je in feite vergelijken met vergelijkingssites als Beslist, Tweakers, Hardware-info, Vergelijk en Kieskeurig. De grootste verschillen spreken evenwel in het voordeel van Google Shopping: geen opstartkosten, groter zoekvolume en open voor iedereen. Dit is dus de eerste plaats om producten aan te bieden. Pas daarna volgen andere vergelijkingssites.
Hoe werkt Google Shopping?
Google Shopping draait rond advertenties op productniveau. Webshops kunnen adverteren in Google AdWords door hun productfeed te koppelen aan Google Merchant Center. Je positie in de resultaten hangt ook af van de prijs die je bereid bent te betalen voor een klik en de kwaliteit van je advertentie.
Kosten van Google Shopping
Die zijn afhankelijk van een aantal factoren. Allereerst kan je zelf bepalen hoeveel je maximum per dag wilt betalen aan een campagne. Op maandelijks basis gaat Google niet boven dat bedrag.
Stel: je wilt dat je advertenties de hele dag zichtbaar zijn. Ook dan hangt de totale kostprijs af van een aantal factoren, onder andere het aantal producten in je feed en het bedrag de concurrentie bereid is te betalen voor een klik. Shopping-advertenties zijn onderhevig aan een kwaliteitsscore: hoe kwalitatiever de website en feed, hoe minder je moet betalen. In ons artikel adverteren op Google vertellen we je hoe de kwaliteitsscore berekend wordt. Webshops met een lage kwaliteitsscore zullen veel meer geld moeten neertellen om bovenaan te komen dan webshops met een hoge kwaliteitsscore.
Google Shopping instellen
Om te beginnen moet je een shopping-feed aanmaken, een feed die voldoet aan de voorwaarden van Google. De specifieke eisen vind je terug op deze pagina: Google shopping productspecificaties. Gebruik je evenwel WordPress, Magento of een ander populair platform, dan moet je je geen zorgen maken. De plugin of extensie neemt dan het zware werk voor z'n rekening. Je krijgt een melding in Merchant Center in het geval er nog gegevens ontbreken.
Tips:
Je moet wel letten op de inhoud van je feed.
Gebruik – indien mogelijk – GTIN (EAN code) voor al je producten.
Gebruik producttitels waarnaar mensen zoeken, met name woorden uit je zoekwoordenonderzoek.
Zorg ervoor dat de afbeeldingen die je gebruikt representatief zijn voor de producten en dat ze er – indien mogelijk – anders uitzien als die van je concurrenten.
Google Shopping-feed maken
Voor webshops is Shopping de belangrijkste manier om te adverteren. Daarom biedt nagenoeg elk platform de mogelijkheid om een plugin of extensie te installeren. Dat is handig, want zo moet jij je niet beroepen op een programmeur.
Google Shopping Magento
Voor Magento-webshop raden we de extentie van Amasty product feed aan.
Google Shopping Woocommerce
Voor Woocommerce zijn er redelijk wat feeds voorhanden. Deze plugin kan ineens ook een feed maken voor Facebook, mooi meegenomen: Product Catalog Feed PRO.
Google Shopping aanmelden
Daarna dien je in Google Merchant Center je feed te koppelen. Voeg onder Settings / Account linken je AdWords account toe.
In AdWords kan je nu je Shopping-campagne opzetten. Dat verloopt vergelijkbaar met andere campagnesoorten binnen AdWords.
Besluit
Eigenaars van een webshop kunnen niet voorbij aan Google Shopping. Meer zelfs, dit is best de eerste campagne die je uitbouwt in AdWords.
Hulp nodig met GOOGLE SHOPPING voor je bedrijf?
Neem contact met ons op voor vrijblijvend advies!