In een eerder artikel over hoe AdWords werkt, hebben we de verschillende soorten advertenties in Google AdWords al uitgelegd. Eén van die soorten advertenties is de Dynamic Search Ad of dynamische zoekadvertentie. Deze dynamische zoekadvertenties worden automatisch door AdWords gegenereerd op basis van de inhoud van je website. Deze advertenties worden vaak niet gebruikt, terwijl er toch veel uit te halen valt. Dynamische zoekadvertenties bestaan al jaren, maar ze zijn weinig bekend en de resultaten ervan worden niet snel gedeeld. Daarom leggen we je hieronder het waarom en hoe van deze eenvoudige en krachtige advertenties uit!
Hulp nodig met je GOOGLE ADVERTENTIES?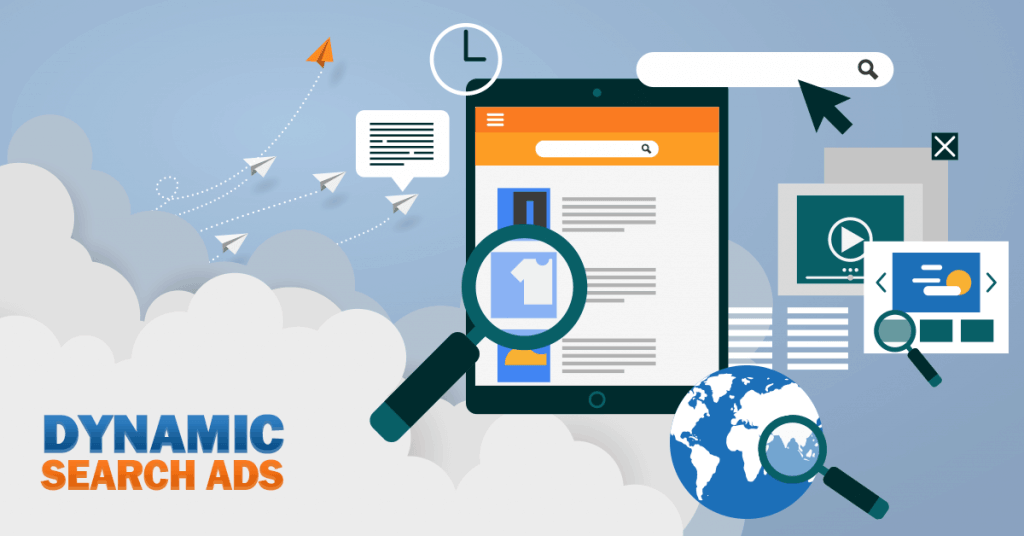 Wat zijn Dynamic Search Ads?
Dynamic Search Ads of dynamische zoekadvertenties worden dus door Google zelf gemaakt op basis van de inhoud van je website. Je laat Google weten welke landingspagina je wil gebruiken en voor welke zoekopdracht de advertenties bedoeld zijn. Google zal dan zelf tekstadvertenties aanmaken, testen en verbeteren voor een optimaal resultaat. Je laat Google dus zelf de inhoud van je advertentie bepalen, zodat die de beste resultaten oplevert in het Google algoritme. Want waarom zelf proberen te achterhalen welke advertenties best presteren, als je Google dat voor je kan laten doen?
Voordelen van dynamische zoekadvertenties
Zoekwoordenonderzoek wordt overbodig. Want met dynamische zoekadvertenties ga je niet targetten op basis van zoekwoorden, maar op basis van de inhoud van je pagina.
Daardoor bespaar je veel tijd, moeite en kosten. Je kan namelijk meteen je campagne opzetten, zonder dat die uitgebreide voorbereiding nodig is.
Je mist ook geen belangrijke zoekwoorden, doordat Google die zelf gaat bepalen naargelang de inhoud van je pagina en het zoekgedrag van je bezoekers.
Dynamische zoekadvertenties zijn ook ideaal voor websites waar er vaak veel verandert. Heb je bijvoorbeeld een webshop en verander je vaak van assortiment? Deze advertenties nemen die veranderingen meteen mee in de campagne.
Veranderingen in je website URLs? Ook die worden automatisch meegenomen in je Dynamic Search Ads.

Dynamische zoekadvertenties zijn relevanter en persoonlijker. Google neemt namelijk de zoekterm van de gebruiker mee in de kop van de advertentie. Je klikratio gaat op die manier omhoog.
De juiste landingspagina voor je dynamische zoekadvertenties
Om ervoor te zorgen dat Google jouw landingspagina goed begrijpt, is het belangrijk dat je deze optimaliseert voor de indexering. Hoe beter Google jouw website kan crawlen en indexeren, hoe beter ze de inhoud van je website kunnen inschatten. En hoe beter ze dat doen, hoe gelukkiger de zoeker zal zijn wanneer die op jouw website terecht komt.
Om je website te optimaliseren voor Google, verwijzen we je graag door naar vijf van onze eerdere artikels:
Dynamische zoekadvertenties lanceren
Ga naar je AdWords account, en klik op het plus-teken om een nieuwe advertentiecampagne te maken. Als campagnetype kies je voor "zoeken" en als doel stel je "websiteverkeer" in. Bij het netwerk, selecteer je enkel het "zoeknetwerk". Vink het "display netwerk" dus uit. De "targeting & doelgroep" en "budgettering & bieden" onderdelen stel je in naar keuze.
Bij het instellen van de advertentiegroep, moet je vervolgens als type advertentiegroep "Dynamisch" selecteren. Je kan dan kiezen om bepaalde pagina's te targeten, ofwel je hele website. Hier kies je dus voor de specifieke landingspagina die je wil gebruiken.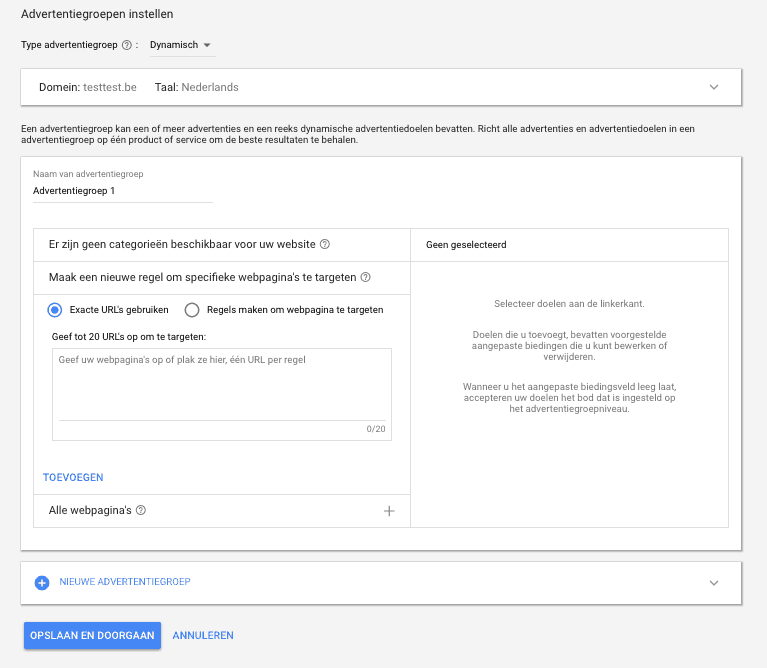 En dan is het tijd om de advertentie zelf te gaan opmaken. Google zal de meeste dingen automatisch invullen om zo goed mogelijk in te spelen op specifieke zoekopdrachten. De kop en de URL zullen dus automatisch gegenereerd worden om de klikratio te optimaliseren. Je kan wel zelf een beschrijving van 90 tekens toevoegen, en indien nodig ook een tweede beschrijving van 90 tekens.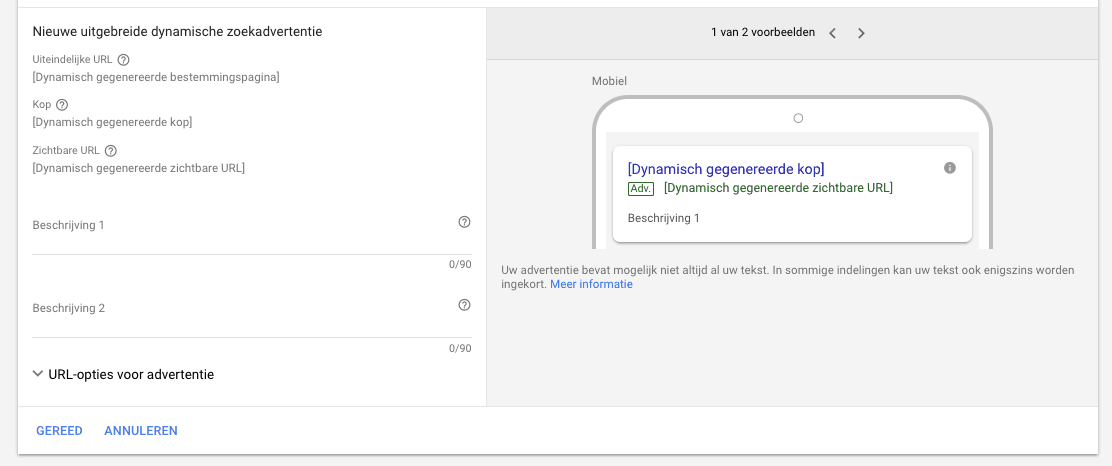 Je dynamische zoekadvertenties optimaliseren
Zodra je alles bewaard hebt, zullen je Dynamic Search Ads beginnen te lopen. Het is belangrijk dat je deze campagne de volgende dagen goed in de gaten houdt om te kijken hoe alles verloopt. In het menu van je campagne kan je onder "Dynamische advertentietargets" bekijken bij welke zoekopdrachten jouw advertentie getoond wordt. Als er foute termen tussen zitten, kan je die daar meteen uitsluiten om te optimaliseren.
En je kan hier trouwens ook veel uit leren! Als er veel zoektermen tussen zitten die je zelf nog niet gebruikt in je SEO- en/of SEA-strategie, is het een goed idee om ze te gaan gebruiken! En als je de dynamische zoekadvertentie hebt ingesteld op je volledige website, en niet op een specifieke landingspagina, dan kan je hier bekijken welke pagina Google gebruikt voor de advertentie. Dat is dan een belangrijke pagina waar veel bezoekers naartoe komen – een pagina die je best in de gaten houdt via je Anaytics. Die pagina kan je dan regelmatig bijwerken en gebruiken in andere campagnes.
Conclusie
Dynamische zoekadvertenties zijn de ideale manier om het Google algoritme te bespelen. Laat Google het werk voor jou doen en je website automatisch aan de juiste zoektermen koppelen. In het begin moet je even uitpluizen welke pagina's je wil gebruiken en hoe de dynamische zoekadvertenties in elkaar zitten, maar dat is zeker de moeite waard!
Hulp nodig met jouw GOOGLE ADVERTENTIES?
Neem contact met ons op voor vrijblijvend advies!