Vroeger typte een bezoeker jouw URL in de adresbalk in, drukte hij op enter en kwam hij op jouw homepagina terecht. Maar tegenwoordig passeren ze eerst langs Google. Wie op zoek is naar informatie, zal via de zoekmachine aan hun zoektocht beginnen. Maar ook wanneer ze jouw website al kennen, zullen de meeste via Google op je website terecht komen. Ze typen dan jouw websitenaam in, samen met de specifieke informatie die ze zoeken. Jouw homepagina is dus niet langer je belangrijkste pagina. De eindbestemming van de bezoeker, de landingspagina's, worden steeds belangrijker. Want dankzij Google wordt elke pagina een landingspagina!
Hulp nodig met jouw Landingspagina's?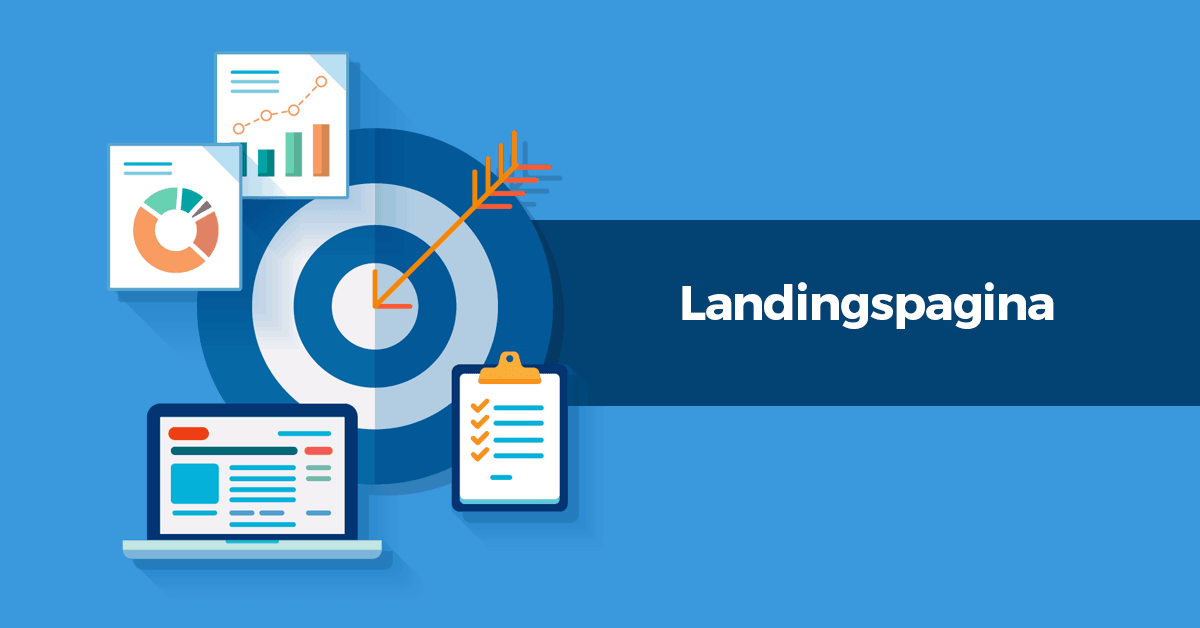 Landingspagina's voor advertenties
Landingspagina's in de strikte zin van het woord, zijn eigenlijk ontstaan voor de personalisatie van advertenties. De beste advertenties wijzen namelijk niet zomaar naar je volledige website of een algemene productpagina. Nee, ze verwijzen naar een landingspagina die speciaal voor deze advertentie is opgemaakt. Daar staan dezelfde visuals op en wordt je boodschap nog eens herhaald. Als de bezoeker verleid werd om op je advertentie te klikken, is de kans groot dat hij verder zal klikken op een gelijkaardige landingspagina. Als je hem plots naar een pagina stuurt met een andere boodschap of een compleet andere visuele stijl, verlies jij je bezoeker sneller.
Weg met de homepagina
Zoals we in de inleiding al even aanhaalden, wordt elke pagina tegenwoordig een landingspagina. Dat komt door Google. Google stuurt je namelijk bijna nooit naar de homepagina van een website. Dan moet je namelijk nog een aantal keer doorklikken, en als je dan niet meteen vindt wat je zoekt, ben jij niet tevreden. Dan keer je misschien terug naar Google of geef je je zoekopdracht misschien zelfs op. En dat wil Google natuurlijk niet. Het doel van de zoekgigant is om jou zo snel mogelijk de juiste informatie voor te schotelen, om jouw zoekopdracht zo snel en zo goed mogelijk te beantwoorden. En daarom stuurt hij je niet naar de homepagina, maar naar die ene pagina waar de info die jij zoekt staat. Een landingspagina dus!
Moet echt elke pagina dan een landingspagina zijn?
Nee, natuurlijk niet. Maar houd er wel rekening mee dat je bezoeker in zo weinig mogelijk kliks naar zijn eindbestemming moet geraken. Anders geeft hij het op, en ben jij je verkeer kwijt. Een drietal kliks wordt over het algemeen aangeraden. Je kan bijvoorbeeld een overzichtspagina maken van al je diensten, met daarop duidelijke knoppen die leiden naar een landingspagina per dienst. Of maak een overzicht van je productcategorieën. Doorklikken leid je naar een nieuwe overzichtspagina met de producten uit die categorie op. De volgende klik leidt dan best meteen naar de definitieve productpagina.
De elementen van een landingspagina
Hoe ziet een landingspagina eruit? Wat zijn de belangrijkste elementen?
Duidelijke titel
Grijp meteen de aandacht van je lezer met een duidelijke, krachtige titel. De titel is namelijk het eerste wat een bezoeker ziet, als die niet aansluit bij zijn verwachtingen, is hij meteen weer weg. Focus hierbij niet op jezelf, maar op de bezoeker. Zeg bijvoorbeeld niet "De 5 voordelen van ons product," maar wel "Hoe ons product jouw bedrijf helpt groeien." Er zijn ook een aantal buzzwoorden die de aandacht trekken zoals: gratis demo, korting, speciaal voor jou, …
Eén onderwerp
Google zal de grootste verkeersbron zijn van je landingspagina, als die niet vasthangt aan een bepaalde campagne. Dat wil dus zeggen dat je jouw pagina best optimaliseert voor Google. Hoe je dat doet, lees je in onze SEO Cursus voor Bedrijven. Specifiek voor landingspagina's is het belangrijk dat je het bij één onderwerp houdt. De landingspagina is namelijk de eindbestemming, dus je gaat hier één specifiek onderwerp uit de doeken doen. Dat onderwerp ga je dan ondersteunen door de juiste zoekwoorden. Weet je niet hoe je dat perfecte zoekwoord kan vinden? Lees dan snel verder: Zoekwoordenonderzoek – Wat is het, hoe doe je het & beste tools.
Duidelijke CTA
Je wil je bezoeker uiteindelijk natuurlijk aanzetten tot actie met een call-to-action, een CTA. Je wil niet zomaar informatie delen, maar de bezoeker daar iets mee laten doen. Of je nu inschrijvingen wil voor je nieuwsbrief, je product wil verkopen, of afspraken wil plannen. Zorg dat deze CTA boven de paginavouw staat en op langere pagina's een aantal keer voorkomt. En zorg dat het meteen duidelijk is wat er zal gebeuren als een bezoeker hierop klikt. Een knop als "meer info" is nietszeggend, want wat gebeurt er dan? Zal de bezoeker een formulier moeten invullen? Een e-mail of bericht moeten versturen? Zal hij zijn telefoonnummer achter moeten laten zodat jij hem kan contacteren? Een tip om die CTA duidelijker te maken, is om een lokzin bij de knop te zetten. Kijk bijvoorbeeld naar LinkedIn, daar staat boven de knop uitgelegd wat het betekent als je op "Akkoord en lid worden" klikt.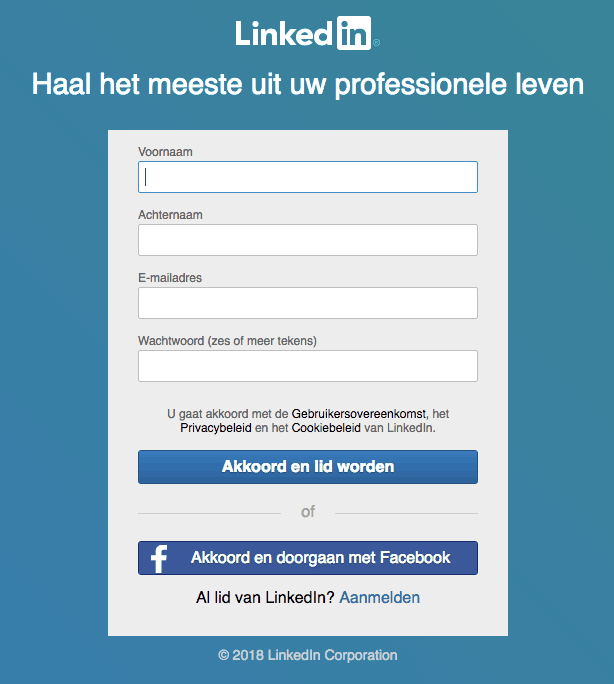 Tips voor je CTA:
Zet er een actief werkwoord in
Wees kort, maar krachtig
Voeg indien mogelijk een "sense of urgency" toe: waarom moet er nu geklikt worden?
Leg uit wat er volgt: wat gebeurt er nadat de bezoeker geklikt heeft?
Metadata
Voor gewone landingspagina's op je website die niet gelinkt zijn met een campagne, is Google de belangrijkste drijfveer van verkeer. Om Google te helpen begrijpen waar jouw pagina over gaat, is de metadata belangrijk. Je meta-titel, meta-beschrijving en meta-trefwoorden zijn niet zichtbaar voor bezoekers, maar helpen Google om jouw website te indexeren. Zo weet de zoekmachine beter aan welke zoekopdrachten jouw pagina beantwoord. Meer daarover lees je hier: Meta title, meta description & meta keywords – De Complete Gids met Tips.
Tips voor je landingspagina's
Onderdeel van je SEO-strategie
We hebben het ondertussen al een paar keer herhaald: Google drijft verkeer naar landingspagina's en niet naar je homepagina. Je landingspagina's zijn dus een belangrijk onderdeel van je SEO-strategie. Als je alle tips uit dit artikel nauwgezet toepast, zullen je landingspagina's een enorme boost voor je SEO-strategie zijn. Je kan eenvoudig meerdere versies van je landingspagina maken, ze moeten daarom niet allemaal in je menustructuur hangen. Dat maakt testen en optimaliseren alleen maar gemakkelijker!
Gebruik social proof
Met je landingspagina wil je bezoekers overtuigen. Met een aanlokkelijk titel, een duidelijke CTA, aantrekkelijke afbeeldingen, … Een andere manier om te overtuigen is om social proof te gebruiken! Verklein het risico en neem twijfel weg bij bezoekers. Zet de kracht van de massa in om anderen te overtuigen. Dat doe je door aanbevelingen van huidige klanten te delen. Want als anderen tevreden zijn, als iedereen op jou vertrouwt, dan zal het wel goed zijn!
Andere manieren om te overtuigen:
Deel de mening van een expert
Focus op die "sense of urgency": nog maar een aantal plaatsen vrij, promotie loopt vandaag af, …
Bied iets aan in ruil voor contactgegevens
Maak je landingspagina scanbaar
Het belang van de eerste indruk! In een oogopslag bepalen bezoekers of jouw pagina de informatie bevat die zijn zoeken. Dat doen ze door in enkele seconden je pagina te scannen. Wat valt daarbij op? De titel en tussentitels, opvallende kleuren, knoppen, en eventueel een afbeelding. Zorg ervoor dat je hierop inspeelt. Voorzie een duidelijke titel, niet teveel tekst, en een samenvattende ondertitel per alinea. Gebruik niet te veel of onnodige afbeeldingen. Een video onderaan met meer uitleg of instructies, is vaak een meerwaarde. Voorzie voldoende witruimte en een groot lettertype zodat alles mooi leesbaar is.
Kader de pagina
Een bezoeker die meteen op je landingspagina terecht komt, kent jou helemaal niet. Het is daarom geen slecht idee om je pagina ook kort even te kaderen in je website. Hoe doe je dat? Door onderaan je pagina een korte inleidende alinea te zetten. Daarin stel je jouw bedrijf voor en leg je uit wat jullie doen. Wat zijn jullie voordelen? Hoe zijn jullie anders dan de concurrentie? Wat is jullie visie of missie? Wat zijn jouw unique selling points? Niet alleen heeft de bezoeker zo een duidelijker idee wie erachter de pagina zit, het wekt ook vertrouwen op. Plaats hier ook je logo, eventueel enkele logo's van klanten en bijvoorbeeld een link naar je privacy statement bij.
Conclusie
Dankzij de groei van Google wordt elke pagina een landingspagina. Daarom moet je erg goed nadenken over wat je er wel of niet opzet en ze inplannen in jouw SEO-strategie. En vergeet niet om Google Analytics te koppelen, zodat je uit je analyse kan leren wat er wel en niet werkt. Dat maakt optimaliseren makkelijker en zo zullen je landingspagina's beter presteren! Wil je graag dat wij je hiermee helpen? Contacteer ons dan snel!
Hulp nodig met jouw SEO of landingspagina's?
Neem contact met ons op voor vrijblijvend advies!