In dit artikel bespreken we wat lokale SEO is, waarom het belangrijk is en natuurlijk hoe jij het kan toepassen. Lokale SEO noemt men in het Engels Local SEO.
Wat is lokale SEO
Lokale SEO betekent teruggevonden worden als lokaal resultaat (fysiek nabij de persoon die zoekt) in Google.
Er bestaan drie soorten lokale SEO resultaten:
Zoekresultaten gebaseerd op de locatie van de gebruiker wanneer er een generieke term wordt gebruikt. In dit geval krijg je lokale resultaten inclusief een Google map waar ze op getoond worden.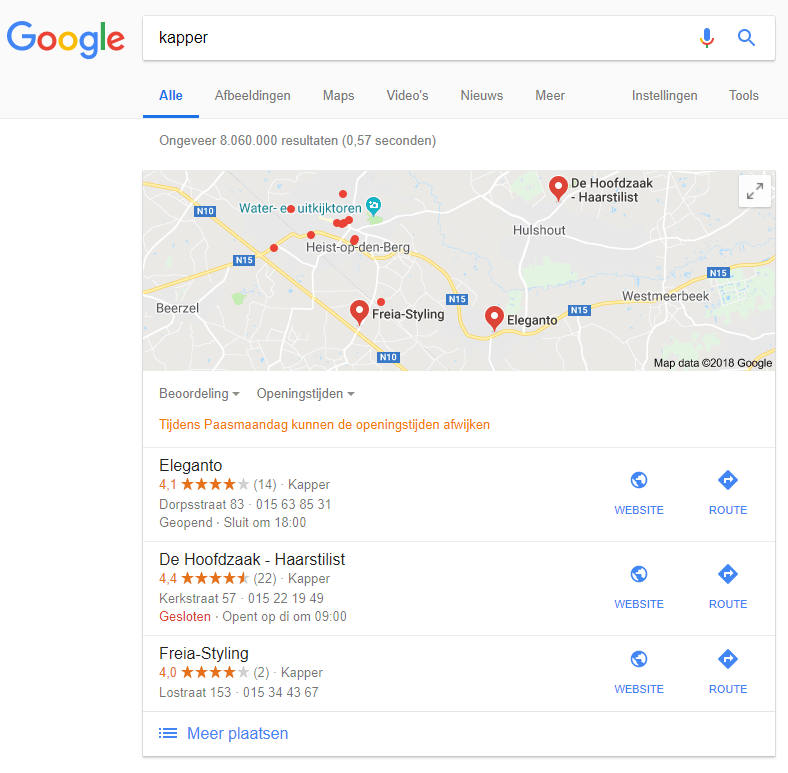 Hogere ranking in de Google zoekresultaten omdat je fysiek dichtbij de zoeker bent. Hier wordt geen Google map getoond, maar je staat wel hoger in de zoekresultaten. In sommige gevallen krijgt de zoeker een Google Mijn Bedrijf-profiel te zien aan de rechterkant van de pagina.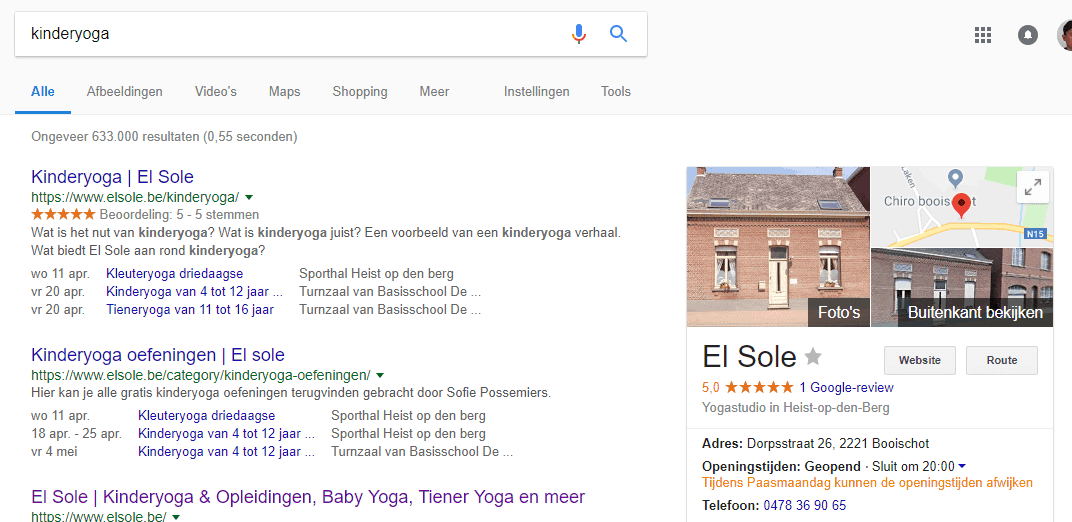 Hogere rankings als iemand zoekt naar jouw product of dienst in combinatie met een locatie. Enkele voorbeelden: "Kapper Heist-op-den-berg", "speelgoedwinkel Gent", …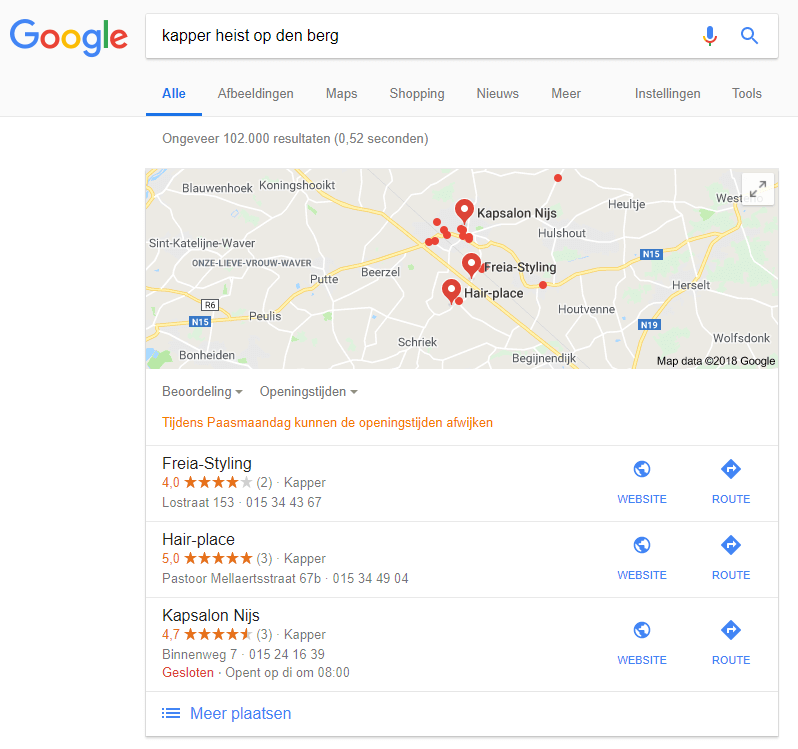 Waarom lokale SEO
Wie zich dichter in jouw buurt bevindt, zal sneller overtuigd zijn van jouw aanbod. Wanneer je een zoekterm als "kapper" gebruikt op Google, verwacht je een lokaal resultaat en niet één die 100km verderop is. Inzetten op lokale SEO is een eenvoudige quick win die je veel geld opleveren aangezien degene die naar jouw dienst zoekt ook van plan is om langs te komen. Zo zoek je pas een kapper wanneer je er één nodig hebt en niet om misschien eens langs te komen in de toekomst. Kortom, de intentie van degene die zoekt is zeer hoog. Dit is vooral gunstig voor winkels, restaurants en dienstverleners die je nu nodig hebt (sceptische put ledigen, advocaat, …).
Omdat er voor lokale resultaten meestal maar drie resultaten worden getoond, is de concurrentie om hier bij te horen zeer hoog.
Hulp nodig met ZOEKMACHINE OPTIMALISATIE?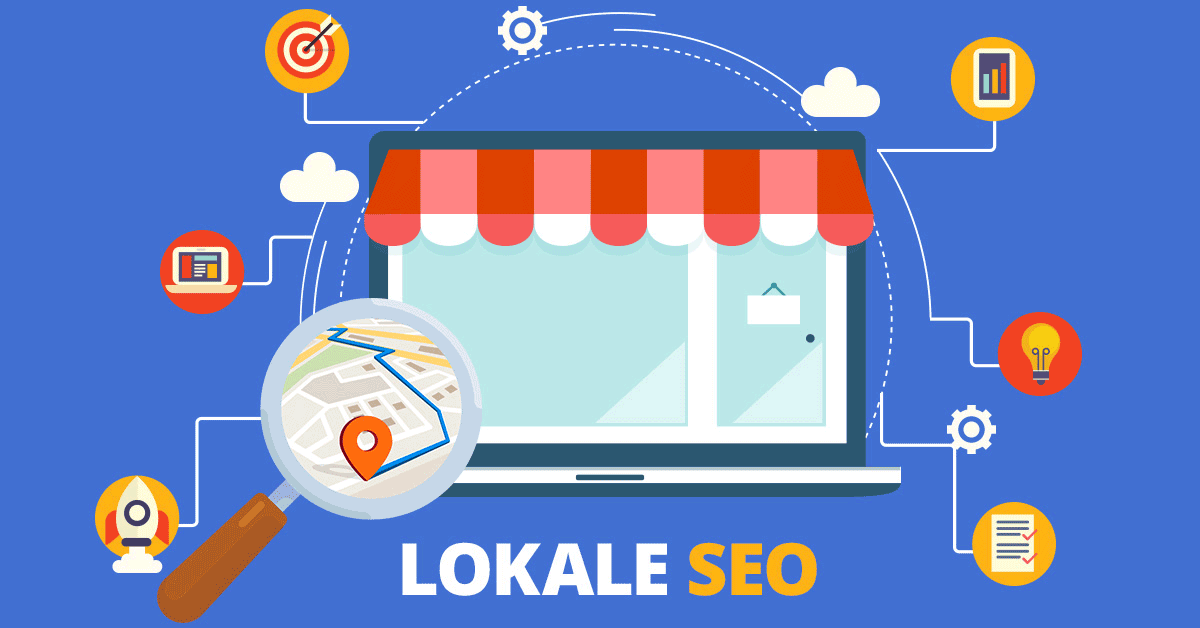 Hoe werkt lokale SEO?
De drie voornaamste triggers om getoond te worden in de lokale SEO resultaten zijn:
1. Relevantie
De inhoud van je website dient relevant te zijn voor de zoekactie. Indien iemand "loodgieter Leuven" zoekt, moet het voor Google duidelijk zijn dat je deze dienst aanbiedt. Dat haalt de zoekmachine uit je website en je Google Mijn Bedrijf-profiel.
2. Afstand
De afstand tussen jouw bedrijf en degene die zoekt is ook een belangrijk gegeven. Hoe dichter je bedrijf zich bevindt bij de locatie waar de zoekactie plaatsvindt, hoe hoger je getoond zult worden in de resultaten.
3. Prominentie
Hoe meer je aanwezig bent in de zoekresultaten dankzij zoekmachine optimalisatie, des te sneller zal Google je in de lokale zoekresultaten plaatsen. De achterliggende redenering is dat een website die hoog scoort in Google, een website is die technisch en inhoudelijk goed in elkaar steekt en dus een zeer goede gebruikservaring levert. Dit laatste is erg belangrijk voor Google. Het is hoe Google werkt en daar hebben ze hun bedrijfsfilosofie rond gebouwd.
Hoe doe je aan lokale SEO?
Op zich zijn de voorwaarden om lokaal gevonden te worden vrij eenvoudig te implementeren. Aan hoe meer voorwaarden je voldoet om je website hoog te laten scoren in Google, hoe beter. Er zijn verschillende ranking factoren die bijdragen aan zoekmachine optimalisatie. De 10 meest doorslaggevende factoren zijn:
De slechtste gebruikservaring die je kan hebben, is een website die traag laadt. Dit is dus zeker iets wat je in orde moet brengen.
2. Mobielvriendelijk
Omdat de meeste lokale zoekacties gebeuren op een smartphone of tablet, dient je website zich aan te passen aan de schermafmetingen van mobiele apparaten.
3. Google mijn bedrijf
Om lokaal terug gevonden te worden dien je jouw bedrijf eerst en vooral aan te melden bij Google mijn bedrijf. Dit helpt Google om te verifiëren dat je bedrijf op die locatie gevestigd is. De bonus voor jou is dat mensen die jouw bedrijf opzoeken daardoor rechts van de zoekresultaten meer informatie over je bedrijf zien. Op die manier kunnen potentiële bezoekers ook eenvoudig hun route plannen.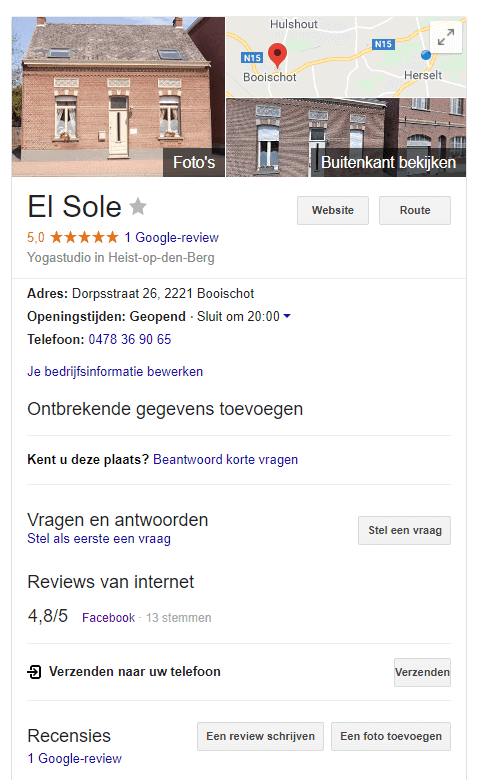 4. NAT (Naam, Adres, Telefoonnummer)
Zorg ervoor dat je Naam, Adres en Telefoonnummer op elke pagina staan. Uiteraard moet deze informatie ook zeker op je contactpagina staan.
5. Aanklikbaar telefoonnummer
Zorg ervoor dat het telefoonnummer op je website aanklikbaar is. Zo moeten mobiele gebruikers het nummer niet kopiëren of proberen te onthouden om je op te bellen. Eén klik en ze kunnen je meteen contacteren.
6. Kaart van alle bedrijfslocaties
Vermeld op je contactpagina (of op een toegewijde pagina) al je bedrijfslocaties op een ingesloten Google kaart. Op die manier kunnen mensen snel en eenvoudig de weg vinden naar je zaak.
7. Testimonials
Toon getuigenissen van jouw klanten. Zo speel je in op het vertrouwen van potentiële klanten. Een testimonial geeft zekerheid aan geïnteresseerden dat je goed werk levert.
Met Rich snippets geef je extra informatie aan Google waaronder je bedrijfslocatie, reviews & testimonials. Dat helpt Google om jouw website en activiteiten beter te begrijpen. En hoe beter Google jou begrijpt, hoe gemakkelijker het voor de zoekmachine wordt om jouw site aan de juiste mensen te tonen.
9. Review websites
Reviews op een of meerdere van de bekendste review websites hebben een positieve impact op je rankings. Meld je dus aan bij Tripadvisor, Yelp, Facebook en Google mijn bedrijf en vraag je klanten om daar een review achter te laten.
Doe een zoekwoordenonderzoek om te ontdekken met welke zoektermen bezoekers op jouw website terecht komen. Ga na of er zoekwoorden gebruikt worden in combinatie met een locatie, en maak toegewijde en kwalitatieve pagina's voor deze zoekwoord combinaties.
Besluit
Als bedrijf is het belangrijk om in te zetten om lokale SEO gezien dit laaghangend fruit is. Je moet er inderdaad een inspanning voor doen en er is wel wat concurrentie. Maar wanneer je lokaal terug gevonden wordt, zal je meer mensen in je winkel en meer telefoons van geïnteresseerden krijgen.
Hulp nodig met ZOEKMACHINE OPTIMALISATIE voor je bedrijf?
Neem contact met ons op voor vrijblijvend advies!