Search engine advertising, ook wel SEA genoemd, is de term die wordt gebruikt voor adverteren in zoekmachines. De zoekmachines waar je kunt op adverteren zijn Bing, Google en Yandex (Rusland). In tegenstelling tot zoekmachine optimalisatie (SEO), betaal je met search engine advertising een kost per klik. Deze kost per klik is afhankelijk van een aantal factoren waaronder de kwaliteitsscore van de advertentie, de positie en wat andere adverteerders bereid zijn te betalen. Meer informatie over de kost per klik en hoe je kunt adverteren in Google met AdWords, kun je terugvinden in onze handleiding adverteren op Google.
Hulp nodig met SEARCH ENGINE ADVERTISING (SEA)?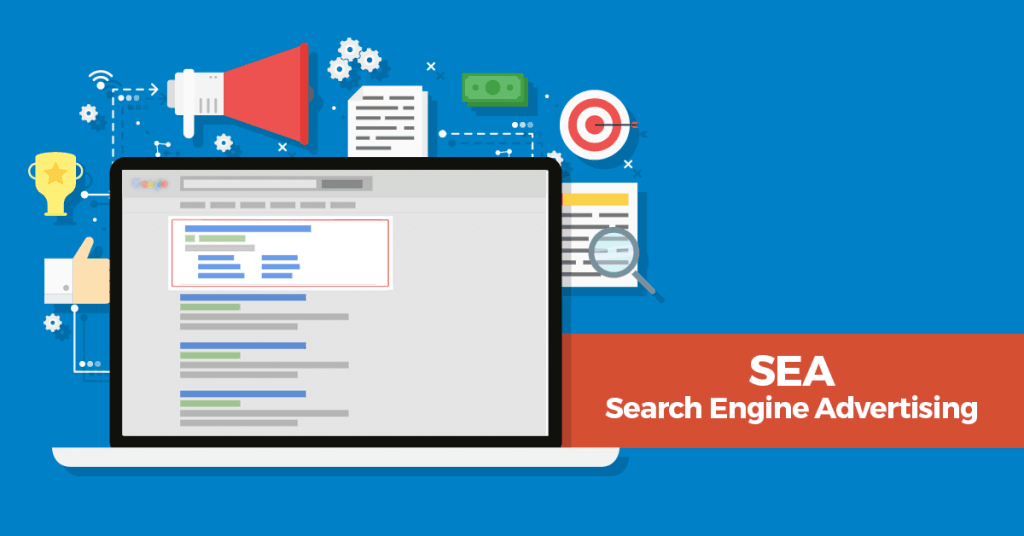 Adverteren op Google doe je met AdWords, bij Bing zijn dit Bing Ads en voor Yandex adverteer je met Yandex Direct.
De basis van search engine advertising is net zoals bij zoekmachine optimalisatie een zoekwoordenonderzoek. Met deze woorden weet je perfect waar je potentiële klanten naar op zoek zijn en kun je hier zowel SEA mee doen als je website inrichten voor zoekmachine optimalisatie.
Zoals wij het zien is search engine advertising de perfecte aanvulling bij je zoekmachine optimalisaties. Hoe vaker je in de zoekresultaten terug te vinden bent, hoe beter. Daarboven heb je in verhouding meer bezoekers door SEA en SEO te combineren. Als je namelijk meerdere resultaten hebt voor een zoekwoord in de zoekresultaten, dan is het waarschijnlijker dat iemand je advertentie of SEO resultaat aanklikt.
Voordelen SEA
Het voordeel van SEA ten opzichte van SEO is dat je nagenoeg direct in de zoekresultaten terug te vinden bent. Bij SEO kan het 3, 6, 9 of zelfs 12 maand duren alvorens je resultaten ziet en is er geen garantie dat je wel degelijk terug te vinden zult zijn met SEO. Het nadeel van SEA is dat je betaalt per keer dat iemand op je advertentie klikt. Afhankelijk van het zoekwoord kan dit zeer goedkoop of héél duur zijn. Met behulp van een zoekwoordenonderzoek kun je een inschatting maken van wat een klik kost.
SEA is veel goedkoper en efficiënter dan traditioneel adverteren zoals met billboards en advertenties in tijdschriften en kranten. Dit is omdat SEA gericht is op intentie. Iemand die je advertentie ziet (toch als je SEA campagnes goed zijn ingericht) heeft interesse in hetgeen waar jij op adverteert. Anders zouden ze er niet naar zoeken in Google. Bij traditionele reclame heeft slechts een fractie van degenen die het zien interesse en nog minder personen zullen actie ondernemen. Resultaten van je advertentie zijn ook niet meetbaar met traditionele reclame maar met SEA kun je perfect zien wat een lead of een verkoop je gekost heeft.
Als je het budget hebt om continu en overal aanwezig te zijn met de traditionele reclame, dan is dit wel de moeite waard maar dit is meestal enkel weggelegd voor de grootse bedrijven.
Search engine advertising
De artikels hieronder bespreken search engine advertising (SEA) in Google met Google AdWords