In deze handleiding over linkbuilding gaan we het hebben over wat linkbuilding juist is, wat de SEO voordelen zijn, hoe je een linkbuilding strategie moet uitwerken en waar je best op let als je beslist je linkbuilding uit te besteden. Waarom allemaal? Linkbuilding is een belangrijk onderdeel van je zoekmachine optimalisatie strategie.
Hulp nodig met LINKBUILDING?
Wat is linkbuilding?
Linkbuilding is het verkrijgen van links vanaf andere websites naar jouw website met als doel om hoger te scoren in zoekmachines. Het is via deze hyperlinks (links) dat website gebruikers en Google navigeren tussen websites en pagina's. Er zijn verschillende technieken om aan linkbuilding te doen en voor de meeste marketeers/SEO'ers is linkbuilding het meest tijdrovende en moeilijkste onderdeel van hun job. Maar als je het goed speelt, kan linkbuilding je een enorm voordeel op de concurrentie voorzien.
Er zijn twee manieren waarop zoekmachines links gebruiken, namelijk:
Om pagina's en website op het internet te ontdekken.
Om te bepalen hoe hoog een website dient te scoren.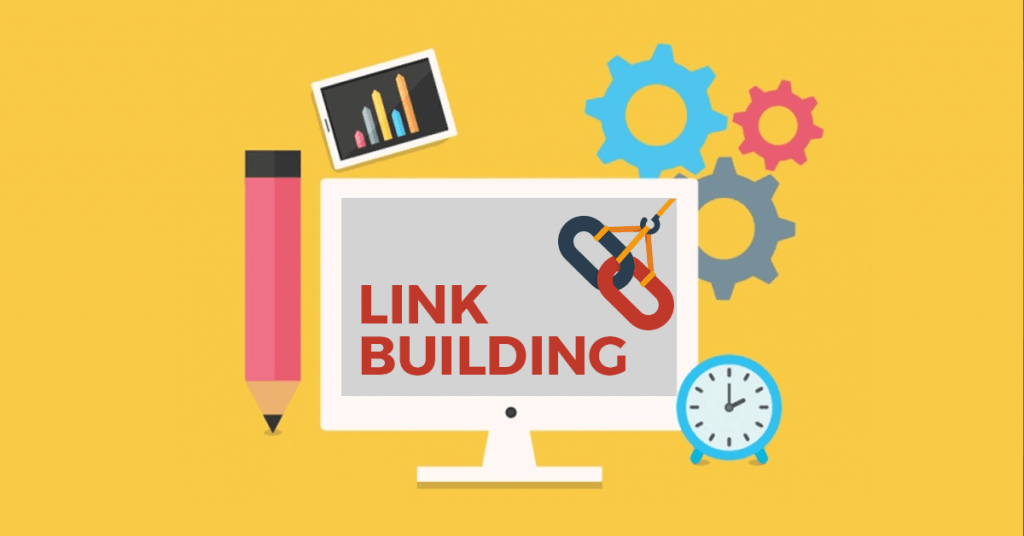 Om meer inzicht te verkrijgen in hoe een link is opgebouwd, kun je ons artikel 'Hoe een SEO vriendelijke URL schrijven' lezen.
Linkbuilding SEO voordelen
Wanneer een zoekmachine een pagina bezoekt, zal hij deze indexeren, bepalen voor welke zoekwoorden deze pagina in aanmerking komt en welke ranking deze krijgt. Behalve de inhoud van de pagina, kijken zoekmachines ook naar het aantal interne en externe links die wijzen naar deze pagina. Bij externe links gaat het niet enkel over de het aantal links maar ook over de kwaliteit van deze links. Links van hoge kwaliteit zijn links die van websites komen die kwalitatief zijn. Dus hoe kwalitatiever de website is die naar je linkt, hoe waarschijnlijker het is dat je hoger gaat ranken in de zoekresultaten.
Links worden door zoekmachines gezien als een vertrouwenstem omdat het een goede manier is om de kwaliteit van een pagina te evalueren. Waarom linken naar een pagina wanneer je deze helemaal niet goed vindt? Het is daarom dat Larry Page (één van de oprichters van Google) PageRank heeft uitgevonden. PageRank is een manier waarop Google-websites rangschikt in de zoekresultaten en is gebaseerd op het aantal kwaliteitsvolle links naar die website.
Vele marketeers en SEO'ers hadden snel door hoe de vork in de steel zat en zo ontstonden er allerlei technieken om meer links te verkrijgen. Hierdoor werden zoekresultaten gemanipuleerd om hoger te scoren voor bepaalde zoekwoorden. Google merkte dit op en probeert deze manipulaties tegen te gaan en verwijdert zelfs websites die deze praktijken gebruiken volledig uit de zoekresultaten .
Er wordt gespeculeerd dat linkbuilding steeds meer zijn impact begint te verliezen aan sociale signalen (+1, tweets, pins, likes & shares) over de verschillende sociale media kanalen. Maar je kunt er wel van uitgaan dat kwalitatieve links blijven bijdragen tot het beter scoren van je website en pagina's in de zoekresultaten. Maar hou dus zeker in het oog dat je kwalitatieve links gebruikt. Google wordt er namelijk steeds beter in om links van lage kwaliteit te filteren.
Nofollow
Je kunt aan een link een nofollow toevoegen. Dit zorgt ervoor dat er geen PageRank meer wordt doorgeven aan de gelinkte pagina. Hierdoor zal deze pagina ook niet beter gaan ranken in de zoekresultaten.
Sommigen opperen dat ook al heeft een link een nofollow, dat Google dit toch meeneemt in zijn ranking algoritme. Men volgt deze gedachtegang omdat Google links van lage kwaliteit afstraft en omdat er steeds meer links nofollow zijn. Dus ook al is een link nofollow, dan gaat Google deze pagina toch bekijken.
Voordelen van linkbuilding voor je business
Linkbuilding is dus goed voor je SEO. Maar linkbuilding kan ook bijdragen tot de verdere groei van je website.
Referal bezoekers
Een goed geplaatste link op een relevante website met veel bezoekers brengt ook meer relevante bezoekers naar jouw website. Je kunt altijd nakijken in je Google Analytics account hoeveel referral bezoekers je ontvangt van deze websites en wat hun time on site en bounce rate is.
Relatie bouwen
Linkbuilding houdt vaak in dat je contact moet opnemen met relevante websites en blogs in je vakgebied. Dit is meestal om promotie te maken voor iets dat je aan te bieden hebt in ruil voor een link naar je website/pagina. Maar dit houdt ook meestal in dat je contact moet opnemen met personen die een invloed hebben binnen jouw industrie, ook wel 'influencers' genoemd. Dit heeft als gevolg dat je zaak een hoger aanzien en meer vertrouwen zal krijgen.
Branding
Hoe meer je online gezien wordt op websites met autoriteit en zo je expertise aantoont, hoe meer aanzien je krijgt en hoe sterker je merk wordt.
Links verdienen
Het is belangrijk om in het achterhoofd te houden dat linkbuilding over het verdienen van links gaat. Dit doe je voornamelijk door iets aan te bieden van kwaliteit waar naar gelinkt kan worden. Dit kan bijvoorbeeld jouw website, een pagina, white paper, infographic of een artikel dat jij specifiek hebt geschreven om op een andere website te plaatsen dat goed genoeg is om naar te linken. Een link geplaatst op een derde rang startpagina waar er tientallen of honderden links staan naar verschillende websites is dus geen goed idee.
Wanneer je een website start komt er zodanig veel bij kijken om deze verder te bouwen dat er vaak geen tijd overblijft om nog aan linkbuilding te doen. Maar je kan ook natuurlijk gevonden worden door Google en dit zonder actief te linkbuilden. Je kan je website aanmelden bij Google Search Console. Zo is Google op de hoogte van je website en kan hij beginnen met indexeren.
Zie dus eerste dat je website goed opgebouwd is (niemand linkt naar een slechte website). Lees hiervoor zeker onze artikels 'Hoe een goede WordPress website maken' en 'WordPress SEO' om hier mee van start te gaan. Daarna kun je kwalitatieve inhoud beginnen maken en pas dan ben je klaar om aan linkbuilding te doen.
Soorten linkbuilding
Er zijn goede en slechte manieren om links te verkrijgen.
Goede linkbuilding
Gratis links
Het meeste ideale scenario is wanneer je links krijgt zonder er ook maar iets voor te doen. Hier bedoelen we mee dat je ze krijgt van de redactie van de linkende website omdat jouw website/inhoud zo goed is. Dit soort linkbuilding is meestal weggelegd voor websites die zeer kwalitatieve inhoud aanbieden en expert zijn in hun vakgebied.
Zelf links aanvragen
Hier ga je zelf website eigenaars of bloggers contacteren met de vraag om naar je website te linken. Je doet dit door iets waardevols te delen dat op je website staat. Maar je kan bijvoorbeeld ook iets delen op hun website met de vraag om naar je te linken. Let er wel op dat je websites en bloggers contacteert binnen jouw vakgebied als je enig respons wil verkrijgen.
Geen links
Als je geen kwalitatieve inhoud wilt of kunt creëren, is het veel interessanter om zelfs niet aan linkbuilding te doen. Zoals reeds vermeld gaat geen enkele gereputeerde en kwalitatieve website naar jou linken als er niets kwalitatiefs is om naar te linken.
Het is ook mogelijk dat er in jouw vakgebied geen kwalitatieve websites zijn die naar jou willen linken. Dit kan in bepaalde nichemarkten het geval zijn waar de enige andere websites die van concurrenten zijn.
Slechte linkbuilding
Je bent misschien al eens per telefoon of e-mail gecontacteerd om links uit te wisselen, te betalen voor advertentieruimte op een website,  software te kopen die links voor jou op het internet plaatst, artikels te plaatsen op een website van lage kwaliteit, je links toe te voegen aan directory's (link/start pagina's), links van websites te kopen die een hoge PageRank hebben. En dit allemaal met als doel de PageRank van je website te verhogen.
Deze diensten zijn zelden gratis, van lage kwaliteit en kunnen er voor zorgen dat je website volledig verdwijnt uit Google. De enige weg uit deze situatie is het verwijderen van alle slechte links. Als je hebt betaald voor deze links kan dit ook betekenen dat je moet betalen om deze te laten verwijderen. Nadat alle links zijn opgekuist, kan je aan Google vragen om je website terug op te nemen in de zoekresultaten. Daarna kun je nog alleen maar hopen op het beste.
Ik weet nog heel goed dat een kennis en vakgenoot van me in 2012 met speciale software aan artikel spinning deed (een niet zelfgeschreven artikel laten herschrijven door een iemand of een computer – dus zonder meerwaarde). Hier bovenop had ze software dat vol automatisch links plaatste op het internet. Je kunt je dus voorstellen dat haar website compleet van de kaart is verdwenen na de Google Penguin update in datzelfde jaar (update in het Google algoritme specifiek gericht op het afstraffen van websites die aan linkbuilding deden met links van lage kwaliteit).
Interne linkbuilding
Zoals reeds vermeld bepalen interne links ook de ranking van pagina's. Link dus naar je interne pagina's waar dit relevant is en gebruik in de link tekst het zoekwoord waar je wilt dat deze pagina voor scoort. Hou dus de linktekst relevant en consequent. Het is weinig zinvol om telkens een ander zoekwoord, synoniem of gerelateerd woord te gebruiken.
Wanneer je gebruik maakt van Yoast SEO pro voor WordPress kun je meerdere zoekwoorden per pagina invullen. Gebruik deze zoekwoorden in je linkbuilding maar enkel wanneer dit hoort. Het allerbelangrijkste is goede teksten schrijven. Ook kun je me Yoast SEO pro corner stone articles aanduiden. Dit zijn artikels waar je fier op bent, van groot belang zijn in je vakgebied en die het goed doen in Google. Deze artikelen zullen dan ook tijdens het schrijven van je teksten naar voor worden gebracht worden door Yoast SEO als interessant om intern naar te linken.
Je schrijft ook soms pagina's die op zich leven en waar je slechts een interne link naar hebt wijzen. Voor deze pagina's is het natuurlijk interessant om een sitemap te hebben.
Afhankelijk van hoe je business opgebouwd is, is het aan te raden om de meest belangrijke pagina's in de navigatie te plaatsen. Breadcrumbs, tags, links in de footer, gerelateerde pagina's en producten hebben ook een meerwaarde als interne links.
Linkbuilding strategie
In dit deel van de linkbuilding handleiding geven we voorbeelden van linkbuilding strategieën die je kunnen helpen met het verkrijgen van links.
Inhoud campagne
We hebben het al eerder over gehad over hoe content (inhoud) kan zorgen voor links naar je website.
Hieronder kan je de verschillende soorten content linkbuilding terugvinden:
Video
Data
White paper
How to
Afbeelding galerij
Infographic
Opinie
Tips & tricks
Trends
Gast bloggen
Sommige websites laten ook gastauteurs toe. Hier kun je een artikel schrijven in ruil voor een link naar jouw website. Hou er echter rekening mee dat een artikel schrijven enkel en alleen om te linkbuilden meestal resulteert in een artikel van lage kwaliteit en dus je linkbuilding niet ten goede komt. Schrijf dus om iets te delen met de gemeenschap en niet in ruil voor een link!
Stel dat je een nofollow link krijgt naar je website is dit ook goed omdat je nog steeds gebruik kunt maken van referral traffic en branding.
Ego lokaas
Met ego lokaas maak je inhoud die direct inspeelt op het ego van mensen. Dit doe je door over hen of hun zaak/website te schrijven. Je doet dit meestal voor invloedrijke websites in de hoop dat ze je pagina delen op sociale media of er een link naar plaatsen.
Links terugvorderen
In Google Search Console kun je terugvinden welke website naar je linken en om zeker te zijn welke externe pagina naar welke interne pagina linkt. Stel dat je van domeinnaam of pagina URL verandert, dan is het goed om de website die naar je linkt hiervan op de hoogte te brengen en dus de originele link terug te vorderen.
Linkbuilding tips
Advertentieruimte op een website kopen mag als er geen PageRank kan doorgegeven worden via de advertentie link door gebruik te maken van nofollow.
Directory's kan je gebruiken als deze van hoge kwaliteit zijn. Dit merk je door te kijken naar welke websites er zijn opgenomen. Je website moet ook relevant zijn voor de categorie waar je een link plaatst. PageRank doorlaten is ook hier niet toegelaten.
Linkruilen waarbij jij een link plaatst naar een website naar jou is geen goed idee. Door het ontbreken van context en kwalitatieve pagina's (link pagina's stellen inhoudelijk niets voor) zijn zulke links waardeloos en werken mogelijks averechts als je er te veel hebt.
Artikel marketing en gastbloggen kan als de website waar het artikel op staat kwalitatief is. Het artikel moet ook relevant en van hoge kwaliteit zijn. PageRank kan je ook hier beter niet doorgeven. De blogpost of het artikel moet uniek (niet op meerdere websites terug te vinden) zijn. Lichtjes verschillende teksten (Article spinning) is ook niet toegelaten.
Het excessief plaatsen van links op het internet, ook al zijn ze nofollow, is niet toegelaten.
Advertentiewebsites: in het geval er geen nofollow mogelijk is en je voor je marketing geen andere optie hebt als dergelijke website, zie er dan op toe dat deze websites van hoge kwaliteit zijn en gratis.
Het niet volgen van deze regels zorgt ervoor dat Google je site lager laat ranken of zelfs verwijdert (kan je in Google Search Console terugvinden onder "Manual Actions")
Alternatieve linkbuilding strategie
Sociale media is de meest efficiënte manier van linkbuilding. Dit doe je door content te delen via jouw platform naar keuze maar ook door inhoud te creëren die mensen wensen te delen content marketing.
Het sociaal platform naar keuze hangt voornamelijk af van je doelgroep. Het loont om research te doen naar wat jouw voorkeur platform is en te experimenteren. Zo ontdek je welke het meest effectief is. Net zoals het opbouwen van je website tijd vergt, geldt dit ook voor het opbouwen van een publiek op jouw sociale media site naar keuze. Tot de meest bekende sociale media sites behoren Facebook, Instagram, Twitter, Pinterest, Youtube en LinkedIn.
Zoals reeds aangegeven is het waarschijnlijk dat Google evenveel belang hecht aan sociale media signalen (+1, shares, likes,…) als aan aan effectieve links op websites.
Linkbuilding uitbesteden
Nu je deze handleiding hebt doorgenomen heb je een zicht op wat linkbuilding is en wat er bij komt kijken. Hou de aanwijzingen die we geven goed in het achterhoofd tijdens het kiezen van een partner om je linkbuilding aan uit te besteden.
Hulp nodig met LINKBUILDING voor je bedrijf?
Neem contact met ons op voor vrijblijvend advies!