Zelf een WordPress website maken? In dit derde deel van de gratis online marketing cursus "Hoe krijg ik meer websitebezoeker en klanten?" kom je te weten hoe je zelf een WordPress website bouwt.
Hulp nodig met een WORDPRESS WEBSITE MAKEN?
Installatie
Je kiest eerst waar je de WordPress website installeert: ofwel bij je hosting provider ofwel lokaal (op je eigen computer). In het eerste geval moet je eerst al een hosting provider hebben en er moet genoeg ruimte zijn om de site op te installeren. Wanneer je de site lokaal installeert, heb je enkel ruimte op je harde schijf nodig en is de installatie eenvoudiger.
Installatie bij hosting provider
Zorg ervoor dat je domeinnaam naar de hosting verwijst. Je kan zowel je domeinnaam als je hosting bij dezelfde provider registreren, en in de meeste gevallen is dat ook zo. Maar hier zijn twee nadelen aan verbonden:
Het is minder veilig. Wanneer een hacker in je hosting account geraakt, kan hij ook aan je domeinnaam.
Als je van hosting provider zou willen veranderen, is het een heel gedoe omdat je ook je domeinnaam moet overzetten en dit neemt gauw enkele dagen in beslag. Wanneer je domeinnaam ergens anders geregistreerd staat, is je website zo verhuisd.
De domeinnaamprovider die we aan al onze klanten aanraden wegens het gebruiksgemak en goede prijzen is Transip Nederland of Transip België.
Wil je je website bij een hosting provider installeren? Gebruik dan Siteground omdat zij volgens ons de beste WordPress hosting zijn. In dit deel van de cursus gebruiken we dan ook verder Siteground voor hosting en Transip voor registratie van je domeinnaam.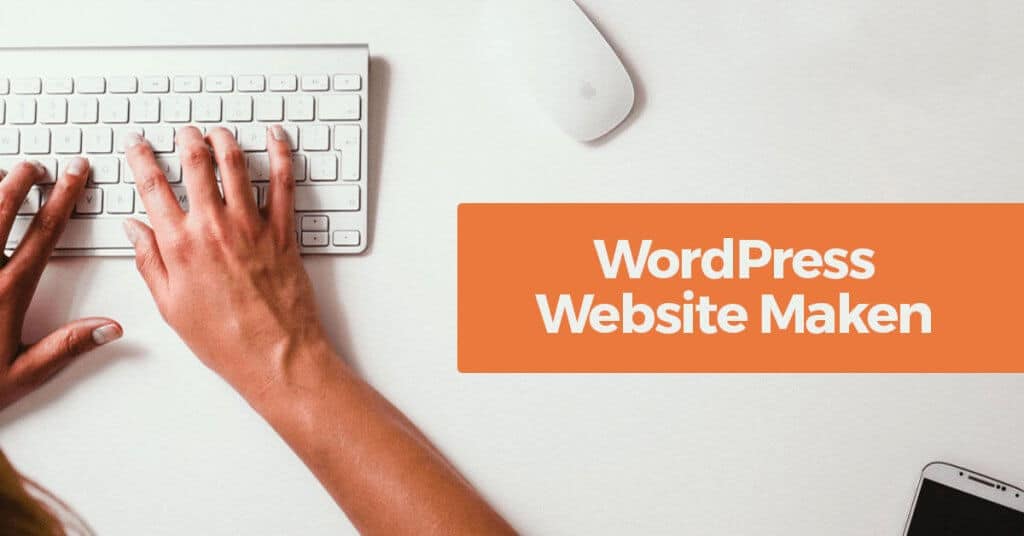 Lokaal
Wil je je WordPress website lokaal installeren? Gebruik dan de handleiding WordPress lokaal installeren op Windows.
Domeinnaam laten doorverwijzen naar hosting
Zoals hierboven vermeld, moet je er eerst voor zorgen dat je domeinnaam naar je hosting verwijst.
Stap 1: Zoek de name servers van je hosting op. In het geval van Siteground kun je je name servers terugvinden linksboven in je Cpanel.

Stap 2: Ga naar Transip en log in op je controlepaneel. In het tabblad "domein & hosting" krijg je een overzicht van al je domeinnamen. Je gaat naar de correct domeinnaam en vult onder "nameservers" beide name servers in.

Het kan tot 24 uur duren alvorens je name servers volledig zijn geüpdatet omdat deze gegevens wereldwijd moeten doorgegeven worden.
WordPress website maken bij Siteground
Log in op Siteground, ga naar je Cpanel en klik op WordPress installer.

Klik op "Install now"

Vul volgende gegevens in:

"Choose Protocol": aangezien we bij Siteground hosten krijg je gratis SSL en kun je dus bij "Choose Protocol" https:// aanduiden.
"Choose domain": duid je domeinnaam aan waar je een WordPress website voor wilt maken.
"In Directory": heb je alleen in te vullen als je WordPress in een submap wilt installeren. dit doe je bijvoorbeeld voor een test site.


Vul bij "Site Settings" de volgende gegevens in:

"Site Name": de naam van je website
"Site Description": de omschrijving van je site
"Enable Multisite (WPMU)": heb je enkel te gebruiken wanneer je een multisite wilt bouwen zoals WordPress.com. Een multisite is één WordPress installatie maar waar dan meerdere websites onder hangen die apart beheerd kunnen worden. Grote organisaties waarvan ieder departement een aparte site nodig heeft, gebruiken dit vaak (denk maar aan universiteiten).


Vul bij "Admin Account" volgende gegevens in:

"Admin Username" en "Admin Password" zijn al ingevuld. Voor extra veiligheid raden we aan om bij beiden 32 tekens te gebruiken en elk een ander password te gebruiken.
"Admin email": vul een werkend en veilig e-mailadres in.


Bij "Choose Language" vul je de website taal in. Dit is de taal waarin de WordPress website zal geschreven worden.

Als je hier klaar mee bent druk je op "Install". Het kan een paar minuten duren alvorens je website is geïnstalleerd.
Je kan nu gaan naar je website door de url te gebruiken gevolgd door /wp-admin (https://mijnwebsite.be/wp-admin). Als je niet automatisch inlogt moet je zelf je gebruikersnaam en paswoord invullen.
Proficiat je hebt de eerste stappen gezet in het maken van een WordPress website!
Instellingen aanpassen
Nu de website geïnstalleerd is, passen we de belangrijkste instellingen aan.
Ga in de linkerzijbalk naar Instellingen > Algemeen.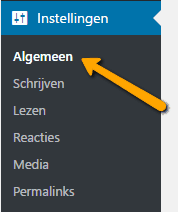 Hier pas je de Tijdzone, Datumnotatie en Tijdnotie aan. Moest je een verkeerde website taal hebben gekozen bij de installatie, dan kun je die hier altijd aanpassen.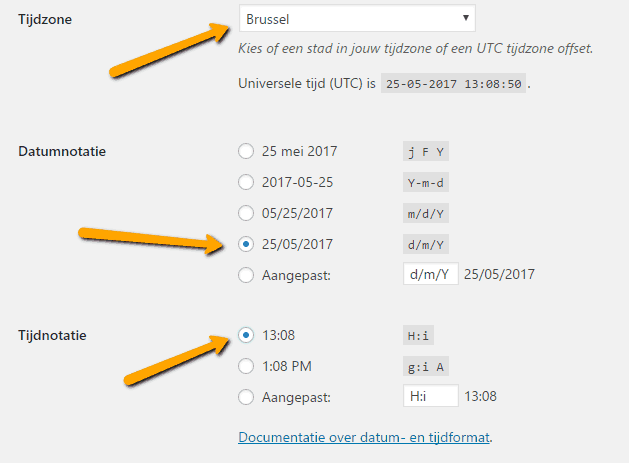 Hierna ga je naar Instellingen > Lezen en vink je "Zoekmachine zichtbaarheid" aan. Dit doe je om ervoor te zorgen dat je nog niet vindbaar bent via Google. Je website is immers nog niet klaar voor het grote publiek.



Het laatste dat je moet aanpassen zijn de instellingen van je Permalinks (Instellingen > Permalinks). Je kiest "Berichtnaam" als instelling omdat dit beter is voor SEO. Wanneer je blog meer gericht is op tijdelijke berichten en er veel op een dag worden geplaatst (zoals een nieuws site) kun je ook gebruik maken van "Jaar, maand, dag en naam".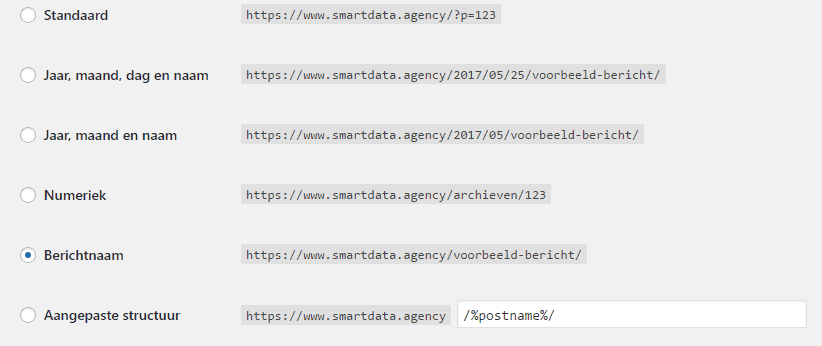 Plugins installeren
Na de belangrijkste instellingen aangepast te hebben, ga je de nodige plugins installeren. Op zich is dit vrij eenvoudig maar er zijn wel enkele dingen waar je rekening mee moet houden. We hebben een apart artikel geschreven over WordPress plugin installeren
Essentiele wordpress plugins die elke site moet hebben
Yoast SEO


https://wordpress.org/plugins/wordpress-seo/
Meer dan 1 miljoen installaties liegen er niet om. Yoast SEO is stelselmatig de beste en Yoast heeft rond SEO site reviews zijn zaak gebouwd. Kortom: bijna alles wat je nodig hebt voor je website SEO.
WP Rocket


WP Rocket
Je WordPress SEO is niet volledig zonder een plugin die je website versnelt door gebruik te maken van caching.
Compress JPEG & PNG images


https://wordpress.org/plugins/tiny-compress-images/
Compress JPEG & PNG images is de beste WordPress plugin om afbeeldingen te comprimeren zonder kwaliteitsverlies. Image compression zorgt ervoor dat de afmetingen (in bytes) van een afbeelding kleiner wordt dan de originele afbeelding. Dit zorgt ervoor dat de bestandsafmeting van een webpagina kleiner wordt en het dus minder lang duurt om te downloaden. Deze plugin heeft een limiet van 500 uploads per maand of je dient te betalen per image dat je uploadt. Doet het veel beter dan andere compressie alternatieven.
Cookie Notice by dFactory


https://wordpress.org/plugins/cookie-notice/
Gebruik je cookies op je website (Google AdWords, Google Analytics,…) dan moet je volgens de Europese richtlijnen dit duidelijk maken aan de bezoekers van je website.
BackWPup


https://wordpress.org/plugins/backwpup/
Je steekt bloed zweet en tranen in je website en plots gaat er iets mis. Zonder backup heb je dan helemaal niets meer in handen. Met BackWPup kan je backups nemen op je server of lokaal. Het is gratis en je betaalt enkel bij als je een automatische offsite backup wilt (Google drive, Dropbox,…)
P3 (Plugin Performance Profiler)


https://wordpress.org/plugins/p3-profiler/
Deze plugin test de laadsnelheid van de plugins die je gebruikt. Lees WordPress plugin installeren voor meer informatie.
Redirection


https://wordpress.org/plugins/redirection/
Met deze plugin kun je verwijderde pagina's laten doorverwijzen naar een nieuwe pagina om zo een "404 not found" melding te voorkomen.
Google Analytics


https://wordpress.org/plugins/google-analytics-for-wordpress/
Met deze Google Analytics plugin kan je eenvoudig Analytics op je website installeren.
Wordfence Security


https://nl.wordpress.org/plugins/wordfence/
Wordfence Security zorgt voor extra veiligheid op je website maar heeft nagenoeg geen performantie impact. Alnternatieven zijn iThemes Security en BulletProof Security. Voorheen gebruikte ik BulletProof Security maar omdat het aantal bots op het internet steeds groter aan het worden is en de website zwaar belasten ben ik genoodzaakt om over te stappen naar Wordfence omdat zij gebruik maken van een firewall zodat deze bots nooit de website bereiken.
AddToAny


https://wordpress.org/plugins/add-to-any/
Meeste like functies vertragen je website behoorlijk maar de impact van deze plugin is minimaal.
WordPress Theme kiezen & installeren
De volgende stap is het kiezen van je WordPress theme (thema). Dit is een soort template waarmee je je website in een gewenste lay-out plaatst. Als je WordPress installeert, zal automatisch de laatste theme die WordPress heeft gemaakt geïnstalleerd zijn.
Je hebt drie soorten themes: een unieke op maat gemaakte theme (kan tot €2.000 kosten), premium themes (gemiddeld $50) en gratis themes. Het grote verschil tussen de gratis en de betalende themes, is de kwaliteit. Hiermee bedoelen we de veiligheid van de theme, hoe netjes de code geschreven is, hoe snel de theme is en welke SEO troeven het heeft.
Wij bouwen alle site met StudioPress Themes. Studiopress themes maken gebruik van het Genesis Framework en deze themes zijn internationaal befaamd om hun bouwkwaliteit (nette code), snelheid en zoekmachine vriendelijkheid. Dit is de investering meer dan waard. Moest je een andere betalende theme kiezen dan Studiopress, dan raden we je aan om geen theme te kopen dat gebruikt maakt van visual composer. Themes die visual composer gebruiken zijn over het algemeen zeer populair omdat je er vrij eenvoudig iets mee kunt bouwen maar op code vlak zijn ze een ramp, wat geen gunstig resultaat geeft voor SEO.
WordPress theme installeren
De werkwijze om een theme te installeren is zeer vergelijkbaar met een plugin te installeren.
Je gaat in de linkerzijbalk naar Weergave > Thema's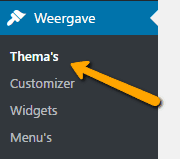 Hier klik je op "Nieuw thema toevoegen"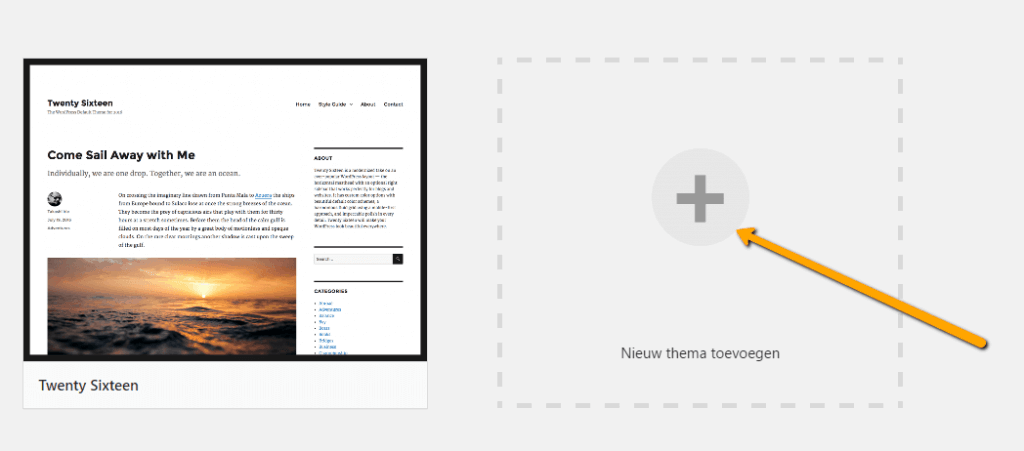 Je kunt een nieuw thema toevoegen door deze te uploaden of rechtstreeks te installeren. Je kunt natuurlijk ook achter een theme zoeken.
Inhoud aan je site toevoegen
De derde en laatste stap in WordPress website maken is het toevoegen van inhoud.
Pagina's en berichten
Het verschil tussen pagina's en berichten is dat berichten bij een blog horen en dat pagina's statisch zijn. Voorbeelden van pagina's zijn een "contact" , "over ons" en "wat we doen". Een bericht is zoals de pagina die je nu aan het lezen bent, namelijk een deel van een blog. De werkwijze om een pagina of blog te publiceren is dezelfde.
In het artikel WordPress pagina maken kom je meer te weten hoe je pagina's en blog berichten toevoegt.
Categorieën
Berichten kunnen opgedeeld worden in categorieën om zo je berichten te kunnen klasseren per onderwerp.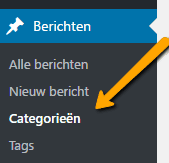 Bij "Naam" vul je de naam in van de categorie.
"Slug" is wat er in de url komt te staan. Als je bij naam 'verlichting' invult dan zal je categorie 'www.mijnwebsite.be/category/verlichting' zijn tenzij je de slug aanpast.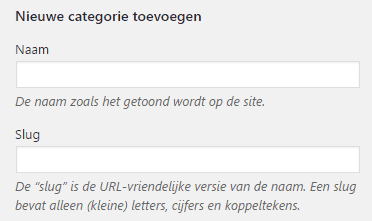 "Hoofd" kun je gebruiken wanneer je subcategorieën maakt. Zo kan verlichting de hoofdcategorie zijn van binnenverlichting & buitenverlichting.
Het is mogelijk om een omschrijving aan de categorie te geven en dit kan wanneer je thema dit toelaat.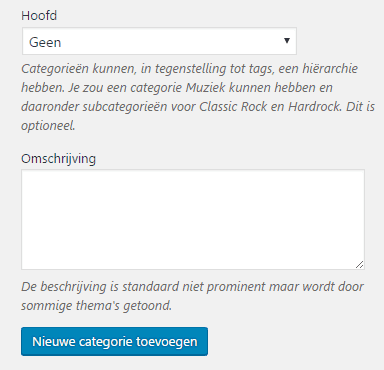 Tags
Met Tag kun je je blog berichten in nog kleinere categorieën opdelen. We raden dit ten zeerste af tenzij je heel veel berichten hebt en er dus meerdere berichten per tag zijn.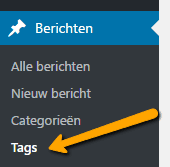 Menu
Eenmaal je je pagina's hebt gemaakt, kun je een menu toevoegen aan je website. Je doet dit door naar Weergave > Menu's te gaan.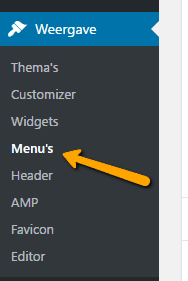 Allereerst geef je een naam aan je menu. De naam van je menu is niet zichtbaar voor bezoekers.
Je kunt pagina's berichten, aangepaste links & categorieën toevoegen aan je menu door deze aan te vinken en op "Aan menu toevoegen" te klikken. Hierna kies je de locatie van je menu. Wat deze locatie is en of je meerdere keuzes hebt, is afhankelijk van je thema.
Media
Je kunt media (foto's, pdf en video's) toevoegen via Media > Nieuw bestand.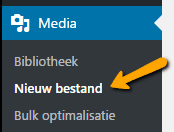 Een andere manier om media toe te voegen is door dit te doen in je berichten en pagina's.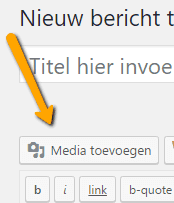 Customizer
Customizer laat je toe om op een vrij eenvoudige manier je website aan te passen. Wat je hier te zien krijgt is afhankelijk van je gekozen thema.



Proficiat je heb de basis van een WordPress website maken achter de rug!
Hulp nodig met een WORDPRESS WEBSITE MAKEN voor je bedrijf?
Neem contact met ons op voor vrijblijvend advies!