Dat een website tegenwoordig onmisbaar is, dat weet je al. En als je iets verkoopt, is een webshop een ideale aanvulling. Een webshop is een online winkel waar je klanten producten en/of diensten kunnen aankopen. De grootste online winkels van België zijn bol.com, Coolblue en Zalando. Onderzoek van SD Worx wijst uit dat meer dan de helft van de Belgische handelaars een webshop heeft. Een van de eenvoudigste manieren om een eigen self-hosted webshop te maken is met de WordPress WooCommerce plugin, zoals we uitleggen in Wat niemand je ooit vertelde over het beginnen van een webshop. Dit is één van de populairste manieren, maar liefst 28% van alle online winkels worden met WooCommerce gebouwd. Met deze WooCommerce handleiding ben jij klaar voor jouw webshop!
Hulp nodig met je WooCommerce webshop?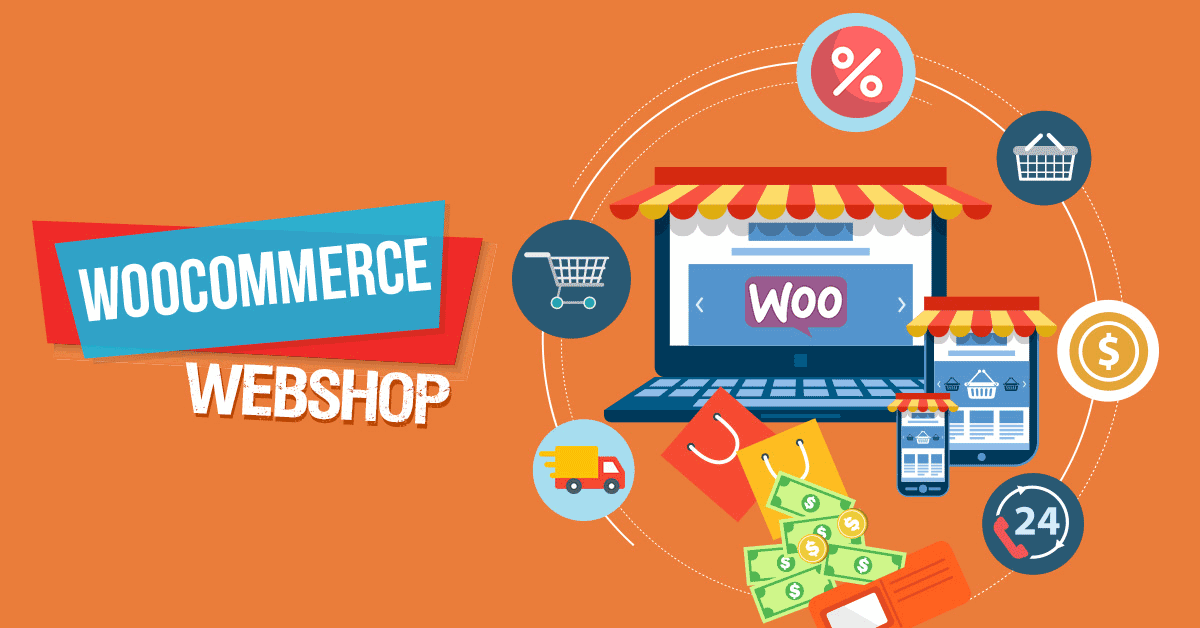 Wat is WooCommerce?
WooCommerce is de webshop plugin voor WordPress bij uitstek, ontwikkeld in 2008. Het is een gratis plugin om een webshop op te maken in de WordPress omgeving. Het is erg eenvoudig om met deze plugin een WooCommere webshop te bouwen en het is erg gebruiksvriendelijk. Met de gratis versie kan je alles doen wat nodig is, maar er zijn ook betalende plugins en thema's om je WordPress webshop uit te breiden en te personaliseren.
WordPress staat erom bekend heel erg SEO vriendelijk te zijn. Ook WooCommerce is ontwikkeld met SEO in het achterhoofd. Zo kan je de Yoast SEO plugin ook gebruiken voor WooCommerce. Voor meer informatie over WordPress SEO, verwijzen we je graag door naar onze SEO gids. Hieronder kan je verder lezen in onze WooCommerce handleiding.
WordPress WooCommerce kosten
WooCommerce is een gratis plugin, maar dat wil niet zeggen dat je er volledig gratis een webshop mee kan bouwen. Er komen namelijk nog een aantal kosten bij kijken:
Als je uit de standaard betalingsopties kiest, dan is dat gratis. Als je echter met een betalingsprovider zoals Mollie wil werken om ook betalingen van kredietkaarten te aanvaarden, dan ga je hiervoor moeten betalen. Meestal is de plugin wel gratis, maar betaal je een kost per transactie en een percentage van de prijs.
Daarnaast kan je ook voor een betalend WooCommerce thema kiezen. Er zijn gratis opties, zowel binnen WordPress zelf als bij WooCommerce. Maar als je een echte personaliseerbare webshop wil die geoptimaliseerd is voor SEO, dan ga je al snel bij een betalend Premium WooCommerce thema terechtkomen. Waar je die thema's kan vinden, hebben we hierboven al besproken.
En dan zijn er natuurlijk ook nog de kosten voor je WordPress website. Je kan WooCommerce gebruiken op een gratis WordPress website, maar als je een webshop wil uitbouwen ben je beter af met je eigen domeinnaam en aparte hosting. Daarvoor verwijzen we je graag naar eerdere artikels: wordpress website maken en beste wordpress hosting.
WooCommerce handleiding: een webshop bouwen
Het is natuurlijk niet de bedoeling om zomaar uit het niets hieraan te beginnen. Een webshop maken is iets waar heel wat voorbereiding en denkwerk aan vooraf gaat. Als je dat voorbereidende werk eenmaal gedaan hebt, dan kan je met deze onderstaande stappen verder gaan.
Kies een WooCommerce thema
WooCommerce werkt niet met elk WordPress thema. Bekijk dus of jouw thema wel compatibel is met de WooCommerce webshop plugin. De meeste thema's zijn ervoor aangepast, maar je controleert het best even.
Je kan zowel voor een betalend als gratis WooCommerce thema kiezen. In het menu Weergave > Thema's, kan je in de zoekbalk op WooCommerce zoeken. Alle thema's die nu verschijnen, zijn aangepast voor de WooCommerce webshop plugin. Op de website van WooCommerce zelf, vind je een Theme Store met een aantal gratis en een hoop betalende WooCommerce thema's met leuke mogelijkheden voor je WooCommerce webshop.
Als je echt een goed WooCommerce thema wil, raden wij StudioPress thema's aan. StudioPress is gespecialiseerd in SEO en design voor krachtige, veilige WordPress websites. Hun premium thema's maken je website veiliger, sneller en meer SEO-vriendelijk. Er zitten ook 25 ecommerce thema's tussen die perfect zijn voor WooCommerce.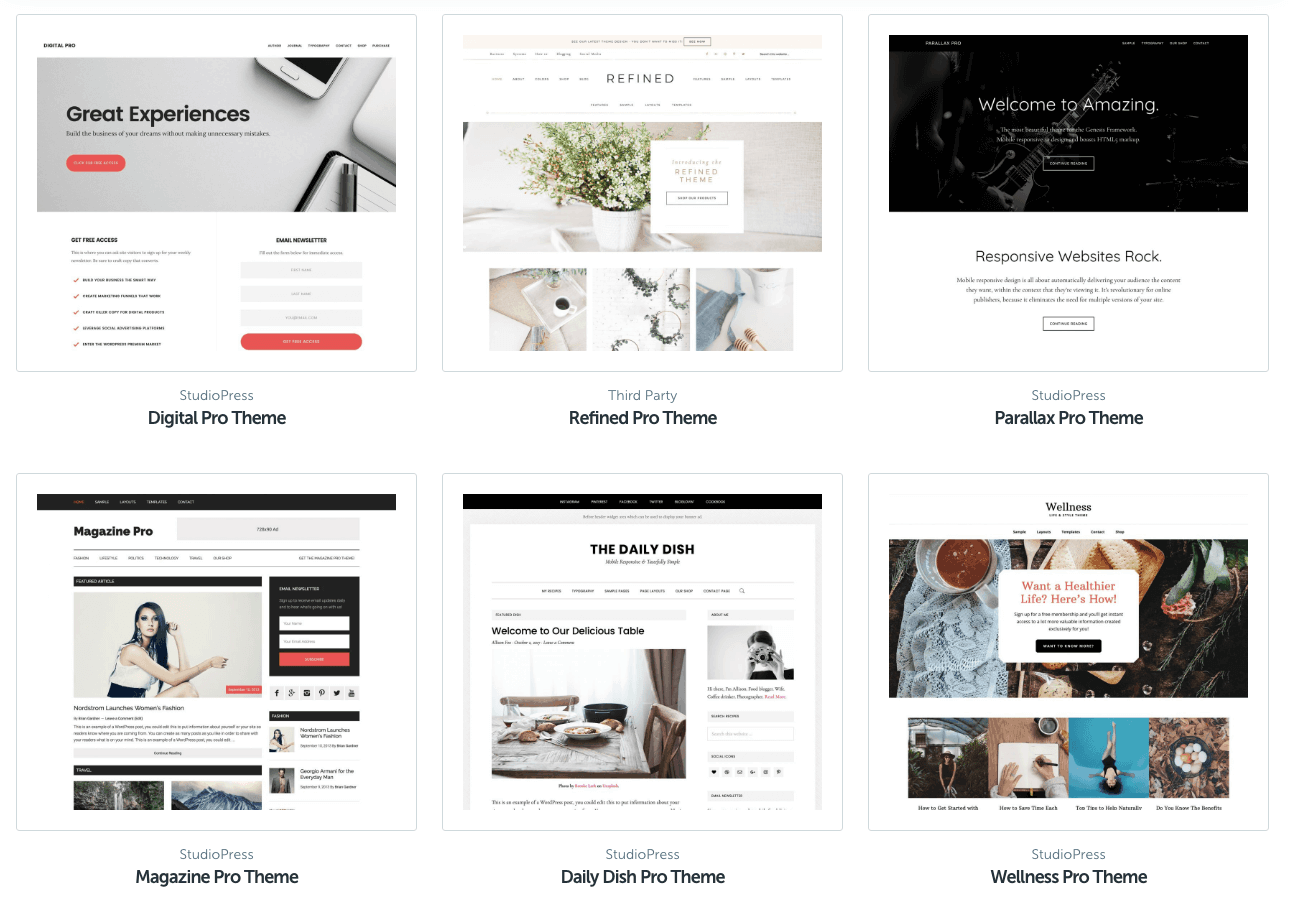 WooCommerce plugin installeren
Zoek de WooCommerce plugin in je Dashboard onder Plugins. Klik op Nu installeren en daarna op Activeren.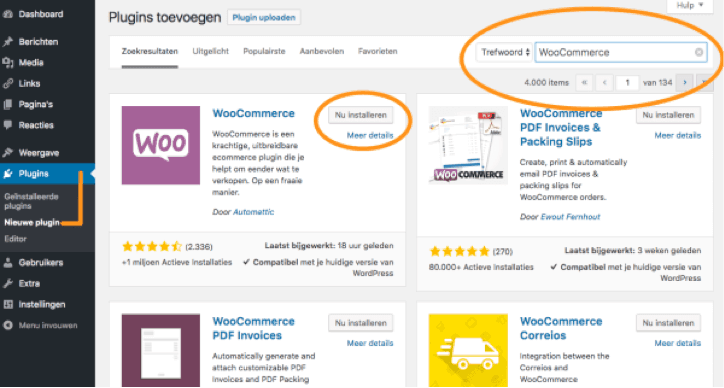 Vervolgens moet je de plugin verder instellen. De installatiewizard zal ongeveer 5 minuten in beslag nemen om je WooCommerce webshop op te zetten. De plugin is nu dan wel geïnstalleerd, je moet uiteraard nog je pagina's instellen:
1. Winkel instellen
Eerst moet je de locatie van je winkel doorgeven aan WooCommerce. Behalve je fysieke adres, dien je ook je valuta door te geven en of je producten fysiek en/of digitaal verkoopt.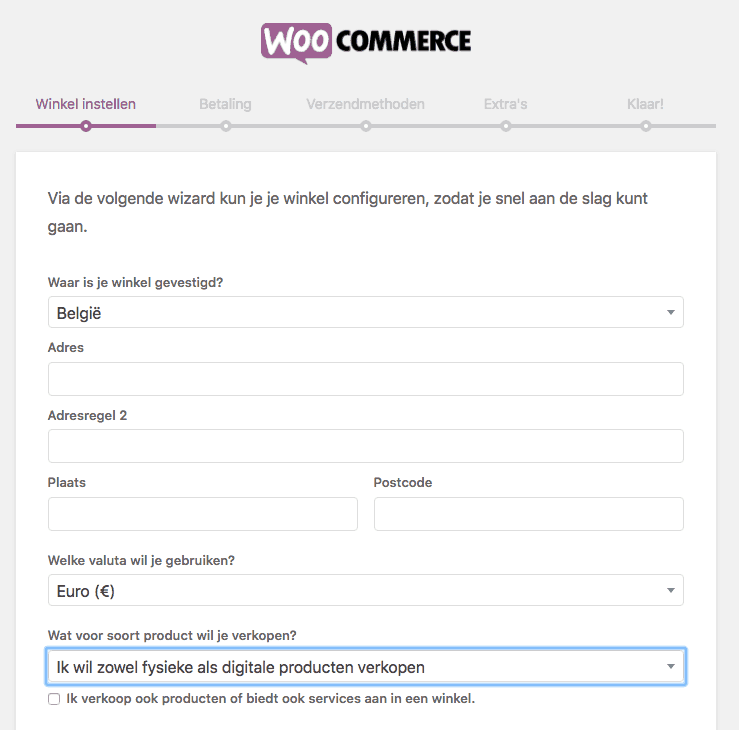 2. Betaling
Je kan natuurlijk niets verkopen zonder kassa. De tweede stap is dus om je betalingsgegevens in te stellen. Je kan online betalingen instellen met stripe of PayPal. Dit zijn twee online betalingsplatformen die gekoppeld kunnen worden aan je WooCommerce webshop.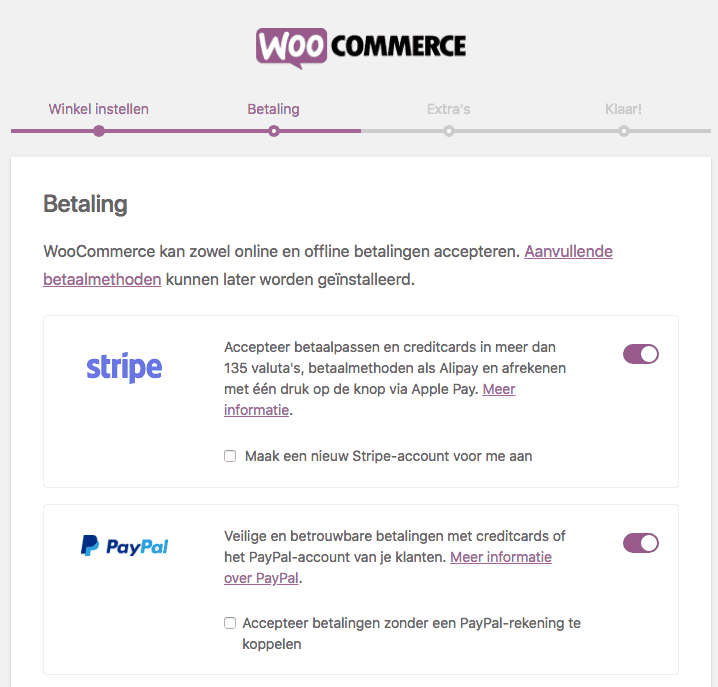 Je hebt echter ook de optie om offline betalingen te aanvaarden via je WordPress webshop. Dat kan via cheque, directe bankoverschrijving of betalen bij levering.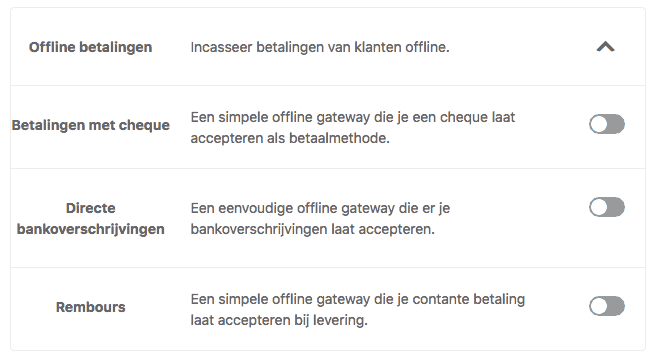 Wij raden aan om deze stap nu even over te slaan. Eén van de beste betalingsproviders voor een WooCommerce webshop is namelijk Mollie Payments. Dit is een aparte plugin die je kan installeren nadat je webshop is ingesteld. Nadat je de plugin hebt geactiveerd, moet je jouw Mollie betalingen nog activeren. Ga daarvoor in je dashboard naar WooCommerce > Settings > Checkout. Daarvoor heb je wel een API-sleutel nodig. Om die te krijgen moet je op de website van Mollie een profiel aanmaken. Zodra je website is goedgekeurd voor betalingen met Mollie, krijg je de API-sleutel en kan je betalingen met Mollie activeren. Zo kan er in jouw WooCommerce webshop betaald worden met een reeks internationale en Belgische betaalmethodes:
Kredietkaarten

VISA
MasterCard
American Express

 Debietkaarten
Andere online betaalmethodes

Bancontact
ING Home'Pay
PayPal
SOFORT banking
Belfius
KBC/CBC-betaalknop
SEPA overboeking
SEPA-incasso
Bitcoin
Paysafecard

Als je veel zakelijke klanten hebt, raden we je ook aan om de extensie EU VAT Number te installeren om de BTW-nummers van klanten te controleren. Als er een geldig BTW-nummer wordt ingevoerd, zal het bedrijf geen BTW aangerekend worden bij de afrekening.
3. Extra's
Hier zal WooCommerce je enkele aanbevelingen doen om je WordPress webshop verder in te stellen. Als je thema niet aangepast is aan WooCommerce, wordt dit hier weergegeven. En hier kan je ook automatische belastingen instellen. Als je dat doet, worden plugins WooCommerce Services en Jetpack automatisch geïnstalleerd om deze extra mogelijk te maken.
4. Klaar!
Nu is je WooCommerce webshop ingesteld. Je webshop is klaar om te verkopen. Wel, eerst moet je natuurlijk nog je producten toevoegen. Dat bespreken we hieronder.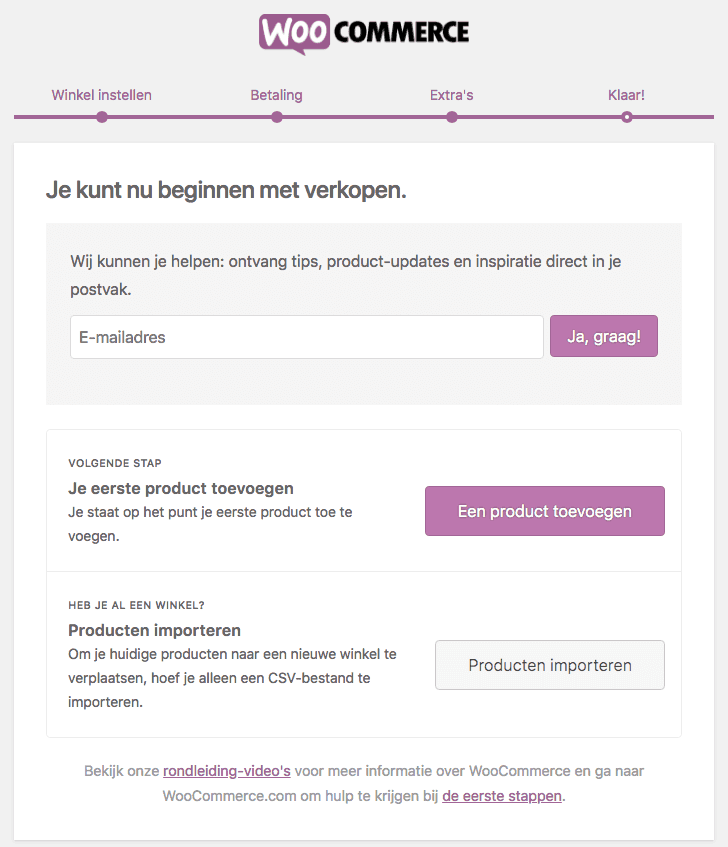 Producten toevoegen
Hier zijn twee mogelijkheden: je kan producten handmatig toevoegen, of je kan ook producten importeren met een CSV-bestand.
1. Handmatig toevoegen
Je wordt nu doorverwezen naar een aparte pagina waar je jouw producten één voor één kan ingeven. Als eerste geef je de productnaam in en daarna de productbeschrijving. Schrijf duidelijk op wat je product is en waar het voor dient. Omschrijf alle voordelen en wat jouw product beter maakt dan de concurrentie. Voeg ook een aantal duidelijke foto's en eventueel video's toe om je product (of dienst) extra in de verf te zetten.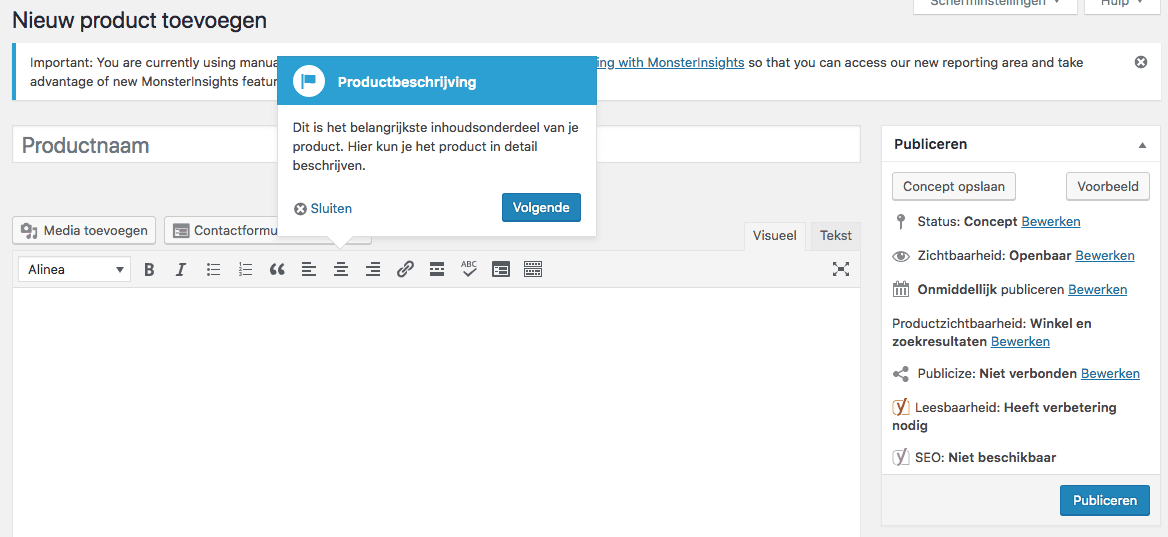 2. CSV-bestand
Als je alle informatie (productnaam, prijs, beschrijving, extra informatie) al in Excel hebt staan, kan je eenvoudig een CSV-bestand maken. Dit bestand kan je uploaden om alle productinfo te importeren. WooCommerce zal de data bekijken en in de tweede stap kan je dan jouw input koppelen aan de juiste kolommen in WooCommerce zodat de gegevens op de juiste plaats terecht komen.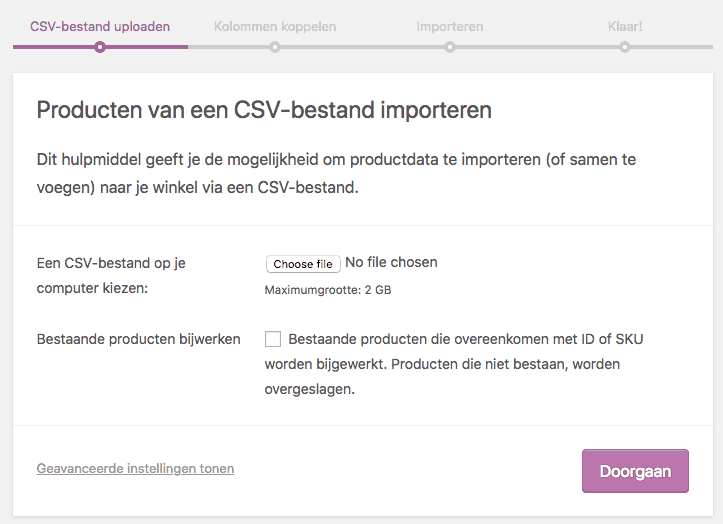 Andere productinstellingen
Vergeet ook zeker niet de juiste prijzen in te stellen en je voorraad door te geven zodat je niet plots meer producten verkoopt dan je in stock hebt. Als je heel erg veel producten hebt, is het ook handig om categorieën toe te voegen om gelijkaardige producten te groeperen.
Daarna moet je de verzendmethoden nog instellen. Hier moet je best even over nadenken: hoe ga je producten verzenden, welke verzendtermijnen kan je garanderen, moeten verzendkosten extra betaald worden, is er korting vanaf een bepaald totaal bedrag, … Je kan dit volledig zelf invullen, maar er bestaan plugins om je hiermee te helpen. Zo is er bijvoorbeeld een BPost plugin. Wat kan je hiermee regelen?
Leveringswijzen: thuis, op kantoor, bij een afhaalpunt, in een postkantoor of in een pakjesautomaat
Prijzen worden automatisch berekend naargelang jouw instellingen en de adresgegevens van de klant
Tracking, meldingen en verzekering kunnen optioneel toegevoegd worden
Jij kan een verzendlabel rechtstreeks afdrukken en zo het product verzenden
Met de plugin Table Rate Shipping kan je de verzendingsopties van je WooCommerce webshop uitbreiden. Zo kan je de leveringsprijzen aanpassen volgens locatie, prijs, gewicht of aantal items. Wil je bijvoorbeeld aparte leveringskoten voor binnen- en buitenland, of binnen en buiten de EU? Of bied bijvoorbeeld gratis verzending aan wanneer er meer dan 10 items gekocht worden.
Daarnaast kan je met de plugin Product Add-Ons ook de productinformatie personaliseren. Zo kan je bijvoorbeeld aanvink-vakjes en dropdown lijstjes toevoegen. Stel dat je bijvoorbeeld je klanten de optie wil geven om cadeauverpakking toe te voegen, dan kan je met een aanvink-vakje instellen. Of als je gepersonaliseerde producten maakt met bijvoorbeeld foto's erop, dan kan je ook een veld toevoegen waar de klant zijn foto kan opladen. Met deze plugin krijg je veel meer mogelijkheden voor de productinfo.
En wil je jouw producten graag toevoegen aan Google Shopping? Ook dat kan met een plugin: de Woocommerce Google Feed Manager. Je kan tot 100 producten uit je WooCommerce webshop toevoegen aan een Google Shopping feed. Na installatie van de plugin, kan je in WordPress alle informatie ingeven, die dan automatisch gedeeld wordt in Google. Je kan elk veld personaliseren en aanpassen zodat je producten zullen opvallen in Google. Alles over Google Shopping lees je hier: Google Shopping – Wat is het, hoe werkt het, wat zijn de kosten en hoe stel je het in?
Extra uitbreidingsmogelijkheden
Net zoals WordPress, zijn er ook bij WooCommerce talloze uitbreidingsmogelijkheden in de vorm van plugins. Je kan er je webshop mee uitbreiden en extra opties aanbieden aan je klanten. Hieronder bespreken we nog 3 interessante plugins.
LiveChat
Zoals de naam het al zegt, kan je met LiveChat een chatfunctie toevoegen aan je WooCommerce webshop. Klanten kunnen je zo rechtstreeks contacteren en dat is goed voor de klanttevredenheid!
De gratis plugin installeren is erg eenvoudig. Ga in je dashboard naar Plugin en klik op "Add New". Zoek naar "LiveChat for WooCommerce " en klik op installeren en activeren. Nu moet je bij LiveChat een account aanmaken. Ga dan naar WooCommerce in je dashboard, daaronder zal je LiveChat zien staan. Hier kan je eenvoudg inloggen in je LiveChat account en vanaf nu zal de chatfunctie werken. In dit menu kan je trouwens ook de chatfunctie instellen. Er zijn namelijk nog een aantal opties naar je klanten toe:
Chatfunctie wel of niet tonen op mobiel
Chatgeluiden op- of afzetten
Gastbezoekers mogen de chatfunctie wel of niet zien
Ook voor jezelf kan je de chatfunctie instellen om de communicatie met je klanten te vereenvoudigen. De productdetails, het aantal producten, de totale waarde, het verzendadres en de gegevens over de laatste bestelling kan je tonen in je chat dashboard. Als je klant hier dan specifieke vragen over heeft, kan je meteen de juiste informatie vinden. Zo sta jij jouw klanten sneller en beter te woord!
MonsterInsights
MonsterInsights helpt je om met Google Analytics te verbinden, zodat je makkelijk je website en webshop kan analyseren. Je installeert de plugin en en dan kan je zonder coderen en ingewikkelde configuraties meteen meten hoe bezoekers jouw website gebruiken. Ontdek welke pagina's het best presteren en welke amper bezocht worden. Verzamel inzichten over welke inhoud wel en niet werkt, en gebruik die daarna om je website te optimaliseren.
WooCommerce factuur plugin
In WooCommerce is er geen standaard functionaliteit om facturen te maken. Wil je dus met WooCommerce PDF facturen werken, dan zal je nog een extra plugin moeten installeren. Er bestaan hier verschillende plugins voor, zoals de officiële WooCommerce plugin: PDF invoices. De kosten bedragen $ 79 voor 1 website, $ 99 voor 5 websites en $ 199 voor 25 websites. Er wordt dan automatisch een PDF factuur toegevoegd aan de e-mail die de bestelling bevestigt. Klanten krijgen daarnaast ook toegang tot een online account waar ze al hun facturen kunnen terugvinden.
Voor WooCommerce PDF facturen raden wij de plugin WooCommerce PDF Invoices & Packing Slips aan. Hiermee kan je niet alleen PDF facturen toevoegen aan de bevestigingsemail, maar je kan zelf ook alle facturen en verzendingsbonnen bekijken. Deze plugin bestaat in het Nederlands, Engels, Frans en nog 15 andere talen. Je begint met een standaard template voor de factuur, maar je kan ook zelf templates maken en aanpassen. Premium templates zijn te verkrijgen via WP Overnight.
WooCommerce Affiliate webshops
Stel dat je zelf geen producten of diensten verkoopt, maar je wel iets wil verkopen via je WordPress website. Je kan dan inschrijven op het WooCommerce Affiliate programma. Op die manier kan je een webshop bouwen op je eigen website, met producten uit externe websites.
Waarom zou je zoiets doen? Wel, stel dat jij een manege runt en je website krijgt heel wat bezoekers. Zij vragen je vaak welke producten het best zijn voor hun paarden van zadels en dekens tot het juiste voeder. Je zou dan een WordPress webshop kunnen maken op je website en daar producten van andere online winkels opzetten. Afhankelijk van de afspraken die je gemaakt hebt, krijg jij dan een percentage van de verkopen die via jouw website doorgaan.
Nadat je jouw webshop hebt ingesteld, ga je producten toevoegen als "Extern/Affiliate product". Je geeft dan een externe URL op die wijst naar een andere webshop of online winkel. Als er op de producten geklikt wordt, worden bezoekers dan doorverwezen naar de externe link. Je zal dus niet rechtstreeks producten verkopen in je WordPress webshop, en men kan ook geen winkelmandje vullen bij jou. Alle producten staan op externe websites en daar worden klanten naartoe gestuurd.

Amazon Affiliate webshop
De grootste webshop ter wereld, dat is Amazon. Er bestaat nog geen Belgische versie van Amazon, maar wel een Nederlandstalige versie van Amazon.de. Via de affiliatie optie van WooCommerce, kan je ook Amazon producten via jouw WordPress webshop verkopen. Dit is een betalende premium van de WooCommerce plugin.
We omschrijven het opnieuw met een voorbeeld. In dit geval heb jij een succesvolle blog waar je boekrecensies schrijft. Je krijgt heel wat bezoekers over de vloer, en je wil bij elk boek graag linken naar de Amazon link waar het boek gekocht kan worden. Dat kan je natuurlijk gewoon doen door de link toe te voegen. Maar als je via affiliatie werkt, kan je hier nog iets mee verdienen.
Je kan producten zo één per één toevoegen, als het over specifieke boeken gaat bijvoorbeeld. Kopiëren is niet nodig, de WooCommerce plugin zal die informatie rechtstreeks uit Amazon halen. Daarnaast kan je ook volledige productcategorieën of subcategorieën importeren (bijvoorbeeld alle boeken van een auteur of een bepaald genre).
In dit geval staat het winkelmandje wel op jouw website en worden kopers dus niet bij elke link naar Amazon gestuurd. Bezoekers blijven dus op jouw website: je verliest geen verkeer en de shopervaring van de gebruiker verloopt zo ook beter. Jouw WordPress webshop lijkt zo dus veel meer op een echte webshop waarbij verschillende producten in een mandje gaan en je op het einde alles samen betaald. Je moet de productinformatie ook niet updaten bij veranderingen, nieuwe prijzen, promoties, e.d. WooCommerce blijft verbonden met Amazon en zal deze updates automatisch doorvoeren.
Meer informatie over de Amazon Affiliate webshop, vind je in onderstaande video.
Hulp nodig met je WooCommece webshop?
Neem contact met ons op voor vrijblijvend advies!