Een link farm, letterlijk een link boerderij, is een groep van websites die naar elke andere website in de groep linken. Ze ontstaan vaak door geautomatiseerde processen en het doel is altijd om de zoekindex van Google om de tuin te leiden. Een andere naam hiervoor is spamdexing: het indexing proces van Google spammen met een hele hoop links om zo een hogere zoekscore te behalen.
Hulp nodig met jouw LINKBUILDING?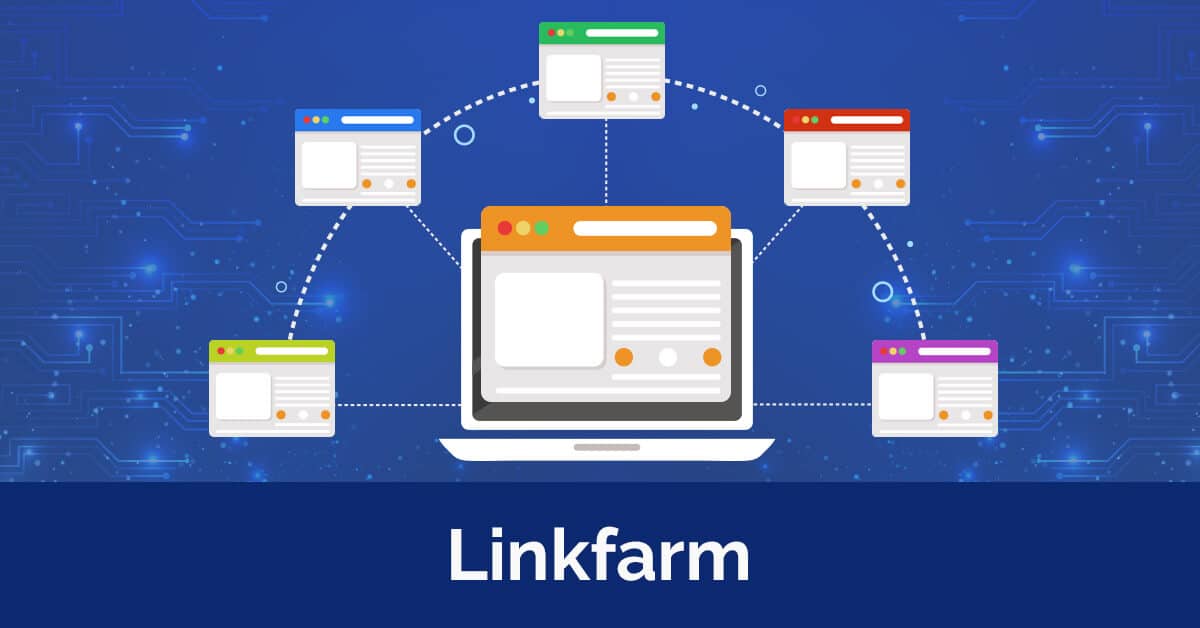 Hoe werkt een link farm?
Om te bepalen waar jouw website terecht komt in de zoekresultaten, indexeren zoekmachines jouw website. Tijdens die indexering, bepalen verschillende dingen hoe waardevol je content is en hoe gezaghebbend je website is. Een van de dingen die de zoekmachine checkt is het aantal binnenkomende links. Links van andere websites die naar jouw website verwijzen. Dus hoe meer andere websites er naar jouw website verwijzen, hoe belangrijker jouw website wordt in de ogen van de zoekmachine. Een link farm zal dus heel erg veel binnenkomende links creëren op jouw website, wat in theorie jouw website hoger zal doen scoren. Vroeger was dat ook zo, maar ondertussen heeft Google dit ook begrepen en brengt link farming straffen met zich mee.
Een korte geschiedenis
Link farming eind jaren '90
De link farm is eind jaren '90 ontstaan, toen SEO specialisten ontdekten hoe belangrijk de binnenkomende links waren voor de search ranking van een website bij Inktomi. Inktomi was een bedrijf dat websites indexeerde en een search ranking score toekende. Die scores werden o.a. door Yahoo! (toen de meest populaire zoekmachine) gebruikt om zijn zoekfunctie aan te vullen. De specialisten ruilden eerst onderling binnenkomende links uit, en toen bleek dat dit erg effectief was om de SEO van je website te boosten, ontstonden er al snel bedrijven die het link farming proces gingen automatiseren. Die links waren niet nuttig voor bezoekers, aangezien het vaak ging om compleet verschillende websites die qua content helemaal niets met elkaar te maken hebben. De links waren enkel en alleen een SEO-techniek om hoger te scoren in de zoekresultaten.
Google en slimme webmasters forceren verandering
Zodra Google meer en meer gebruikt werd als zoekmachine, moest de link farm veranderen. Het Google algoritme vertrouwt namelijk op PageRank om binnenkomende links te gaan scoren. En PageRank kijkt niet alleen naar het aantal binnenkomende links, maar ook naar de kwaliteit van die links. Een link van één belangrijke website zal dan ook zwaarder doorwegen dan vijf links van kleine, onbelangrijke websites. Bovendien werden webmasters ook slimmer en slimmer: ze vonden manieren om hun uitgaande links naar andere websites in de link farm te verbergen of te blokkeren en zo enkel zelf te profiteren van de link farm.
Nieuwe link farms
De link farm moest veranderen om in te spelen op deze twee ontwikkelingen. Dat deden ze door o.a. nieuwe link farms op te zetten: software die op zoek gaat naar interessante en gezaghebbende websites waar zij zelf mee konden linken. Een andere ontwikkeling was het ontstaan van directory websites: websites over een bepaald onderwerp waar een hele hoop links naar andere websites over dat onderwerp verzameld worden. De website zelf heeft geen inhoud, behalve af en toe een kleine inleiding. Daaronder zie je kolommen waarin tientallen of zelfs honderden links gerangschikt worden in subonderwerpen.
Google vecht terug
Natuurlijk kon het mooie liedje van link farms niet blijven duren. Het is namelijk een manier om bepaalde websites naar voren te brengen en ze belangrijker te doen lijken dan ze zijn. Dat is niet goed voor de zoekresultaten want zoekers moeten dan eerst een hoop onbelangrijke websites doorkruisen vooraleer ze vinden wat ze zochten. En dus gingen zoekmachines zoals Google aan het werk om link farms te bestrijden. Directory websites werden al snel afgestraft: links van en naar zo'n websites werden aangegeven in PageRank als slechte links en vaak werden de domeinen van deze directories zelfs volledig geblokkeerd. Vanaf 2007 begon Google ook websites die betaalde tekstlinks aanbieden actief te straffen. Deze links en domeinen krijgen nu een slechte ranking score, om ze uit de eerste zoekresultaten te weren. Bovendien worden ook de websites waarnaar zij verwijzen (hun klanten dus) gestraft met lagere ranking scores.
Hoe bestrijdt Google link farming?
Hoe Google link farming en andere manieren om de SEO ranking te beïnvloeden identificeert, is niet geweten. Maar we weten wel in grote lijnen waar Google rekening mee houdt bij het evalueren van binnenkomende en uitgaande links.
Autoriteit van de bron
In het begin werd er alleen rekening gehouden met het aantal binnenkomende links, maar tegenwoordig houden zoekmachines ook rekening met de kwaliteit van de links. De autoriteit van de website die naar jouw website linkt wordt steeds belangrijker. Hoe waardevol is de content op die website? Hoeveel binnenkomende links heeft die website? Bestaat de website al lang?
Nofollow links
Wat een nofollow link juist is hebben we eerder al eens uitgelegd: WordPress nofollow – Wat is het en hoe gebruik je het in WordPress. In het kort is het een link op jouw website waarvan je tegen Google zegt dat die niet geïndexeerd moet worden. Niet alleen niet geïndexeerd, maar ook dat er geen rekening mee gehouden wordt om de autoriteit en waarde van jouw website te bepalen. Als je zelf linkt naar websites waar je jouw autoriteit niet aan wil verlenen, kan je een nofollow link gebruiken.
Relevantie van de bron
Er wordt algemeen aangenomen dat Google ook rekening houdt met de inhoud van de websites die naar elkaar linken. Bij de traditionele link farms werden allerlei websites aan elkaar gelinkt, zonder rekening te houden met de inhoud en of het logische links zijn. Daarom gaat Google nu ook de twee websites met elkaar vergelijken. Links tussen vergelijkbare websites krijgen hogere scores dan websites die minder met elkaar te maken hebben.
Contextuele relevantie
Ook hoe je de link aanbrengt is belangrijk. Google analyseert de inhoud voor en na de link. Zo controleren ze hoe de link in relatie staat tot de inhoud, te beginnen met de zin, daarna de alinea en daarna de volledige tekst waarin de link staat. Als de link helemaal niets te maken heeft met de context, wordt die al meteen onbelangrijk voor Google.
Ankertekst
Je kan een link delen door de volledige URL te kopiëren in je tekst. Maar het is veel mooier en gebruiksvriendelijker als je de link achter een ankertekst steekt. Als je bijvoorbeeld "klik hier" schrijft met daarachter de link. De ankertekst omschrijft best de link die erachter zit kort, zodat het voor bezoekers duidelijk is waar de link naar verwijst. Zorg er ook voor dat de ankertekst in je zin past en contextueel relevant is. Vroeger werden hier zoveel mogelijk zoekwoorden in geplaatst om SEO te manipuleren. Maar dat heeft Google ook beseft en straffen ze nu af.
Link bestemming
Natuurlijk kijkt Google ook naar de pagina waar je link naartoe wijst. Niet alleen het domein en de autoriteit van de volledige website zijn belangrijk, ook de specifieke pagina waar jij naar linkt. Google zal de titel en de inhoud van de landingspagina bekijken om te evalueren of de inhoud overeenstemt met jouw inhoud.
Diversiteit
En last but not least, Google kijkt ook naar de diversiteit van je links. Hoe meer gezaghebbende domeinen naar jouw website linken, hoe beter. Een link van 5 websites is dus veel belangrijker dan 10 links van dezelfde website. En het is niet alleen de diversiteit van de domeinen die belangrijk is. Link je vaak naar dezelfde pagina? Zorg dan voor diversiteit in de ankertekst en de context bijvoorbeeld.
Hoe moet je dan wel linken?
Links zijn één van de onderdelen waarmee Google bepaalt waarover jouw website gaat en hoe goed je website is. Dat doen ze uiteraard om de zoekopdrachten van hun gebruikers zo goed mogelijk te beantwoorden. Maar ook voor jou zijn goede links erg belangrijk, en niet alleen om goed te scoren in Google. Als een grote website linkt naar jouw website, zal je dat verschil vast en zeker merken in de bezoekersaantallen. Je verkeer schiet meteen de lucht in. Linkbuilding kent dus erg veel voordelen om je website te doen groeien en de autoriteit van je website te verhogen. Meer daarover lees je op onze blog: Wat is linkbuilding – SEO voordelen, strategie, tips & uitbesteden.
Conclusie: blijf van link farms weg
De grote conclusie van dit artikel? Vroeger hadden link farms nut voor je SEO en om beter te ranken in de zoekmachines. Tegenwoordig zijn ze zelfs nefast voor je search ranking, want zodra Google de link farm identificeert en jouw website daarop ontdekt, verlaagt jouw ranking score. Blijf dus weg van link farming! Het is de "black hat SEO techniek" bij uitstek en er wordt steeds specifieker op gecontroleerd. Als je het Google algoritme probeert te misleiden, ben je in strijd met hun richtlijnen en zal je website gestraft worden.
Dat wil niet zeggen dat je niet meer mag linken van en naar andere websites. Dat mag zeker! Doe het dan wel op de juiste manier door rekening te houden met wat we je hier verteld hebben.
Hulp nodig met de SEO van je website?
Neem contact met ons op voor vrijblijvend advies!