Wat is Conversion Rate Optimisation? Wel, stel dat er jouw website veel bezoekers krijgt en jouw SEO en advertenties hun werk doen. Maar die bezoekers nemen geen actie, ze converteren niet. Wat je hier als converteren beschouwd, kan gaan van het downloaden van een whitepaper tot een aankoop. De conversie ratio is dan het aantal conversies vergeleken met het totaal aantal bezoekers. Met CRO ga je jouw conversie ratio optimaliseren, zodat er steeds meer van je bezoekers ook echt converteren.
Hulp nodig met je WEBSITE CONVERSIES?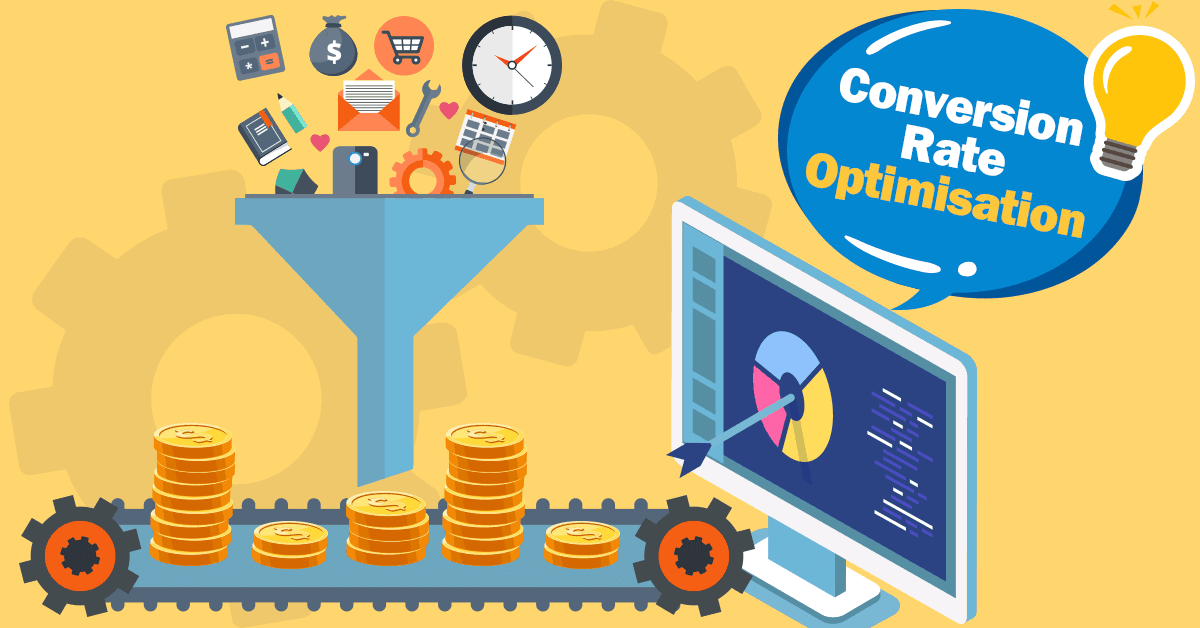 Hoe werkt conversion rate optimisation?
Met behulp van Google Analytics en feedback van de gebruikers, gaan we de prestaties van uw website verbeteren. Dat doe je door te ontdekken naar wat je bezoekers op zoek zijn wanneer ze op jouw website komen, en ze dat dan ook te geven. Afhankelijk van jouw doelen of Key Performance Indicators (KPIs) kan CRO vele vormen aannemen. Dat kan gaan van het bijwerken van je call-to-action tot ingewikkelde of onnodige stappen uit je conversiefunnel verwijderen of verplaatsen.
Waarom is CRO belangrijk?
Je krijgt bezoekers naar je website, en je wil dan natuurlijk ook dat zij converteren. Want je investeerd veel tijd, moeite en vaak ook geld om die bezoekers naar je website te leiden. Hoe meer er daarvan converteren, hoe sneller je investering is terugbetaald. Het is ook gemakkelijker en goedkoper om bezoekers die al naar je website komen te converteren, dan nieuwe bezoekers te gaan aantrekken.
Voordelen van CRO:
Het kan altijd beter: maakt niet uit hoe goed je design was toen je jouw website bouwde, het kan altijd beter. Met conversion rate optimisation kan je kleine details met elkaar vergelijken om zo je website nog beter te doen werken.
Advertenties worden steeds duurder en er komt steeds meer concurrentie bij. Dankzij conversion rate optimisation kan jij ervoor zorgen dat alle bezoekers waarvoor je betaalt, meer geneigd zijn om te converteren. Zo hoef je niet meer te betalen om meer nieuwe mensen te bereiken als je meer conversies wil.
Maximaliseer je opbrengst met conversion rate optimisation. Niet elke bezoeker die op je website komt, zal ook actie ondernemen. Dat is geen realistisch doel. Maar hoe meer van die bezoekers converteren, hoe meer je zal gaan verdienen.
Beginnen met conversion rate optimisation
Gegevens uit je websiteanalyse
Om je conversieratio te optimaliseren, gaan we eerst websitegegevens uit Google Analytics bekijken. Dit zijn de belangrijkste gegevens om te bekijken en vergelijken:
Het aantal conversies: of het nu gaat om inschrijvingen voor de nieuwsbrief, afspraken die gemaakt worden of aankopen. Deze conversies zijn vaak gebaseerd op je websitedoelen of KPIs.
Je conversieratio: het aantal conversies gedeeld door het totaal aantal bezoekers.
Bounce ratio: dit is het aantal personen die maar één pagina zien en meteen weer weggaan van je website. Hoe lager hoe beter! Want een hoge bounce ratio betekent dat veel mensen op je website terechtkomen en er meteen weer weggaan omdat ze eigenlijk iets anders zoeken.
Exit ratio: het aantal personen dat je website verlaat na deze pagina. Voor inschrijvingsformulieren mag deze ratio hoog zijn, maar voor een gewone landingspagina met call-to-actions is deze ratio best aan de lage kant! Anders zou dat betekenen dat men we naar je pagina komt, maar er geen actie onderneemt.
Gemiddelde tijd op de website: hoelang blijven mensen op je website en op specifieke pagina's? Deze KPI hangt ook samen met de bounce ratio, want hoe hoger je bounce ratio, hoe langer de gemiddelde tijd op je website.
Gemiddeld aantal paginaweergaven: hoeveel pagina's bekijken bezoekers op jouw website? Let op: deze gegevens kunnen dubbelzinnig zijn. Als mensen veel pagina's op je website bekijken, kan dit betekenen dat alle pagina's goed aan elkaar gelinkt zijn, en dat deze persoon zo geïnteresseerd was in jouw verhaal dat hij bleef doorklikken. Maar het kan ook betekenen dat je informatie of structuur niet duidelijk was, waardoor ze lang hebben moeten klikken vooraleer ze vonden wat ze zochten.
Feedback van bezoekers
Ondervraag je websitebezoekers. Hoe zijn zij op je website terecht gekomen? Vinden ze daar wat ze zoeken? Vinden ze de informatie duidelijk en concreet genoeg? Ontbreken er volgens hen nog bepaalde dingen? Laat hen jou deze informatie doorspelen in hun eigen woorden, zodat jij een duidelijker zicht krijgt over wat er volgens je bezoekers wel of niet goed werkt op je website.
Zodra je aan je optimalisatie begint, ga je dit ook best uittesten bij je bezoekers. Maak verschillende versies van pagina's aan die je aan bepaalde groepen bezoekers laat zien. Bekjk hoe bezoekers interageren op jouw website, en ontdek welke veranderingen je conversies verbeteren of verslechteren.
Hypotheses opstellen
Op basis van die informatie, ga je hypotheses opstellen voor je conversion rate optimisation. Je gaat de verbeterpunten identificeren en mogelijke optimalisaties voorstellen. Leg deze voorstellen vervolgens langs je KPIs en wijs ze prioriteiten toe. Welke veranderingen zijn het belangrijkste? Wat zijn de grootste problemen of uitdagingen van je website momenteel? Stel op basis daarvan een CRO strategie op en begin de A/B tests in te plannen.
Testen en optimaliseren
Hierboven hebben we al gezegd dat je jouw CRO inspanningen niet zomaar lukraak moet uitvoeren, maar dat je alles rustig kan testen. Neem de tijd om je pagina's te testen op gebied van conversion rate optimisation en ontdek waar jouw bezoekers positief en negatief op reageren. En natuurlijk is CRO een continu proces. Je website is nooit volledig af, en er zijn altijd details die beter kunnen. Bovendien is er ook het bekende spreekwoord: verandering van spijs doet eten. Een bezoeker die terugkomt naar jouw website, zal al meer openstaan voor je aanbod en kleine veranderingen die hem dan triggeren kunnen erg positief uitvallen.
Denk ook aan deze 6 belangrijke CRO factoren
Waardepropositie: wat zijn de kosten en baten van de conversie? Wat zijn de voor- en nadelen voor de consument? Waarom voor jou kiezen en niet voor je concurrentie?
Relevantie: zien bezoekers op jouw pagina wat ze daar verwachten te zien? Komt jouw waardepropositie overeen met wat zij zoeken?
Duidelijkheid: zorg ervoor dat je waardepropositie, boodschap en call-to-action duidelijk zijn.
Ongerustheid: zijn er elementen op je website of ontbreken er bepaalde dingen die je bezoekers ongerust kunnen maken? Zijn ze onzeker omwille van bepaalde redenen?
Afleiding: wat is het eerste dat bezoekers zien op jouw website? Is dat de hoofdboodschap, of eerder elementen die afleiden zoals onduidelijke foto's of een ingewikkelde layout? Staat er overal op jouw pagina dezelfde boodschap, of is er tegenstrijdige informatie aanwezig?
Dringendheid: waarom moeten bezoekers nu reageren? Zit er een tijdslimiet op je aanbod, zijn er nog maar een beperkt aantal plaatsen over, verloopt korting binnenkort, …?
Hulp nodig met jouw WEBSITE?
Neem contact met ons op voor vrijblijvend advies!