Via affiliate marketing plaats je advertenties van jezelf op de website van een partner (affiliate). Hierdoor krijg je zelf meer bezoekers op je website en stijgt ook de verkoop van je product/dienst. Je kan ook zelf inkomsten genereren als je een advertentie van een partner op jouw website laat verschijnen. Maar hoe werkt affiliate marketing nu precies?
In dit zestiende deel van de gratis online marketing cursus "Hoe krijg ik meer websitebezoeker en klanten?" leggen we dit haarfijn uit.
Hulp nodig met AFFILIATE MARKETING?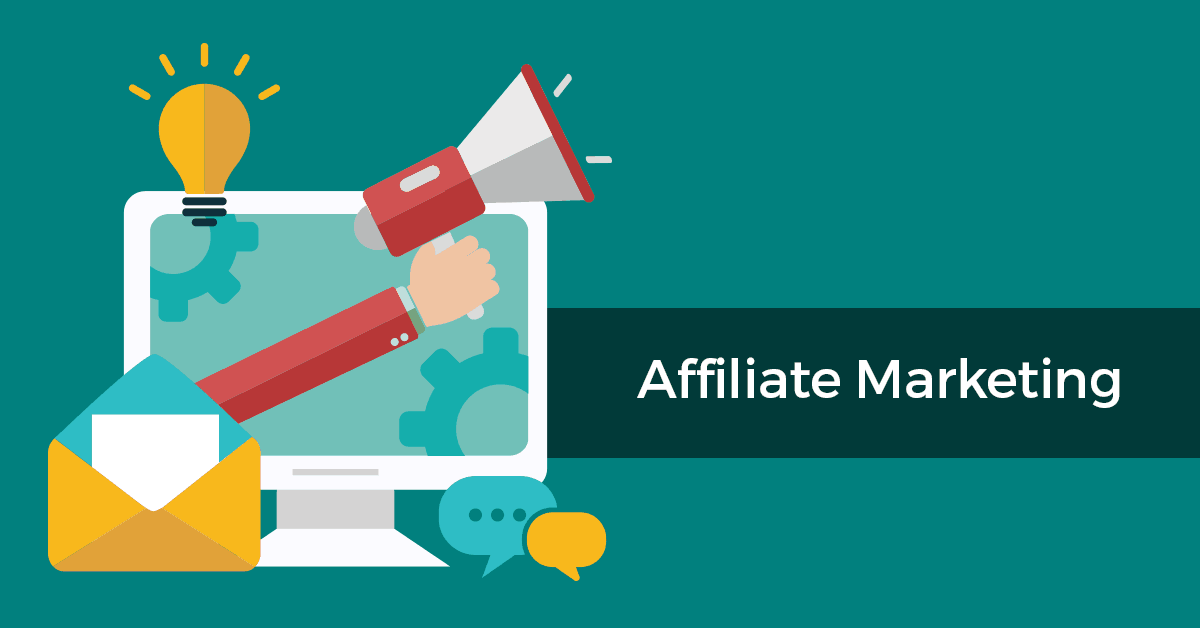 Hoe werkt affiliate marketing?
Er zijn bij affiliate marketing drie partijen betrokken: de affiliate, de merchant en het netwerk waarin je adverteert (affiliate network).
Wat is een affiliate?
De affiliate biedt het platform aan waarop de advertentie te zien zal zijn. De affiliate stuurt via een affiliate link op zijn website of in een e-mail de bezoeker naar de website van de verkoper. De bezoeker maakt een conversie op de website van de merchant waarna de affiliate een commissie krijgt. Deze commissie kan een vast bedrag zijn of een percentage van de verkoop of op product-, categorie-, of merkbasis.
Wat is een affiliate merchant?
De merchant is de persoon of het bedrijf waarvan de advertentie is die gepubliceerd wordt door de affiliate.
Wat is een affiliate netwerk?
Het affiliate netwerk brengt affiliates en merchants bij elkaar en biedt software aan die de conversies zal bijhouden. Het affiliate netwerk factureert de merchant en betaalt de affiliate voor de leads en verkopen en houdt zelf een stukje commissie voor het aanbieden van deze dienst.
Er zijn redelijk wat individuele affiliateprogramma's voorhanden waarbij de merchant zelf voor alles zorgt, waaronder het uitbetalen van de commissie. In WordPress zijn er verschillende soorten plugins die je eigen "affiliate netwerk" laat opzetten. De meest bekende en meest gebruikte bij WordPress is AffiliateWP. Het voordeel hierbij is dat je geen commissie moet betalen aan het affiliate netwerk maar daar staat het grote nadeel tegenover dat je zelf affiliates moet gaan zoeken.
Populairste affiliate netwerken:
Tradetracker
Awin (voorheen Zanox)
Affilinet
Daisycon
CJ Affiliate (voorheen Commission Junction)
ShareASale (deel van Awin)
Clickbank
Verdienmodellen
Er zijn verschillende manieren waarop je affiliates kunt uitbetalen of zelf als affiliate geld kunt verdienen.
CPL – Cost per Lead: Een lead kan elke soort conversie zijn met uitzondering van een rechtstreekse verkoop. De merchant verdient dus niet rechtstreeks aan deze conversie. De affiliate krijgt wel een vaste commissie in dit geval.
CPS – Cost per Sale: Wanneer er een verkoop plaatsvindt en er een betaling is, krijgt de affiliate een vaste commissie of een percentage op de verkoopswaarde. Dit percentage kan verschillen per product, categorie of merk.
PPC – Pay per click: Hier krijgt de affiliate een vast bedrag per klik naar de website van de merchant.
PPV – Pay per view: krijgt de affiliate een vast bedrag per keer dat de advertentie gezien is.
Affiliate link
De basis van affiliate marketing is de affiliate link. Via deze link wordt er informatie doorgegeven over kliks en sales. Dit geld zowel voor de affiliate als voor de merchant.
Tip: In WordPress kun je al je affiliate links managen via ThirstyAffiliates.
Affiliate marketing tips
Voor affiliates:
Test de producten of diensten waar je affiliate voor bent. Dit is handig om ze ook te kunnen aanprijzen.
Focus jezelf op een niche. Een website die op de ene pagina bodybuilding producten aanprijst en op de andere pagina huidproducten, komt niet geloofwaardig over.
Zoek uit wie je doelpubliek is.
Wees niet bang om aan marketing te doen. Je hebt affiliate verkeer nodig. Dit kan via SEO zijn door contentmarketing, Adwords of social media.
Volg de richtlijnen die de merchants opleggen. Meestal betekent dit om niet te adverteren op merknamen en spam e-mails te versturen.
Heb geduld. Affiliate marketing neemt zoals elke business de tijd om te groeien.
Heb een langetermijnvisie en blijf weg van grey en black hat praktijken (of word er ontzettend goed in).
Gebruik tracking software om te checken welke marketingkanalen rendabel zijn. Voluum is een gerenommeerd bedrijf binnen de affiliate community.
Voor merchants:
Hanteer een strikte policy van wat wel en niet mag. Affiliates dragen je merk naar buiten.
Werk met gereputeerde affiliate netwerken zoals degene die hierboven vermeld staan.
Neem de moeite om te zien wie elke individuele affiliate is, wat hij doet en hoe die het doet. Weiger ook affiliates indien nodig, zoals wanneer je voelt dat het geen match is.
Overweeg om niet aan ontdubbeling te doen. Met ontdubbeling zorg je ervoor dat enkel het laatste kanaal dat voor de conversie heeft gezorgd, de toewijzing (attributie) van de sale krijgt. Als de affiliate dus niet de laatste stap is, krijgt hij niet de sale. Wanneer je gebruik maakt van kwalitatieve affiliates, dan dragen zij bij tot de customer journey. Vergoed ze dus ook, net zoals je voor Adwords en Facebook betaalt.
Kosten affiliate marketing
Voor de affiliate zijn er geen opstartkosten. Je moet alleen een account aanmaken bij het affiliate netwerk. Ofwel word je bij aanmelding bij het netwerk gescreend ofwel op basis van de merchant bij wie je aan affiliate marketing wilt doen. Voor een merchant zijn er de opstartkosten bij het affiliate netwerk en de kosten van de commissies aan de affiliates.
Hulp nodig met AFFILIATE MARKETING voor je bedrijf?
Neem contact met ons op voor vrijblijvend advies!