Heel veel bedrijven hebben tegenwoordig wel een Facebook-pagina en gebruiken die om in contact te komen met huidige en nieuwe klanten. Kleinere bedrijven posten af en toe een update, in de hoop hun klanten te bereiken. En grotere bedrijven smijten er geld tegenaan en forceren hun zichtbaarheid op die manier. Maar er bestaat een gulden middenweg! Je Facebook pagina promoten zal in het begin wat meer tijd in beslag nemen, en daarna zal het veel vlotter en sneller verlopen. Zorg voor goede content en leer uit je statistieken en ondersteun de beste berichten met gerichte advertentiecampagnes.
Hulp nodig met FACEBOOK?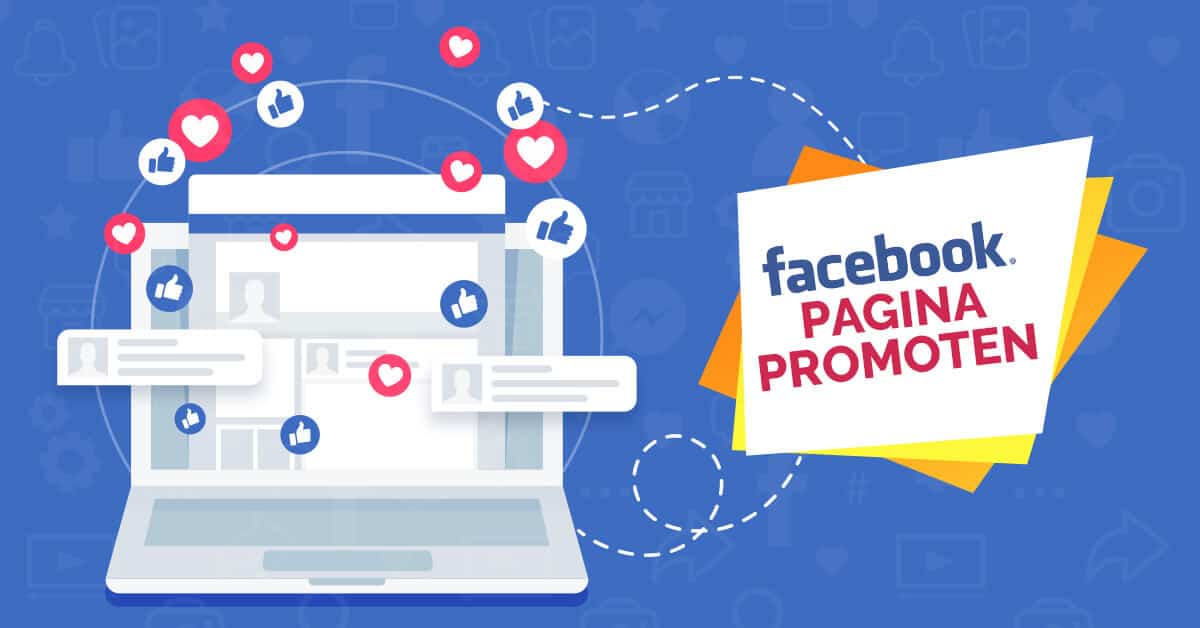 Facebook is een onmisbare marketing-tool
Wist jij dat slechts 53% van Belgische bedrijven een Facebook-pagina heeft? En dat terwijl 6,2 miljoen Belgen er een profiel heeft. En gemiddeld brengen zijn 20 minuten per dag door op het sociale netwerk! Wie zijn klanten eenvoudig wil bereiken, moet dus op Facebook zijn! Meer over waarom ook jouw bedrijf zou moeten inzetten op Facebook lees je hier: Voordelen van Facebook voor bedrijven. We hebben eerder ook al besproken hoe je een Facebook bedrijfspagina kan aanmaken: Hoe een Facebook bedrijfspagina aanmaken en verwijderen.
Natuurlijk kan je jouw Facebook pagina promoten en laten groeien met advertenties. Hoe dat allemaal in zijn werk gaat lees je hier: Adverteren op Facebook: waarom, hoe en kostprijs. Maar je kan ook op een organische manier je Facebook pagina promoten en uitbreiden. Het is belangrijk om je hierbij niet blind te staren op de Facebook-likes. Je moet naar interactie en engagement kijken. 10 fans die je berichten amper bekijken en er nooit op reageren zijn veel minder waard dan 1 fan die regelmatig een reactie plaatst en je berichten leuk vindt. Facebook zal jouw berichten namelijk minder laten zien aan die 10 fans, omdat ze er toch niet geïnteresseerd in lijken te zijn. Terwijl die ene fan ervoor zal zorgen dat jouw bericht ook onder zijn vrienden gedeeld wordt.
Je Facebook pagina promoten door interactie uit te lokken
Wil je graag in het algemeen weten wat en hoe je best post op Facebook? Dan nodig ik je uit dit artikel te lezen: Facebook marketing tips: wat en hoe posten. Hier gaan we ingaan op een aantal specifieke berichten die je kan gebruiken om interactie uit te lokken en meer actieve fans te krijgen, ofwel organische content marketing!
Productinformatie en updates
Of je doelpubliek nu bestaat uit huidige gebruikers, of als je Facebook voornamelijk gebruikt om nieuwe klanten te werven – productinformatie doet het altijd goed. Post regelmatig een bericht dat één functie of onderdeel van je product. Neem een klein aspect onder de loep en voorzie dit van duidelijke foto's. Updates van producten doen het ook altijd erg goed: nieuwe functies, een opfrissing van het design, een betere/krachtigere/snellere/… versie, … Dit is allemaal goede content voor je Facebookpagina.
Zet ook nieuwe producten in op social! Licht af en toe een tip van de sluier op van nieuwe producten die nog in ontwikkeling zijn. Deel bijvoorbeeld een foto van een brainstormsessie, onthul de naam of functie van het nieuwe product, toon hoe het ontwerpen van de verpakking in zijn werk gaat, … Zelfs als delen van het project geheim moeten worden, kan je toch een manier vinden om online buzz te creëren. Een eenvoudig bericht waarin je aftelt naar de lancering, bijvoorbeeld! Dit creëert verwachtingen en maakt je fans enthousiast. Je hoeft met je marketing niet te wachten tot na de lancering van je product.
Behind-the-scenes
Een ander soort bericht dat veel interactie teweeg brengt is om informatie van achter de schermen te delen. Dit toont de menselijke kant van je bedrijf en verhoogt vertrouwen bij de klant. Het is ook een ideale manier om te tonen dat de sfeer bij jullie echt wel goed zit, wat handig is voor potentiële nieuwe medewerkers! Als je focust op het menselijke aspect, deel dan bijvoorbeeld een foto van een teamlunch, stel nieuwe medewerkers voor, zet af en toe een medewerker in de kijker, … Je kan ook meer inzicht geven in hoe je bedrijf werkt door te focussen op de zakelijke kant: welke programma's en software jullie gebruiken, bepaalde processen uitleggen, foto's van de productieruimte, …
Stel een vraag
Als je vooral veel reacties wil ontvangen, dan is het een goed idee om een vraag te stellen aan je fans. Op een vraag als "wat vinden jullie het leukste aan onze producten", zal je waarschijnlijk enkel reactie krijgen van jullie brand ambassadeurs, en dat zijn sowieso al actieve fans. Zorg dat je vragen ook gericht zijn op minder fanatieke fans. Als je bijvoorbeeld een product (opnieuw) aan het ontwikkelen bent, kan je twee versies tonen en vragen welke versie jouw fans verkiezen, of laat ze zelf verbeteringen zoals bijvoorbeeld nieuwe kleuren voorstellen. Hoe jouw fans het product gebruiken, welke uitdagingen (gerelateerd aan jouw sector) zij tegenkomen, wanneer ze jouw product het vaakst gebruiken, … dat zijn allemaal vragen die zowel door fanatieke als minder fanatieke fans beantwoord kunnen worden.
Raadsels
Hierboven hebben we al beschreven hoe je jouw Facebook pagian promoten kan met vragen diee interactie op jouw pagina stimuleren. Ook raadseltjes zijn een handige manier om reacties en vind-ik-leuks te genereren. Dit kunnen algemene rebussen zijn, zinnetjes die je vertaald hebt in emoji, product-specifieke weetjes, … Je kan vast wel wat leuke raadsels bedenken! Een voorbeeld:

Video is koning
En laten we natuurlijk video niet vergeten! Het wordt al een aantal jaren verkondigd door online marketing goeroes: onderschat het belang van video niet! Bewegende beelden trekken de aandacht van klanten en bezoekers sneller en dat hebben sociale netwerken ook begrepen. Facebook boost video's en zal die sneller gaan verspreiden dan een bericht met een foto en een link. Een tip: laad je video rechtstreeks op in Facebook, dan geeft het algoritme jouw bericht nog een extra boost. Facebook is minder blij met video's die je vanuit YouTube deelt en ondersteunt native video beter.
Pro-tip: Facebook Live doet het zelfs nog beter! Ben je dus bijvoorbeeld op een evenement of wil je een aankondiging doen, deel dit dan via live video op Facebook. Je fans zullen een melding krijgen dat jij live gaat, en ook achteraf blijft deze video in hun tijdslijn verschijnen.
Frequentie en tijdstip van berichten
Je Facebook pagina promoten zonder geld uit te geven betekent niet dat je meerdere berichten per dag op je Facebook-pagina moet gaan publiceren. Wat wel belangrijk is, is dat je frequentie consistent is. Of dat nu één keer per week of één keer per dag is! Zorg dat je even frequent en ongeveer op hetzelfde moment van de dag je bericht publiceert, zodat fans weten wanneer ze van jou een bericht mogen verwachten.
Er is veel discussie over wanneer je het best post op Facebook. Dat hangt af van het land, jouw sector, je bestaande fans, en nog zoveel meer. Onderzoek van Sprout Social wijst uit dat dit, over het algemeen, de beste momenten zijn: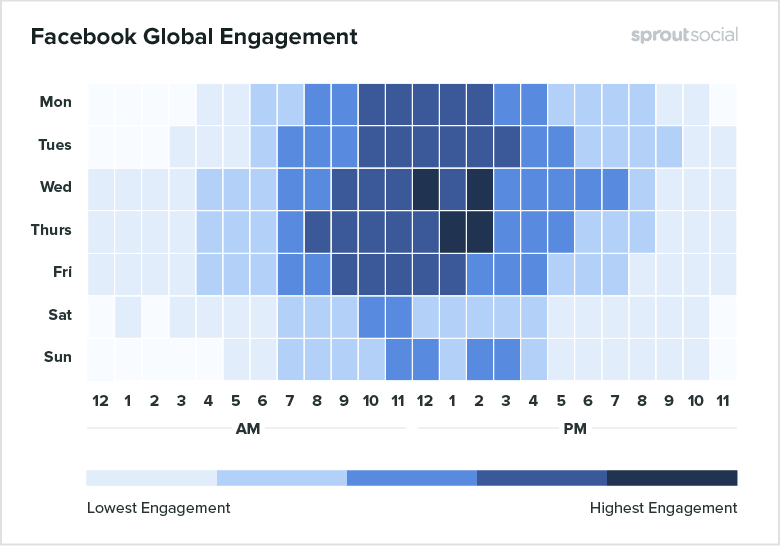 Neem dit niet zomaar over, maar test het op je eigen pagina uit! Woensdagmiddag en donderdag net na de middag zijn wereldwijd de beste momenten. Maar als jij op vrijdagochtend veel meer reacties krijgt, volg dan jouw eigen bevindingen! In je Facebook Insights > Posts kan je trouwens ook bekijken wanneer jouw fans online zijn!
Verzamel je trouwste fans in een gesloten Facebook groep
Facebook's missie is om mensen met elkaar in contact te brengen. Je Facebook pagina promoten kan je ook met behulp van Facebook groepen. Nodig je trouwste fans en brand ambassadeurs uit in een gesloten Facebook-groep. Zo sta je in rechtstreeks contact met je topklanten. Zowel voor hen als voor jou heeft dit voordelen! Je kan je fans in zo'n groep belonen met exclusieve foto's, weetjes, updates maar ook kortingen en promotiemateriaal. Plus, ze zullen zich vast ook vereerd voelen dat zij speciaal door jouw bedrijf uitgekozen werden om deel uit te maken van dit selecte groepje fans. En jij kan hen ook om hulp en advies vragen over nieuwe ontwikkelingen, manieren om je producten te promoten, testimonials, … Win-win!
Schakel je werknemers in
Je kan werknemers natuurlijk niet verplichten om jouw pagina leuk te vinden. Je mag ze ook niet verplichten om berichten te delen of reacties na te laten. Maar dat wil niet zeggen dat je helemaal niets mag vragen aan je werknemers. Je mag ze er namelijk wel op wijzen dat jullie een actieve Facebook-pagina hebben. Hen af en toe een e-mail sturen met een Facebook-bericht dat het erg goed doet en zo je Facebook pagian promoten, kan ook geen kwaad. Het staat hen dan vrij om je berichten al dan niet te delen met hun vrienden.
En waarom zou jij je werknemers niet vragen om mee te werken aan je Facebook-pagina? Vraag hen of zij ideeën hebben voor inhoud die gedeeld kan worden, om af en toe een foto te nemen van iets waar ze aan het werken zijn, om interessante links met jullie te delen, … Op die manier krijg je een heleboel input van mensen die jouw product en jouw klanten goed kennen! Zo wordt jouw Facebook pagina promoten iets waar heel het bedrijf zich voor inzet. En dat kan alleen maar in je voordeel werken. Vraag bijvoorbeeld aan je sales-afdeling en de klantendienst om positieve reacties van klanten bij te houden en om veelgestelde vragen te verzamelen. Dat is een ideale basis voor relevante content, want het komt vanuit jouw doelpubliek!
Leer uit je verleden
Een voor de hand liggende en erg belangrijke tip: bekijk jouw Facebook-statistieken. Daar zal je erg duidelijk kunnen zien welke berichten goed presteren en veel reacties teweeg brengen. Als je merkt dat een bepaald soort bericht niet gewaardeerd wordt door je fans, dan hoef je daar ook geen tijd meer in te steken. Leer uit je statistieken wat er wel en niet werkt, en ga daar verder op door. Zo maak je jouw Facebook pagina promoten gemakkelijker en efficiënter.
Hoe vind je die informatie? Ga naar je pagina en klik op Insights. Selecteer dan Posts in de linkerkolom. Daar krijg je een overzicht van alle berichten, met het aantal vind-ik-leuks, reacties en hoe vaak het gedeeld is.
Facebook wedstrijden
En natuurlijk mogen ook wedstrijden niet onderbreken op dit lijstje. Wedstrijden zijn erg populair en zorgen ook voor veel interactie. Elke dag kom je wel wedstrijden tegen op Facebook. "Tag je vrienden en win", "Like en win", "De foto met de meeste likes wint", en ga zo maar verder. Vooral je Facebook pagina promoten met Like, Share & Win wedstrijden is de laatste tijd erg populair. Maar die wedstrijden zijn tegen de regels van Facebook! Als Facebook je betrapt, kunnen ze je pagina tijdelijk blokkeren of zelfs volledig offline gooien.
DO:
Een bericht/foto leuk vinden
Een reactie achterlaten
Privé-bericht sturen
Vergeet het wedstrijdreglement niet (en vermeld daarin dat Facebook niet aansprakelijk is voor de wedstrijd)
DON'T:
Een bericht delen
Taggen in een foto waar ze zelf niet opstaan
Iets posten op een persoonlijk profiel
De winnaar taggen op je pagina (zijn naam vermelden mag wel)
Maar je moet niet alleen de regels van Facebook respecteren, de Belgische wetgeving heeft hier wat over te zeggen. Wat vooral belangrijk is, is dat je geen loterij mag organiseren. Dus vragen om een bericht leuk te vinden, en daar dan willekeurig een winnaar uit kiezen – dat is niet toegestaan. Er moet altijd een reden zijn waarom je een specifieke persoon aanduidt als winnaar. Je Facebook pagina promoten mag wel met deze voorbeelden:
De origineelste reactie
Foto/reactie met de meeste vind-ik-leuks
Caption-wedstrijd: verzin de leukste titel voor deze foto
De eerste X mensen die juist antwoorden winnen
Of nog eenvoudiger: voeg een schiftingsvraag toe aan je wedstrijd (aantal bezoekers, hoeveel deelnemers, …) en de winnaar is degene die er het dichtste bij zit. Let wel op dat je schiftingsvraag duidelijk is: niet zomaar vragen hoeveel deelnemers de wedstrijd zal hebben, maar hoeveel deelnemers ze op een specifiek tijdstip zullen hebben.
Een laatste tip: er bestaan verschillende apps om wedstrijden binnen Facebook te organiseren. Je Facebook pagina promoten met wedstrijden wordt zo gemakkelijker, en dan ben je zeker dat alles volgens de regels verloopt. Enkele voorbeelden: de officiële Facebook Contest tool, Pagemodo en Woobox.
Je pagina buiten Facebook promoten
E-mail
Zorg ervoor dat er in al je nieuwsbrieven een link zit naar je Facebook-pagina. Daarnaast kan je ook aan al je medewerkers vragen om je pagina op te nemen in hun e-mail handtekening.
Website
Vergeet ook zeker niet om link naar je sociale netwerken op je website te plaatsen. En heb je een blog? Zorg er dan voor dat die eenvoudig gedeeld kan worden op sociale media. Dat houdt in dat je deel-knoppen plaatst bij elk bericht, maar ook dat je de metadata voor sociale media goed aanvult (titel van je bericht, korte beschrijving, juiste foto's) zodat jij meer controle hebt over hoe je berichten gedeeld worden.
Wat je niet mag doen
Wie snel zijn pagina wil laten groeien, kan al eens in de verleiding komen om fans of vind-ik-leuks te kopen. Voor niet veel geld kan je heel snel duizenden fans toevoegen aan je pagina of bepaalde berichten laten leuk vinden. Maar dat is geen goed idee!
Facebook weet dat dit gebeurt, en keurt deze praktijk absoluut niet goed. Meer nog, als ze jou ervan verdenken, zal je pagina hierop afgestraft worden. Facebook verwijdert sowieso regelmatig inactieve profielen en ook fans die niet interageren met je pagina zullen verwijderd worden. Als ze bewijs vinden dat je fans hebt gekocht, zal je pagina ook meteen zonder pardon verwijderd worden.
Maar dat Facebook je hierop straft, is niet de enige reden waarom dit een slecht idee is. Je zit namelijk geld uit te geven aan profielen waar vaak geen echte mensen achter zitten, en zelfs als het wel echte profielen zijn, hebben die mensen geen interesse in jouw producten. Je advertenties en berichten zullen op die manier gepusht worden naar Facebook-gebruikers die niet in jouw bedrijf geïnteresseerd zijn en dan ben je investeer je geld en tijd voor niets. Het is beter om je Facebook-pagina te promoten bij mensen die ook effectief geïnteresseerd zijn in wat jij te bieden hebt. Daarom herhalen we het als afsluiter nog een keer: staar je niet blind op die cijfers, kwaliteit boven kwantiteit! Evalueer de band die je opbouwt met huidige en nieuwe klanten. Dat is waar Facebook voor dient!
Hulp nodig met WORDPRESS voor je bedrijf?
Neem contact met ons op voor vrijblijvend advies!