De tijd dat B2B bedrijven genoeg hadden aan offline marketing en mond-aan-mond reclame is ook voorbij. Een advertentie in een vaktijdschrift heeft inderdaad effect, maar als je dat koppelt aan online advertenties op vakwebsites en een betrouwbare online aanwezigheid, dan is het effect nog veel groter. B2B marketing vindt dus ook steeds meer online plaats, en dat heeft veel voordelen!
Hulp nodig met ONLINE B2B MARKETING?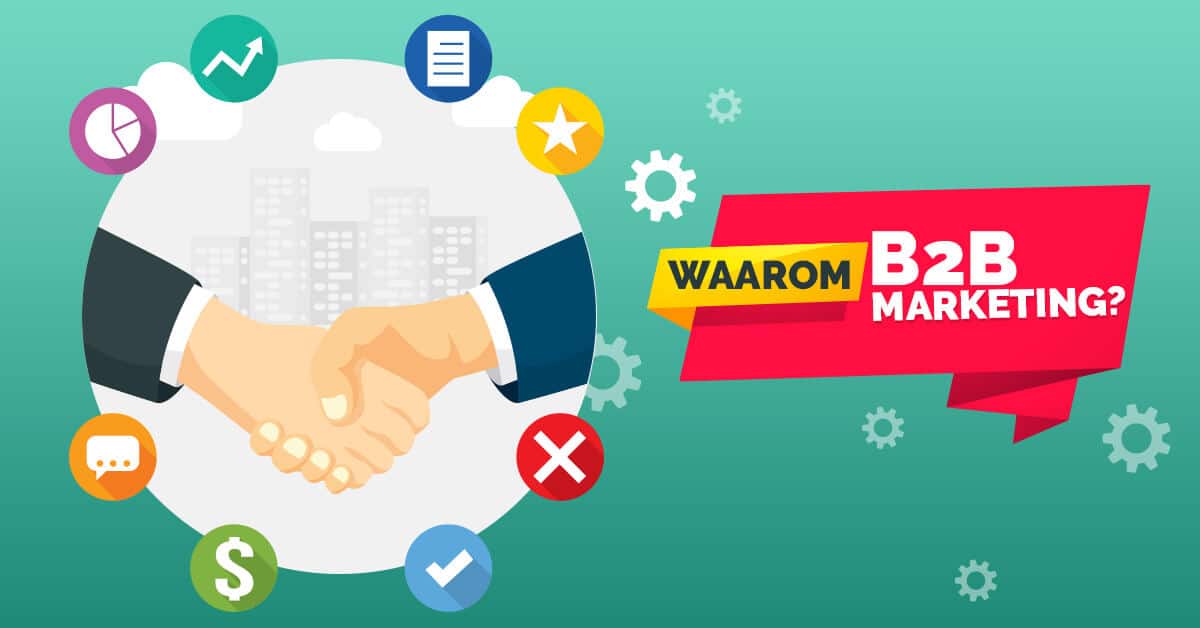 Bovendien is de kans groot dat ook jouw concurrentie online aanwezig is. Internationaal onderzoek van Forrester en Salesforce toont bijvoorbeeld aan dat 96% van B2B bedrijven zich ook via internet richt naar potentiële klanten. En de Belgische KMO's zitten daar nog met een achterstand in vergelijking met andere Europese landen. Voor veel KMO's is online B2B marketing een uitdaging omdat ze niet beschikken over de kennis om een online strategie op te zetten en uit te voeren. Doe daarom beroep op een online marketingbureau zoals SmartData. En wacht niet te lang, want uit onderzoek blijkt ook dat 45% van de Belgische KMO's in de komende 5 jaren zwaar zal gaan investeren in hun online marketingstrategie.
Je online aanwezigheid
Voordat iemand beslist om een product of dienst te kopen, gaan ze eerst online op zoek. Ze zoeken informatie op, vergelijken aanbiedingen en kiezen zo het beste bedrijf om hen te helpen. Jouw online aanwezigheid is dus belangrijk bij het overtuigen van nieuwe klanten. Ze moeten je natuurlijk weten te vinden! En aangezien voor vele consumenten het internet nu hun eerste informatiebron is, moet je daar voldoende aanwezig zijn.
Website
Een mooie website trekt niet alleen de aandacht, het is ook getuige van professionaliteit. Wij raden WordPress daarvoor aan: de mogelijkheden zijn eindeloos en het is een gebruiksvriendelijke, eenvoudige manier om ook achteraf je website te blijven onderhouden. Dankzij SEO (zoekmachine optimalisatie) kan je er daarna voor zorgen dat jouw website goed gevonden wordt. Daarnaast mag zeker SEA ook niet ontbreken in jouw online marketingstrategie. SEA staat voor Search Engine Advertising, adverteren in zoekmachines dus. Door in te zetten op de juiste zoekwoorden, vergroot je jouw zichtbaarheid in Google meteen.
Sociale media
Om in contact te blijven met je klanten raden we ook aan dat je aanwezig bent op sociale media, Facebook in eerste instantie. Je kan hier eenvoudig nieuws en updates delen, of zelfs nog een stap verder te gaan en sociale media gebruiken als een extra klantendienst. Bovendien zullen klanten ook hun positieve ervaringen met jou hier delen en kan jij deze ambassadeurs inzetten om hun netwerk verder te beïnvloeden.
B2B marketing: Think local, act global
Traditionele (offline) marketing kent zijn grenzen – zowel letterlijk al figuurlijk. Eén van de grootste voordelen van online marketing is dan ook dat je potentiële doelpubliek zoveel groter is. De leuze van online marketing liegt er dan ook niet om: think local, act global. Wat lokaal werkt, zal ook globaal werken. Vergeet daarbij wel niet om je marketing lichtjes te lokaliseren. Denk bijvoorbeeld al aan de verschillen tussen Vlaanderen en Nederland. In Nederland staan ze al verder in online marketing en gebruikt bijvoorbeeld 86% van de bedrijven sociale media – waar dat in België maar 54% is. Vlamingen zijn namelijk iets terughoudender in het adopteren van nieuwe technologieën en verkoopkanalen dan Nederlanders.
Je online marketingstrategie lokaliseren voor verschillende regio's/landen, kan op twee manieren: marktonderzoek of een lokale expert inschakelen. Dat marktonderzoek kan gaan van een ondervraging bij je huidige klanten tot een diepgaand onderzoek naar de consument en de markt – inclusief de concurrentie. Het kan ook eenvoudiger door een lokale marketingexpert in te schakelen en te vertrouwen op zijn kennis van de lokale doelgroepen.
Doelgroepen
Je kan met online marketing dus een veel groter potentieel publiek bereiken. Een tweede voordeel van B2B marketing online is bovendien dat je ook veel beter kan onderverdelen en personaliseren. Een advertentie in een tijdschrift bereikt alle lezers. In een vaktijdschrift bereik je al minder mensen, maar wel meer jouw doelpubliek dan in een algemeen tijdschrift. Met online marketing kan je hier nog veel verder in gaan. Je kan jouw potentiële klanten op elk moment in de customer journey en hen altijd een aangepaste boodschap bezorgen. Je kan die boodschap ook personaliseren waar nodig (man/vrouw, jong/oud, taal, woonplaats, …). Zo voelt je doelgroep zich sneller aangesproken door jouw boodschap en zal je advertentie meer effect hebben.
Meetbare resultaten
Nog een voordeel van B2B marketing online is dat je resultaten heel erg meetbaar zijn. Waar je vroeger een advertentie publiceerde in een tijdschrift en hoopte op het beste, kan je nu jouw resultaten in real-time bijhouden en op basis daarvan je advertentie optimaliseren. Zo worden jouw advertenties efficiënter, goedkoper en nog meer personaliseerbaar! Een tool zoals Google Analytics is daar perfect voor!
Natuurlijk moet je dan wel eerst je doelen voor bepalen. Die worden daarna vertaald in Key Performance Indicators of KPI's. Een voorbeeld: je maakt twee B2B marketing campagnes. Met de eerste campagne wil je een nieuw product aanprijzen met als uiteindelijk doel om te verkopen. In dat geval zijn het aantal kliks en het aantal verkopen belangrijk. In een tweede campagne wil je graag een nieuwe collega in de kijker zetten. Dat doe je om te tonen dat het goed gaat met je bedrijf en dat jullie aan het groeien zijn. Deze collega is toevallig ook een echte expert, en dat vermeld je om het vertrouwen in je bedrijf te vergroten. Hierbij is het dan belangrijk dat zoveel mogelijk mensen je bericht gezien hebben. Je kan ook meten hoe interessant mensen dit nieuws vinden aan de hand van bijvoorbeeld het aantal likes op Facebook.
KPI's
Afhankelijk van welk kanaal je gebruikt voor je online campagnes en hoe die B2B marketing eruit ziet, zijn er heel wat verschillende KPI's. Hier sommen we de belangrijkste op:
Kliks
Pagina weergaves
Aantal inschrijven (op je nieuwsbrief of voor je evenement)
Aantal offerteaanvragen
Aankoop van product of dienst
Mensen die contact met je opnemen
Aantal ingeplande afspraken
Aantal likes, shares, reacties, … op sociale media
Ready? Set. Go!
Ben jij klaar om jouw bedrijf online te lanceren en in te zetten op online B2B marketing? Bij SmartData opteren we voor een multichannel strategie. Zorgen dat jij overal aanwezig bent waar je klanten zich begeven door gebruik te maken van verschillende marketingkanalen, dat is ons doel! Dat doel bereiken we door te testen, te meten en te optimaliseren. Contacteer ons gerust voor meer informatie!
Hulp nodig met ONLINE MARKETING voor je bedrijf?
Neem contact met ons op voor vrijblijvend advies!