Waarom WordPress? Het is het meest gebruikte Content Management Systeem (CMS) ter wereld: volgens hun eigen website is 30% van het internet erop gebouwd, andere bronnen spreken van zelfs meer dan 50%. Met dit CMS bouw en beheer je eenvoudig websites, webshops en blogs. Hier geven we je een antwoord op de volgende vragen: Wat is WordPress? Hoe werkt WordPress? Waarom WordPress gebruiken?
Wat is WordPress?
WordPress is dus een CMS om eenvoudig en zonder technische kennis aan jouw website te werken. Maar wat is WordPress juist? Hoe bouw je er websites mee? Wel, het werkt met thema's, plugins en widgets:
Thema's zijn voorgeprogrammeerde designs om je website vorm te geven. Web en graphic designers hebben honderden templates uitgewerkt met verschillende lay-out, kleuren, vormgeving, structuur, lettertype, … Kies uit welk thema jij mooi vindt en personaliseer indien nodig voor jouw website.
Een plugin is extra software die je toevoegt aan je website om meer functionaliteit toe te voegen. Ze zijn geprogrammeerd door ontwikkelaars en kunnen zowel gratis als betalend zijn. Met de meer dan 20.000 plugins kan je bestaande functionaliteiten verbeteren of uitbreiden, of nieuwe functionaliteiten toevoegen.
Widgets zijn vergelijkbaar met plugins: het zijn ook stukjes code maar deze worden altijd op een specifieke plaats op je website geplaatst. Ze hebben altijd een specifieke functie en kunnen snel en eenvoudig geïnstalleerd worden.
Nu heb je een antwoord op de vraag "Wat is WordPress". Wil je meer weten over de plugins? Dan verwijzen we je graag door naar ons artikel over de Beste WordPress plugins.
Hulp nodig met WordPress?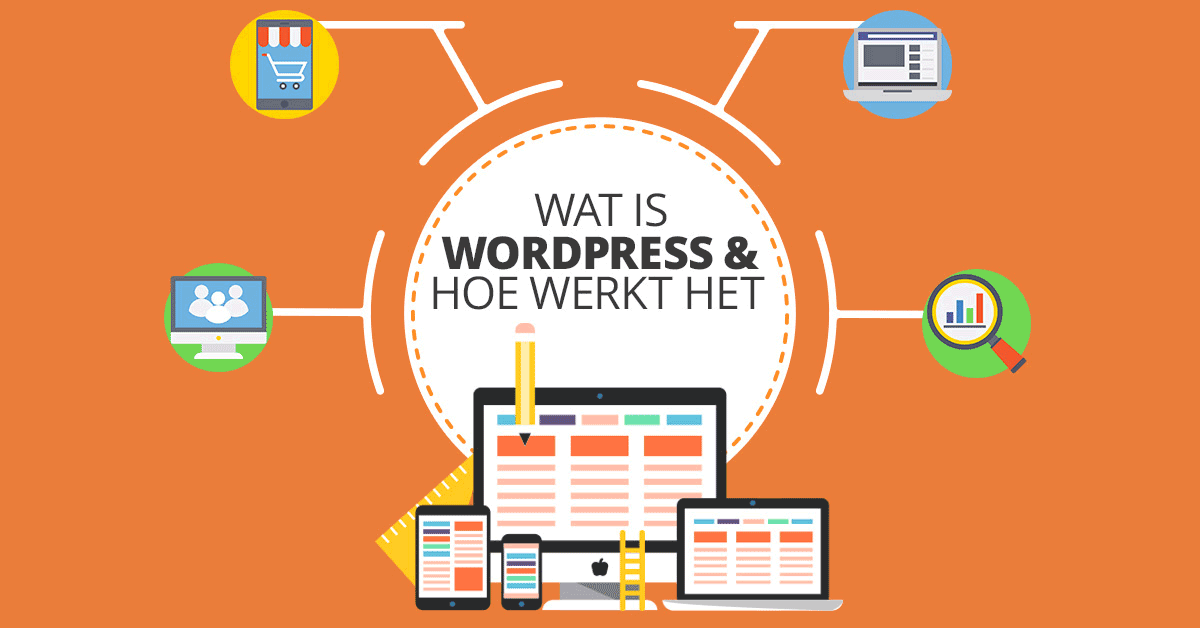 Hoe werkt WordPress?
Nu je weet wat WordPress is gaan we verder met de volgende vraag: Hoe werkt WordPress? Er zijn vier belangrijke aspecten:
1. Domeinnaam
Elke website begint natuurlijk met de domeinnaam. In de gratis versie van WordPress zal die altijd eindigen op ".wordpress.com". Bij de betalende versies kan je kiezen voor een aangepast domein of je bestaande domeinnaam koppelen. Je kan nu ook al meteen aangeven waar je website over zal gaan, om later beter gevonden te worden in Google.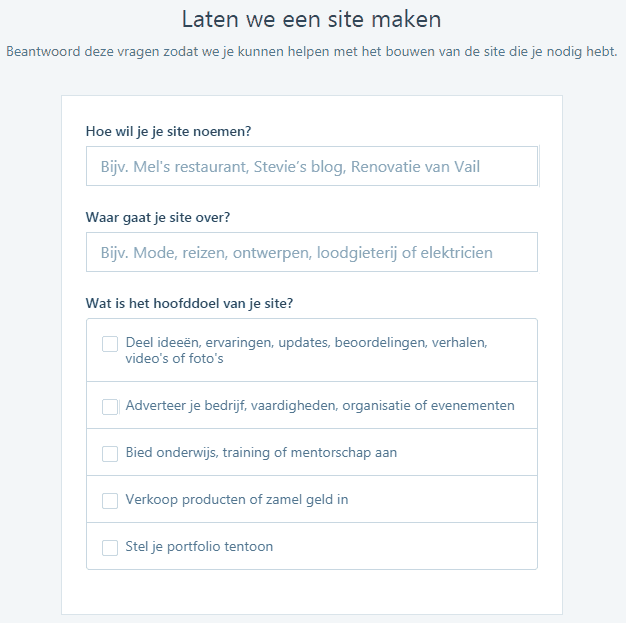 2. Thema
Hoe werkt WordPress? Met thema's voor je lay-out! Nu is het tijd om zo'n thema uit te kiezen voor je website. Eerst krijg je enkele standaardthema's voorgschoteld. Geen zorgen, zodra je bent aangemeld, heb je de keuze uit honderden thema's die je nog kan personaliseren.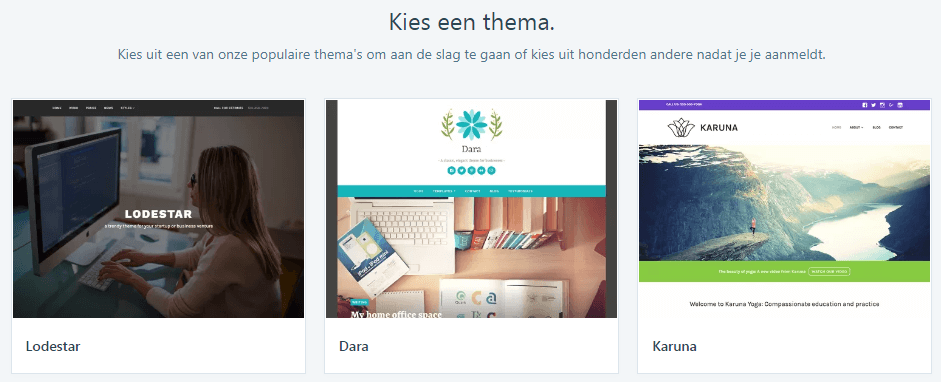 3. Hosting
We kunnen "Wat is WordPress" niet beantwoorden zonder het over hosting te hebben. Je hebt twee opties: bij WordPress.com wordt je website gehost via WordPress zelf. Opteer je voor WordPress.org, dan ben je zelf verantwoordelijk voor de hosting. WordPress.com heeft als voordeel dat WordPress zelf alles regelt. Je moet niets zelf installeren, je kan meteen aan je website beginnen bouwen. Je krijgt toegang tot honderden thema's, plugins en widgets en je krijgt support van experts. Bij WordPress.org daarentegen, heb je iets meer voorbereiding voor je aan het echte werk kan beginnen. Je moet eerst een hosting provider uitkiezen en daarna pas je website beginnen bouwen. Wil jij meer informatie? Hoe werkt WordPress hosting? Lees hier over de Beste WordPress hosting om hoog te scoren in Google.
4. Prijs
De gratis versie van WordPress.com komt altijd met een ".wordpress.com" domeinnaam en beperkte thema's en plugins om uit te kiezen. Het Personal, Premium en Business plan verschillen op gebied van personalisatiemogelijkheden, opslagruimte, video-ondersteuning, of je geld kan verdienen met je website, en het aantal plugins en widgets dat je kan installeren.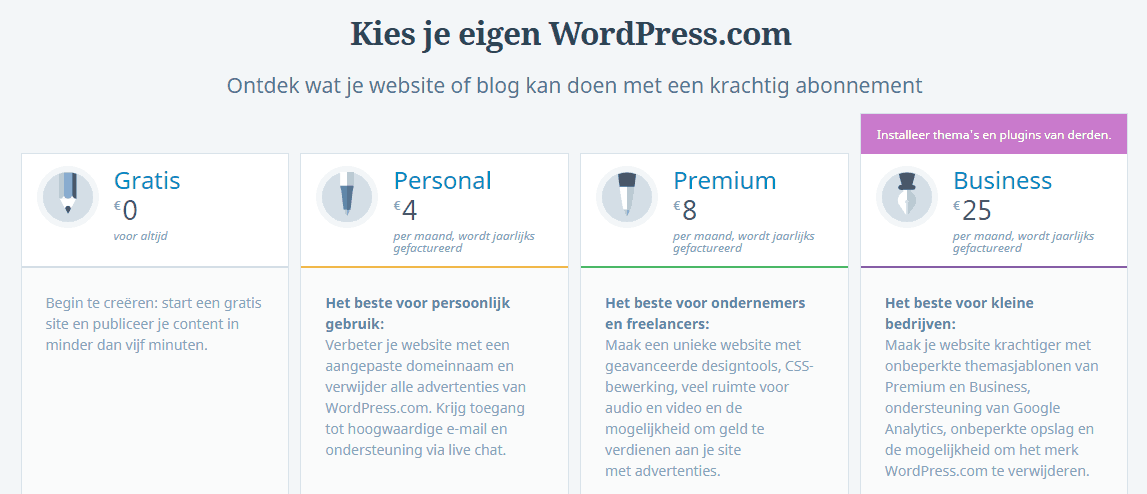 Bij WordPress.org werkt het allemaal een beetje anders. Je kiest er dan voor om te werken met de open source software van WordPress. Dat wil zeggen dat je de basis software van het CMS gratis kunt downloaden om je website te bouwen. Je moet natuurlijk wel voor je hosting betalen! Thema's en plugins moet je daarnaast nog apart downloaden en installeren. Dat is niet zo ingewikkeld en we helpen je hier graag bij: Hoe een WordPress plugin installeren en waar je op moet letten.
En nu ben je eigenlijk al klaar om je website te beginnen bouwen. Hoe je dat doet, leer je hier: WordPress website maken: handleiding & waar op te letten. Voor meer informatie kan je ook in onze uitgebreide cursus terecht: WordPress Cursus – Bouw en onderhoud je eigen WordPress website.
Waarom WordPress gebruiken?
Natuurlijk bestaan er verschillende manieren om websites te bouwen. Dus waarom WordPress? Het is een heel erg groot en utigebreid CMS, één van de meest ontwikkelde ter wereld. Dat komt niet alleen door het aantal gebruikers en websites, maar ook door de grote hoeveelheid ontwikkelaars en developers die met WordPress werken. Zij blijven nieuwe functionaliteiten en ontwikkelingen uitvinden om jouw website te verbeteren. Daarnaast verbeteren ze constant de security van het platform.
Maar dat is niet alles! WordPress is namelijk ook ontwikkeld met Google in  het achterhoofd. Het CMS maakt het je erg gemakkelijk om je pagina's zo op te bouwen dat de zoekmachine ze aan de juiste mensen kan tonen. Meer informatie daarover vind je terug in onze Ultieme WordPress SEO Handleiding.
En een laatste antwoord op de vraag "Waarom WordPress" is dat dit CMS responsief is. We surfen namelijk steeds vaker via onze smartphone of tablet, dus is het belangrijk dat onze websites ook aangepast zijn aan deze kleinere, mobiele schermen. Kies voor een responsief thema, en jouw WordPress website is meteen automatisch aangepast aan alle schermen.
Hulp nodig met WordPress voor je bedrijf?
Neem contact met ons op voor vrijblijvend advies!