Zoals besproken in een eerder artikel "WordPress plugin installeren" is de impact van een plugin op de performantie van je website belangrijker dan de functies die een plugin te bieden heeft. Hieronder vindt je de beste WordPress plugins in één lijst.
Hulp nodig met WORDPRESS?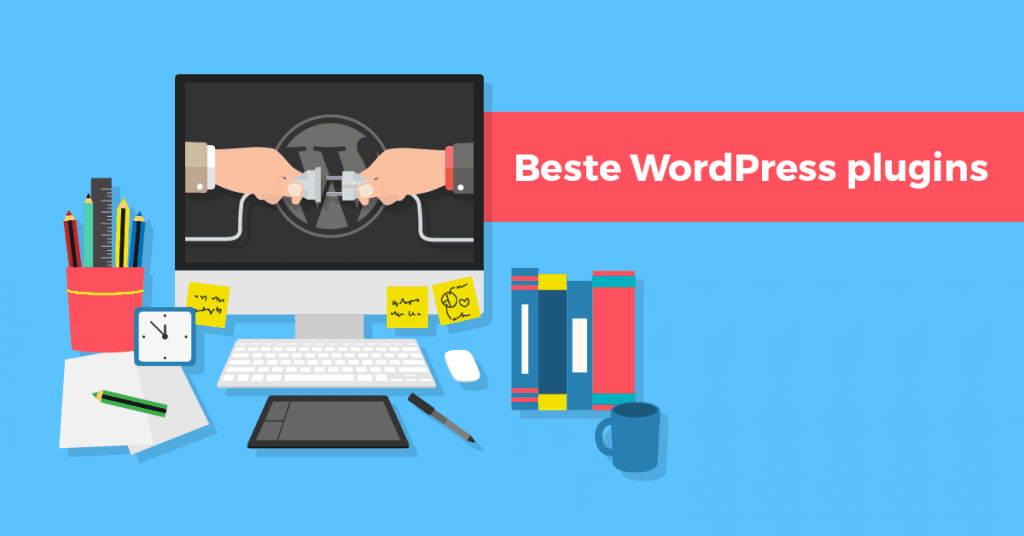 Beste WordPress plugins voor SEO
SEO (Search Engine Optimization) of zoekmachine optimalisatie is belangrijk voor de vindbaarheid van je website via Google. Hieronder vind je 4 van de beste WordPress plugins voor SEO.
Yoast SEO
Meer dan 1 miljoen installatie liegen er niet om: Yoast SEO is stelselmatig de beste SEO plugin voor WordPress. Deze plugin is gebouwd rond SEO site reviews en biedt bijna alles wat je nodig hebt voor zoekmachine optimalisatie. Voordelen:
Meer bezoekers via Google
Meer bezoekers via sociale media
Verhoog het engagement van je bezoekers
Wp Rocket
WordPress SEO is niet volledig zonder een plugin zoals WP Rocket om je website te versnellen. Deze plugin doet dat aan de hand van caching: je webpagina's worden opgeslagen door Google. Op die manier worden ze sneller geladen en getoond aan bezoekers.
Compress JPEG & PNG images
Compress JPEG & PNG images is een van de beste WordPress plugins om afbeeldingen te comprimeren zonder kwaliteitsverlies.
Image compression zorgt ervoor dat dat de afbeelding (in bytes) kleiner wordt dan de originele afbeelding. Daardoor wordt de bestandsafmeting van een webpagina kleiner wordt en duurt het minder lang om de pagina te laden.
Deze plugin heeft een limiet van 500 uploads per maand. Wie meer dan 500 afbeeldingen wil uploaden, kan ook betalen per afbeelding. Deze plugin doet het veel beter dan alternatieven zoals Wp smush en EWWW. Die laatste twee bieden dezelfde resultaten, maar Wp smush heeft een uploadlimiet van 1mB.
We hebben EWWW en Compress JPG & PNG images met elkaar vergeleken met twee willekeurige afbeeldingen. Een eerste jpgfbeelding van 4.679 kB en een tweede png-afbeelding van 4.282kB. Beide afbeeldingen hebben we door de twee comprimeerprogramma's gehaald en dit zijn de resultaten:
| | | |
| --- | --- | --- |
| | Afbeelding 1: jpg | Afbeelding 2: png |
| Origineel | 4.679 kB | 4.282 kB |
| EWWW | 4.428 kB | 4.230 kB |
| Compress JPG & PNG images | 1.532 kB | 746 kB |
Cookie Notice by dFactory
Als je cookies gebruikt op je website zoals Google Analytics of AdWOrds, dan moet je dat aan je bezoekers laten weten volgens de GDPR-richtlijnen. Een eenvoudige manier om dat te doen is met de Cookie Notice by dFactory plugin. De plugin is 100% GDPR conform en de cookie melding is volledig aanpasbaar. Gebruikers worden naar een aparte pagina doorverwezen met de volledige cookie informatie en je kan die ook syncroniseren met je WordPress Privacy Policy.
Tools
De WordPress Repository puilt ook uit van de interessante tools en hulpmiddelen voor je website. Hieronder hebben wij onze 5 favoriete tools opgesomd.
BackWPup
Je steekt bloed zweet en tranen in je website en plots gaat er iets mis. Zonder back-up zal je dan helemaal opnieuw moeten beginnen. Gelukkig bestaan er tools voor om dat te verhinderen! Met BackWPup kan je back-ups nemen op je server of ze lokaal bewaren. Het is een gratis tool – je betaalt enkel als je een automatische offsite back-up wilt naar Google Drive of Dropbox bijvoorbeeld.
P3 (Plugin Performance Profiler)
De P3 Plugin Performance Profiler test de laadsnelheid van de plugins die je gebruikt. Waarom die laadsnelheid belangrijk is en hoe je die kan testen voor je volledige WordPress website vind je hier: Snelheid website testen doe je met deze tools.
Redirection
Redirection is de populairste tool om pagina's door te verwijzen in WordPress. Je kan niet alleen 301 redirections maken, maar ook 404 errors bijhouden om je ranking te verbeteren en gebroken links te vermijden. Wil je weten hoe zo'n 301 redirect werkt en hoe je die kan maken? WordPress redirect maken met een plugin doe je op deze manier! Meer informatie over 404 errors vind je in dit artikel: HTTP error 404 oplossen en vermijden.
Nofollow for external link
Een nofollow is een metatag die je bij een URL plaatst om aan te geven dat zoekmachines zoals Google deze link niet hoeven te volgen. Deze tags wordt gebruikt wanneer je geen controle hebt over de pagina waarnaar gelinkt wordt, vooral bij externe links dus. Met de Nofollow for external link plugin kan je instellen dat externe links nofollow zijn, zonder dat jij iets in HTML moet aanpassen. Meer over WordPress nofollow vind je hier.
Google Analytics
Een van de krachtigste tools voor je website is Google Analytics. Deze plugin maakt het mogelijk om Google Analytics eenvoudig te koppelen aan je WordPress website. Installeer de plugin om in Analytics bij te houden hoeveel bezoekers jouw website heeft, hoe lang ze blijven, vanwaar ze komen, hoeveel pagina's ze bezoeken, en nog veel meer. Weet je niet hoe je aan Google Analytics kan beginnen? Lees dan onze Google Analytics Handleiding: Praktisch aan de slag van opzet tot analyse.
Veiligheid
WordPress websites zijn op zich al veilig, maar het kan natuurlijk nooit kwaad om de veiligheid van je website nog te versterken. Daarom bespreken we hieronder een tool die je website een stuk veiliger maakt zonder je laadtijd negatief te beïnvloeden.
Wordfence Security
Wordfence Security is een van de beste WordPress plugins op gebied van website beveiliging. Het bevat een firewall en malware scanner die speciaal voor WordPress gebouwd werden. Het beveiligt niet alleen al het verkeer op jouw website, maar controleert regelmatig ook de veiligheid van je content, afbeeldingen, plugins, thema's en meer. Het grote voordeel? Bots worden tegengehouden nog voor ze je website bereiken!
Functionaliteit
Plugins dienen natuurlijk om de functionaliteiten van je website uit te breiden. Hieronder reiken we je nog 2 uitstekende plugins om je WordPress website nog verder te personaliseren.
Responsive Lightbox
Als je regelmatig afbeeldingen gebruikt op je website, is Responsive Lightbox een van de beste WordPress plugins voor jou! Er bestaan heel wat lightbox plugins op WordPress.org, maar dit is volgens ons de beste. Je kan hiermee niet alleen gallerijen maken, je kan ook afbeeldingen, gallerijen en video's groter tonen in een lightbox overlay effect. Bovendien is deze plugin ook geoptimaliseerd voor mobiele schermen.
Footer Putter
Wil jij jouw bedrijfsgegevens en adres altijd tonen in de voet (footer) van je website? Dat kan eenvoudig met de Footer Putter plugin. Dit geeft meer geloofwaardigheid en cachet aan je website en maakt het ook gemakkelijker voor gebruikers om jou te contacteren. Deze plugin werkt met HTML5 en nog een gouden tip: je kan met deze plugin in je footer een link toevoegen naar je Privacy- en cookiebeleid.
Genesis plugins
Het Genesis Framework is een WordPress parent theme ontwikkeld door StudioPress. Je kan dit installeren op één of meerdere WordPress websites en de instellingen en opzet ervan zal altijd hetzelfde zijn. Dankzij de talrijke child themes die al dan niet aanpasbaar zijn heb je eindeloos veel mogelijkheden om je website te personaliseren. Om de functionaliteit van je Genesis website uit te breiden, bestaan er ook een aantal specifieke Genesis plugins.
Genesis Simple Sidebars
Om eenvoudig extra widget ruimtes toe te voegen, is de Genesis Simple Sidebars plugin ideaal.  Je kan meerdere, dynamische widget ruimtes creëren en ook bepalen wanneer deze zichtbaar.
Genesis Simple Edits
Met Genesis Simple Edits kan je de post-info, post-metagegevens en de voet (footer) van je Genesis thema eenvoudig aanpassen.
Genesis Extender
Genesis Extender is de enige betalende plugin in deze lijst en dat is met reden. Je kan je Home pagina, CSS, Functions, JS, Templates, Labels, Conditionals Widget Areas, Hook boxes en afbeeldingen eenvoudig aanpassen, zonder dat dit nare gevolgen heeft voor je website. Deze plugin is zijn geld zeker waard!
Sociaal
Om het engagement met je website te verhogen, bestaan er ook heel wat sociale WordPress plugins.
Social Warfare
Social Warfare is de beste plugin voor het delen van je content op sociale media. De knoppen worden aangepast voor elk scherm, en je kan zelf ook de kleuren en vormgeving ervan personaliseren voor jouw website. Het is een supersnelle en lichte plugin die de laadtijd van je website amper beïnvloedt. En er zijn ook heel wat extra features zoals bijvoorbeeld de optie om de meest populaire berichten te tonen gebaseerd op het aantal keer gedeeld op sociale media. Je kan in je teksten quotes toevoegen om rechtstreeks getweet te worden. Er is een Pinterest integratie, je kan Analytics toevoegen, en nog veel meer!
AddToAny doet ongeveer hetzelfde als Social Warfare, maar met minder opties en minder personalisatiemogelijkheden. Ook deze plugin heeft slechts een minimale impact heeft op je website.
Disqus Conditional Load
Disqus Conditional Load is één van de meest gebruikte manieren om met reacties om te gaan op je blog. Het zorgt er bovendien voor dat niet alle reacties tegelijkertijd met de pagina worden geladen. Je hebt de optie om het te laten laden wanneer iemand een reactie wilt plaatsen of wanneer er tot aan de reactie sectie wordt gescrolled. Dat is goed voor de laadsnelheid van je pagina!
Favicon Generator
WordPress ondersteund Favicons al, maar Favicon Generator biedt nog steeds meer mogelijkheden. Een favicon is een icoon geassocieerd met je webpagin. Het verschijnt in bladwijzers en staat bovenaan in de adresbalk en in tabs. Het is vaak een logo dat je website herkenbaarder maakt. Met deze plugin kan je een favicon toevoegen voor alle toestellen, browsers en schermen.
Hulp nodig met WORDPRESS voor je bedrijf?
Neem contact met ons op voor vrijblijvend advies!