Nu je een webshop gebouwd hebt in WooCommerce, wil je natuurlijk ook dat die gevonden wordt. Daarom moet je WooCommerce SEO, ofwel Search Engine Optimization, inzetten. Deze technieken helpen Google om jouw website beter te begrijpen. Dan kan de zoekmachine jouw webshop tonen als resultaat bij de juiste, relevante zoekopdrachten. Hoe beter je SEO, hoe meer verkeer! In dit artikel leggen we je alles uit wat je moeten weten over WooCommerce SEO.
Hulp nodig met je WEBSHOP?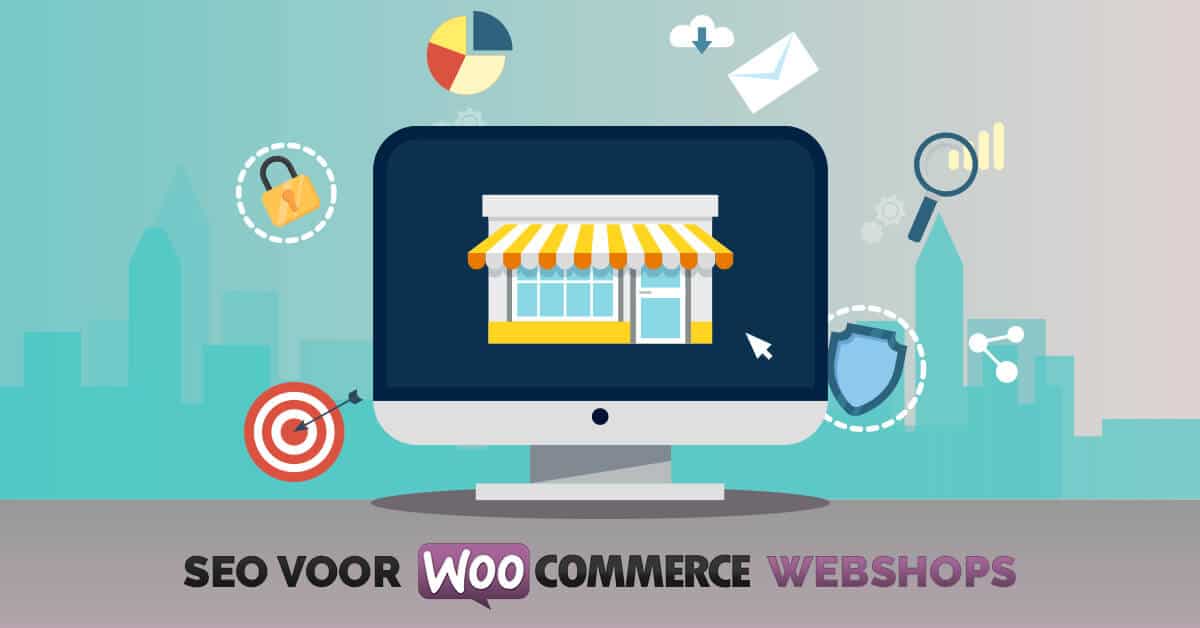 Wil je graag nog een reminder over hoe je een WooCommerce webshop kan bouwen? Lees dan dit artikel:
Een webshop bouwen met WooCommerce in WordPress
. En neem voor je begint ook hier nog even een kijkje:
Wat niemand je ooit vertelde over het beginnen van een webshop
.
Beginnen bij het begin
De juiste URLs
Het allereerste wat wij je aanraden om je WooCommerce SEO te verbeteren is om de permalinks voor je webshop te optimaliseren. Dat kan je in je WP Dashboard onder Settings > Permalinks. Daar kan je de URL structuur voor je webshop en productpagina's bewerken. Op basis van de taxonomie van je website heb je drie mogelijkheden: taxonomie, tag of productnaam. Je URL zal er dus anders uitzien afhankelijk van hoe je bezoeker op een specifieke productpagina terecht is gekomen.
In dit menu kan je aanpassen hoe die gegevens in je URL verschijnen. Als er iemand bijvoorbeeld via de productcategorie "badkledij" zoekt, dan zal er in de URL standaard verschijnen: "/product-category/badkledij/". Als er rechtstreeks gezocht wordt op "badpak" daarentegen, zal er "/product/badpak/" staan in je URL. Die toevoegingen kunnen ervoor zorgen dat je URLs heel erg lang worden en niet meer zo duidelijk zijn. Indien nodig, kan je dit dus aanpassen! Bijvoorbeeld met een gratis plugin zoals Remove taxonomy base slug kan je die standaard toevoegingen van WooCommerce verwijderen.
In datzelfde menu kan je ook de URLs van je productpagina aanpassen. Zonder permalinks zien die er zo uit: "jouwwebsite.be/?product=111". Dat kan beter! Via permalinks wordt je URL standaard weergegeven als: "jouwwebsite.be/product/product-name". Je kan hier de standaard URL volledig personaliseren. Stel bijvoorbeeld dat jouw website en webshop een andere naam hebben dan is "jouwwebsite.be/jouwwebshop/product-name" een goede optie.
Responsief en mobile-first
Dat steeds meer bezoekers via hun tablet of telefoon op jouw website terechtkomen, wist je waarschijnlijk al. Het is daarom zeker belangrijk dat jouw website responsief is, aangepast aan die mobiele schermen. Zorg ervoor dat mobiele gebruikers jouw webshop net zo goed en eenvoudig kunnen gebruiken als desktop bezoekers! Een gratis tool zoals mobiReady helpt je om je website prestaties op mobiel te testen. Je krijgt een algemene score, en alle problemen worden opgelijst.
Je kan bovendien nog een stapje verder gaan door je website mobile-first te ontwikkelen. Dat wil zeggen dat je niet begint vanuit een desktop versie, maar je hele website opbouwt vanuit de mobiele versie. Google geeft namelijk voordeel aan mobile-first websites in de bepaling van de zoekresultaten.
Accelerated Mobile Pages (AMP)
AMPs hebben we al besproken op deze blog: Wat is AMP en hoe helpt het jouw mobiel verkeer en SEO? Kort samengevat zijn het webpagina's die specifiek gebouwd zijn voor mobiel verkeer. Als er mobiel gezocht wordt, geeft Google AMPs voorrang in de resultaten!
De Yoast WooCommerce SEO plugin
We raden je ook ten zeerste aan om de specifieke Yoast WooCommerce SEO plugin te gebruiken bovenop de standaard Yoast SEO plugin. De Yoast SEO plugin hebben we al vaker besproken op deze blog, het is dan ook onze favoriete plugin om de SEO van je website aan te pakken, inclusief je WooCommerce SEO. Deze extra WooCommerce plugin voegt een aantal functies toe, specifiek voor je WooCommerce website.
Configureer de Yoast SEO broodkruimel om de navigatiestructuur van je website duidelijk weer te geven. Dat is goed voor je bezoekers en voor Google!
Pas je sitemap aan! Wist je dat WooCommerce standaard een aantal pagina's toevoegt aan je Sitemap? Als je bijvoorbeeld filters hebt op maat, kleur, of prijs – daar worden dan iedere keer aparte pagina's voor gecreëerd die door WooCommerce in je sitemap gezet worden. Dat is natuurlijk niet nodig, want het is iedere keer grotendeels dezelfde content. Dankzij deze plugin kan je die verwijderen en enkel de noodzakelijke pagina's opnemen in je sitemap.
Je kan je Pinterest pins verrijken met prijs, voorraad en een duidelijke link naar je website.
Als je kiest voor de premium plugin, in combinatie met de premium Yoast SEO plugin, heb je nog een aantal extra voordelen:
Optimaliseer voor tot 5 zoekwoorden per pagina
Bekijk hoe je pagina er op Facebook en Twitter zal uitzien
Krijg suggesties om interne links te leggen, terwijl je jouw pagina bewerkt
Maak komaf met 404 pagina's
24/7 ondersteuning via e-mail
Je websitestructuur
Teken een websitestructuur uit voor je begint aan het bouwen van je webshop. Let daarbij op dat elke pagina gevonden moet kunnen worden binnen maximum 3 tot 4 klikken. Maak het jezelf gemakkelijk en gebruik interne links. Doe dat wel enkel wanneer het logisch en noodzakelijk is. En overdrijf niet in je menustructuur! Teveel menu items maken het menu te zwaar en daardoor wordt navigeren moeilijker en trager.
Heel belangrijk voor de structuur van je website zijn de categorieën. Ook dit is iets waar je op voorhand goed over moet nadenken. Te weinig categorieën maken het moeilijk voor bezoekers om te vinden wat ze zoeken. Maar dat geldt andersom ook: als je veel te veel specifieke categorieën opbouwt, geven bezoekers het al snel op. Je kan dat oplossen met een aantal bredere categorieën en er daarna filters op toe te passen.
Optimaliseer je inhoud ook voor WooCommerce SEO
De belangrijkste tip hier is: schrijf niet vanuit jezelf, maar vanuit de bezoeker. Probeer erachter te komen naar wat zij op zoek zijn, welke vragen zij zich stellen. Daar kan je achterkomen via een gebruikersbevraging, maar je kan het ook intern opvragen. Vraag aan jouw verkopers en klantendienstmedewerkers welke vragen vaak terugkomen. Zet die informatie dan om in duidelijke, korte teksten die op een vlotte, leesbare manier geschreven zijn.
Titels
Tegenwoordig scannen bezoekers steeds meer informatie. Het komt zelden voor dat ze de volledige pagina van A tot Z gaan lezen. Om dus meteen duidelijk te maken waarover de verschillende paragrafen gaan, werk je best met ondertitels. Zet het belangrijkste woord vooraan in de titel en vat de paragraaf samen. Zo lezen bezoekers enkel de paragrafen waarin zij geïnteresseerd zijn aandacht en zullen ze de rest snel scannen.
Productbeschrijvingen
Zorg ervoor dat je de juiste zoekwoorden gebruikt in je productbeschrijvingen, maar overdrijf niet. Zorg dat de tekst nog altijd vlot leesbaar is voor je bezoeker. Wees ook consequent: beslis op welke manier je de productbeschrijvingen gaat maken, en doe dat overal hetzelfde. Je kan bijvoorbeeld de nadruk leggen op emotie en een verhaaltje vertellen. Wat is er zo fantastisch aan dit product? Hoe is het ontstaan? Waarom heeft de bezoeker het nodig? Waarom is dit product beter dan de concurrentie? Of je kan ook meer objectief en informatief gaan schrijven. Dan heb je het vooral over de productgegevens: afmetingen, stroomvoorziening, levensduur, technische specificaties, enzoverder. Gouden tip: breng ook hier structuur aan met behulp van titels en maak de productpagina helemaal af met foto's en interne linken naar gelijkaardige of complementaire producten.
Let op met duplicate content
We hebben in een eerder artikel al uitgelegd dat duplicate content gevaarlijk is voor je SEO ranking. Dat kan je hier herlezen: Duplicate content is slecht voor je ranking in Google. Het komt erop neer dat als je tekst herhaalt, binnen of buiten je website, Google je website minder (of zelfs niet) zal indexeren. Als je meerdere producten hebt die op elkaar lijken, let daar dan dus mee op. Ofwel schrijf je verschillende inhoud per pagina, ofwel los je dit probleem op met een canonical URL. Meer daarover in Hoe helpt een canonical URL tegen duplicate content? Kopieer dus ook niet zomaar informatie die je van de fabrikant krijgt aangeleverd want de kans is groot dat andere webshops dit ook doen, en dan zit je opnieuw met duplicate content.
Zorg dat je website snel laadt
De laadsnelheid van je website speelt ook een rol voor WooCommerce SEO. Hoe sneller je pagina laadt, hoe hoger je Google PageSpeed scores en hoe hoger je SEO ranking. Gebruik daarom een caching plugin zoals WP Rocket om je productpagina's te bewaren en de laadtijd te versnellen.
Optimaliseer daarnaast ook je afbeeldingen zodat ze sneller zullen laden. Wij raden daarvoor Compress JPEG & PNG images aan, een van de beste plugins om afbeeldingen te comprimeren zonder kwaliteitsverlies. Zorg er ook voor dat elke afbeelding een titel en een ALT tekst bevat. Zo vergroot je jouw kansen om via Google Afbeeldingen gevonden te worden, en Google gebruikt deze metadata ook bij het indexeren om je relevantie te bepalen.
Enkele laatste tips
Investeer in content marketing en start een blog waar je jouw expertise deelt
Zet in op vergelijkbare producten en gebruik voldoende interne links
Zet je best verkopende producten in de kijker
Ja, zoekmachine optimalisatie van je webshop is een heel karwei. Maar het loont! Beter gevonden worden in Google is van levensbelang en eens die bal aan het rollen is… Blijf natuurlijk wel optimaliseren, meten en verbeteren en dan ga je steeds meer bezoekers krijgen. Succes!
Hulp nodig met WORDPRESS voor je bedrijf?
Neem contact met ons op voor vrijblijvend advies!