De tijd dat we massaal naar verkoopafdelingen voor info rond een product belden is voorbij. Vandaag de dag doen we onze research naar een product of dienst gewoon online. Waarom zouden we nog bellen, alles is online terug te vinden waardoor we in staat zijn om onderbouwde beslissingen te nemen vooraleer we iets aankopen. Via inbound marketing (kwalitatieve en relevante content op je site) ga jij de potentiële klant informeren. Dit schept vertrouwen bij de klant want hij weet dat jij het beste met hem voor hebt.
Bij inbound marketing trek je klanten aan door relevante en behulpzame content te creëren die een meerwaarde biedt bij elke stap in de customer journey. Je verdient dus de aandacht van klanten in plaats van deze op te eisen. Je zorgt ervoor dat potentiële klanten je kunnen vinden via Search Engine Marketing (SEM), Social Media Marketing (SMM) en andere relevante kanalen. Leuk weetje: de term inbound marketing en inbound sales werd uitgevonden door Hubspot.
Hulp nodig met INBOUND MARKETING?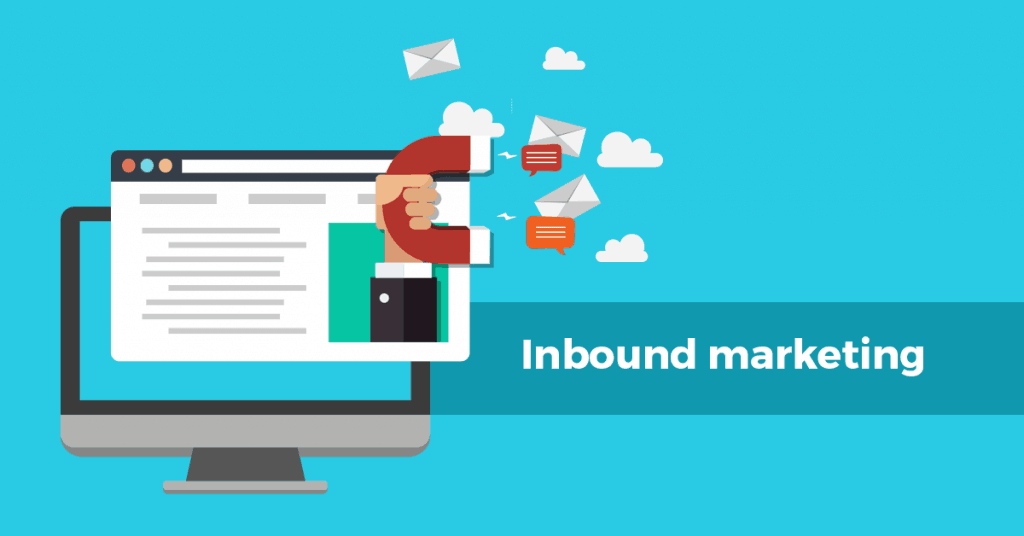 Wat is outbound marketing
Bij outbound marketing, ook wel traditionele marketing genoemd, gaat de marketeer op zoek naar zijn klanten. Dit kan hij doen door onder andere cold calling, cold e-mails, mailings (post), tv-reclame en billboard reclame. Het publiek heeft niet veel aan dit soort reclame en heeft er over het algemeen ook geen positieve ervaring mee. We hebben ooit allemaal al eens telefoon gekregen van een marketeer die je na 30 seconden vriendelijk afscheept. Traditionele reclame noemt men ook interuption marketing omdat je iemand onderbreekt tijdens zijn activiteiten en het is een constant gevecht om aandacht te krijgen van potentiële klanten. Met outbound marketing draait alles rond de noden van het bedrijf en het verkopen van producten of diensten; de klant is er enkel om te kopen. Kortom, traditionele marketing heeft weinig tot geen toegevoegde waarde.
Wat is inbound marketing
Inbound marketing richt zich, in tegenstelling tot outbound marketing, volledig op het informeren van klanten en om als bedrijf online gevonden te worden. Om dit goed te doen, ben je best als marketeer altijd aanwezig tijdens de customer journey. Wees behulpzaam, biedt kwalitatieve info aan en richt je daardoor op de noden van de klanten. Je doet dus actief aan content marketing. Dit kan via blogartikelen, gebaseerd op een zoekwoordenonderzoek, met tips om een probleem op te lossen of een post waarin je bepaalde nieuwe inzichten deelt.
Deze content verspreid je dan zo veel mogelijk via alle mogelijke kanalen waar potentiële klanten zich begeven. En wees er maar zeker van: de personen die je echtg geholpen hebt met je gratis info, nemen contact op als ze meer informatie of hulp nodig hebben. Je profileert je namelijk als expert in je vakgebied.
Het is ook veel eenvoudiger om online een grote groep aan geïnteresseerde mensen te bereiken met een goed artikel, dit te adverteren op Google, terug te vinden te zijn via zoekmachine optimalisatie en sociale media marketing dan in het wilde weg mensen op te bellen of te mailen in de hoop dat er iemand geïnteresseerd is.
Inbound marketing methodologie
De inbound marketing methodologie is opgebouwd uit vier fases: aantrekken, converteren, sluiten en verheugen. Deze methode transformeert vreemden, in leads, klanten en uiteindelijk promoters. We leggen het even uit:
Aantrekken
Je trekt potentiële klanten aan met relevante content waar je doelgroep naar op zoek is. Je doelgroep zijn mensen die het meest waarschijnlijke leads worden en uiteindelijke tevreden klanten.
Een blog is één van de beste manieren om op een efficiënte manier nieuwe bezoekers aan te trekken. Hou hierbij rekening dat je informatief bent, vragen beantwoordt en obstakels identificeert.
Mensen beginnen hun aankoopproces online met het zoeken naar hetgeen waar ze vragen rond hebben. Het spreekt voor zich dat je online terug te vinden moet zijn om deze vragen te beantwoorden. Onderzoek dus met een zoekwoordenonderzoek waar deze mensen naar op zoek zijn, bouw hier een content marketing strategie rond en pas dit toe op je blog.
Converteren
Bezoekers kunnen leads worden door middel van contactformulieren op je site, een popup met een download in ruil voor een e-mailadres, het aanbod om in te schrijven voor blog updates, inschrijven op nieuwsbrief en een chatfunctie op je website. Al deze leads plaats je dan in een CRM-systeem zodat je ze kunt opvolgen.
Sluiten
In deze stap zorg je ervoor dat je leads klanten worden. Dit doe je door contact met hen op te nemen, te vragen of je ze verder kunt helpen en door extra relevante informatie aan te reiken. Als ze hulp of meer persoonlijke informatie nodig hebben, plan je een meeting.
Verheugen
Omdat alle interacties van jouw bedrijf met de klant relevant, behulpzaam en persoonlijk zijn, heeft de klant een zeer goede ervaring en dit creëert vertrouwen.
Besluit
Om het kort door de bocht te formuleren hoop je met traditionele marketing dat je iemand vindt die interesse heeft in wat je verkoopt en met inbound marketing komen mensen naar je toe omdat ze interesse hebben in hetgeen dat jij aanbiedt.
Samengevat:
Outbound marketing = duur, manueel klanten werven, weinig respons (niet geïnteresseerd) en resultaten zijn niet of moeilijk meetbaar.
Inbound marketing = goedkoop, automatisch klanten werven, veel respons (geïnteresseerd) en resultaten zijn meetbaar.
Hulp nodig met INBOUND MARKETING voor je bedrijf?
Neem contact met ons op voor vrijblijvend advies!