Meer potentiële klanten voor je business aan een lagere kost per conversie, wie wil dat nu niet? Facebook lead ads mag in dat geval zeker niet ontbreken in je marketingrepertoire.
Hulp nodig met FACEBOOK MARKETING?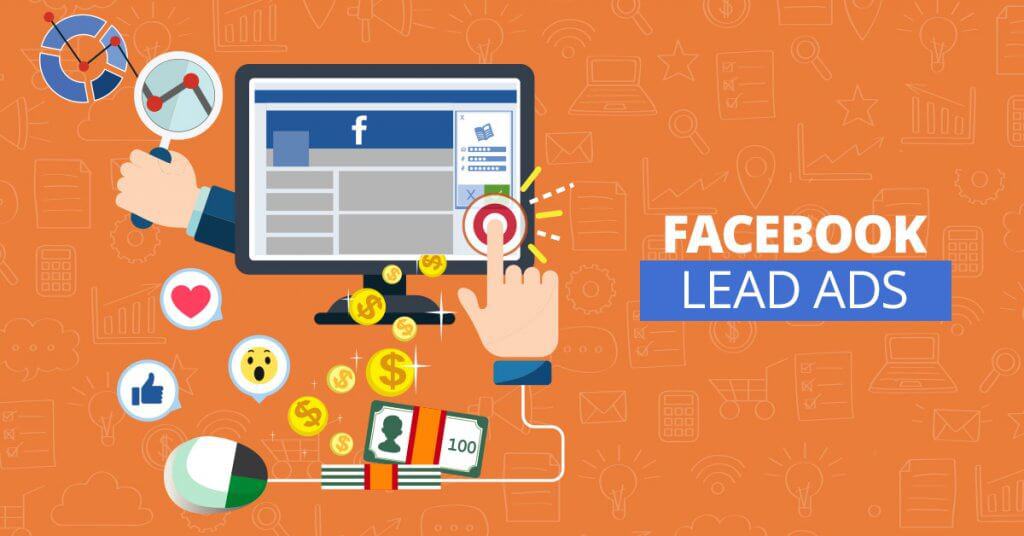 Wat is leadgeneratie?
Met Facebook lead ads doe je aan leadgeneratie. Een lead is iemand met interesse in je product of dienst die nog geen klant is. Hoewel er verschillende manieren bestaan om leads te genereren, verkiezen wij een inbound marketing-strategie. Je geeft dan iets waardevols in ruil voor persoonlijke informatie.
Wat zijn Facebook lead ads?
Simpel: dit is het Facebook advertentieformaat om leads te genereren. Op het eerste zicht lijkt het een standaardbericht of advertentie op Facebook. De gebruiker kan evenwel doorklikken. Na de klik wordt er hem extra informatie gevraagd. Voortaan heb je dus geen landingspagina meer nodig: de persoon vult alles ter plaatse in en moet Facebook zelfs niet verlaten.
Hoe werken Facebook lead ads?
Facebook lead ads werken volgens het principe 'voor wat, hoort wat'. Je moet dus iets waardevols te bieden hebben in ruil voor gegevens. Die balans is belangrijk: geef rommel en je maakt onmiddellijk een slechte eerste indruk. We willen ze niet te eten geven, de makers van lead ads die er wel deftig uitzien maar die je opzadelen met vage inhoud. Of erger nog, die kwalitatief zwak zijn. Heb je niets waardevols te bieden, dan begin je er beter niet aan. In dat geval genereer je toch enkel leads aan een hoge kost per conversie. Stel jezelf de vraag: wil ik hiervoor mijn gegevens achterlaten? Of nog: zou ik hiermee blij zijn?
Wat zijn de voordelen van Facebook lead ads?
De belangrijkste pluspunten op een rijtje:
Facebook vult de gegevens van gebruikers automatisch in. Zij moeten dat dus niet zelf doen, enkel klikken.
Je dient geen landingspagina te optimaliseren voor conversies.
Geef je iets kwalitatiefs of waardevols weg, dan geniet je eveneens van volgende voordelen:
Gratis reclame: mensen liken en delen je lead ads.
Meer likes en zichtbaarheid voor je pagina.
Hoe zet je Facebook lead ads op?
Navigeer naar je advertentieaccount op Facebook Business manager. Maak een nieuwe advertentie aan, kies voor "Leads genereren" en geef je campagne een naam.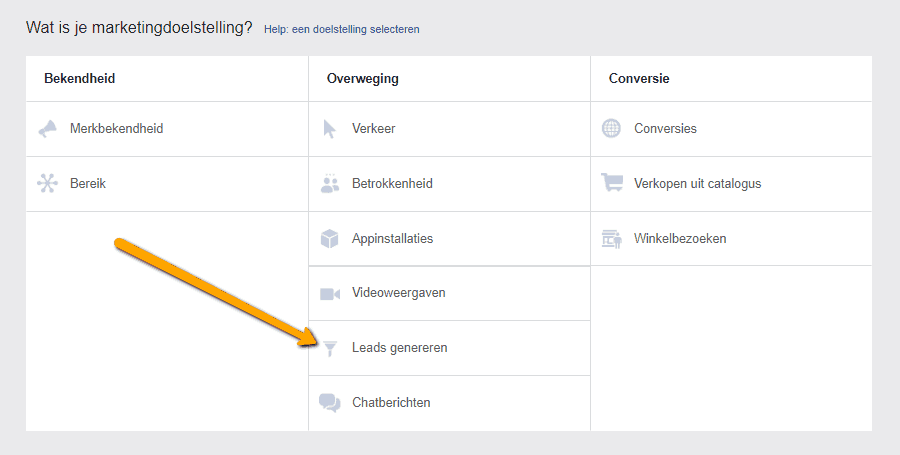 Daarna volgt een deeltje dat je al kent. Zoals je een standaardadvertentie op Facebook maakt, duidt je ook hier je pagina, doelgroep, plaatsing en budget aan. In onze ultieme Facebook advertentiebeheer gids lees je hoe. Het grote verschil zit 'm in het leadformulier.
De opzet is vrij eenvoudig. Een leadformulier bestaat uit twee pagina's, namelijk het formulier zelf en de bedankpagina.
Facebook lead ads formuliertype
Hier heb je de keuze uit twee opties, die voor zich spreken. Kies 'Meer volume' om gebruikers de kans te geven het formulier snel in te vullen. Opteer je voor 'Hogere intentie', dan volgt er een controlestap en kunnen zij hun gegevens dubbelchecken alvorens die te versturen.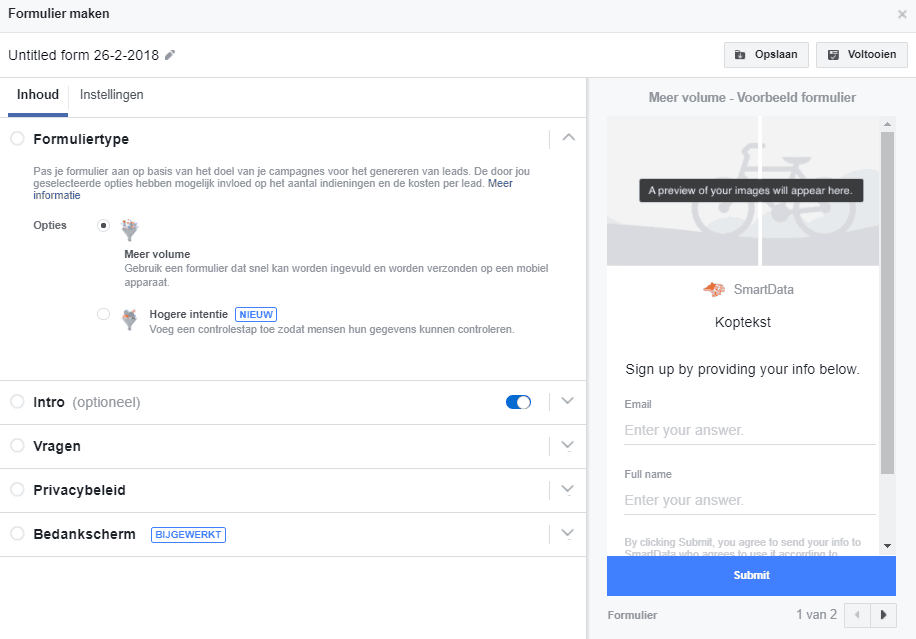 Facebook lead ads intro
Dit mag dan een optioneel veld zijn, het is wel een goede manier om mensen eraan te herinneren waarom ze het formulier invullen.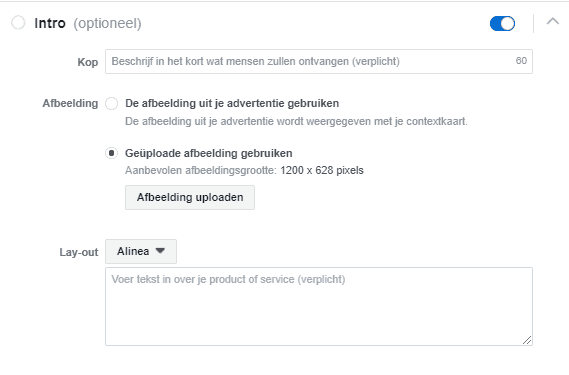 Facebook lead ads vragen
Hier vraag je mensen naar gegevens. Belangrijk: hoe meer vragen, hoe kleiner de kans dat mensen het formulier effectief invullen. Vraag dus enkel om gegevens die je écht nodig hebt. Sowieso vult Facebook al een hele hoop gegevens automatisch in. De rest dienen de mensen zelf aan te vullen. Met het risico dat het hen ontbreekt aan tijd of zin. Naast de standaardvelden kan je zelf je eigen vragen formuleren.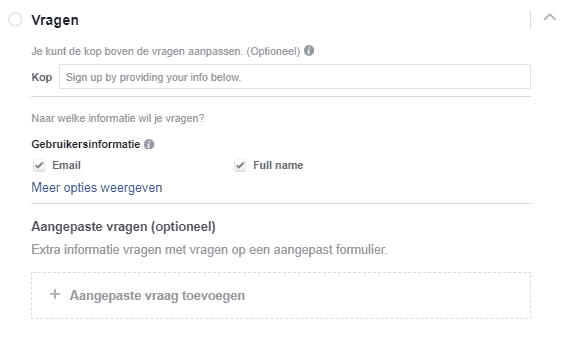 Facebook lead ads privacybeleid
Zet in dit gedeelte een link naar je privacybeleid. Je kan ook een extra disclaimer toevoegen.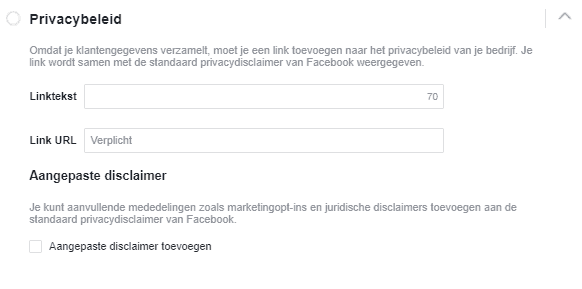 Facebook lead ads bedankscherm
Dit is het tweede deel van het leadformulier. Je bedankt de mensen en stuurt hen door naar een pagina op je website.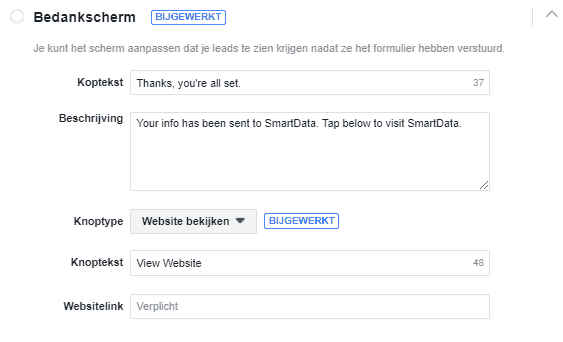 Facebook lead ads instellingen
Naast de tab 'inhoud' staat 'instellingen'. Hier duidt je de taal van het formulier aan en of het al dan niet gedeeld mag worden op Facebook. Wil je meer mensen gratis bereiken, dan selecteer je best 'open'.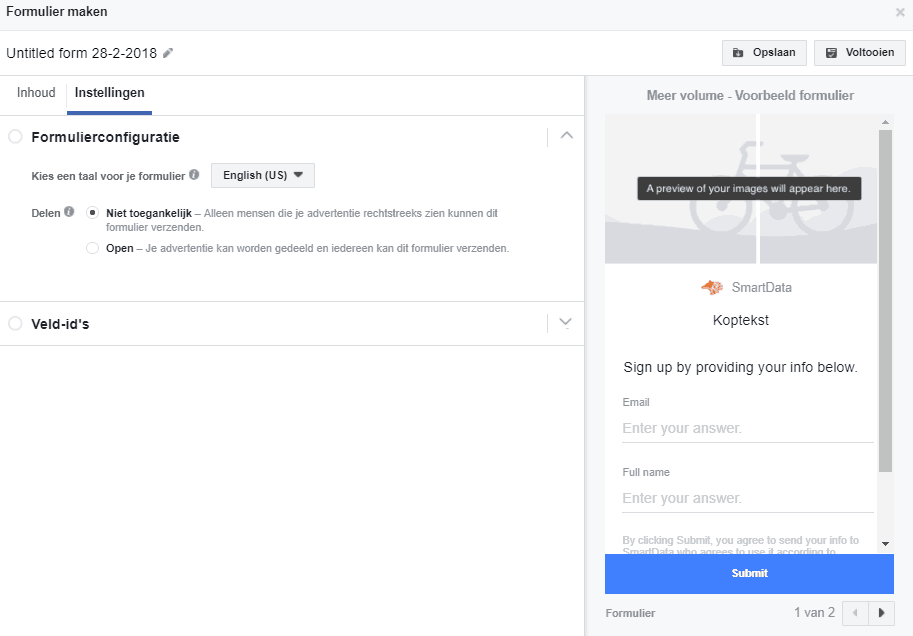 Na het doorlopen van deze stappen is je Facebook lead ad klaar. Je kan de advertentie opslaan, om 'm later aan te passen of te voltooien.
Let op: eenmaal voltooid kan je een lead formulier niet meer aanpassen of verwijderen. Je moet dan een kopie aanmaken van een eerder formulier, of een nieuw exemplaar samenstellen.
Daarna is het wachten totdat de eerste mensen het formulier invullen.
Download je leads
Heb je een lead binnen, dan kan je die downloaden. Daarvoor ga je binnen Facebook lead ad-campagne naar je advertentie en klik je op de downloadlink. In een net Excel-bestand krijg je vervolgens de bemachtigde gegevens gepresenteerd.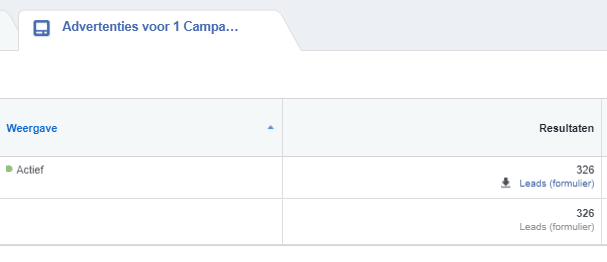 Besluit
Op zich zijn Facebook lead ads eenvoudig op te zetten. De uitdaging bestaat erin het juiste publiek te selecteren. En vooral: iets kwalitatiefs aan te bieden, kwestie van een boodschap over te brengen die mensen overtuigt om het formulier te versturen.
Hulp nodig met FACEBOOK MARKETING voor je bedrijf?
Neem contact met ons op voor vrijblijvend advies!