Google is niet alleen de grootste zoekmachine ter wereld (77,98%), het is ook de meest populaire in België. 94% van de Belgen gebruikt Google om hun online zoektocht naar informatie te starten. Bovendien is Google ook jaar na jaar de meest bezochte website, want er wordt heel veel gezocht online. Adverteren op Google biedt dus heel veel kansen. Het bedrijf zelf blijft dan ook inzetten op Search Engine Advertising, om de Google advertenties beter te laten werken voor de bezoeker en voor de adverteerder. Daarom hebben ze in hun nieuwe Google advertenties extra ruimte voorzien: een derde kop en een tweede omschrijving, om precies te zijn.
Hulp nodig met je GOOGLE ADVERTENTIES?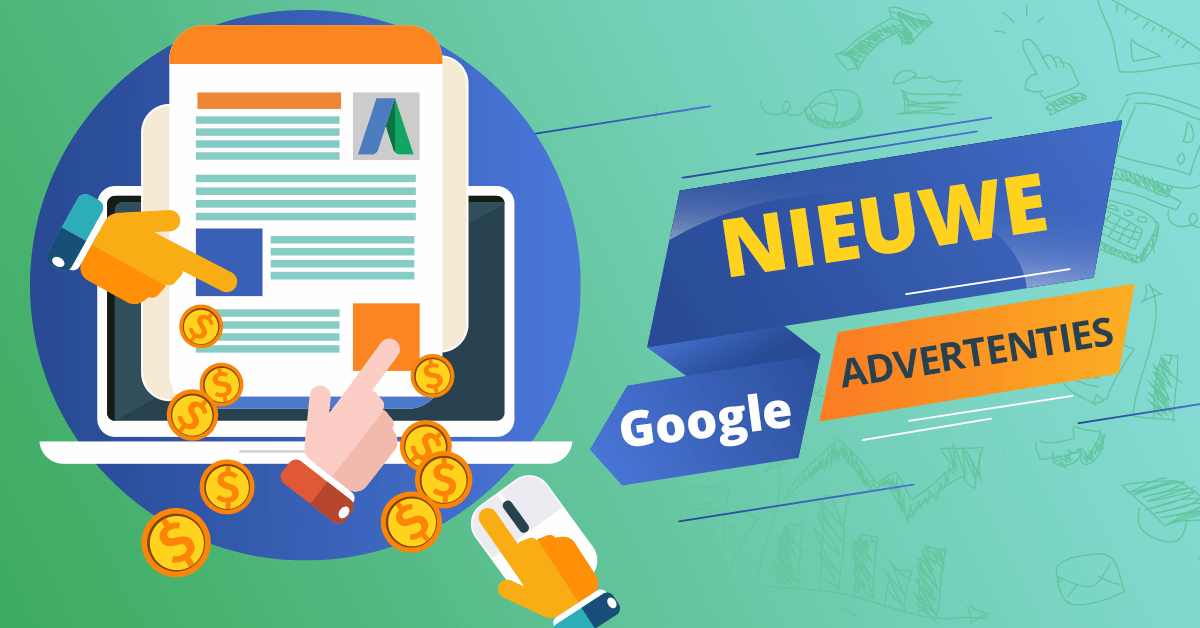 Wat is Google AdWords
In een eerder artikel hebben we Google AdWords al eens volledig uitgelegd: Adverteren op Google – Wat is Adwords, hoe werkt het en kostprijs. Kort samengevat kan je met Google AdWords adverteren op Google. Je kan dan betalen om bovenaan in de zoekresultaten te verschijnen bij bepaalde zoekwoorden. Hoe populairder het zoekwoord en hoe meer bedrijven daarop willen adverteren, hoe meer je zal betalen. In AdWords zal je jouw campagne ook continu kunnen verbeteren, want Google houdt bij via welke zoekopdrachten jij gevonden werd. Als er dan bepaalde combinaties zijn van jouw zoekwoord en andere woorden waarvoor jouw website geen optimaal resultaat is, dan kan je die uitsluiten. Je kan op dezelfde manier ook meer zoektermen gaan toevoegen, en specifieker gaat adverteren, zodat je Google advertenties goedkoper en accurater worden.
Google AdWords gaat verder dan Google
Met AdWords kan je ook buiten de zoekfunctie van Google gaan adverteren. Je kan jouw Google advertenties ook verdelen via:
Display: jouw Google advertentie wordt getoond op een hele hoop websites die verbonden zijn aan het Google Display netwerk. Je kan hier ook targetten op basis van verschillende criteria.
Shopping: dit is een uitbreiding van de Google zoekfunctie. Je kan jouw producten opnemen in de Google Shopping catalogus. Als iemand dan zoekt naar jouw product, verschijnt er een specifieke productadvertentie helemaal bovenaan.
Video: als je wil adverteren op YouTube, moet je ook via Google AdWords passeren. In deze advertentie kan je ook een video gebruiken om buiten YouTube te adverteren op de partners van het Google netwerk.
Universele app: tot slot kan je ook adverteren in mobiele apps die verbonden zijn met het Google netwerk.

Google advertenties opzetten
1) Campagne instellingen
Wanneer je een zoekadvertentie gaat opzetten in Google, zal je eerst je doel moeten kiezen. Wat wil je bereiken met deze Google advertenties? Wil je sales opdrijven, leads genereren of mensen naar je website leiden?

Daarna moet je selecteren waar je Google advertentie getoond mag worden. In eerste instantie kan je jouw Google advertenties laten zien in de zoekresultaten, wanneer er gezocht wordt in Google zelf. Je kan je bereik ook vergroten door te adverteren in het Display netwerk dat we hierboven al vermeld hebben. Dit zijn alle partnerwebsites van Google waarop jouw advertentie kan verschijnen.

Daarna kies je wie je specifiek met je Google advertenties wil bereiken.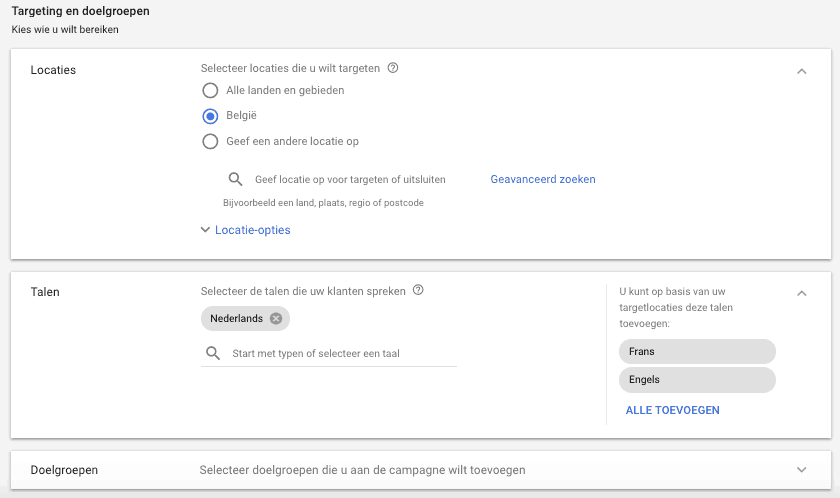 En dan is het tijd om je budget te bepalen. Hoeveel wil je uitgeven?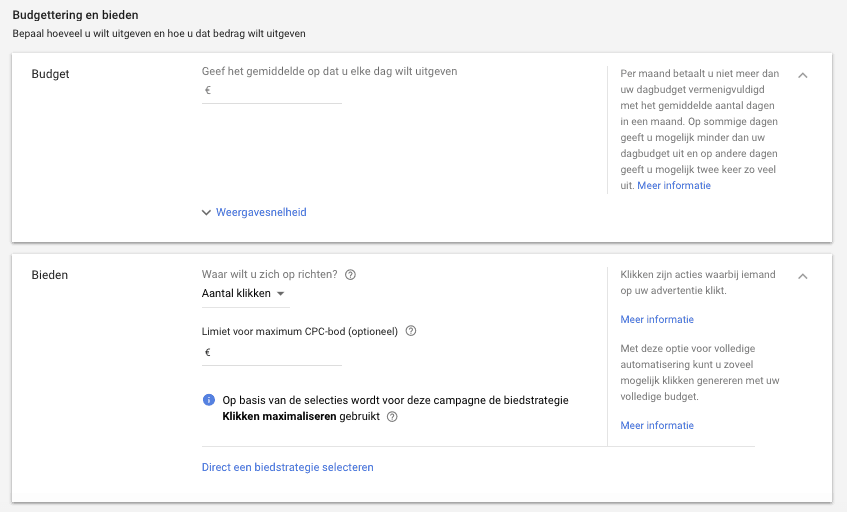 2) Advertentiegroepen instellen
En nu komt het belangrijkste onderdeel: je zoekwoorden bepalen. Hier moet je goed over nadenken: welke zoekwoorden gebruiken je klanten om jouw website of wat jij aanbiedt te vinden? Een uitgebreid zoekwoordenonderzoek is de allerbelangrijkste stap voor Google zoekadvertenties. Je kan verschillende advertentiegroepen maken om je boodschap lichtjes aan te passen naar gelang hoe er gezocht wordt. Zijn ze bijvoorbeeld op zoek naar algemene informatie? Of zoeken ze meteen een prijs? Beide advertenties kunnen naar dezelfde productpagina leiden, maar om je campagne echt succesvol te maken, pas je jouw boodschap best aan. Iemand die op zoek is naar prijzen, zal sneller klikken als er al een prijs vermeld staat in je advertentie!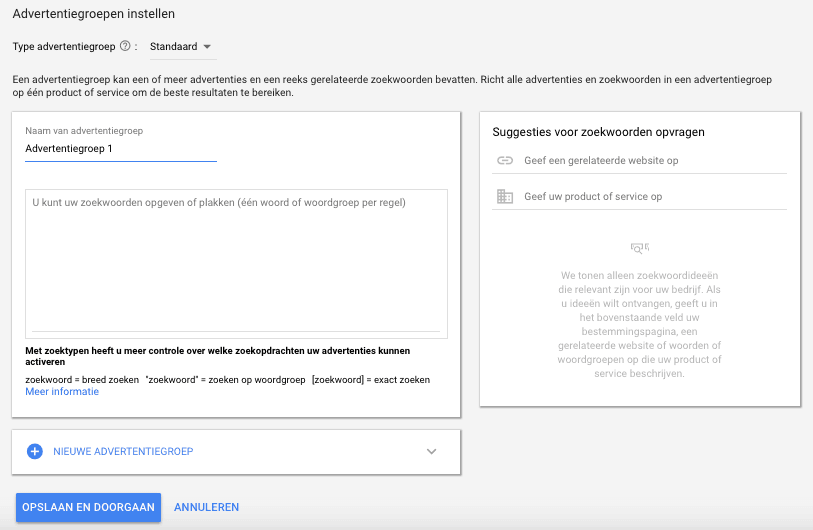 3) Advertenties maken
Nu is het tijd om je Google advertentie zelf te gaan maken. Per advertentiegroep kan je een advertentie maken, en je ziet bovenaan nog kort de zoekwoorden herhaald.

Als je op "Nieuwe advertentie" klikt, zal je jouw advertentie kunnen maken. Rechts zie je een voorbeeld van je Google advertentie dat zal bijgewerkt worden terwijl je de informatie links invult. Het eerste voorbeeld is voor op mobiele schermen, het tweede voorbeeld op desktop.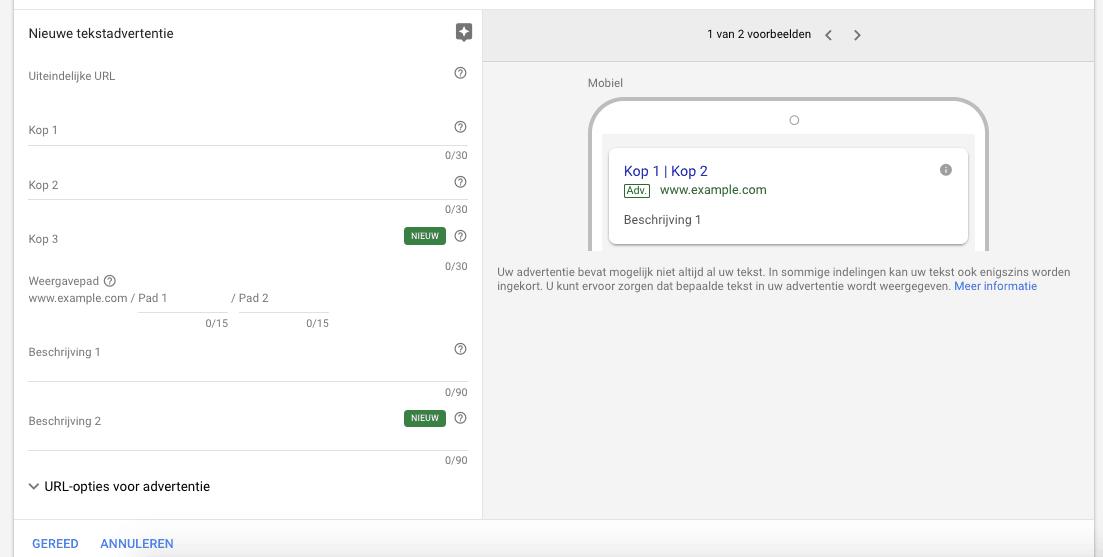 De informatie die je kan ingeven is:
De URL waar je het klikkers naartoe wil leiden
Kop 1: maximaal 30 tekens, staat helemaal links in de titel van je Google advertentie
Kop 2: maximaal 30 tekens, staat achter kop 1 gescheiden door een recht streepje
Kop 3: deze kop is een nieuwe toevoeging, die ook uit 30 tekens mag bestaan. Na nog een recht streepje, zal deze kop weergegeven worden achter kop 2. Afhankelijk van hoelang je vorige koppen zijn, kan het zijn dat deze kop niet meer weergegeven wordt bij mobiele zoekresultaten.
Daarna moet je bepalen hoe jouw URL eruit zal zien in de zoekresultaten. Je kan hier twee stukjes tekst voorzien achter je domeinnaam, elk maximum 15 tekens.
Onder de URL, wordt de eerste beschrijving weergegeven. Hier zal je de aandacht van de zoeker gaan trekken, in maximum 90 tekens.
Nieuw: je kan vanaf nu ook een tweede beschrijving toevoegen. Deze informatie verschijnt vlak na de eerste beschrijving, en telt opnieuw maximum 90 tekens. Als je in je eerste beschrijving niet alles hebt kunnen schrijven, kan je dus verder gaan in de tweede beschrijving. Let op: als de tekst te lang wordt, kan het zijn dat het niet altijd wordt weergegeven, vooral bij mobiele resultaten.
Een voorbeeld: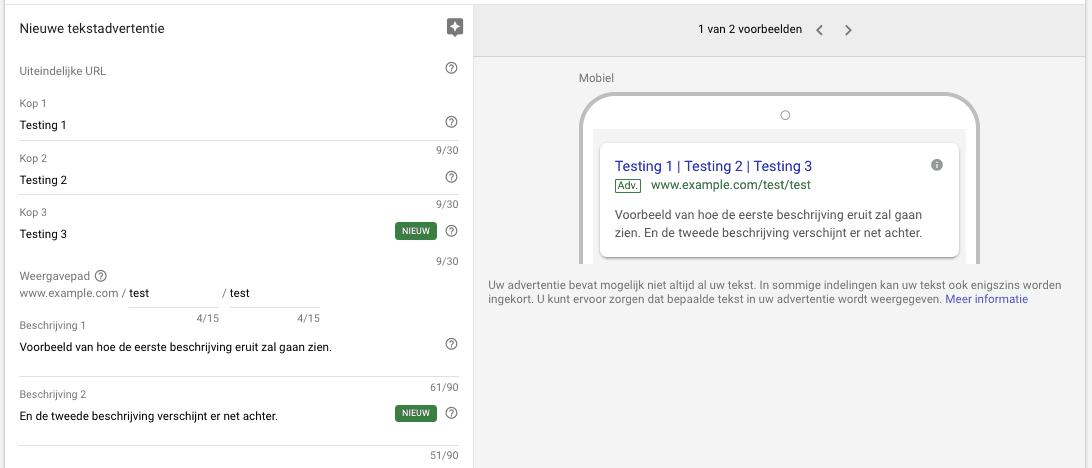 4) Bevestiging
Als je alles nog eens opslaat, dan is je campagne klaar. Ze verschijnt nu in je overzicht, met de belangrijkste info. Daar kan je de campagne opvolgen, optimaliseren en de resultaten meten.
Conclusie
Met Google advertenties kan je mensen die al op zoek zijn naar wat jij aanbiedt bereiken. Je advertentie verschijnt dan helemaal bovenaan in de resultaten, en zal zeker de aandacht trekken. Google weet hoe belangrijk de info die daar staat is, daarmee dat ze onlangs je mogelijkheden hebben uitgebreid met een derde kop en een tweede omschrijving. Wil je graag wat hulp met je Google AdWords campagnes? Neem dan contact met ons op, en lees alvast deze artikels:
Hulp nodig met jouw GOOGLE ADVERTENTIES?
Neem contact met ons op voor vrijblijvend advies!