De hedendaagse marketeer heeft heel wat tools ter beschikking. De vraag is: met welke kan je het best aan inbound marketing doen? Hier zijn onze tien favoriete tools die we gebruiken voor inbound marketing.
Hulp nodig met INBOUND MARKETING?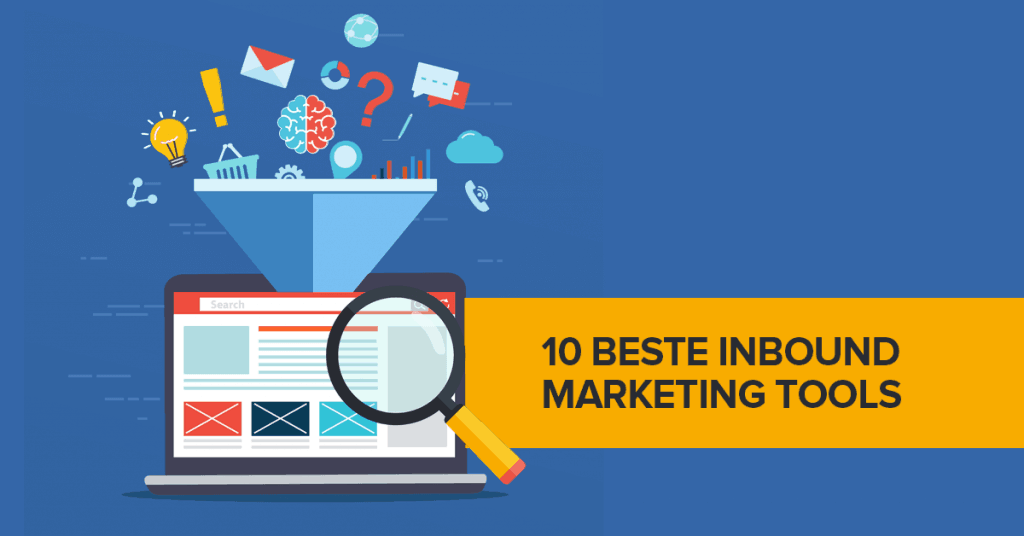 HubSpot CRM en sales
Jij genereert leads, tenminste als alles loopt zoals gepland. Je zorgt er wel best voor dat je die leads ergens bewaart, kwestie van ze eenvoudig en efficiënt op te volgen. HubSpot heeft de term inbound marketing en sales uitgevonden. Geen wonder dat dit het platform bij uitstek is. Naar onze mening is het inbound marketing-platform van HubSpot te duur voor wat het is. Het inbound sales-platform is z'n geld daarentegen meer dan waard. Er bestaan, zover wij weten, geen even goede alternatieven.
Hubspot sales
Optin Monster – Lead generation
Het lead capture form van Optin Monster helpt je om websitebezoekers om te zetten in leads. Het is eveneens een prima tool om inschrijvingen te ronselen voor je nieuwsbrief.
Optinmonster
WPForms – WordPress contact form
Dit contactformulier-plugin slaat elk verzonden bericht op in je database. Zo ben je zeker dat je er geen enkel mist. Want ja, dat gebeurt vaker dan je denkt. Hiermee is contactformulieren aanmaken kinderspel. De plugin integreert perfect met Mailchimp, Zapier, Hubspot en een hele hoop andere nuttige tools. Er bestaat een gratis versie, maar wij raden niettemin aan om de geldbeugel open te trekken: de betalende versie is z'n geld meer dan waard.
WPForms
Mailchimp
Mailchimp bestaat sinds 2001 en is een waar instituut. Met meer dan 16 miljoen klanten is dit het grootste automatisatieplatform voor e-mailmarketing. De reden is simpel: Mailchimp is een van de weinige die je gratis een e-maillijst laat opbouwen tot 2000 adressen. Ook bij Smartdata gebruiken we deze e-mailmarketingsoftware.
Meer over email marketing
Facebook
Zo'n 6,2 miljoen Belgen zitten dagelijks op Facebook. Dat maakt het tot een erg interessant kanaal, waar je als business niet mag ontbreken. Je bouwt er niet enkel aan je community – desnoods met schattige pandafoto's en cartoons – maar kan er ook leads genereren.
Meer over adverteren op facebook
Remarketing
Remarketing is gericht online adverteren aan personen die jouw website hebben bezocht. Zolang een bezoeker niet is overgegaan tot een aankoop (conversie), kan je zo je product, dienst of website promoten. Remarketing zorgt ervoordat je steeds in het achterhoofd van je bezoeker zit. Die wordt constant herinnert aan zijn bezoek of aan het product dat hij gezien heeft. Je bepaalt als marketeer zelf hoe vaak per dag, week of maand een advertentie verschijnt.
Remarketing is een vorm van branding – je herinnert mensen aan je werk. Het is ook de meest kostenefficiënte manier van adverteren. Je richt je enkel aan degenen die al in contact kwamen met jouw merk, producten of diensten. Een remarketing-advertentie krijgt aanzienlijk minder clicks – mensen klikken enkel op advertenties wanneer ze geïnteresseerd zijn in de aanbieding.
Meer over remarketing
Google AdWords
Met AdWords adverteer je op Google, partners als YouTube en Gmail en het displaynetwerk, sites zoals tweedehands.be. Je hebt alleen een Gmail-account of G-suite for business, een AdWords-account en een kredietkaart (zoals VISA en MasterCard) of overboeking nodig.
Waarom adverteren op Google?
Wereldwijd gebeurt 77,98% van alle zoekopdrachten via Google. Bing van Microsoft (7.81%), het Chinese Baidu (7,71%) en Yahoo van Microsoft (5.5%) staan zelfs niet op de finishfoto (bron). Een plus een is twee: wil je je business aan zo veel mogelijk bezoekers tonen, dan adverteer je best op Google.
Wanneer de surfer bewust zoekt naar iets, dan kom jouw website tevoorschijn in de zoekresultaten van Google. Er is dus al een intentie. Daarom is Google interessanter dan sociale media, waar de resultaten gebaseerd zijn op interesse. Je zoekwoordenonderzoek leert je dat zoekacties voornamelijk steunen op twee intenties: informatie vinden en goederen en diensten kopen. Internetgebruikers kopen sneller wanneer ze een website bezoeken met een bepaalde intentie.
Meer over adverteren op Google
Hootsuite
Met Hootsuite volg je alle kanalen van sociale media op in één handig dashboard. Je kan ook plannen wanneer een bericht verstuurd wordt, eenvoudig content vinden om te delen en je impact via social media analyseren.
Hootsuite
Siteground
Je hosting is de basis van je website. Zonder een goede provider heb je een trage website en scoor je slecht – of zelfs niet – in Google. Degelijke hosting is essentieel om je websitebezoekers een goede gebruikerservaring te bezorgen.
Meer over de beste WordPress hosting
WordPress SEO
Je moet je website niet bouwen in WordPress om het goed te doen. Maar het maakt de dingen wel eenvoudiger. WordPress is het meest gebruikte websiteplatform – zo'n 35 procent van alle websites draait erop. Je wilt je website aanpassen of functies toevoegen? De mogelijkheden zijn legio.
Meer over WordPress SEO
Hulp nodig met INBOUND MARKETING voor je bedrijf?
Neem contact met ons op voor vrijblijvend advies!