In dit artikel zoeken we een antwoord op vragen als 'Wat is Hubspot Marketing & Sales-software?' en 'Hoe kan het jou helpen?' Verder bespreken we de verschillende tools van Hubspot, de prijzen van de drie belangrijkste ervan (CRM, sales en marketing) en mogelijke alternatieve software.
Wat is Hubspot?
Het is software die bedrijven helpt om mensen aan te trekken en om zo klanten te werven. Daarvoor gebruikt de software zoekmachine optimalisatie, Social media marketing (SMM), e-mail marketing, content marketing en conversie optimalisatie.
Hulp nodig met HUBSPOT MARKETING & SALES?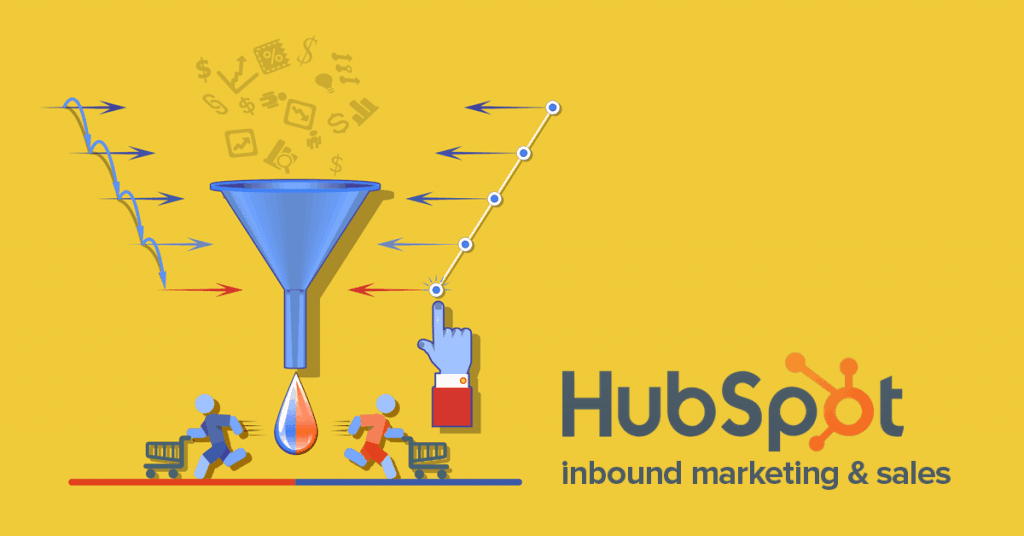 In ons artikel over inbound marketing bespraken we de voordelen van inbound marketing & sales. De conclusie luidde dat het veel beter werkt en goedkoper is dan traditionele marketing. Het was Hubspot dat de term inbound introduceerde en dat een bedrijf met een beurswaarde van meer dan 3 miljard dollar rond de filosofie bouwde.
Samengevat is inbound het soort marketing dat een meerwaarde biedt aan degene die ermee in contact komt. Dat kan door mensen te helpen in plaats van hen iets te verkopen of op te dringen. Hoe? Door mensen aan te trekken, te converteren en te verheugen.
Hoe kan Hubspot jouw bedrijf helpen?
Door leads te genereren en op te volgen, tiens. Het platform van Hubspot zet namelijk in op gebruiksvriendelijke marketing en automatisatie van sales. De ingebouwde tools helpen jou om meer klanten te werven. Daarvoor heb je wel een goede online marketing strategie nodig. Je moet ook voldoende tijd voorzien om een en ander te testen en, zo nodig, te verbeteren. Hubspot is dus geen toverstok die automatisch leads genereert, wel een hulpmiddel om vooruit te geraken. Te meer omdat Hubspot een academy heeft waar je online cursussen, trainingen en marketingvoorbeelden kunt vinden. Die geven je meer inzicht in inboundmarketing en hoe je best de software gebruikt.
Hubspot tools
Hubspot telt drie hoofdtools: CRM, marketing en sales. Elke van die softwaretools heeft z'n eigen instrumenten om bezoekers aan te trekken, te converteren en te verheugen. In dit deel gaan we daarop dieper in.
Hubspot CRM
Hubspot CRM is geïntegreerd in zowel de sales- als de marketingsoftware. CRM vormt namelijk de basis van alle sales- en marketingactiviteiten.
Hubspot CRM prijs
Hubspot CRM is volledig gratis (voor altijd).
Wat is CRM software?
CRM is de afkorting van Customer Relationship Management. Een CRM-systeem bundelt en bewaart alle interacties van je bedrijf met bestaande en potentiële klanten. Het ultieme doel: een goede relatie met klanten opbouwen of behouden. CRM verzamelt data uit verschillende bronnen en geeft bedrijven zo een beter inzicht in hun doelpubliek. Daardoor kunnen ze die mensen beter helpen. Op die manier verbindt CRM bedrijven met hun (potentiële) klanten, stroomlijnt het processen en maakt het bedrijven zo winstgevender.
Hubspot Sales
Dit is samen met de CRM onze favoriete software. Het is z'n prijs meer dan waard: $50 per maand, of $400 per maand voor teams vanaf vijf met extra features. Zelfs de gratis versie is uitstekend om mee te beginnen.
Hieronder heb je enkele van onze favoriete features:
Messages – Een chat tools voor op je website.
Meetings – Plan meetings met leads.

Contactinzichten – Welke pagina's hebben je leads bezocht?
Email sequences – Nooit nog dezelfde standaardopvolging, nooit nog e-mails handmatig versturen. Stel ze één keer in en selecteer je lead, done.
Email tracking en notificaties – Zie wanneer je leads hun mail openen en krijg een melding.
Loggen van telefoongesprekken – Je CRM zou niet compleet zijn zonder het tracken van je telefoongesprekken. Je hebt ook de mogelijkheid om telefoongesprekken op te nemen. Vraag dan wel eerst de goedkeuring van degene waarmee je belt.
Meer informatie over de prijzen van Hubspot sales vind je hier: https://www.hubspot.com/pricing/sales?professional
Meer informatie over de Hubspot-salessoftware vind je hier : https://www.hubspot.com/products/sales
Hubspot Marketing
Deze software bevat heel wat tools. Naar onze mening is het z'n geld waard als je alle tools ook effectief gaat gebruiken. Doe je dat niet, of ben je bij een online marketingbureau (wij stellen redelijk wat gratis ter beschikking van onze klanten), dan is het misschien niet zo'n goede investering. Bij elk onderdeel vermelden we een (goedkoper) alternatief, plus de kost per jaar. Voor de gratis versie hebben we natuurlijk geen goedkoper alternatief. Wij vinden het evenwel interessanter om losse tools te gebruiken die communiceren met Hubspot. Die hebben over het algemeen meer mogelijkheden (features). Alle Hubspot-tools onder één dak hebben, heeft dan weer het voordeel van uniforme rapportering. Je dient dan ook niet tussen verschillende programma's te schakelen.
Hubspot marketing tools & prijzen
Gratis versie
Bovenop de features uit de gratis CRM beschik je over:
Overzicht en analyse van je leads
Lead capturing (popup form & formulieren) – met Hubspot branding
Starterspakket – $600 per jaar
De markeringen van Hubspot zijn verwijderd van formulieren
Extra velden voor je formulieren
Ondersteuning van Hubspot over telefoon en e-mail
Alternatieven
OptinMonster om leads te generen en conversie te optimaliseren. Het basispakket heeft dezelfde features als Hubspot en kost $108 per jaar. Wij raden evenwel Pro aan: $348 per jaar met een pak extra functies die het geld meer dan waard zijn.
WPForms Volgens ons is dit de beste WordPress-plugin voor formuleren. De Pro-versie kost $199 per jaar.
Basispakket – $2.400 per jaar
Tools om blogs en content te creëren
SEO- en contentstrategie
Optimalisatie voor mobiel
Landingspagina's
Analyse
Alternatieven
Professional – $9.600 per jaar
De professionele versie heeft twee voorname features:
Marketing automation
A/B testing
Beide tools hebben veel bezoekers nodig om goed te werken. De investering is pas zinvol als je veel inhoud op je website hebt. Pas dan krijg je de tools functioneel. A/B testing is bijvoorbeeld pas nuttig vanaf 400 leads per maand per variatie aan landingspagina's. Zelfs dan duurt het al enkele maanden om statistisch significante verschillen bloot te leggen.
Automatisatie betekent in dit geval dat leads drip-e-mails te zien krijgen. Dat is een vooraf geschreven reeks aan berichten, gebaseerd op de pagina's die de leads bezochten. Het loont enkel de moeite als redelijk wat bezoekers hun gegevens achterlaten op je website. Daarnaast heb je er ook de nodige website-inhoud voor nodig, om nog niet te spreken van een goede reden om een e-mail te sturen nadat de leads de pagina bezochten.
Alternatieven
Unbounce ($948 per jaar) is, zoals eerder vermeld, goede software voor A/B testing van landingspagina's.
Hier is een lijst van de beste marketing automatisatie platformen volgens Zapier.
Enterprise – €28.800 per jaar
Zowel prijs en tools zeggen genoeg: dit is enkel voor grote bedrijven met een hiërarchische opvolging die rapporteren essentieel maakt.
Meer informatie over de prijzen van Hubspot marketing vind je hier: https://www.hubspot.com/pricing/marketing?professional
Meer informatie over de Hubspot marketing software vind je hier : https://www.hubspot.com/products/marketing
Besluit
Hubspot-marketing en sales hebben veel potentieel om je business online te laten groeien. Je dient wel de tijd te nemen om een inboundstrategie aan te leren, de software te leren gebruiken, in te stellen en te testen wat al dan niet werkt.
Hulp nodig met HUBSPOT MARKETING & SALES voor je bedrijf?
Neem contact met ons op voor vrijblijvend advies!